Nokia to hold international media event in India on May 9th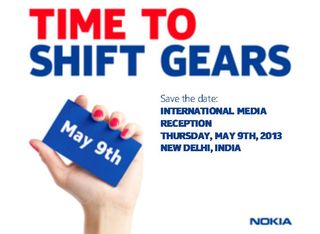 Nokia has sent out invites for an international media event in New Delhi on May 9th. The invite (as shown below) states that it's time to shift gears, but fails to provide any details on what we can expect to see announced. This event also precedes the London May 14th party where we expect to see some international goodies and more.
Since this event will be held in India, we would assume Nokia will be focusing on Asha hardware, as well as a possible peek at what's to come.
Come May 9th, we'll keep our eyes open for anything that's released or announced. But fear not as we'll be at hand in London on May 14th to bring you the latest headlines and footage.
Source: BGR; thanks to everyone who tipped us!
Windows Central Newsletter
Get the best of Windows Central in in your inbox, every day!
Rich Edmonds is Senior Editor of PC hardware at Windows Central, covering everything related to PC components and NAS. He's been involved in technology for more than a decade and knows a thing or two about the magic inside a PC chassis. You can follow him over on Twitter at @RichEdmonds.
Maybe a dual SIM Lumia in works ?

They will unveil the new Asha design. ;)

Most logical answer. But would hope not.

I'd say it's because Nokia is getting bigger in India faster than most places so why not launch a phone there.... Good way to get more local publicity

Nope, Nokia has lost a lot of ground in India, it will be more appropriate to say WP is getting bigger in India. If this event is Asha oriented, which I believe it will be, it is to woo back the crowd that had migrated from Nokia to DroidLand

Why? You prefer the old desing?

breast cancer awareness lumia's aka PINK lumias for us ladies :)

I think a lot of men have more boobs than the average non-voluptuous woman. Maybe the pink lumia's might satisfy their boobies too?

Fack u I wasn't trolling =(

Lol wow I wasn't trolling -_- but yet u give me shit !! I was serious :'(

Lady, you win the Internet for today!

My man-boobies are bigger than yours... jelly?

nope. I don't want them to turn into jelly when they fall on the floor

I signed up to give you a thumbs up :)

Sounds possible with the poster obviously showing a women holding a mobile device...

"TIME TO"
"SHIFT GEARS"'
Announcement of lumia 928 on verizon? Nokia scheduled an even on may 14th that is like 6 hours long I believe.
Could they announce a smart watch on May 9th and then indepth sdk/demos on may 14th?...


There is no chance Nokia will announce a new device on Verizon in India..you have no idea do you

Rumors are verizon will release the 928 on may 9th... read around.

It's an international event.

Maybe I hope so :D would be awesome

I could be wrong, but let then get more market share and stability before getting into a new market (tablets) where it could break their slowly-increasing (but still increasing) bank.

Nokia to hold major event in my country :) im waiting

I guess, there will not be any phone launch, but maybe some event related to yourwishismyapp winner app launch, or maybe anything related to Here maps/Nokia music? (see font in card)
We will see...

like before all of us nokia funs gonna think something special is coming and then they will just show another minor update and we will all be waiting for next announcement.

Remind me in two weeks if I'm wrong

An automatic email has been set for you to receive on 14th may with the content inevitably being: "you've been bamboozled...!"

"shift gears" sounds like a play on their HERE location services - HERE drive, et. al.

Agreed. Improvements to HERE services for India. I am not getting too excited about this.

Why would they invite the international press for an India only feature? It might be Drive related, but there is no way it is just improvements to service in India.

Our country is like Nokia's bread and butter for a seriously long time. Yet, we get Lumia phones released much later than other countries. I like Nokia but I wish they stopped insulting us by late introductions. Its like they think that Indians are only good for Asha phones and not much else :(

We got WinPho 7 and Lumia 520 , 720 much earlier than the rest of the world

Thats the bitter truth my dear. In a country like india, only budget phones could be sold in bulk, not the high end once. And thats why nokia is focused towards asha and budget lumia phones for India, and that is a good thing. Anyone could make a high end phone with price tag of a bike, but real trick is making a budget phone having maximum possible features of a high end phones.

Well, sure many of us cannot afford high end phones but hello there is a lot of people with lots of money as well. Nokia and every other company should realize that

i think u shud check out apple i5 n samsung gs3 sales in India.

What? insulting? they introduced 520,720 in india earlier than major countries, anyone should know the problems in introducing products for countires like india,china.. they need more products and they need big stocks for the same! so they cant introduce wihtout enough stock. Nokia knows about indian market than you and me. insulting?? :) why should they delay a product launch in a major country which has demand for the product without a reason? you have any reason?

Just don't follow the Bollywood Gundam brain splatter Samsung did

or worst still.....men in moustache


The are going to rebrand as a services / software company

Maybe here drive+ will complete beta testing, but an event to cover that seems unlikely. Or maybe they release GPS nav for cars, as a standalone device.

A highpowered Nokia Lumia just in time for my b'day
Windows Central Newsletter
Thank you for signing up to Windows Central. You will receive a verification email shortly.
There was a problem. Please refresh the page and try again.