Nokia JBL PowerUp Wireless Speaker featured in HTC Android Verizon ad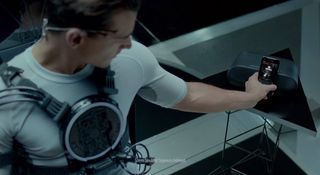 The Nokia JBL PowerUp Wireless Speaker, an accessory that's marketed by the company for its Lumia range of Windows Phones (see our unboxing first impressions), has made an appearance in a Verizon commercial. The advertisement is for the HTC Droid DNA Android smartphone, which sports wireless charging, NFC and Bluetooth for similar functionality to Windows Phone when used with the wireless speaker.
We're all for Nokia branded hardware being used in competitor advertisements as it definitely gets word out. For anyone looking at the speaker as an upcoming purchase, one will be hit with the fact it's an accessory for Windows Phones. The JBL PowerUp Wireless Speaker can interact with hardware that sports NFC, Bluetooth and Qi wireless charging - making it a definite investment for music lovers who enjoy banging out tunes around the house.
Source: YouTube; thanks, jhidekim, for the tip!
Rich Edmonds is Senior Editor of PC hardware at Windows Central, covering everything related to PC components and NAS. He's been involved in technology for more than a decade and knows a thing or two about the magic inside a PC chassis. You can follow him over on Twitter at @RichEdmonds.
Leave it to Android to try and ruin everything!

They even debranded the item for the commercial. Talk about a slap in the face.

Problem is android can do NFC better, basically running nice scripts to run this, play that, lower/raise volumes...it sure is a cool ad though.

Yeah... I'm hoping better support comes with Apollo+. I bought some NFC tags to experiment with, and they weren't formatted. Had to borrow a Galaxy S III to format them. Embarrassing.
App devs can write apps that will do more with it, but yrs, it would be good to be able to do more out of the box.

This is a real useless ad. I can't connect the sequence of this ad especially when the model keep smiling as he has no clue what he himself is into.

Too bad you STILL can't buy any Nokia accessories anywhere. Sold out and not available everywhere I have ever looked. So silly.

Not sure what you are talking about, Verizon's online store has accessories for sale and in stock as well as AT&T minus certain color choices.

My ATT store had the JBL powerup, but for $300 I'll pass. I seen online they have a 51w for $150 but don't think that has wireless charging

Verizon has it for $249.... Still expensive, but hey it's still $50 less.

At&t has them on sale right now

I love how on the Verizon website they list the iPhone and all iOS devices as being compatible.
http://www.verizon.com/b2c/store/accessory?&action=accessoryDetails&accessoryId=52121##

No NFC, no wireless charging in iPhone, sure you can plug it in with a wire just like any other speaker, but I'd hardly say that makes it a compatible device.

I believe they're probably referring to Bluetooth connectivity, you'll just have to connect manually instead of the ease of NFC pairing.

It is compatible. NFC isn't required at all. It's only there to make Bluetooth pairing easier.

My biggest problem with the ad is that they removed all branding from the speakers.

This makes me cry tears of sadness.

My issue is why is MSoft not showing stuff like that for their windows phones :(

Because Microsoft is in bed with HTC.

I'm all for spotting winphone, but this is reaching.

U KNO HTC HAS TO BORROW EVERYTHING LOL

Too bad beats doesn't work over Bluetooth.

WHERE IS THE NOKIA/JBL PlayUp? Thought it would be out by the holidays for sure.
PowerUp is awesome bought mine on launch of 920 and enjoy it,worth the $ for me

Has no one else noticed the HTC branding when the phone is ontop of the speakers?
You can clearly see it at 0.25 between the + and rewind symbols

I have the the jbl power up speaker for my red 920 coming from amazon for $149 great price just have to wait for more to come in, but it worth the wait.
Windows Central Newsletter
Thank you for signing up to Windows Central. You will receive a verification email shortly.
There was a problem. Please refresh the page and try again.