Nokia launches HERE Explore to help you find new places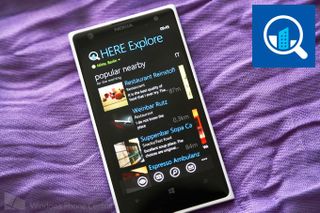 Nokia has always been strong in mobile mapping. The HERE mapping platform powers not only Windows Phone 8 apps, but helps provide navigation services and location solutions for companies like Garmin, BMW, Oracle and Amazon. It's a very valuable business unit for Nokia, which is why it's not going to Microsoft. That said, it's great to see the HERE team continuing to pump out solid progress on Windows Phone with cool new apps like HERE Explore. Let's check it out.
First impressions of HERE Explore? It reminded us a bit of the built in Location Scout on Windows Phone 8, but it's obviously a little more flushed out in features. HERE Explore is an app designed to help you find places based on a new contextual recommendation engine that Nokia has worked on. They say you can use it to find a late night snack, a scenic vista point, or any variety of potentially interesting places for you. Here are the features you get with HERE Explore:
See recommendations based on where you are or where you want to go
Search for places around you from a customizable list of categories
Customize the app and make your favorite searches even quicker to access.
See search results displayed in a list, on a map, or in LiveSight
One-tap access to more place information, such as photos, reviews from trusted sources and contact information
Add photos and reviews of places you've been
Get drive, walk or public transport directions to a place
Hold up your smartphone to see floating signs that show you where places are located and tap to see more about that place
To remember and save places, add them to your own private collection
The app worked pretty well the few minutes we spent checking it out. Although we're currently in Abu Dhabi and most of the locations were in Arabic. This definitely looks like a handy app to use for when you want to explore a new location. We'll be using this tonight as we wrap up here Nokia World 2013 in Abu Dhabi.
Want HERE Explore? You'll need a Lumia device and will want to go to the Windows Phone Store. You can also grab it by using the QR code below or swiping to the right in our app.
Thanks everyone for the tip!
I thougth Nokia would bring more than what we heard before...

Is this country dependant, unable to download in Australia

Exactly not available for me too

Yep! Not able to download in India too

This does work in Canada, whereas Local Scout doesn't, so that's at least one country this app is helping!

Not available for 512mb or needs amber???

That's what Boston Rob said

That's what Fauxlivia and Walternate said.

Also not available in Portugal

True...L620 here and not able to download @portugal.

Changing country region to United States, and you will be able to download! :D

Doesn't work outside the us i guess... Not available here in Italy! :/

It probably needs some time to open for other countries. Check back soon :)

You can easly install this app changing the region of your phone! I live in italy and i changed the region to United States and i've downloaded it!

Remind me to never buy a non Nokia Windows Phone. #imstupid

lol everybody a year ago was def telling you that you may be missing out. Can't blame you though. Initiall the ativ S caught my eye but it never came out in USA. Then I fell in love with the 8X's design. But I used my brain and the 920 was my choice because I knew Nokia was committed to the end.

Here Maps already has a similar feature, but displays all categories (eat, shopping, accommodations, etc..) at once. Place Explorer is a wrapper of Here Maps but lets you pick just 1 category at a time. The downside is it's only for current location while Here Maps lets you move around the map for planning ahead.

Before I installed H.Explore i did a search experiment in H.Maps where i searched "Starbucks", then "Second Cup" then "coffee". The coffee results did not combine the search results of Starbucks and Second Cup, or put another way it missed some locations. i then installed H.Explore and did the same 3 searches. "coffee" results successfully combined the 2 previous searches. I then went back into H.Maps and did the same 3 searches and it gave the same results as H.Explore or it didn't miss the locations from the first search. Unified database?

HERE apps eventually get released to all WP. I think Lumia get exclusitivity for the first day or so. I wasn't able to get the new HERE Maps update right away as it said it was not available...tried it a day later...boom, updated on my ATIV with the new (blue) HERE Maps.

Not available in the Netherlands :(

It seems this replaces HERE City Lens once its finished? Almost the same features!
And it works in Austria!

Would love to know the answer to this

I still have City Lens after installing this.

City Lens was incorporated into Here Maps on compatible devices. This is more like Local Scout on steroids.

Its available on indonesia

it either doesn't like GDR3 or is not available to Croatia.

also not available in india

Not yet available in Hungary.

Just change your region to USA :-)

Not available for my Lumia 920 in Finland. I'm on GDR3.

Works fine in UK. Now trying to figure out differences with City Lens. Looks very similar.

Yeah it's nice, but doesn't feel very different to what we have already. It needs to be integral within HERE Maps. But mostly it needs more POIs, a way to add them yourself, a way to add your own reviews and to allow more refinements. For instance I select "food and drink", i want to be able to narrow that down to Indian, or Italian or whatever.

I'm currently in Brevard, NC on vacation when I search for 'sights & museums' it only pulls up churches... As a pastor that's 'ok' with me, but I wouldn't consider these churches to be 'sights' #Iknowitsabeta

Not available in Norway either... :-(

Interested in how this compares to trip advisor

Not available in Singapore.

Works in Canada which is good since local scout doesn't. However, the data is old, it lists restaurants in town that haven't existed in years and doesn't list new ones that have. It's like going back in time.

Maybe the flux capacitor isn't calibrated ;)

At least in this version we can finally report incorrect data. It is funny to see resurants from my childhood show up in the same spot that constantly changed hands.

Local Scout actually works great in Canada (I use it all the time). But unfortunately it's not by default. You have to go to Settings > Language + region > at the very bottom set your 'Browser and search language' to English (United States)". This will enable the Local Scout button. Then once you click it, it actually shows local Canadian results. I hope this fix this in either Update 3 or 8.1 for those with the default search region as Canada.

I hope so too, as no way will I put up with spelling suggestions being for U.S. English. Colour should have a "u", for example, as the second vowel syllable sounds different than the first. :-)

Although that explains why I briefly has Local Scout when I imported a Dell Venue Pro (the phone, not the recently released tablet), then lost it at some point as I customised the phone.

How do you get results or are you still using WP7.8? My results are empty and there is no search field. If i tap on the map i can then search but i dont think thats Local Scout anymore but Bing Maps. And the results are not accurate or complete.

Not available in 520, india

Its available for 520, but not yet in India....

You can easly install this app changing the region of your phone! I live in italy and i changed the region to United States and i've downloaded it!

Did the same and running GDR3. So no GDR3 thing, but just because the app has just been released in the Store.

? Is that an ironic change to "Hear, hear"? :-)

With local scout not functioning in Canada for WP8 & that I have an HTC, sure am eager for this to become available to non-Lumia phones.

Local Scout actually works great in Canada (I use it all the time). But unfortunately it's not enabled by default. You have to go to Settings > Language + region > at the very bottom set your 'Browser and search language' to English (United States)". This will enable the Local Scout button. Then once you click it, it actually shows local Canadian results. I hope this fix this in either Update 3 or 8.1 for those with the default search region as Canada.

We can go into local scout, but there are no results.

Ditto, no results for me either.

just make it one with here maps
too many here apps make confuse to use :)
but I still love Here

Not available for india.. When will u learn nokia????

Oh darn, another Nokia exclusive for me to try out... I loved my HD7, but HTC you totally blew your chance when it was time for me to upgrade.

It should be noted that this app is in Beta.

They should replace bing maps natively with their HERE services on WP for a more integrated experience.

They did replace Bing Maps with Here Maps on WP8, didn't they? Or was it only on WP8 Lumias?

Nice! So now we have CityLens & Explore....isn't that little bit like the same??

Not available in india for 620

No luck with 820 as well. I think its not available in India..

Then when will it be available for India

Works nicely here in Canada. Good thing because Local Scout hasn't worked since WP8.

Local Scout works for me in Canada (I use it all the time). But unfortunately it's not enabled by default. Set your browser and search language to English (United States).

It worked for me on WP7.x as well. But, when I go into the Local Scout, no results show up. I have the settings just like how you have it.

not available in Croatia. Lumia 920 gdr3

Dear Nokia: you're awesome, please keep it up.

not available in Malaysia

The HERE POI database is so bad here (Los Angeles) that it can't find stuff I know exists. How is it supposed to help me find stuff I didn't know?

Croatia, UK account works flawlessy! Way to go, nokia!

Could not download in India

Its available in india.. jus use the proxy setting technuique and change location to US, 103.13.29.118
Using it on my 520

Not available in India though.. :/

Not available @Bosnia. This become really annoying, constantly switching region, yesterday because Here Transit, today because this app, really annoying.

Weird that it slaps on a "BETA" symbol on the tile after you install it... I hope eventually all these Here services could be condensed into an all-in-one intuitive app that gives you all the Here features in one place. Then I wouldn't have to scratch my head picking which one to use for each circumstance.

So excited about all the new phones and tablet that came out. Truth is I can only be so excited. The reason why is simple. I know technology moves at a fast pace. With that being said it takes money to keep up with it. That extra money I don't have...just lost my job after 14yrs. I love Nokia as brand...sending this via a cracked up lumia 900. I got my phone the first day it came out with my upgrade was so happy. Then like 6months later the 920 came out and I was stuck with the 900. Couldn't afford a new phone off contract. Then a little bit down the pipe line a starting hearing the buzz about the 1020. I was like dang ok I got a partial upgrade in November 2013 so I could wait. Then att took that away and I to wait till 4/14. My feelings were hurt cuz I just knew I was going get my hands on a 1020 then. Yes att has the next program but it's not worth it for me I pay 3 phone bills mines and my 2 girls. That extra money added to the bill to trade up just ain't in the budget. With all the new coming out I'm excited but it's suck for me still gotta wait and 4/14 is a long wait. Well patience is a virtue....

Hi everyone, this is Pino from the HERE team. HERE Explore is currently in beta and limited to some countries and smartphones (Nokia Lumia, with compass). It is focused on discovery and place exploration and it's *not* a replacement of HERE City Lens. In fact, the technology first introduced with City Lens, called LiveSight, is now powering most of our apps including HERE Maps and the latest version of HERE Transit. If you have more questions let me know or tweet @HERE.

Thanks Pino!.. how does the Here Explore differs from the Here City Lens??? and if it's infact worth downloading.

Thanks for checking in, Pino. One big thing (to me, and, of course, these things are subjective): the inability to attach a picture to one's own places - even though they can be attached to those of others. I'd love for that to work, to be able to replace a great old HTC app called Footprints. Also, it's only logical: the photo spot is there on "my collections" entries; it just can't be clicked to add a photo.
(Maybe it's a just a function of being "beta.")

Thanks! You can leave your feedback directly to the HERE Explore team if you go to Nokia Betalabs.

Can you please expand on how it differs from City Lens? When would I use one app over the other?

HERE City Lens was developed to surface the LiveSight technology and understand how people use it. Now that technology is being integrated into all our apps, including HERE Explore. HERE Explore isn't just about seeing what's around but about giving recommendation, based on where you are but also where you wanna go. The time of the day and places reviews also play a role. So do the places you love. It's a much more complex app. You'll understand when you use it.

Isn't this similar to city lens?

sorta.. not even sure if its worth having..

Not available in Finland :(

Well, if it's somewhat like the Local Scout, then this will be good for me since Local Scout isn't available here in Brazil.

Not available in Spain...

Not available in Greece for my 920

Not available in Mexico :S

Not available in PLUTO!.. c'mon now...

Second time around that Store informs me that this is not for me or more precisely "This app is not available for your unit." SUCKS! If the only criteria is, as mentioned here, a Lumia phone it should be available for everyone Lumia unit. The same happened to me when I tried to download the new combined Nokia photo app.


Come on guys, this thing is BETA!

Not seeing this on my Amber 720:(. I guess this needs "black"

I wish they would focus on making drive better.

Does this app replace the city lens app?

Unable to download in new Zealand

I'm already using it.
It's a great choice insted using local scout (not available in Brazil)

Available in France Lumia 920

Nokia also updated their HERE maps app, so you can now use the "folders" also on WP!
Very nice, as I have collected quite a few places and manage them on my PC with the folders, and now I can look thorugh the folders also on the phone instead of going through the whole list.

Even now after owning a my htc titan x310e running windows phone 7.8 for two years in the Netherlands, never once has local scout been properly available in our country. That fact that nokia released this in their suite for all lumia devices is testament for microsoft, in my opinion, to wake up and fix their mistakes in a backwards compatible fashion, if they care about their international customers. Oh, how angry I can get on this matter. As I read the comments here the situation still hasn't improved. -1 for customer service. see more 0 0

H.Explore should be combined with H.Maps like Nokia Camera did. One less app to have on my start screen. Or integrate back into Local Scout b/c that feature was awesome! I still prefer the quick access of Local Scout over a dedicated app.

NL 820 in Bulgaria (unlocked) - unable to download...

I have Lumia 1020 (comes with Amber preinstalled) and I cannot download in Australia, how about some support for people outside of the USA!

Not available in Malaysia too

No luck in India... Lumia 920

Is this a replacement for Here City Lens?

For you people in other countries who cannot get this app, don't feel bad, you're not really missing anything. I just don't understand Nokia's logic with this stuff. When I search for something, I don't think about which app I want to look through to find it, I just want to search for it in a map interface. Right now, Nokia has split its development into: HERE Maps HERE Drive+ HERE Explore HERE City Lens HERE Transit
And there are probably others I'm forgetting. If this was simply folded into "Nokia Maps" or "Nokia Navigator" that would make a lot more sense. Launch it, see a map. Push the magnifying glass to search, get a list of results with all the info and sorting criteria on the lower screen (in the way that Nokia allows you to drag up and down to expose either the map or the text). Select an item, the lower screen shows the details, the upper one highlights it on the map. Hold down on an item, and you can select, "Get Directions," "Save to Favorites," and optionally things such as, "See Others Like This."

What I like about the Nokia apps include: Drive+ allowing for landscape format (which Maps and every other voice guidance app seems to omit). The ability to save favorites from home across platforms. Keeping North facing up as an option. The clean interface and fonts for listings with links like phone numbers, reviews, and photos built in. Offline maps are great for road trips where signal is sure to be weak somewhere along the way. However there are major things missing, such as allowing for "pin dropping" on the map. There doesn't seem to be a convenient way to switch your route while in Drive+, say if you want to stop for food or gas, you cannot simply grab one and add it to your itinerary--and it hides them unless you zoom way in. I really hate how it calls freeways by their commemorative names, (for example "the Ventura Freeway" instead of "134 West or East" as this makes taking the wrong exit/interchange a common problem. And that there is no way to route around traffic is ridiculous (yet there are options to avoid tunnels, tolls, ferries, trains, and highways).

Right now, since there are very few reviews or photos in the listings, I much prefer Yelp to any HERE search. I'm still using Drive+ until someone makes a navigator that works in landscape format and looks like it belongs on a Windows Phone. If Nokia focused its energies on making one really good app instead of 5 largely redundant ones, that would make for a much more fluid experience.

Couldn't agree with you more. I have no idea why they don't just consolidate all their services into a single app (Here Maps) instead of having you switching between apps based on whatever function you are doing. Google doesn't seem to have a problem doing this.

Not able to download it in my Nokia Lumia 1020 in Spain and I'm using the gdr3

I don't get it, are they gonna drop City Lens...?

Nokia should make this app available for all Amber WP 8 handsets. That's if they care about increasing overall WP 8 popularity.

Not available in Romania.. Maybe in the future.

Not Available in India for Lumia 920

The best feature is the ability to change your location. So you can actually check out a scene before you even get there.

not available in King's Landing. and winter is coming.

It's cool has a lot of great info and places. Only thing I don't really like is how if you want to get directions to a place it just links in another app to list it (here maps for walking, here transit for train, here drive for driving) Whats the point of having 3 separate apps just to accomplish a specific function? they should just consolidate everything into a single app (maps) and let you get directions wihtout having to leave the app and boot into another.
Windows Central Newsletter
Thank you for signing up to Windows Central. You will receive a verification email shortly.
There was a problem. Please refresh the page and try again.