Nokia launches Reading app for Windows Phone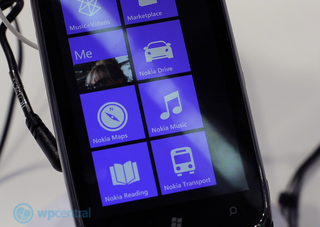 Nokia has announced on their blog today that the manufacturer is looking to start rolling out the Nokia Reading app for Windows Phone in a number of launch countries. We previously took a look at Nokia Reading back at Mobile World Congress.
The app, which enables Lumia owners to browse, purchase and read ebooks, will be launching on a country-by-country basis. The first batch of markets that will be able to download and use the app include France, Germany, Italy, Russia, Spain and the UK. Remaining countries will follow throughout the remainder of 2012.
As for the catalogue itself, the store will feature numerous localised books as well as major English titles including The Girl With The Dragon Tattoo; One Day; and The Adventures Of Sherlock Holmes. More will be added to the catalogue over time so fear not if you can't locate a specific book. As well as purchasing ebooks, there are also 'thousands' of international titles freely available for download.
Genre categories coupled with filters including 'top ebooks' and 'new releases' make it more convenient for users to search through the store and available content. It's positive to see Nokia tackling ebooks with its ClearBlack display used on Lumias, not to mention Microsoft's ClearType technology more effectively rendering fonts. Should you enjoy reading at night the app will use a black background with white text instead of black on white - this mode will also be more battery-friendly with AMOLED Lumias.
Updates for Nokia Reading are already on the horizon with features to bring a virtual magazine with RSS support, as well as provisions for audio books. Check out the following video for a visual representation of the Nokia Reading. Be sure to look out for Nokia Reading which should pop up within the next few weeks should you reside in one of the launch countries.
Source: Nokia Conversations
Windows Central Newsletter
Get the best of Windows Central in in your inbox, every day!
Rich Edmonds was formerly a Senior Editor of PC hardware at Windows Central, covering everything related to PC components and NAS. He's been involved in technology for more than a decade and knows a thing or two about the magic inside a PC chassis. You can follow him on Twitter at @RichEdmonds.
Nokia is the best WP OEM.

Anyone seen that Siri thinks the Lumia 900 is the best cellphone?

As we have no access to get the kindle app in Sweden I welcome this move by Nokia. Maybe Nokia would like to take my book purchasing money as clearly amazon does not want it :-) I only wonder if this app will let me reed the existing drm-free epub books I already have?

@Bruno...You're hit the nail on the head - Kindle is not available everywhere, and this is Nokia's solution to bringing reading material, akin to Kindle, to those markets where Kindle is absent.

It's great that Nokia is thinking about it's global consumers and taking appropriate steps to fill those gaps (i.e. Nokia Reading, Nokia Music).

Great job, Nokia!

How will this dovetail with Nook?

Given B&N's track record with making a Nook app available for Windows Phone, I'm not holding my breath. B&N corporate doesn't get it.

They should, Microsoft just invested 300b in a subsidiary of B&N. 600b over with the Nook investment.

Microsoft is not even worth 300b right now. It's 300 million dollars.

Much like iBooks, why would anyone want to lock their digital books into one hardware manufacturer. The Kindle and (upcoming) Nook apps don't care what hardware you're running.

I agree. That is one of the first things I thought about when reading the article. This is one of the reasons I stay away from DRM media in general. I don't like to be locked into anything. I give Nokia credit from expanding their offerings a lot but I don't think this one is going to be a winner.

Sadly, if you're not living in one of the 15-16 countries that Amazon have deemed worthy of the Windows Phone version of the Kindle app, the lack of hardware lock-in doesn't help much.

Might as well get locked into Nokia hardware. At least they give a damn about "lesser" countries.

No me sale en el marketplace!!! :'(

For this to be a hit, content is going to have to be readable on Windows Phone and Windows, without the need to buy a copy for each device the user owns. Ideally, the apps would sync your place in each book across devices, like Amazon's WhisperSync does. (That might not be allowed, depending on whatever patent restrictions may be in effect.)

Why isn't HTC doing things like this for us Titan or HD7 users

Because their software-department is focusing on Sense for Android.
Nokia is the way when it comes to WP.
Maybe the others will catch up later on.

Because they dont really care about WP

Oh stop! HTC made alot of cool and useful apps for us, sound enhancer being one of them.

Yea and lets not forget HTC is still making windows phones lol

Looking forward to seeing how Nokia Reading displays RSS feeds for news, would be interesting to see if it can match up to Flipboard in terms of style and convenience. Besides that, if it can let me view pdf/acrobat docs properly I'd be very happy.

The way nokia is supporting wp7 makes me excited about how they will support wp8...



I hate this, so called "Localized markets"!
As a German, living in the States, I would appreciate if I could buy German books just like anyone living there. After all, this are eBooks. They don't have to be shipped physically but are delivered from the same server as my US-available books. I know, Nokia isn't alone in that! Kindle and Nook are doing the same and it may have to do with copyrights. However, in 2012 - since we're living in the "globalisation age" - this is pretty much "out-of-touch-with-reality"! After all, it is not against copyrights if I fly to Germany, walk into a bookstore, buy me a book and then fly back to the US with it.

Could it have something to do with government regulation related to internet traffic?

I wish Nokia would do this: release apps for nokias first,for free, then charge for apps in the mktplace for non Nokia phones, their apps are well designed its a shame other WP users won't get to use them unless they get a Nokia. My wp8 device will probably be a Nokia but just incase Samsung or HTC blows me away with their Apollo phones I'd like to see this.
Windows Central Newsletter
Thank you for signing up to Windows Central. You will receive a verification email shortly.
There was a problem. Please refresh the page and try again.