Microsoft's latest video shows off the Nokia Lumia 1020 with OneDrive and Instagram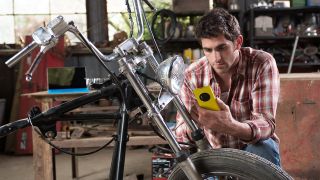 The Nokia Lumia 1020 may be ending sales in a few months, but that doesn't stop Microsoft from featuring the imaging powerhouse in their latest video. The main message in the video is that you can take great photos, access them from your favorite devices, and share them with the people who matter most. In addition to the 41-megapixel cameraphone, Microsoft also features OneDrive and Instagram.
The description in Microsoft's latest video includes a link to a photography page http://(microsoft.com/en-us/discover/photography/ (opens in new tab). It explains how you can pair a Windows Phone device like the Nokia Lumia 1020 with OneDrive and Instagram to keep and share memories, virtually wherever you are.
In the Lumia 1020, you'll find a 41-megapixel image sensor with Carl Zeiss optics. The massive amount of of pixels lets users oversample photos or obtain lossless zoom. It's the phone for people who love cameras. You can read our full review of the Nokia Lumia 1020 for more details.
After taking a photo with the Nokia Lumia 1020, the main actor can be seen accessing his photos through OneDrive, which of course, is accessible on other devices such as the Surface Pro 3. When your photos, videos, and documents are stored on OneDrive, they are always with you as long as you are connected to the Internet.
Microsoft's video also prominently shows off Instagram Beta. The actor uploads one of his photos using the popular service. With Instagram, you choose a picture, use a filter to enhance it, and then share. It's that easy. You can also share your photos on Facebook, Twitter, Tumblr, and Foursquare right from the app. The app is still currently beta, and we're still anxiously waiting for video upload support to come.
What do you think of Microsoft's latest video? Sound off in the comments!
Source: Microsoft (opens in new tab)
Get the Windows Central Newsletter
All the latest news, reviews, and guides for Windows and Xbox diehards.
Im anxiously waiting for Microsoft to start caring about Windows Phone. Not enough ads, not enough official apps, no nothing. Sad. :( I love 920 anyway.

Ironnically making adverts for the phone they plan to kill.

Um it's a year old phone. They will make a new phone. Big deal..

@swizzlerz Not the point tho. I you have any knowledge of business you would know that. You advertise what you seel not what you want to stop selling.

I like the cut of your jib sir... It's a good point & it's well made...

It's a compliment I assure you http://www.phrases.org.uk/meanings/cut-of-your-jib.html

Excellent point @Rawliglat x. I'll concure with cut/jib compliment above. :)

It would be' no big deal' if this phone wasn't unique, and if Microsoft had committed to making a phone with better camera capability. The Chevy CEO of Windows Phones have great camera for their pride points, but nothing to equal this phone that they are about to kill.

Yes, I was going to write the same point... It's a good point & it's well made... But don't you think it's just so Microsoft..?

Not sure where you have been but there have been alot official apps releasing these past few months just sayin

Yes, that's true, but non from Google or clients for Google that actually work, apart from a couple. We don't even have a Twitter app that's not either paid or slow... On the brightside we've got Adobe at last... I know Google are never coming to WP btw... Just saying ;)

We can keep repeating the Google mantra, but it's a waste of typing at this point. If you need Google everything, you probably should just head on over to Android. As for Twitter, MeTweets and Mehdoh both work great for me. Not slow at all. I don't remember if they were free or not because I actually don't mind plunking down 99 cents to developers that do good work.

I'm merely highlighting that there is a significant 'app gap' it's not a mantra, it's a fact, no matter how Microsoft wish to deny it. There's also a significant lowering of standards when it comes to WP apps. As for speed, I'm talking from experience which countless others share, judging by app reviews. Yes, both those apps are paid for, one of which I use, cause the native Twitter app is so crap. I imagine you use those apps too for the same reasons. That can't be said of Android or iOS as their Twitter apps are light years ahead of WP. I'm not at all arguing in favour of Google, or Android, I'm commenting on an article, & voicing an opinion, which to me at least is valid.

I don't really see this "significant app gap" like you do. Everyone's experience is different and MOST people I know use but a few apps. It's the media pundants and people in forums that care about every single app. I just realized today that the games I play on my phone are only available on Windows Phone. I could write an article about the app gap that exists for Android and iOS because they don't have Halo or Song Arc or Dreamworks Dragons or Snap Attack. I could write that there is an app gap because they don't have a Disqus app. Of course, many wouldn't care because they aren't so insecure like many of us with our iEnvy that we have to have every fad app they get or we feel left out. I've switched people from iOS and Android and when I look on their phones to see if switching would be a good thing for them, they usually don't give up much. The biggest one was Instagram and even before the perma-beta IG, they were all fine with 6Tag. It's only the iEnvy zealouts that cry for "official". Normal people ask, "so it works with Instagram?" and they go on about their business. The only time I suggested that someone not use Windows Phone was if their bank was a holdout and they did a lot of banking with their phone. MOST people get their checks direct deposited and only care about the balance and such which can be done with Mint by Quicken. Plus many banks have joined the party. I use USAA and they are there. I never said that you can't voice your opinion, but we also have a right to balance it out. People come to these forums and I think constantly hearing the app-gap mantra will send many of them away, when it likely doesn't even affect them. I think a casual Tweeter will still use the free option. There are power use apps on the other platforms, too. I actually don't know much about the actual Twitter app since the last update. I use the scheduling feature of the 3rd party apps that I know isn't a part of the 1st party app.

I agree with you up to the point of low to mid priced devices, the apps available for those are adequate I believe. But not for high end WP that cost as much as an iPhone 5s, or whatever uber Android is being released for £550 etc. Not competition there, WP is dead in the water...

We'll have to respectfully disagree. I have a 1020 and 920 and I consider them both high end. I'm one of the heavy camera users though, so the more imaging stuff, the better for me. I'm ecstatic about the new video stuff. I'm hoping to shoot/edit something entirely on the phone, but I'm getting off topic. :) I honestly don't think WP is dead in the water. I think a couple of key wins and all will be well. If they can make the gesture things useful vs the Samsung gimmicky thing, that could be a win. If they make Cortana superior to Google Now and stay ahead of Siri, that could be a win. Imaging should always be connected to other things. For example a small business can show how having great imaging can help them gain visibility in social media. I don't think the "message" is getting across. I mean, Android and iPhone have problems too, but they control their own message. The journalists control the WP message and it's brutal.

Nicely said, I agree that we focus a tad too much on "the app gap". It's sad that we all crave uniqueness, yet when in comes down to it, we settle for sameness. I chose WP because it was different, but I could achieve everything that I wanted and needed in a smartphone. Sure some familiar apps were missing, but the 3P ones were more than adequate for me. Furthermore, if there was an app that I really needed and was not available on WP, I would've chose a different OS. Most of the rants concerning "TAG" does boils down to insecurity.

I agree! For those apps not available on the Windows Phone 8 and/or products not available with a complementing application for Windows 8 such as Home Automation systems in which most will only support iOS. They don't realize that most homes will most likely have a PC than an iOS device. They are limiting their customer audience. FAIL!!!

Good job he didn't need to upload a video to instagram

Damn, thats something I dearly miss.

You don't have to miss it with 6tag, support video capture and upload.

This is a nice ad. 1020 is an awesome phone and showing off microsoft's service is also nice. But for me windows phone is not good enough, but Microsoft Services are very good, mainly cause of the superior office apps. But microsoft needs to have an encryption like Mega on the cloud and protonmail on mail, then I would use it and I bet a lot other. But at the moment there is to much that isn't good enough for me.

Good to see they advertise a beta app...

Why release another advert yet they are no longer going to make this phone??

it is a compilation of the phone and the two apps/programs

It could be any Windows Phone. The 1020 is still for sale, and is still the best camera you can get on a phone.

Maybe there getting ready for a 1025... Or a 1030

There are still a lot of them in stores. And also this ad makes you think the phone is awesome, so you will think that the sucessor will be even better, when it comes out.

Ha! If there was a successor it should have been announced already to get people excited, my guess is there is no successor.

Maybe they'll release a successor to the 1020 soon. Still waiting for a true 920 successor myself.

With the recent news about the 1020 reaching EOL status, one has to wonder why they're still making new ads for this phone...as opposed to, you know, get a new flagship out in the market on all carriers and decent availability (a bit like Apple and Samsung do every year)? I love the platform but after the awful bungled up release of both the 930 and the 1520, my patience is starting to wear thin. Currently, if I want to upgrade my 920 on Rogers, my only choice is a near-EOL 1020...do they want my business or not?

I know because they took over Nokia's phone division so long ago, right?

He presented out poorly, but the man/woman has a point. All Nokia needs to do is take the chassis of the 920, and slap some nice new internals. (that are now industry standard). And instead of taking a quick buck, push it out to EVERY carrier. I've yet to see a flagship (1520 doesn't count, niche product) on all carriers. Even the 920 took six or so months to come to the other carriers. :/

Precisely...and now with the 930 not even coming to the U.S., you're taking the Lumia name away from the eyes of the people. Constant bombarding of the brand every year is what pays off in a saturated market like this - look at Samsung. They kept at the Galaxy every year until it became a marquee brand. With so much cash to splurge, it is anybody's guess why Microsoft isn't doing the same. They've already tried this "slow limited release" strategy and it isn't working.

Doesn't matter. The point still stands...Microsoft mobile (formerly Nokia's mobile division) has displayed a considerable amount of incompetence in not getting any phone out there with proper availability. Would it be better if I had called them out by their former name as opposed to the current one?

Good web ad! Let's get some effective TV ads.

You get honorable mention because you pointed out it's a web as which does no good as the bulk of consumers watch more regular TV than prowling the web looking for WP ads

And lets make some good TV ads that actually promote the new features of WP8.1, like the Start screen background and it's parallax effect with the transparent tiles! Most people have no idea about this feature, even people with Windows Phones with stock WP8 have no idea.. only us "enthusiasts" here at wpcentral know about this. Once I showed this feature in the 8.1DP to a couple people I know with WP8 phones, they just HAD to have it! I think if MS would advertise this on regular TV, people would flock to it once they see how beautifully they can customize WP8.1 with the transparent tiles and their own custom backgrounds.... It's simple stuff like this that people want! We also need new TV ads that show the new Action/Notification center and Cortana... the new ads also should demonstrate the benefits of universal apps.

I really love my 1020 but I will admit I am ready for something new and larger. My 1020 and a point and shoot were all I took on my vacation to Oahu, didn't miss my hulking DSLR for a second and I got awesome photos and people said no way they came from a phone.

I'd be happy with the same size and just the addition of a higher res screen - and a quad-core chip. Either way, I really hope they continue with a 41mp 5-6-7lens device. I cannot imagine having to lug around a dslr again so I can (re)zoom on things.

Yep, faster CPU, 1080 screen and we're good

Yeah I totally agree with you. I took it to my USA vacations and I got wonderful pictures

The 1020 is stil lthe only Windows Phone flagship you can get from a carrier in Canada. It may be old, but we never saw the 1520, 1320, icon, or any of that yet. So maybe this commercial is intended for other markets as well

Instagram is still in Beta. It's sad. :-(

We have 6tag #NoSadAtAll ;)

*shakes head at using Instagram Beta over 6Tag*

Gotta start pushing that1020 if you're about to kill it!

The point of the ad is to show the workflow with windows devices and services - how One Drive syncs to your tablet, cortana, hey look we have Instagran too, etc. It could have been any phone, but the 1020 is still the best camera phone you can buy.

Well, the 1020 IS the best camera phone you can buy. But, how stupid is it to use a unique-looking and highly recognizable device - that is about to disappear from the shelves? Pretty Damned stupid, say I.

Every device is going to disappear from the shelves in a matter of months. That's how the mobile market works. And the Lumia 1020 is still going to be around for another 6 months, so please stop whining about the EOL stuff, it's getting really old and ridiculous really fast.

I'm actually turning off the automatic photo upload on my Lumia 1020 because it's become a convoluted mess with WP8.1. It uploads the 38 MP shots to my camera roll now, instead of my 5 MP oversamples I want to organize into albums and be able to share out. Now I have to sync those photos via USB like a Neanderthal until they fix this. They need to make make Nokia Camera into a universal app and rebrand it as native camera for both Windows and Windows Phone. When you take a photo with a super high-res camera like on the Lumia 1010, 1520, and Icon it uploads the oversample to your camera roll and the super high-res shot to an archive folder. Then you can be able to reframe the photo from any device using the camera app.

Remember you're using 8.1 beta, so it's not the final product

Yup I like the full image uploaded automatically.. Simplifies my life. Why do I need to manage my images so I don't lose the high quality image.

For the love of god, it's not a beta. It is out and in the wild.

It's the same build thats shipping with the 63x/930.

This example is the preview since it doesn't have any new firmware...for the love of god.

I am guessing that some of you don't know that your negativity is what kills interest in the Windows Phone? You need to stop before you ruin it. You need people to come to these forums and not see the negativity that you seem to enjoy posting over and over again.

No, MS needs to stop alienating even its most ardent supporters with its incompetence.

@Jean - they don't care. They love to whine and complain and moan and groan as if every problem is Microsoft's fault. Most of them have never contributed a THING. Do they email/Facebook/Tweet the companies that don't provide apps? Probably not. They think tantrums solve problems. They also think insulting developers work by calling it "useless" and "worthless" or insisting that everything be "free" is going to endear developer to satisfy their sense of entitlement. I've never seen such a pathetically negative vocal minority as around here. When something REALLY goes wrong, no one will pay attention because they complain like the world is going to end if they don't like a font.

No "Honestly, I wanna see you be brave" song this time? Improvement.

That is on all the ads in the UK. Usually around Hollyoaks time. Drives me bonkers, hate that song. Come to think of it, I don't recall liking any MS ad. I liked those Kevin Bacon ee ads, at first. I thought he was great in them. Liked a few Apple ads too.

I wish they had chosen something else as the unofficial theme song for their newer ads. It's not a bad song, but the way they incorporate it is cringe-worthy.

Great another camera/one drive ad because no one will ever play a game or watch a movie via Hulu our Netflix on their windows phone. People might just think windows phone is just a camera considering all of the camera ads that are shown when advertising WP. Lies of purple already have cameras.

Who advertises their phone watching Netflix or Hulu? Talking about a boring ad.

I just want them to put ads out show that the phone can do someting other than take pictures and auto-upload to the cloud. And the answer to you question about who advertised their phones using hulu or netflix...Samsung has an ad out right now stating their phone has the best screen and of course they shows a video/movie clip the was probably netflix, hulu, amazon prime or some other app. The average consumer that isn't techie like most of us here only use their cameras to take selfies or pictures of themselves to post on a social site; the rest of the time, their watching movies or playing games. I'm not saying the camera isn't important, but make a commercial advertising the multifunctionality of WP in the different scenarios of a person through different intervals of their day.....its not all taking pictures

I'm not sure where you get what the "average" person does, but friends in MY circle have considered the Lumia mostly because of the pictures that I take with it. That is the Microsoft/Nokia niche and what they do better than anyone else, so I think it is prudent to push it. I think Hulu and Netflix are givens at this point and waste of valuable time on ads, unless you are doing a wall of logos to show the breadth of apps avaialable. They have made other ads with celebs that showed different things throughout their day. Remember the Gwen Stefani ad, for example? Even this ad showed more than just taking pictures. It showed the cloud connectivity of working with files (in this case, images) on the phone and then on the tablet/laptop. The screen capability was there. They showed a popular app title. You can only do so much in the space of one YouTube video ad, but I think they got a nice mix of features that they do best and a bit of emotional attachment about how those features can enhance one's life.

Windows Phone needs VSCO Cam! Posted via Windows Phone Central App

Microsoft has those feel good commercials. I really like it.

Curious, what is the logic of taking a picture with arguably the best smartphone camera available then adding a filter to it which masks said quality? Never understood the appeal of this...

Sucks that Instagram for WP still hasn't been updated in awhile

it's almost a year and instagram is still on beta with no video support.. correct me if I'm wrong

Making ads for a phone they no longer sell. Sometimes you just have to laugh at MS's incompetence!

They do still sell it. It is rumoured to stop being stocked later in the year.

Money was already invested in the device. Why not still attempt to make money off of it despite the EOL in the fall? Many people still want the 1020.

I think it's safe to say that they didn't 'just' put this ad together over the weekend. Besides, even though the Lumia 1020 will be EOL (the device is about a year old anyway), it's not like the current stock will be completely depleted I'm sure people will still be able to purchase one on Amazon, Ebay, Negri, or Expansys.

So, they're featuring a beta app that hasn't been updated in almost three months on a soon to be discontinued phone. Doesn't seem terribly smart.

It's a Microsoft ad, not a Lumia 1020 ad. Last I heard it was still the mobile imaging king as well, near end-of-life or not.

My point is people will be pissed when they go to buy the phone they saw in the ad and find out its going eol, and then discover that Instagram is STILL in beta and the company rarely updates it. Just not good marketing strategy IMO. Better to have used the 1520 or Icon and some other well supported app.

And I'm not disputing its the imaging king. I own the damn phone and love it to death, not sure why you thought I was dissing it. Just thought it was a poor choice for the ad considering its status.

Or people will be happy cause it's currently, like, $0.01 on-contract.

It was a touching and heart warming ad :D, however the ad is somewhat contradictory as the L1020 is going to be EOL'd soon (Soon to stop being manufactured) lol. Then again I hope it drives the sales up so they don't stop making it :P. Also we need more ads showing off the official apps available, at least that would somewhat address the "app gap".


How about a touchy feely ad like this on TV. Apparently only Apple and Google get that people respond to warm fuzzy even when you have a better product. Why this ad wasn't on TV during the Super Bowl is beyond me.

Cortana is technically not officially available on this phone yet, so this commercial is false advertising. Lol and secondly, why the F is Instagram still in beta after all this time? Lol geeeeez..

What Microsoft has proven, beyond the shadow of a doubt, throughout this whole Windows Phone promotional disaster is that, in the absence of heavy, wall-to-wall advertising, product placement in TV shows and on videos is worthless. They need to stop listening to their PR folks and start doing some real marketing...from advertising to training and incentivizing AT&T sales associates.

So...do what Samsung does? Also, the target audience avoids most offline advertising. They stream their tv, and don't buy magazines/newspapers. It's a tough nut to crack. As for Mobile retailers...MS can go ahead and throw money at the problem, but I think most people's minds are made up before they walk through the doors...I know mine almost always is.

People want to belong. People want to be stars. People want to be part of something. So, you have to get the things in the hands of stars and lifestyle influencers and push the heck out of it - across all channels. Samsung has had a tremendous series of TV ads with people camped out in line outside an Apple store checking the cool features of the Galaxy S#. So, that helps people make up their minds. But, then, when they get into the store, if the salesperson turns a would-be WinPhoner towards a Samsung or a Jesus phone - it's all over. I have purchased...3 WinPhones in an AT&T store (Surround, 920, 1020). Each time, I had to tell the salesperson more than once that I wanted a WinPhone, not something else. I even waranteed my Surround (which I had given my daughter) and AT&T sent an HTC One saying that the 8X, which I had requested, was not a premium phone as was the Surround - in its day. So, M$ has failed to market effectively from the channels to the point of sale and their market share shows that. It is a shame - given the real world advantages of the M$ ecosystem.

Man, I don't know what you're on about, but it probably doesn't warrant a comments section thesis. And "Jesus" phone? What's that? The one with "Halo" on it? But seriously...you lost me at "People want to be stars."

http://microsoft-news.com/microsoft-ceo-google-have-done-a-better-job-of...

Too sappy. Need more show and tell of the WP awesomeness rather than the emotional tug.

Cuz Apple has failed with the emotional approach. I like the real world use approach.

The main thing about this "ad", to me, is that it appears like something that will only exist on YouTube. It's a minute and a half, so not a great fit for TV.

UNF i'll take one of him pls

FWIW, I'm not really much of an Instagram user but there's a promo video for the Lumia 635 on the Nokia Canada FB page (June 26 post) that shows a notification from "Instagram"....not Instagram BETA. How does the BETA show up in the notification centre? Do they know something we don't? Artistic Advertorial license? There's also a newer promo video which shows someone at a club going straight from taking a photo to the post being up on IG. In that case I'm just thinking it's been chopped and spliced to better match the flow of the promo.

The whining on this forum is really absurd. "MS doesn't advertise enough for windows phone." MS just made a 1020 commercial highlighting features the differentiate WP. "But they are going to stop selling the 1020." Well they will have newer models coming out with better hardware, and how does MS no longer selling the 1020 hurt you if you already have one? "Well the advertisement shouldn't show Instagram because it is in beta." But 6tag works so well that nobody cares whether Instagram has an official app or not. I can only imagine the reaction if MS announced they were giving every WP customer $500. "MS sucks! I want $1000." Ok, here is $1000. "Phuck that, I want $1000 and a night out with Kim Kardashian." Ok here you go. "No, forget that; she's not intellectual enough for me and I don't want to ride in a limo with her talentless sisters and whacko mother." Ok, how about Scarlett Johanson? "Yes, but Cortana is only in the US." Just change your region to the US and change your language to US English. "But what about the lack of apps?" Recent Nielsen Research shows that most people only use about 2 dozen apps. "What about that one app MS released on Android and ios but not on Windows Phone?" Actually it was released on WP the same day. "What about MS thinking about making Cortana available on other platforms? That just goes to show that MS is giving up on WP." Actually, no that is not what it means at all. "Give me $1000, Kim Kardashian, no Kardashian sisters or mom, 5 million apps and Cortana in my region and Scarlett Johanson, every app here but not on Android, and I'll stop complaining." No you won't, you will always make up something else to complain about. "OK, that does is it. I'm buying an Iphone." Don't let the door hit you in the A$$ on the way to the Apple Store.

People will bitch about ANYTHING. It's a way to cope. :-)

Take great photos with your 1020 then make them look like shit on instagram.

Well said. Flickr for life

Instagram is a social platform, not a photo showcasing app. If you wanna showcase your great photos, try other apps like Flickr etc. What's there to complain about??

Not enough ads for anything windowsphone here in Australia. Not enough public knowledge about their products.

OEMs are responsible for advertisements.

will probably be a 1020 successor but I wonder if they plan on reusing parts?

I honestly think this is just Microsoft saying: "We have Instagram! Consider WP now!" :D

I dont like there was no Nokia logo on outro :( Msft dont kill brand Nokia plz


Being a motorcyclist I kinda liked that ad. Apple seems to get away with "heart warming", sentimental, meaningless, vacuous ads ... but maybe that's their demographic.

ha! funny...
just when they decide to put 1020 to EOL status. IMMA BITCHIN'!!! YES! :p i still love WP though.

Great! Still waiting for video upload on instagram..

If Lumia 1020 is EOL, Then Canon/Microsoft Lumia Phone will replace it. Rumor has it Sept 14 2014 is the EOL. If Canon and Microsoft want to bring the best Camera-Phone out there, it has to be an event where all the big names of camera makers are. The Amswer is PHOTOKINA 2014. Photokina will start from Sept. 16 to 21, 2014 @ Colonge Germany. This is just my Hunch! (Zeiss, Canon, Microsoft, Nokia). =)

I am not really wondering about the 1020 being shown off in the ad. What I am much more wondering about is Instagram. Microsoft keeps pushing and showing off Instagram. Their now owned Nokia Conversations blog is the very best prime,example. Instagramer of the week, Instagram here, Instagram there. What's in for Microsoft? A forever lasting beta app which hasn't been been updated since more than half a year. They don't even promote any third party apps, if at all, they mention them sometimes as a mere side note.
Do they hope Instagram finally decides to update their app with this amount of free publicity? Honestly I think it is embarrassing, especially since there are more photo sharing communities out there.

Bring back the Camera click animation

Instagram?What a joke.Should not even be in the commercial.No update's in almost four month's and it's still beta.Get back to me when Instacrap gets serious about WP.

EOL for lumia 1020 ?!?!?! This is the biggest mistake nokia can do ...

Maybe the successor is in the pipeline.