Nokia Lumia 1520 now available in the Philippines through select Nokia Stores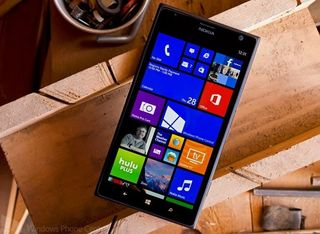 Living in the Philippines and have been hankering for the largest Windows Phone ever? Today is your lucky day then since the Nokia Lumia 1520 is now available through Nokia Stores. The largest (and most advanced) Windows Phone is now available in one of the most populated Asian countries.
The Lumia 1520 is an impressive phone. It packs a full 1080p display into the 6-inch IPS LCD screen. It's a big, big phone. But with that extra screen real estate you're also getting an extra column of Live tiles on your Windows Phone Start screen. On the backside you also have an impressive camera. Photography enthusiasts should be very pleased with the pairing of Nokia Camera and the 20MP PureView sensor. Inside the latest Snapdragon 800 quad-core processor clocked at 2.2 GHz makes sure you never see any lag on the system.
Our friends over at Nokia Revolution have visited two Nokia Stores in the Philippines and have seen the Lumia 1520 available ahead of the official launch. You'll find it in select Nokia Stores and other retail outlets, but it might be wise to call ahead before showing up at a store that isn't carrying the Lumia 1520 just yet.
Pricing wise the Lumia 1520 will set you back 30,590 Philippine Pesos (about $688) for an off-contract price. You can, however, also get it through a deferred payment plan by putting 1,600 PhP ($36) down and paying the rest over 24 months with no interest through CitiBank, BPI, BDO and Allied Bank credit cards through the "Buy Now, Pay Later' program.
Wanting to grab the Lumia 1520? Check out the Nokia Stores near SM City North Edsa, SM City Sta or a MemoXpress outlet.
Any of our friends in the Philippines thinking of picking up the Lumia 1520? Sound off below.
Source: Nokia Revolution
Get the Windows Central Newsletter
All the latest news, reviews, and guides for Windows and Xbox diehards.
Woo! I'm sure all those displaced homeless Filipinos will be lining up!

Actually, some of those from the Leyte and Samar region are homeless and displaced. Manila and other major cities were spared. Our family is one of thousands displaced because we lived in Tacloban, the hardest hit area. Lost my 820 during the storm surge too. Had to relocate to manila to ensure i still had a job so i can help get our home fixed. It's truly a new beginning for us this 2014.

Having your health and your family are the most important things :) I wish you the best of luck in rebuilding your life.

obnoxious. that's none of your business if they decide to buy one.

lol..even a super typhoon couldn't stop us with this beast

I'd rather be homeless than insensitive like you

Why do people love to assume the worst possible intentions on the internet?

I was gonna say something but I think people took it the wrong way. You set yourself up on this one.

Because that's exactly how you sounded like... you should think first before posting when you are talking about the tragedies of other people.

Really? I really read it like 'People there have other priorities right now' which is not insensitive, is it?

it may only have sounded like that because so many internet-goers, such as yourself, clamor to prove they are more policitally correct than everyone else without stopping to consider any other possibility. and no, you would not rather be homeless. now that's an insensitive statement. you are trivializing the crisis the Filipino people are going through.
if i was someone like yourself, i could have very easily replied with that statement, and it would seem completely justified.

You obviously were not there while the tragedy was happening because you trivialized it by the flippant manner of your comment - That's why as a Filipino, I take offence

that may be, but the major difference is that it's obvious that i was being facetious. they were not. i refer you to Bldyldt's comment.

Good to see more and more WPs spreading but, O how envious I am as a Tmobile customer seeing this show up all over the world but nothing like it for me, lol.

I'm in that same boat...going nowhere on T-Mobile. smh.

You took the words right out of my mouth. I'm tired of the exclusivity story with Nokia and AT&T in the states.

Correction: It's SM City Sta. Mesa :)

Sadly i bought 925 already last month

I'm still stuck with my Lumia 900 :/

the phone I have been waiting for...my L720 is now for sale..who wants to buy it?

Its already at HotGadgets for some time (I think it became available around November-December). Check it out at sulit(dot)com(dot)ph

You're right - and it's cheaper too compared to the price at the Nokia stores!

Yes cheaper 'coz no manufacturer warranty

Wrong, it still has a 1 year warranty not in nokia care centers though.

hey! does anyone know how the globe/ gadget store partnership works? (subsidized unit daw if on a globe plan) I'm thinking of getting one now from memoxpress.LOL

i was at memoxpress mega a minute ago..the subsidized price is around ₱28,890 if bundled with unlidata plan on a 24month contract. more or less ₱2,200/mo..not bad for an unlocked device

Ikinagagalak ko makilala kayo! :)

follow me on instagram @mics_kiss18 and you'll see how wonderful the L720 camera is...aw!

selling my L720 for 10K...anyone? please PM me...in perfect condition!

Expansys.ph also available.

Pinoys!!! Happy new year!!! Still with a L920...

Im planning to get the 1020 the 1520 is just so big. Using a 625 now. Btw. 1020 is much more expensive than the 1520 here in the philippines. PHP 35000.

The 1020 is now around Php31K at Nokia Store.

You can get the 1020 at Hot Gadgets for a cheaper price of P25,680. You can access them through sulit.com.ph. Just search for Lumia 1020 in Metro Manila.

Nope. Too big for my pocket. I'm still eyeing the 1020 though it's too big for my wallet. :D

It was mentioned in the article.

It is also available at SM Mall of Asia. Kingpad is the store if im not mistaken :)

In Manila, it was available just before christmas in time for the holiday rush. It was something that Nokia sells as "By the way we have new big phone called the 1520! you might want to get this instead of a 925!" or you'd have to ask if they have one. and they priced it a bit lower than what was published. This January, Nokia will announce it officially and the real retail price for this device. Currently they only have 3 colors: black, white, and glossy red. The yellow one will arrive soon.

hi guys. is the variant in our country compatible with globe LTE?

It should..Globe is not AT&t..lol

Yes, this is compatible with globe lte. you can even buy it under a globe plan starting at PhP999 from nokia stores or memo xpress stores that already comes with unlimited lte.

Okay. Actually that's what im planning to do. Buy it with globe's unlidata plan. Thanks!

Can I renew my contract thru memoxpress?

It has been available from DBGadgets/Digital Arena for about 29K. I posted a photo of ti in the "is this too big thread"

It has been available in Kimstore since December at 28k .

Finallyyy!! I just got tired of my 928. I wonder how much would it be. Last time I checked the 1020, it's 31kphp.