Nokia Lumia 620 hits Singapore, looks great in pink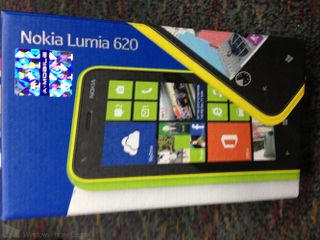 The Lumia 620 is hitting the shores of Singapore, thanks to a tip from a mobile phone specialist store Adix82 located in the country. As one can see from the photos we've been sent in, the Lumia 620 is looking rather good in pink. The device is priced at SGD 310 ($250), which is a steal for Windows Phone 8 hardware.
As well as other Lumia hardware and the HTC 8X, Singapore is featuring quite the line-up with high-end hardware being released from multiple sources. We're sure this handset will be a hit for consumers who are looking to upgrade but without the more expensive price tag. It's available in black, white, yellow and magenta from the store featured in this article.
Check another shot of the pink Lumia 620 below.
Thanks, Shavy, for the tip!
Rich Edmonds is Senior Editor of PC hardware at Windows Central, covering everything related to PC components and NAS. He's been involved in technology for more than a decade and knows a thing or two about the magic inside a PC chassis. You can follow him over on Twitter at @RichEdmonds.
Does anyone know if they will sell that in the states as well?

The Lumia 620 is available in the States online at expansys.com and gsmnation.com.

Why not in the US again?????

Coz Nokia/Microsoft think rightly/wrongly that only high end phones will attract U.S. customers

Well, in fact, the problem is that high end like Lumia 920 is just 99 dolars, Lumia 900 is just 1 cent... if you put this phone 620, in this market, how much do you think should pay? maybe they have to pay you :D

Yes, the Lumia 900/920 are $0.99/$99 on contract (it's sold for $275 - $450 off contract). The Lumia 620 would be a great off contract, especially if the full price is around $250 - $300 through Amazon, or perhaps Virgin Mobile.

$260 outright is how much I would pay. I already own the 920 and this would be a great complimentary device that I could use as an MP3 player to replace my Zune HD allowing me to still use my Zune Pass.

I think it will be very unwise to replace your zune hd with this phone, especially if your zune is in perfect working condition.
If you know anything about sound quality, you'll know that current generation ipod/iphone does not even beat 1st generation zune when it comes to sound quality, not even the 920. And we're talking about the zune hd, the last in the series. A colleague of mine listened to my zune hd for the first time yesterday, and even though he was using crappy headphones, he was very impressed by the sound quality.
So think twice ;)

phones in US are crazy cheap compared to other countries....

Phone BILLS in US are crazy High compared to other countries.... :)

That's what they want you to think.
You actually end up paying much more for the phone with a US contract than what you pay in most of Europe for example.
Generally speaking it's a total rip off how US carriers do it, it should almost be illegal :D

Buy it without a contract on expansys or ebay

6 more weeks til Rogers in Canada carries it! :D

This would sell like hotcakes in the Philippines... but Nokia doesn't know that..........

Ito nga dapat bibilhin ko eh kung binenta lang dito, pero okay na tong 920. I mean, okay na okay. haha

Translate to english.

Your 920 is way, way better than the 620. But so you would know, the 620 is already available in the Philippines online at kimstore; just search for it at sulit.com.ph.

Yes, I'm highly aware of that. What I mean is OFFICIALY available.... if they can't release the 920 on time, they should at least release the 620 earlier for more Filipino awareness of the windows phone 8

I like Cyan and I have one :)

Here in Brazil the Nokia will sell the 820 and 620 Lumias only at the end of March ...Lumia 920 comes day February 21.

Brazil is ever the last country to receive the Nokia's phones, the Nokia's phones coming here, when others companys, like samsung, delivered their new phones.. E.G: Galaxy SIV will coming at the same time or before the Lumias here .. Who want an old smartphone with the same price of a brand new phones. Nokia does not give a shit for Brazil, one of their biggest costumers.

Nokia forgot that philippines was once a nokia nation tsk tsk tsk

Not sure about that since the 620 is already available in the Philippines online at kimstore; just search for it at sulit.com.ph. In fact the 920 and 820 are also available at other online stores in the Philippines since the beginning of December yet.

Its not "officially" out in the Philippines

Singapore, I country I would love to visit - especially when the Singapore Grand Prix is on. The race on the Marina Bay circuit is one of my favourite races of the year, the circuit is great and the skyline looks incredible.
Now that more of the F1 markets are being served, how about an app! I contacted SoftPauer who make the official F1 app and they have no interest in making one for WP.

hey even my country vietnam has lumia 620 in all colors :D, ~ $260 (Vat included)

I'm from Singapore, and the launch was unofficial. Not even a single announcement that the 620 was coming out. None of the 3 carriers here are carrying it..

The 620 was already introduced in the Nokia Singapore website so they probably did a soft launch for the cellphone over there.

Singtel has started sending newsletters about the offer for Nokia 620. I bet other carriers will follow suit too.

I have a question about the unlocked 620 being sold from Expansys, if I buy it can I use it on AT&T in the US?

for us customers:

http://www.expansys-usa.com/nokia-lumia-620-windows-phone-black-unlocked...

Damn! I am gonna get that pink one for my girlfriend.

I'm a troll who's been banned numerous times for swearing and harassing members on this site. I won't go away.

Great news. I'm in Singapore and will definitely be getting one of these for my wife, now that she's finally decided to ditch the dumbphone and get into the 21st century.

They tell from a site i read about the release of the lumia 620 will be in the last day of january here in the philippines..but i think it will be delayed as usual as the other phones previously..from my conclusion..it will be available here in philippines on the month of feb. (no date :D)can't w8 for this phone..so excited:D
Windows Central Newsletter
Thank you for signing up to Windows Central. You will receive a verification email shortly.
There was a problem. Please refresh the page and try again.