Nokia Lumia 620 set to launch on TELUS in the next few days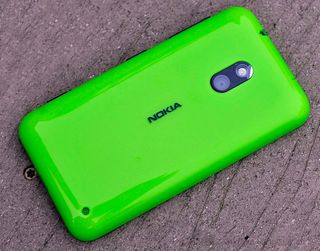 A tipster has told MobileSyrup that Canada's TELUS will be launching the Nokia Lumia 620 in the next few days. The Lumia 620 will be the successor to the Lumia 610, which TELUS currently offers. It is expected to be free on a 3-year contract or $250 outright.
The Lumia 620 offers up some slightly better specs than its predecessor, with a 1 GHz dual-core Snapdragon processor, 3.8 inch LCD display (800 x 480) with ClearBlack technology, 8GB internal memory (expandable to 64GB with microSD), 512 MB of RAM, 5 megapixel camera, and 1300 mAh Battery.
Windows Phone Central's own Daniel Rubino recently reviewed the Nokia Lumia 620 and came away with a number of nice things to say about the entry-level Windows Phone 8 device.
Source: MobileSyrup
Too bad the launch is delayed to 1st week of March in India

why on earth would someone want to be locked down for THREE years on a phone that is that inexpensive???????????????? come on canada companies.

Nobody has to be locked down. Pay full price and no obligation. Everybody on a contract can upgrade to a new phone, subsidized or not, after something like a year; it's only when changing carriers that things get ugly.

It's not quite that bad. You can break your contract at any time by paying of the balance of your phone's subsidy, which reduces every month. So basically you can pay the $250 outright, pay a reduced rate based on how many months you've stuck with your contract, or walk away after three years. If you know you're going to stick with your contract for a couple of years, you might as well get a discount. It doesn't help that all Canadian carriers work this way and have near-identical plans.

ok well that makes alittle more sense i guess. its alittle different in the us.

The U.S. adopted prorated ETFs quite some time ago and you can usually upgrade 20 months into a 24 month contract.

How can we get this in the US?

Expaansys-USA is selling it online

Wouldn't it be great if they had the 920, or even the 820? For WP8, so far they only have the ATIV S and soon, the Nokia 620.

Im holding out for a 920 or better announcment, until then holding on to my L800.


I'm still stuck on the LG Optimus 7, so I'll likely buy this outright while I wait for something else. I'm praying they get the new phone that Nokia launches next week. The Ativ S is a nice phone, and two years ago I'd have killed for one of those, but the competition is just way higher now.
I'm pretty happy with TELUS so changing carriers to get a different phone is not something I really want to do.

Actually, the Ativ is a pretty outstanding phone. It may be worth your while to check it out

I've checked it out at Best Buy, and I was impressed, but it just didn't have the appeal to me of the Lumia 920 or HTC 8X. The HTC is just a super nice phone to hold, and of course the 920 is packed full of features.
The advantages of the Ativ S are of course the removable battery and the SD support, but neither of those are something that I personally need.

The ATIV S feels like a quality phone and probably kicks some ass but Nokia is the heavyweight champion of WP and I'd rather stick with the proven winner. Exclusive apps and games win me over everytime.

My friend, if u can buy that phone outright and switch to fido or something id recommend that. TELUS is a scam and are bastards, they kept on outright increasing my prices and have the shittiest plans, for soo much. Fido I got the city fido deal for 35$, amazing plan and can send unlimited texts worldwide, and make unlimited city fido calls in the city fido zone... TELUS, 45$ for 250 daytime minutes, 2500 texts locally, and weekends and birthday free... Downright shit

Fido has great plans but Rogers has terrible coverage where I work so it's a non-starter for me.

I also have the ATIV So awesome! From Telus Mobility...got it with a black gel case and screen protector works well!

It's unfortunate to see that text "Only from Telus"... I'm hoping this and other Nokia phones come to Canada's other carriers soon (especially Wind. I'm curious to know if, like Rogers' 920 and the HTC8S in Canada, the 620 will have AWS frequencies). Until now, all we've had from Nokia's WP8 line is the 920 on Rogers.

Any news on the 720? I'm hoping it'll be as good looking as the 620, but retain hardware buttons like the 710 has. I know some people love capacitive buttons, but if Nokia has an option without them it'd be at the top of my list.

The 620 has been already rumoured as coming to Rogers as well. I don't exactly remember when, but I think it is due some time in March.

Can it be used on T-Mobile USA?

I have a L620 on tmo-usa in the metro nj area, been getting 3G/H speeds due to the refarming of their 1900 band, but it does drop to edge in some dead spots. Loving the Phone its just a Great device, Nokia has a Big hit on their hands, hope they don't blow it! I got it from expansy-usa, is the Canadian version like the intl version? Hope this helps.

Probably not. Telus uses same bands as ATT, not TMo AWS. If the phone is pentaband then yes so that's for you to research if you're interested.

I smell a mother's day gift for the flip phone-packing woman who gave me life... She's on TELUS prepaid and has WiFi at home and work. This would be a perfect first smartphone!

your such a nice offspring ;)

Likewise. I'm thinking to get an unlocked 620 for each of my folks, both retired, who are still hanging on to their trusty flip phones from 4-5 years ago.
Unfortunately, due to Nokia's lack of foresight to not really push this phone unlocked in the U.S., I'll have to pick it up from Expansys. Would love it if it showed up on Amazon or the local big box retailer.

This is a good start, but let's hope that they can get the higher end models announced at MWC next week as well. Sincerely a patient Telus customer.

Nokia needs to sell their good windows phones on virgin, bell, and even wind... Even an 820 would be good for my Canadian friends.

Dear TELUS Mobility where is my Telus official Windows Phone account app? http://www.telusmobility.com/en/AB/TELUS-Mobile-Account/index.shtml
Windows Central Newsletter
Thank you for signing up to Windows Central. You will receive a verification email shortly.
There was a problem. Please refresh the page and try again.