Nokia Lumia 630 now available at O2 Ireland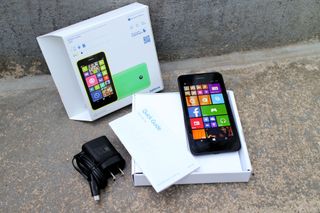 The Nokia Lumia 630 is an affordable Windows Phone from the manufacturer which is now available on O2 in Ireland for €129.99 with billpay. Launching on the same day as the UK (for £89.95), the Windows Phone 8.1 device allows consumers to enjoy a fluid Microsoft experience without the premium price tag.
Multiple variants are available with removable shells for further personalization. While the product itself is not listed on the O2 website, the Lumia 630 can be found in stores across the country and we expect the mobile operator to update its online counterpart shortly.
Source: Nokia Ireland, via: Nokia News Ireland
Rich Edmonds is Senior Editor of PC hardware at Windows Central, covering everything related to PC components and NAS. He's been involved in technology for more than a decade and knows a thing or two about the magic inside a PC chassis. You can follow him over on Twitter at @RichEdmonds.
Yes but no front facing camera! The 620 has this, how come the 630 which is meant to be a successor doesn't? It stops it being a true smartphone as you cant skype or take selfies easily, which a are two functions most consumers expect from a smart phone

Sure you can Skype. Just hold the phone backwards and watch the screen in a mirror. I admit its a little weird getting used to people's hair parts being on the wrong side.

why yes of course people use smartphones mainly for selfies lol btw it is a BUDGET phone , people who buy it are probably aware of its limitations

It is the biggest drwaback for sure, and an inexplicable exclusion. Even a 1.3 MP camera would've been OK for Skyping. Don't understand what they were thinking.

I would like to report that it is available carrier free in Jordan for 125 jd or nearly 180 $ for a dual sim model

£89.99 I might get it I thought was 150 oh and when whatsapp back?

No FFC, No NFC, No Flash No proximity, No 1Gb Ram. But im gonna buy it lol

Get 620 it has all of that but no 1 GB RAM

Front facing camera is the least of your worries with skype its s###

Am just waiting on the 930 for Vodafone Ireland

Lol selfies. So Last year. What's trending now. Queens complaining about W.app.

Hi everyone! I bought a Lumia 630 dual sim. I read that there is an option to adjust the brightness intensity in the display settings, but I do not see such an option in my phone? Here is a pic of the display setting page in my phone - http://bit.ly/SXKohn and here is a picture of display settings in a 630 with brightness adjustment (picture posted by wpc forum member Ryan ODonnell - http://bit.ly/1oC7bwm any ideas why my phone does not have the option? Strangely it has a sunlight readability mode! How can the 630 detect sunlight readability when it does not have a light sensor?

You would be better off asking in the forums and not the comments.

Well, I did post in the forums and was advised to reach out to Nokia Care - so just wanted to check if I could do something myself, and as luck would have it, Nokia has pushed out an update to Display in the store - I installed it and have got the Brightness profile setting in my display setting now and the sunlight readbility toggle has disappeared - so my problem has been fixed. More information about the update here - http://www.wpcentral.com/nokia-pushes-out-minor-display-update

Any idea when this is coming to uk, I mean the 930 variant?

O2 stores in UK have told me 1 July...

Considering all the sensors that were cut, they should have gone for a front camera.

I looking for a budget Windows Phone for mum. 630 is a good contender... I'm concerned about the lack of proximity sensor. Any help please? How will it affect the phone ?

So does that mean we can expect WP8.1 to be released offically soon?

Given that 8.1 is now officially available, hopefully we'll get official Cortana support in no short order.

The article is wrong on pricing. The price of €129.99 only applies to Pay-As-You-Go / Pre-paid / Top-up billing, not "bill pay"... O2 will give you the phone for free if you take any monthly plan of any duration, even 6 months.

I feel this site is biased towards certain regions. Lumia 630 is available at Vodafone Romania, too, but I don't see that being reported. :)

512 mb ram only? -_- seriously 1gb should be the standard now. What is the point of putting Quad-core 1.2 GHz Cortex-A7 and Adreno 305 in Lumia 630 if it has only 512mb ram?

This is a solid performer tried one out at my local O2 store great for the price.

There have been reports that the 630 would come with BBM pre- installed. Can any one confirm or refute this? I need to know if this is a rumor or something thats true for a 630 or just a feature that will be made available in Asia.
Windows Central Newsletter
Thank you for signing up to Windows Central. You will receive a verification email shortly.
There was a problem. Please refresh the page and try again.