Nokia Lumia 630 hitting UK stores on May 29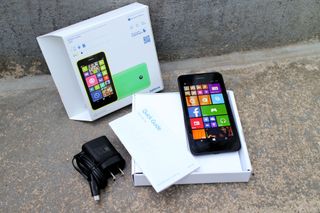 Nokia has worked wonders with the Windows Phone operating system to launch a variety of cheap hardware. The Lumia 630 is the latest smartphone from the manufacturer, which was announced today to launch in the UK on May 29th for £89.95. Sporting Windows Phone 8.1 out the box, consumers are able to enjoy a snappy experience with many features on an affordable product.
The Lumia 630 is expected to go on sale with Carphone Warehouse, EE, O2, Tesco and Amazon starting from £89.95. Colour options include bright orange, yellow, green, white and black. However, if you simply cannot wait until May 29, Unlocked Mobiles has released its first batch of units as of today though it is priced considerably higher at £149.
Rich Edmonds is Senior Editor of PC hardware at Windows Central, covering everything related to PC components and NAS. He's been involved in technology for more than a decade and knows a thing or two about the magic inside a PC chassis. You can follow him over on Twitter at @RichEdmonds.
Seems they launch it step by step

I actually like this design. It is very 1320 esque to me and despite the complaints I think it is a decent phone. Although I would love to wake up one morning and hear a secret announcement about the 930 coming to att :P

Crazy price, it's really going to shake things up. But why oh why no dual SIM variant for the UK...

Yeah I'm wanting the dual sim variant. I'm gonna need a phone for travel and for a work line. I want dual sim so I'm not carrying my Nokia Lumia 920, HTC Titan (Zune is still awesome), and Lumia 630. Dual sim 630 and I'm sorted.

Fixed. God bless the Queen. :-)

Rich, any news for the dual sim for UK?

The dual sim market here is somewhat non existent compared to Asia, hence not many get release here which is disappointing as I would like a dual sim flagship myself lol.

$151.24 at current exchange rate.

Rude not to get one at that price. Great job!

Gotta wonder if Cortana will be available with the UK phone language on these...

No Windows Phone love from Vodafone UK then...?

I would concur but they do have the exclusive 32GB 925. One of my nearby stores (Manchester Trafford Centre) had Nokia on the first podium by the door for about 6 months or more.
Plus the Lumia Icon was in a roundabout way partially Vodafone, I hoped they'd bring it to the UK. It could still happen like a special 64GB 930??? AFIK Vodafone DE/CH are the launch networks for the 930 in those regions.
If the 630 had a flash I'd swap it for my standby 620.

Who cares? Vodafone are lousy at the moment. Today they've announced a massive network upgrade spend over the next 18 months, and they need it...

Let's hope Whatsapp is available by May 29, or there will be a lot of frustrated 630 buyers.

Such a smart comment. Haha. I thought the same thing

I wish Three was stocking the 630 at launch, they are currently my favourite network.

Just buy it on pay as you go from Carphone warehouse. All of their phones are unlocked, regardless of the network you choose.

I am not sure. Heard of o2 locked phones from CPW

PAYG phones from Carphone Warehouse are always locked to a network. But Vodafone and EE only charge about £20 to unlock it, which still works out £40 less than buying SIM free, so buy it in CPW locked to EE (Voda are hopeless), put a bit more than £20 credit on the SIM, then ring up EE customer services and ask for them to unlock it. Job done.

Wont be any cortana for it will there?

Already in stock in several stores in Norway :)
http://www.prisguide.no/produkt/nokia-lumia-630-204916

Any word on Lumia 930 for uk?

Phoned EE UK and they said July, probably all colours, for the 930.

I hope the 930 is not exclusive to EE like the 920 launch.. don't really fancy buying from clove.co.uk again. My 920 was not exactly in mint condition when I got it (they had scratched the screen slightly for "testing purporses" apparently -.-). Since I was in a dire need of a phone, I haven't spoken about this much.

There's always Unlocked Mobiles and Amazon UK.

I would take that with a hefty pinch of salt, they said the same for the 1520 back in February. But I do hope the 930 does come to EE, want this phone so much.

Its available here in Malaysia!! For RM549 well that's about USD 170..what??

Wow. Nice price; wasn't expecting sub £100.

Looks great.....but I'm happy with my bright red 520!

I was thinking of getting a cheap windows phone for my kid sister but I think I will give her my 920 when I upgrade. I don't want her complaining that she cant play any high end games because of the ram or not able to take any decent pictures due to the lack of flash lol. But the 630 priced at sub £100, sounds like they want to go against the Moto E.This should cause an interesting debate with the android fanatics (they blindly worship all things google - they ditched their laptops for chromebooks thats when I realised lol) amongst the people I know.

Any word on the LTE equipped 635?

How much does Motorolla E cost in UK?

The exact same price, £89 on PAYG/Prepayed SIM. With a slower processor, worse screen and camera, and less on board storage.

So wait, o2 have this 630 for £89.99 + £10 top up - AND they have the better 625 for £99.99 + £10 top up... That pricing is just bonkers!!!! What am I missing here. Are they giving something extra with the 630? Otherwise surely it makes sense to get the lte enabled, flash packing, front facing selfie enabling, bigger battery BETTER lumia 625 for an extra £10????? Hey it's worth paying £15 extra - the 625 is just better!!!! What's going on here?

The 625 is dual core while the 630 is quad core.. That explains it

Quad A7 better for battery, but dual krait is more power.

Lol, cheaper than 520 and the 620...

Sick of hearing about these shit phones. When Is TMO getting a new phone. I'm waitingggggg
Windows Central Newsletter
Get the best of Windows Central in in your inbox, every day!
Thank you for signing up to Windows Central. You will receive a verification email shortly.
There was a problem. Please refresh the page and try again.