Nokia Lumia 730 and Lumia 735 photo gallery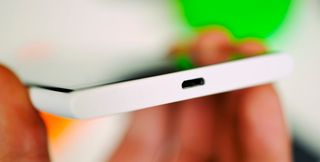 This morning, Microsoft announced the budget-friendly 'selfie' phone aka the Lumia 730 (dual SIM) and Lumia 735 (4G LTE single SIM). Selling for around 200 Euro later this month, the follow up to the Lumia 720 looks to be an impressive and fun Windows Phone.
Shipping with Lumia Denim and Windows Phone 8.1.1, the Lumia 730 features an impressive 5 MP front-facing camera in addition to a 6.7 MP rear camera with an ultra-low F/1.9 aperture. Our hands on video is coming up soon, but for now you can check out our photos!
For reference, we tossed in our yellow Lumia 720 for a comparison, which you can see below in some photos.
Bonus unsanctioned 'selfie' sample!
Daniel Rubino is the Executive Editor of Windows Central, head reviewer, podcast co-host, and analyst. He has been covering Microsoft here since 2007, back when this site was called WMExperts (and later Windows Phone Central). His interests include Windows, Microsoft Surface, laptops, next-gen computing, and arguing with people on the internet.
2014 is bringing Microsoft/Nokia desperation to the new hights. Introducing a selfie phone. What a waste of time. The design is definitely there, the technology is ussually there, pricing is good, so why the marketing must be so uninspiring? Something is definitely not working in the desperate attempts of bringing more people to the WP platform.

Ooookayyy....and your point is? Not a big fan for selfies myself but why the hatred?

Forget what they call it and ask is it a nice phone? Affordable? Aka real questions that consumers would ask about it. I'd use one myself and I can opt for a proper flagship. I personally don't give a damn what they call it.

Eagerly waiting for your hands-on video of the 730 and the 830. Also, I'd like to ask a question about the future of the WP in the forums, is there a way to tag you there so we can get your input on it? Thank you in advance,

Hello Boss..
your are in ealy 2012 i think...As current consumers are preferring affordable phones with cute looks and software..This phone is cute (bit Bulky in current standards) and affordable (may be! as MI3 and Moo G mant other are already avilable). When comes to SW wp is in in 2010 till now..(may be S60 good one till now with impovements). So we have to admit that OS let down...let me explain in two examples.
Eg. 1: App list - may be a man can hang himslef with it..even S60 has grid view and list view adding to that now games also added un necessary length to applist.. (may be it is developement from MS)
Eg. 2: Back Ground - Only black and white in 2014. thay have added back ground for home sceen the what about app screen..
Eg. 3:I have seen many comments bashing iphone and android for lags....but with wp 8.1 many are experiencing this and may leve the platform, now they opted for SD 400 which was already at its end life...
I have few more to explain but i want to explain in an effort

You think you know things that you don't know. Most stupid comment of 2014.

I have expressed what I know and what I have experienced...May be a stupid can comment on my post.

If you're such an expert.. What you're doing here? Go join Apple or sammy! And thanks for your 'expert' opinion... MS dont need it! :)

If I feel the same, I will join.
But point me if anything wrong or false part of my comment....

Daniel, if you can confirm this rumor that Lumia Denim is not coming to 1020 ? and if it is, does it have the camera update feature as it shows in the highlights..

Pass that marketting gem on to MS: Forget what we call it.


If you had followed up to 720, it was the 1st Lumia which had Wide Angle lens for fron facing camera. Was Skype Centric and had better Front Facing camera back then. 730 is just a follow up to that.

Desperate attempts? There is nothing desperate about this. It's called marketing. And I'm pretty sure this wouldn't be a gimmick and Microsoft and Nokia would again live by the specs and performance unlike the others. Overall it's a great phone for its price. And I want it in green!! Posted via Windows Phone Central App for Android!

I would have to say I disagree. There is nothing at all wrong with this marking angle. As you already stated this phone can do all that any other WP can do so why not market the great 5mp front facing camera?

Its obviously a phone marketed to the younger generation.. And it serves a purpose. I'm not really a selfie guy, but on holidays my wife and I have wanted a picture in front of a landmark, and with no one around to take it for us, you've always been stuck either trying to take a picture with your camera backwards, and taking a low res picture with the front camera. So a phone like this makes photos like that so much easier. I personally think its a good thing, and couldn't care less what they call the phone

I just saw someone take a selfie in their car the other day while driving! If you think this is desperation and not responding to the market demand you're not paying attention.

.....do you mean driving as in the car was moving or they were at a light or something just in the car

The only desperation here is in your trolling.

Nothing desperate. Just smart. "Selfies" have taken off big time. Even Android phones have 5-8 MP phones,some just announced as well. People b!tch too much. First it's Microsoft is too slow to things,now they're right on time with everyone else.. And yet more b****ing.. Where's the SMH camera phone when you need one?

Yeah Dan! You kept the user requests lol and now its an official selfie phone ;)

Did you try to apply any of those fancy filters?

And Dan, I heard Weber talk about the the selfie app being available in the store today, so hit us up quickly when it's live

When will this come to T-Mobile?

It resembles more like Nokia x2 Posted via the Windows Phone Central App for Android

Your name Yoda really is..

i really like the matt orange on lumia 930 and 830 but the glossy one on other lumias is hidous IMO. Nevrless awesome phoe for this price point

they told 4g lit 219 Euro dual sim 199 Euro

Anyone who knows the name of wheater app on the screenshoot? Please tell me

Off to the forums with ye! http://forums.wpcentral.com/

Is the black charging plate on the pictures above the Nokia DT-910?

It keeps getting better as it goes! I just don't understand the USA and why they don't jump on these phones and OS.. It is really a nice OS and the phones are amazing! Smh!

Cyan why did they drop this color !

And they didn't introduce a denim color

of course nokia skipping the cool colors blue,cyan denim.

Yeah, i really mniss the cyan 920s. They should have cyan, sand/dark green and maybe a champagne color for higher end phones

Hey if it is a functioning model, then can you give us a write up of the Lumia Denim FW and the new OS (If it's not running 8.1)

Any photos available with a non-black background on screen, to really see how big the display is compared to the phone itself..?

Selfie phone and no retrica xO

Lol, the unsanctioned Selfie is the best part. :P.

Personally, I am impressed. For all I care they can call it solfie, facie what ever, it is still L730 with impressive front camera, solid build, sweet pricing.
Oh just for good measure, I heard iPhone 6 will have NFC and all Applers are juiced. They get 3 or more yrs ago tech and all media outlets reporting it as new coming of slice bread but we don't want to celebrate selfie made clearer than ever Lumia wp? I do

Please give me this phone . really becoming fan of this phone !!! life becoming more cool with selfie ( LUMIA 730 - i love you )

Reminds me Nokia x2 a little bit

Were no news apps announced, they used to announce new ones at every event but they haven't the last two

In announcement pictures show that Flipboard is coming!

Selfie n selfish!!!
Wkwkwkwk
Good job, lovely phone n a handsome guy!

Design kings! And better FFC's FTW

I have been waiting for a good dual simm phone with front facing camera for windows phone forever, almost got fed up and bought a Blu phone, so I am very happy this phone is coming out. Would I prefer if it was 50-80 dollars less? Of course, but this will do nicely. BTW I love the unsanctioned selfie.

That back doesn't look removable from any angle. Also, this phone hits all the sweet spots for me. Too bad I settled for a 630 recently.

yeah but how. it doesn't follow the usual design of lumias with removable covers.please show a video with it changing the covers

Neat and relevant, especially for Skype and such things

The lack of a hardware camera button and colors other than orange and green make me cry. That yellow 720 looks much more eye catching.

This. Why get rid of what was such a distinct feature.