Nokia Lumia 820 and 920 Windows Phone 8 renders leaked?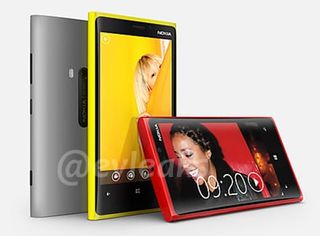 The Lumia 920. Form factor too small for PureView?
Renders of both the Lumia 820 and Lumia 920 have been leaked by EvLeaks. If these images are accurate, then we can at least expect what's about to be announced by Nokia.
Samsung has already unveiled its ATIV S Apollo Windows Phone, we've yet to see anything official from HTC or other OEMs, and there seems to be more interest in what the Finnish manufacturer can come up with to top its already established Lumia line of Windows Phone 7.5 devices.
According to the tweet, the Lumia 920 (see above) sports a sizeable 4.5" display with PureView technology. This could well be the device we believe to have recorded the short Nokia film. Then again, while it looks like a Lumia 800/900 (certainly not a bad thing), we can't help but wonder if the camera on the rear of the device is too small for the PureView technology? It almost looks too much like a Lumia 900.
The Lumia 820 in its apparent glossy glory
The Lumia 820 (see above) is the mid-range Windows Phone, packing a 4.3" display (everything's gone large!) but no PureView technology, according to the accompanied tweet. This device may look familiar and rightly so as we've previously covered the above design being leaked. It was only yesterday that we last looked at apparent Nokia "Arrow" images.
We'll be finding out more at Nokia's event next week, which Windows Phone Central will be attending. Because we're still unsure as to what we should be expecting, it's starting to become rather exciting - especially since Nokia welcomed back Samsung to Windows Phone but noted that their presentation was just a warm up for something larger.
So there you have it folks, what do you make of the renders? Sound off in the comments with your thoughts.
Source: @evleaks - Lumia 920 / Lumia 820; Thanks, everyone, for the tips!
Rich Edmonds is Senior Editor of PC hardware at Windows Central, covering everything related to PC components and NAS. He's been involved in technology for more than a decade and knows a thing or two about the magic inside a PC chassis. You can follow him over on Twitter at @RichEdmonds.
The 920 its cool but it's too much like the 900 I want it to look different

Then there are those of us who want out next phone to look exactly like the 900 but run WP 8 :)

This looks like a "refresh" of the 900, so slight modifications with a slimmer profile, but largely similar. I consider that a good thing (for now).

I love my 900 and i will love it even more with larger screen and new specs!

I agree with you. I wanted a new design for the Lumia 900 successor. Especially considering that it is just an n8/n9 design. Thought I guess we won't have to wait long to find out. Only a few more days.

Why would you reasonably expct he 920 or 910 to look that much different from the 900? That is nt rational!

I like what I am seeing. Tom Warren from The Verge seems pretty sure that this is the real thing. Pureview is not just about a big sensor. It is mostly software related.

Mostly software related is kind of misleading. The software is important, but the software is less effective when it has less data to work with

Well that's not really true.
You can't have PureView without the software and hardware. That said 20MP or more should be enough.

Anyways i think Nokia will be superior when it comes to software, even more than on WP7.X. So far happy what we have seen from Nokia.

"20MP or more should be enough."

Nobody was ever complaining about a 20MP sensor instead of the 40MP one because it's not the pixels that make the Purevew 808's pictures great. It's the huge (in actual size) sensor.

You can see the size of the lens in that image?

I agree with the 920 looking too much like the 900, I was hoping for a new design to blow the competition away.....

Lol! This design will blow away the competition, just like the Lumia 800/900 did. I'm willing to wager that the new Lumia will outsell the other oem WP offerings (again).

@residing I'll take that wager. Nokia better have something better than this to compete with Samsung. Since everybody knows Samsung will be heavily supporting W8 now. The Nokia has a smaller screen. It better have a removable battery and micro sd slot. Don't say screen size isn't important either. Maybe to a few people but 10 million people bought a 5.3 inch galaxy note. So the average person wants a LARGE screen.

10 million people does not amount to the average person, those are a select crowd, and micro sd card slot is standard on all windows phone 8 devices

Lol! How do you want to send me the money - paypal, wire transfer? Snail mail not allowed :)

I'll give you a year from today to pay me, and I'll make it easy for you - only $100!

As much as I love WP and Nokia, I think Nokia just proved that ramping up WP sales quickly is not likely to happen. With the offering and effort they put in, they did not get near the traction you might hope for, and I'm not sure what Samsung would do to improve on that to such a degree that they can substantially best Nokia's results. If Samsung paid attention, they know that WP is not going to replace much of their Android revenue in the short term - if that really is where they're headed. Definitely a marathon, not a 100m dash.

If that unveiling of the Ativ is any kind of guage of their interest then I say they still arent interested in WP. The presenter looked absolutely bored to death and like he woul drather be holding anything else but the Ativ. And 90 seconds to introduce it. WOW they are really excited.

They did, however, make sure they announced before Nokia, which would seem to indicate that they care whether or not it sells...

Uh, ummm, 920 looks like the 800. See the curved glass?

I LIKE IT :D

PayPal works. 10 million is probably more than the whole Lumia line combined. A small minority of people like Nokia. Everyone knows Samsung makes the best TV's. When the average person goes into a retail store most think Samsung is the top dog. When you have the W8 Samsung side by side with a GSIII the consumer can choose strictly on the OS and not hardware. This is where the W8 will destroy the competition. Nokia just hasn't shown anything yet that's on the Samsung level. Oh that was 10 million was the note. I lost count on how many GSIII's were sold.

Relevant to the article - WP.

Samsung outsells virtually everyone with regards to their Android offerings, including the iPhone! I certainly am not disputing how many Android devices Samsung moves...

OT: I'm buying a HDTV this weekend - it won't be a Samsung :)

Back on topic: With regards to Windows Phone, Samsung is a distant 2nd.

And Paypal it is :)

You guys are hilarious! The winner buy me lunch, is that alright? :-P

820 image is bit different than in previous post. Writing next to camera lens doesn't match.

http://www.wpcentral.com/rumor-new-image-nokia-windows-phone-8-device-shows

Doesn't matter if it comes with PureView technology or not, they look real sweet.

Yep. I read a post were someone deduced that 'Phi' is the 21st greek letter alphabet. So, perhaps the code name 'Phi' relates to the device having a 21MP sensor - with or without Pureview.

Guess we'll get the details on September 5th.

Does the sim card drawer on the "920" look too small, length wise, to anyone else?

If that is PureView with a smaller camera end, i am happy with it. When they showed the PureView 41mp camera phone, I thought it looked like a camera and it was ugly.

I would like a phone that takes a great picture, no question but, I dont want it to look like a camera. I want something more flat on the front and back to be able to fit in a pocket.

It's a phone and a entertainment/business device first, a camera second...

Now that's more like it :D

Really, really happy that they went for that curved screen (if these are real). It makes hue difference to the feel of the phone on Lumia 800 and N9.
Lumia 900 did not feel as high end and weird because of the rised flat screen.

I'm not very impressed, if this is the real thing I go with the Ativ S

Nice! Pretty sure it's a 21MP Pureview, which would still be phenomenal. 4.5" is perfect and if it turns out to be waterproof then it's a wrap!

I'd call that speculation plausible. Smaller chip, and as WPCentral has pointed out it's the tech that matters for PureView, not so much the actual sensor.

The tech is all about oversampling which requires the larger mp/sensor.

I like the looks. One thing I do wish Nokia would change is the placement of the power button. I use a cradle a lot while driving and it covers the button. Put it on top or the side at the top.
Still very excited to see what Nokia is going to bring us.

Aren't there cradles that won't cover it?

Awesome! Both of them. :D

I love the yellow handset, and with pureview its going to be hard to beat:)

I really hope the rumor is false. The Lumia 800 is about the right size, please don't make the 820 bigger!

I agree - i dont want such a big phone either. For me the L800 is perfect in size and design - i really hope they dont mess with it.

I hope and think they will release multiple sizes. One for men, the other for girls.

What is it with all these OEMs....Why do they keep dumping huge phones on to us. I mean...I get it. People like big slabs in their hands and pockets. But it's a "smart"phone. Can't it be a "smart" design as well? Why can't we get 4-4.3" phones that are just as good (specs) as these huge ones. Especially the Lumia range as the polyC adds a fair bit of chunk to the phone. I bought a 900 but had to return it as the Focus S was much more comfortable in my hands and also while carrying it around. While there is no comparison as to which device is better overall, Samsung's cheap materials do make it lighter.
Oh well, I can only hope that Nokia hits it out of the park and covers all user bases.

I agree... I'd be happy with one the size of the 800

+1
I do NOT want a mammoth device on my hands. 4.3 is the perfect size for me and anything bigger is too big. 4.5"-5" screens shouldn't be the flagship of every OEM, and if it is they should at least offer a similar high-end device for those who don't want something that big. It bothers the heck out of me that OEMs think that this is what EVERYONE wants.

Stop complaining about tech you don't have to buy

This makes me more excited about Sep 5th!

Its amazing how people will never be satisfied with some companies (like Microsoft, Nokia)... Don't know what they expect from them... Samsung releases shit android phones and no one complains, but Nokia may release one hell of an awesome device and they'll still find one or the other thing to complain!! Take the Lumia 920 for example... First they said they wanted Lumia 800 design, and now they're complaining Nokia didn't come up with a new design... Then they said they wanted PureView, and now when Nokia is giving them 'PureView Lite', they're complaining that they want the full-fledged 41 MP PW... Hell, they're even crying that the phone must be waterproof... Damn!! What else do you people want?? Nuclear proof?? 5 mm thick phone?? Get a life people!!

I want a phone injected into my head. No more cradles, handhelds, or even speech. The content is delivered right in to and from my head. Nokia better make this happen on September 5th, or else!!

5 hours of Lumia 800 battery life before an update was almost hell, agreed!

If this device is real then it is gorgeous! And it has the pureview camera with carl zeiss lens =) Just give us some verizon love!

I'd be VERY surprised if they didn't use the Pureview trademark in a new handset on Sept 5th. Yes it won't be 40+ mp but the buzz created by the Symbian offering in the 808, was precious good PR for our favourite 'burning platform' and they'd be mad to forget it on Sept 5th.
In reality, the 808 was really only ever a technology demonstrator-and was never released to act as a direct competetor to the Lumia flagship line. I dont doubt that sensors of that size and more will come in time but the name Pureview alone will ship these phones FAST. My point? they'll ship '920's a heck of alot faster with 'Pureview' TM on the box than without....

As far as I'm concerned, it needs to be much bigger. What's the sense of having a 21MP camera if you have to strain to see the images you take with it. Needs to be 5.5" or so.

4.5 IS a big screen, remember it is still a phone after all... I still shudder when i see people snapping away with their iPads, it looks RIDICULOUS. Plus, with the majority of users uploading or syncing their cherished pics immediately to view on traditional screens/monitors (yeah there are still folks out there like me doing that..) then where's the problem? you're not going to want to spend hours editing your snaps on your teeny tiny phone right? i mean if you want to have any sort of life...

PLEASE MAN!!! I bet you were content on the size of regular cameras such as point and shoot. Now all of sudden the screen is to small to enjoy the pictures you take. And you are talking about a 4.5" being to small. Hard to believe some people.

I don't mind larger sized choices. I thought the galaxy note was crazy for phone but I saw a really big and tall dude with it and seemed perfect for his hands. Think outside the box people. Im 6'1" with average build. 170lbs so im not fat, I just have too big of hands for soft keyboards for the size of the iPhone. These are not just phones, they're smart phones. Ability to read and send emails easily is a must!

That's not average, dude. I'm just under 5'9" and I have 15 pounds on you. You have what is considered a "slim" build. But yeah, I can't type on the iPhone either, but 4.3" is the biggest I want.

OMG if that 820 render is accurate, i will pass. The 800/N9 are the best designed phones ever. How dare they use the number 8 for this glossy plastic POS? I can only hope i am being trolled here..

I don't expect to have the entire Pureview, complete with hump, in the WP8. I'd be ok with Nokia implementing some of the technology to improve photo quality and still keep the slim form factors.

I've heard that the N9 camera is still one of the best cameras out there. So I'm confident that Nokia can top that with a 21mp offering...PV or not. I'm hoping also for the stereo recording tech that is in the 808 too. If it records in 1080p then I'm all over it...if only 720...then I'll wait.

They should name it 980 and 880 to match Windows 8.

I know of two family members that'll take the 820 and two that'll take the 920 when they drop into the marketplace.

If the Verizon Atlas is a variant of the Arrow I will be a happy man. A 4.3" Nokia is what I've been waiting for. I'm gonna wait and see what HTC brings to VZW but that's probably my next phone

Maybe this camera is not 41 MP (21?) and this explains why it is smaller but the software tech is the same.

So Verizon and Tmo will get a non purview phone. What do you guys think of that?

Not gonna pay more than I need too just to switch. Either way we all truly don't know which is going where. No matter what, I'm sticking with my carrier Tmo.

Hideous. Samsung is going to eat them for breakfast.

FAKE!!! Nokia can't center their badging, will put it on the left which is where visual focusing starts. I am not saying these are not a good representation of what Nokia is going to release, but this isn't offical.

How much different are some of you wanting the phone to look???? I think the current lineup are gorgeous devices. I don't care if the don't change a thing with the exterior. I do like the brushed aluminum though...that's my next WP!

Ring ring ring ring ring ring ring, Banana Phone!

I'm hoping they do a green Lumia.

I love all the negative comments, and all I can say is... get a Samsung! Or an HTC! This is precisely why we have so many choices and options, and this is a good thing! There's a reason why Ford no longer makes the Model T, and why Apple continues to lose marketshare to competition... lack of choice. Clearly Microsoft and their partners are headed in the right direction. Oh yeah, I love the proposed 920 design... similar to the 900 but tweaked. Now I just hope the specs are there to match... come on PureView!