Rumor - New image of Nokia Windows Phone 8 'Arrow' device shows up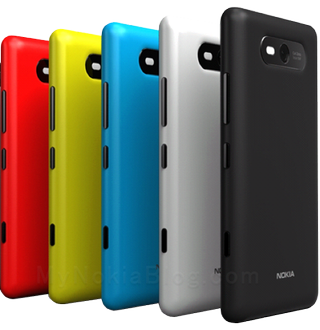 We're always a bit skeptical when on one day we get what looks like a "real" photo of an unreleased phone and the very next day we get what appears to be a mid-quality render of the same device. Call us crazy but that seems like it might be just enough time to break out some Photoshop for some fan art.
The image above is reportedly of the Nokia Arrow, one of the new Windows Phone 8 devices expected to be unveiled next week in New York. The device is supposed to be a mid-range phone, continuing the Lumia 710/800 line for Apollo.
Leaked to the site Phones Review & My Nokia Blog, anonymously, we're not going to rate this very high as legitimate. It may be accurate if you're looking for a computer render based off of yesterday's photo but is it real? Seeing as it only shows the back of the device, like yesterday's photo, we're not feeling the legitimacy.
At the very least though, it may give you some idea of what this phone may look like—assuming Nokia and the person who made this can agree on which way the Camera bezel should go (vertical or horizontal).
Since this photo actually tells us nothing new—no specs, nothing on the front, etc.—we're going to quietly forget this one and prepare for next week.
Source: Phones Review, My Nokia Blog; via WMPU
Daniel Rubino is the Editor-in-chief of Windows Central, head reviewer, podcast co-host, and analyst. He has been here covering Microsoft since 2007 when this site was called WMExperts (and later Windows Phone Central). His interests include Windows, Microsoft Surface, laptops, next-gen computing, and for some reason, watches. Before all this tech stuff, he worked on a Ph.D. in linguistics and ran the projectors at movie theaters, which has done absolutely nothing for his career.
this is ugly. Please not.

+10000 looks like a newer iphone 3s... don't do it nokia.... don't do it!

Are you blind? that's a fan made picture, wtf?

I'll just wait for September 5th.

eh, yeah not too impressive; hope its fake. but I do like that verizon red..

Looks more like a cover then phone.

I agree looks more like a Cover
Look at the White and Blue Ones around the camera.
The Yellow Phone in bottom Pic from Yesterday Camera is top to bottom.
The Pics today Camera is in a side to side postion..
Can't be the Same Phone..

Hope they don't show anything that looks like this..

Well this would be shity looking

That's usually how case companys advertise thier cases not oems showing selections of thier phones...

It is not the real phone, but close, I would say.

I seriously hope that they're high end hero phone takes on the shape of the Lumia 800/900.

Doesn't look "award winning." Even for a mid range phone.

Is that really the power button in the middle of the side of the phone?


I must admit I cant wait till 9/5 but only to see all the expressions of disappointment from the rabid Nokia group if these are true.

Looks good. Hope they will come up with that red for whatever they have in range.

well, it kinda has to be fake as the two photos show the camera differently built...

It's all about having an eclectic portfolio, this is a design which suits young teens or women (no sexism implied) and being ugly is very debatable. I'm seeing giving this phone to my mother for Xmas, she loves colours.

More, one reason (from shit loads of them), I like about WP in general and Nokia in particular is the different models, not only in aesthetics per model but also in target groups, like I hate the uniform concept of iPhones, it's very... "soviet", everyone wears the same thing, from the young teen to the 60 yo CEO.

Omg please don't copy htc

Yeah I was thinking HTC when I seen them.

This looks real, but not the high end AT&T device.

Doesn't look good at all.

If this is what nokia's offering, I will be getting that new Samsung. Nokia please wake up!

You wake up. You're not the centre of the world, not every thing must be made to please you. Nokia will have more than one device.

Maybe you should just chill until next week when Nokia actually shows us the real real.

the camrea dont match up
they are trollin

The arrow is not unibody. Fake!

Hey, I just wanted to point out that I love that you guys use that 'rumor liklihood' counter. I havn't seen that anywhere else and it's pretty cool! :)

But it's a rectangle with round corners! Lawyers from Apple showing up in 3...2...1...

I must say though.. The way Nokia has been talking about Samsung, it seems to me that they have something much better than this to announce..

Very, very poor renders. Check out the glare. We have seen much better leaks from Nokia, how can anybody take this seriously? Clearly a fan render, with a poor attention to detail.

I don't know why people are so negative about the appearance. It looks like almost every other smartphone I've ever seen. It doesn't look uglier than anything else currently available. Sure, I wouldn't put a yellow case on it, but there's nothing to stop you from using a different color.

Looks like something T-mobile might end up with.

we can go to htc phone or iphone if we looking aesthetic looking device

Looks decent to me. More like covers rather than fon tho. 'Buttons' look like cut outs

this is not real. You can even see modeling failures! Look at the cornes (jiggly highlights because of low poly count) and at the Metal Plate(Shadow at the side because of fail modeling). All in all its just a noob fan render thats it...

mid range design, looks like 1st gen htc trophy

While i do like the colors, the material doesn' appear to be very high quality. Kind of shiny. And what about these black obviously cheap plastic volume rocker?

Guys , check out the original source. The phones looks a lot better there. The Verge argues that these are definitely real.
https://twitter.com/evleaks/status/241483427189248000/photo/1
Windows Central Newsletter
Thank you for signing up to Windows Central. You will receive a verification email shortly.
There was a problem. Please refresh the page and try again.