Nokia Lumia 910 with 12MP camera listed on Dutch site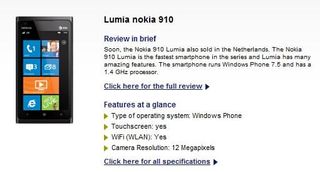 We've been hearing rumblings of a Nokia Lumia 910 recently--basically a Lumia 900 but with a 12.1MP camera instead of the 8MP on the AT&T version. That's not too shabby if true, especially for our European friends who are rumored to be getting the updated version by mid year.
Now we have the Lumia 910 showing up on a Typhone.NL a Dutch retail site for smartphones. The phone is clearly marked as the 910 and low and behold even has a matching 12MP camera to match those rumored specs. Could be coincidence, could be a retail site drumming up some hits or it could very well be the first solid evidence that this bad boy is coming sooner than later. Everything else is there too: 16GB of storage, front facing camera, HSDPA (21 Mb/s) and that 4.3" screen, of course.
In fact, dare we we say we're expecting Nokia to show of the Lumia 910 next month in Barcelona? They're not going to just re-hash a 900 release are they? We think not...
Source: Typhone.NL; via WPSauce
Windows Central Newsletter
Get the best of Windows Central in in your inbox, every day!
Daniel Rubino is the Editor-in-chief of Windows Central, head reviewer, podcast co-host, and analyst. He has been here covering Microsoft since 2007 when this site was called WMExperts (and later Windows Phone Central). His interests include Windows, Microsoft Surface, laptops, next-gen computing, and for some reason, watches. Before all this tech stuff, he worked on a Ph.D. in linguistics and ran the projectors at movie theaters, which has done absolutely nothing for his career.
I suppose this is the European version? Maybe I'll import it if I can get at least 3G on Tmobile

From the site:
"The Nokia 900 Lumia was until recently only sold in America, but recently announced that the Nokia smartphone called Lumia 910 will be launched in Europe."

I really want a 900 series Nokia phone for T-Mobile...

Switch to AT&T. AT&T's 4G LTE Network kills T-Mobile's HSDPA plus network. I know lots dislike AT&T, but I love it.

I have been happy with T-Mo, plus I have unlimited data. Just waiting for a 900 series Nokia phone!

How much of that data is high speed though?

2 gb my friend and when I'm home and at work I just connect to wifi so I don't even come close to using that and I still save 25-30 dollars a month compared to ATT.

I'm interested in where you people live with t-mo as my wife and I are considering switching from sprint but not sure about service in our area.

T-Mo is great here in the Dallas-Fort Worth area. Basically, if you live in or near metropolitan areas, only Verizon is better (but Verizon definitely makes sure you pay for that, and they're anti-WP). However, if you live out in the middle of nowhere, then you may want to stay away from T-Mo.

If Tmo wants a 900 variant they can pay whatever Nopkia wants and Tmo will have it. Its uo to TMo

This is another thing like the Lumia 719.

Yes if this shows up on T-Mobile then this phone is quite the looker.

Man if tmobile can get this I'll definitely stay....a phone like this will stay with me for ever...and MS keeps their word on all phones will always get the next updates I'll have it forever...i like bigger specs, but a good quality phone can keep me waiting for the best or at least make it through my 2 year contracts without wanting another phone...

I highly doubt. AT&T's pitiful 4g beats T-Mobile's HSPA network..at anything
..and just by chance, if it does
,give it a few weeks when more than 50 people are on it... It will be crippled just like their 3g network is currently

It sure does. The fastest Tmo speeds u ever hit were around 7mbps... at&t's LTE network was hitting around 15-30mbps when I had the Skyrocket in early December. No doubt it will slow down as more traffic is put on it but it won't get to be as low as Tmo's speeds.

I got this from the website.

"The Nokia 900 Lumia was until recently only sold in America, but recently announced that the Nokia smartphone called Lumia 910 will be launched in Europe."


and

" The Nokia 910 Lumia you are in possession of a camera that sharp pictures and record videos in HD. This is made possible by the 12 megapixel camera with Carl Zeiss lens on the back of the phone."

Pls come to Tmobile or at least with AWS bands. I want... But I hate AT&T.

I am sorry that you feel that way. I dont understand why but if your experiences with ATT were that bad so be it . I have had no real issues with Cingular or ATt and TMo is only been in my area for several years and only on line or at wamart and radioshack!

Wow, a LOT of people clamoring for "hero" phones on T-Mobile. I hope their wishes come true.

Dats one FINE smartphone, peeps! Hopefully T-Mob USA will have it also. I'm lovin my HTC Radar 4G...

So why didn't AT&T ask for this phone instead?

The 900 isn't even out yet, and they already have 910. Hurry up and release the 900! I'm tired of waiting! :(

canada needs this more than Tmobile. seriously. canada needs a hero wp7 device that carriers would market. i highly doubt rogers would market the lumia 710, even telus won't market the lumia 800 even though it sold over a million in europe

Our carriers are paranoid. They are too scared to risk a repeat of the windows mobile flop. That being said, its just a lack of training on the new OS features and specs.

Well I hope Nokia changes the specs of the 900 to 12 megapixel

Why still 16GB?? That's about an hour of HD footage. Please don't mention Skydrive, it's not a solution, it"s a workaround. I travel a lot, and archving off to the cloud isn't an option data wise.

This is effectively a third generation phone, and still the same paltry storage?

Windows Phone Mango max for storage is 16 GB. Wait for Apollo.

That's not true. Fujitsu Toshiba IS12T and Dell Venue Pro have 32 GB storage.

The mobile networks want people to use data so the phone manufacturers build phones for the networks.

If this can come to America, or at least available for import, I'll definitely use it.

Not true. Costs Nokia money to include 32GB+. WP7 mkt is too small now and demand is still not high to recoup that cost from the relatively few that would pay a premium for such a device.

I call BS on that one. Higher storage capacity is the number one thing I see on these WP communities being asked for outside of some apps the Marketplace doesn't have yet. And cloud storage is not a viable option for those who are working with capped data plans. I wouldn't care if I had an unlimited data plan. But I don't. So if this OS wants to compete, there has got to be more options when it comes to storage sizes. I really don't know why there is this resistance against WP having options for everyone

I am not surprised and most likely it is true, I am from The Netherlands myself (living in the States for 6 years) and we are so much further ahead than you guys.. American Mobile providers can learn something from the European ones...

Eh, it's relative. We have 4G LTE and WiMAx widely deployed already and quite cheap data plans.

If you want to see this on tmobile, hit them up on twitter on their handle @tmobile. The more people that ask will show them these devices are wanted on their network.

Just because u haven't used your full 16 GB doesn't mean we all need to succumb to your lifestyle. Some of us need more than 16 GB

HSDPA (21mb/s), being European would that version work with T-Mobile 3G in the states?

T-Mo in US uses the 1700MHz band. We in EU use the 2100MHz band. So it will not work.

Impressive phone, just waiting for Sprint to announce something

It's a shame all these high end Windows Phones always top out at 16GB of storage. I would gladly pay for at least 32GB or more.

Come on Verizon a 910 W/LTE and a 12mp camera (at least 2 mp for front camera). Sounds like my dream WP7 device.
Well, kick it up to 32 or 64gb and it would be perfect.

My next phone is only due by mid 2013. I don't give a #@& on the camera, but I definitely want 32GB+ of memory. Because only then can I put my trusty Creative Zen 32GB to rest (the device is great, but the sync-software just sucks).

Dude! Same page…though I've no hope of getting a phone to replace mine anytime soon. I upgraded my ZEN Vision:M 30GB to 80GB a few months ago--now I'm salivating over a 128GB SSD I recently ran across. That said, I'd need ≈50GB just to store my current collection at 128Kbps, not including any videos/other content I'd want to add.

Needless to say, It's gonna be while before I can even think about chucking my player.
*Dreams of a ≥128GB Zune HD*

WTH!! we need this 12.1mp beast here in the states!!



16GB of storage only, what a waste.
This is another new WP7 phone that I refuse to buy.
Maybe for some people here 16GB is enough, but for it isn't. Whereare the 32GB devices, where are thephones with expandable storage??
Fed up.

Yeah, expandable storage would satisfy everyone. Those content with 16 can stay happy, and those that want more can chuck in the biggest they want to afford. Come on MS, give us the option for more storage!

It would seem the option already is there, so I'm not what MS can do? Or was Samsung violating the rules with the Focus? I've got a 32GB card in mine (on top of the 8GB built in)

Useless to me without at least 32GB. Yes, I'm piling on but in this case, I think the more people griping about it, the better.

They probably have people watching these kinds of sites but have yiou voiced your fellings on the MS suiggestion site? If not thats probably a quicker place to be more effective or tweeting the carriers as well!!!!

16gb is fine. Just offload pics and vids when you sync. 8gb has been plenty for me but to each their own I suppose. I will say though that having more storage will attract more consumers.

Indeed the eefman INDEED!
Windows Central Newsletter
Thank you for signing up to Windows Central. You will receive a verification email shortly.
There was a problem. Please refresh the page and try again.