Nokia Lumia 920, 820 available in Middle East on November 25th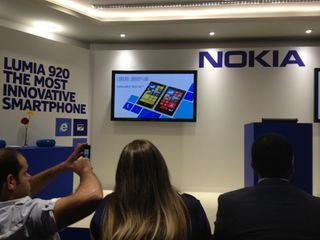 Nokia has announced availability and pricing for both the Lumia 920 and Lumia 820 Windows Phones at a press event held in Dubai, UAE. We previously looked at reports the Finnish manufacturer was planning to launch handsets in the GCC market, which has now been officially confirmed with said announcements.
Set to be made available on November 25th, the Lumia 920 and Lumia 820 will be priced at AED / SAR 2499 (approx. $680) and AED / SAR 1899 (approx. $515) respectively. The Windows Phones will reportedly be stocked by du (www.du.ae) in UAE (United Arab Emirates) and Mobily (www.mobily.com.sa) in KSA (Saudi Arabia).
As well as the above announcements, Nokia also revealed that pre-order stock has already sold out, which follows the news we published today with both Clove UK and Australian Telstra selling out quickly.
Source: The Lumia Blog, via: Joe Belfiore (Twitter)
Rich Edmonds is Senior Editor of PC hardware at Windows Central, covering everything related to PC components and NAS. He's been involved in technology for more than a decade and knows a thing or two about the magic inside a PC chassis. You can follow him over on Twitter at @RichEdmonds.
I thought it was reported as being released on the 15th...now I have to wait more...damn it...

Where r u from? In suadi Arabia its available from 23rd as per arabnews. hope it will be available from 15th only(as per retailers) http://arabnews.com/nokia-middle-east-launches-new-smartphone-range-arabic

I just asked today on Axiom Telecom, and they say that Nokia Lumia 920 and 820 will be available on 15th. And you can already preorder Lumia 920 for 2499AED

Btw, I noticed a strange behavior on Lumia 920; the screen was really unresponsive and I was trying hard to scroll. It was like a bug or something. Anyone knows about this or noticed the same behavior?

Pre ordered mine from best buy way back on October 21. Since then I keep reading article after article about the 920 available all over the world. Apparently best buys in Florida are below Iran on the priority list. This is bogus man!!

LOL at bb in florida < Iran. I guess BB underestimated the demand for different colours. I can see from BB's website they still have black 920's both in stock and in store(1131 5TH ST, MIAMI BEACH, FL 33139-6506). If black/white is ok, you could just cancel it and pick up one from AT&T store. I checked AT&T's site, and there are some stores that have black and white models in nearby Miami area. So Lumia 920 is hardly outsold at AT&T stores. Given the fact that each store got maybe a dozen devices and they still haven't outsold them, I'd say Lumia 920 sales in US has been pathetic. A real shame for Nokia.

I dont know about Miami. I called around 5 or 6 at&t stores on launch day and only one had any. Like 4 black ones! No best buys... Im definitely cancelling on best buy and trying to find one at at&t. Black is fine...

Axiom in UAE will release it on the 15th, Axiom is the only retailer who will have the 920 in red atleeast till end of year, red is exclusive for them, i called all the Axiom stores in UAE and the all confirmed 15th November the devices will be out for sale...I hope they all are not lying :) :)

A quick not, as per my experience, the Nokia stores in UAE are crap, they have 0 info on the 920s with no info what so ever and I went to both the Nokia stores in UAE they didn't have display units, where as Axiom has display units that you can try of the 920 in all if there stores.

I think I need to read what I write before I hit send...Grammer/spelling ftw

Another quick note, the Nokia stores have the wireless charger available now for sale the pillow one and the regular one with different colors, axiom doesn't have and didn't promise the wireless charger on the 15th

actually, i pre ordered mine at the Nokia store at MCC Dubai. Both the MCC and DM stores have the lumia 920 on display and available for pre-order, and like axiom, they said it will be available on the 15th. Curious how you didn't get the information from the nokia stores. I have been having trouble ordering the HTC 8x, and gave up when i saw that the Nokia is available for pre-order at axiom and Nokia stores with a nov 15th release. While as HTC 8x was suppose to be released on the 10th and there is still no word on when it will be available. Good luck buddy :)

Thanks for the info I am glad they have it now coz I checked Dubai mall a week ago and they didn't, vest of luck for you too :), thanks again.

When it comes to Malaysia??!!

most likely it won't come. Sirim will said, what the F call wireless charging? if wireless charge, how TNB earn $?
also, whatvthe H is LTE????
:P

Hey Nokia, while I think it's great that your getting your phones to sell everywhere in the world, how about you send my yellow 920 I ordered a week ago. So far just says pre order processing. I'm a devoted windows phone fan but I wonder how many non windows phoners have simply canceled their orders due to your lack of having actual product ready for release. When did you announce this phone? August? yet you are still unprepared....

Whats with Nokia completely leaving the India market clueless? No news of it at all, India is one of its biggest markets. And the holiday season is almost over here.

I am waiting for it In India too. Also my friends and some of my relatives are eager to buy. But its sad that it isn't available till now.

They are clearing/dumbing their old lumias in india. time to start strike!

It should be available in india by end of Nov.

Won't be available in India this month. Source- BGR India

India is big market, but not so much for smartphones.
Though from other Windows Phone manufacturers Nokia certainly seems to be much more eager to bring it to India.

IT BE REAL NICE TO HAVE A DATE FOR INDIA!!!!!

Does anyone know when they'll release in Doha, Qatar, and where?
Windows Central Newsletter
Thank you for signing up to Windows Central. You will receive a verification email shortly.
There was a problem. Please refresh the page and try again.