Nokia Lumia 920's Camera - A Second Look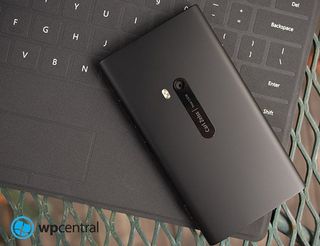 One of the key focal points of the Nokia Lumia 920 Windows Phone is the 8.7 megapixel camera with Pureview technology. Nokia ventured into uncharted territory with the 41 megapixel Pureview camera on the Nokia 808 and we waited with much anticipation to get our hands on the lower resolution camera that was fitted to the Lumia 920.
We saw plenty of post production samples of how this camera shines from the optical stabilization handling a ride on a remote control car to low-light demo we witnessed at the New York launch event. The Lumia 920 has the potential to take our Windows Phone cameras where they've never been before. While the pre-release demos and samples were impressive, we needed to get our hands on the Lumia 920 and see for ourselves how well the 920 performed.
After taking the Lumia 920's camera out for a test drive over the past few days it is an impressive camera. Low-light performance is remarkable but the camera is hindered by a few in-camera settings. Settings that leave images slightly soft. Nothing to make you scream and the softness is easily corrected with post-processing software. We feel that this softness can easily be fixed with a firmware update to allow the Lumia 920 to reach its full potential.
While there is room for improvement, the Lumia 920's camera is still impressive and it remains a key attraction for the Windows Phone.
The Nokia Lumia 920's camera is optically stabilized and uses a backlit sensor (BSI). Both features make the 920 shine in low light. While other Windows Phone cameras rely on digital stabilization (a software solution), the 920 relies on optical stabilization (mechanical solution). The camera housing is suspended and compensates for minor movements while the photo or video is being captured.
In low light situations, the camera uses a slower shutter speed. Try as you can, on slow shutter speeds you're likely to move the camera ever so slightly and the optical stabilization keeps the camera steady. Granted the OS won't let you do cart wheels and still take great photos but slight movements, such as what breathing may generate, are handled nicely.
The other part of the equation that allows the 920 to work great in low light is the BSI sensor. The design of the sensor pulls in more light. In doing so, the camera won't have to dial down the shutter speed so much which lends some assistance to the OS system. In a nutshell, the 920 is well suited for indoor, low light photography.
While Nokia put a lot of effort in the design of the 920's camera to tackle low light situations, they fell short on the user interface. Mainly the limited number of options/settings. The Nokia 920's settings may be the most lacking I've seen on a Windows Phone camera.
You have the ability to tweak the scenes, ISO, exposure value/compensation, white balance, aspect ratio, and turn the focus assist light on or off. Gone are the sharpness, saturation, contrast, metering modes and image size adjustments. It would have been nice to have seen more control over the camera settings on the 920, similar to what we find on the Lumia 900. Granted, not everyone will miss the greater level of control, but I'd rather have them and not need them than need them and not have them.
Image quality is good but at times, as Dan points out in the Lumia 920's main review, images can be soft. This isn't uncharted territory for Nokia. Remember the Lumia 900's camera was an under achiever until Nokia released a firmware update that corrected a handful of settings such as ISO, color and white balance as well as sharpening. Nokia hit the nail on the head with the Lumia 920's low-light performance they just hit things slightly off-center with regards to image sharpness.
This all should be fixable with a firmware update and in the meantime, you can use Nokia's Creative Studio or another third party photo editing software to fine tune the image with only minor adjustments needed. It really shouldn't take much to correct things in-camera and improve the 920's overall performance.
Lumia 920 photo edited with Nokia's Creative Studio software
However, while editing photos is second nature to me and isn't a bother, others may not feel the same way. The 920 should give users a better "straight from the camera" image without the need for post-processing. Image quality is good but with a few in-camera tweaks, the 920 would reach its full potential. Hopefully we'll see a fix sooner than later.
Nokia's Creative Studio
Low light situations is where the 920 can really shine. It won't let you capture images blanketed in total darkness. However, when the only lighting you have is a porch light, available light through a window or street lights, the 920 will utilize the OS and BSI sensor to pull in enough photons to capture images that will make you go "wow". There is a degree of softness with the night shots that is more noticeable with people pictures than scenic shots. Post-process sharpening will help but there's a point where some softness is unavoidable when shooting at slow shutter speeds.
The first photo was taken at night, the second in a garage workshop using only available light from two windows and the third at night two street lights illuminating the parking lot.
Low-light samples from the Nokia Lumia 920
The Nokia Lumia 920 has a 4x digital zoom feature. Zooming in and out is done by pinching at the screen (much like you would do to zoom into a web page). While I still prefer my foot zoom to digital zoom, image quality isn't too bad.
Nokia Lumia 920's Digital Zoom
Macro or close-up shots also were quite good. The Lumia 920 will let you focus about eight inches away from your subjects. This will come in handy for flowers, knick-knacks, and other smaller objects that are photograph worthy. But as with other shots, macro images just need to be a hair sharper.
With regards to video capture, the 920 performs nicely both from the rear and front facing camera. Video quality is respectable and the OS helps keep things steady. When you walk and shoot video, there's a bit of bounce to your step. The 920's OS will just about eliminate that level of bounce and keep the footage steady. The optical stabilization may not completely fix the image while jumping up and down, it does minimize the impact (as noted towards the end of the video sample).
Overall, the Lumia 920's camera is the best Windows Phone camera I've handled. While I do wish Nokia had given us more controls in the settings, image quality is respectable. Low light photography is the camera's strength and Nokia is aware of the sharpness issues. Hopefully a firmware update won't be too far away and we'll see the 920's performance become better balanced for all lighting conditions. These issues do not make the 920's camera bad but keeps it from reaching its full potential.
Nokia has done a very nice job of building a fantastic camera for the Lumia 920. The optical stabilization, BSI sensor, and Carl Zeiss 28mm lens creates a rather nice foundation for the camera. Even with the problems with softness, the Nokia Lumia 920 takes quality photos.
I'm not about to sell my Canon DSLR but I'm very comfortable using the 920 for family pictures, spur of the moment shots or any other casual photography settings.
Now if we could only get a mechanical shutter....
Nokia Lumia 920 Closeup Sample
Nokia Lumia 920 Indoor Photo Sample
Nokia Lumia 920 Outdoor Photo Sample
Related:
Windows Phone Central Lumia 920 Forums
Windows Central Newsletter
Get the best of Windows Central in in your inbox, every day!
George is the Reviews Editor at Windows Central, concentrating on Windows 10 PC and Mobile apps. He's been a supporter of the platform since the days of Windows CE and uses his current Windows 10 Mobile phone daily to keep up with life and enjoy a game during down time.
I take ALOT of pictures and this weekend, I have been snapping away. I would say I took over 300. Kids, outside, inside,low light. I'd say that I had to delete less than 5 for blurriness or bad quality.. Deleted plenty just because the kids looked away or something random. As far as impression of the camera from and average user.. I am more than satisfied with this camera, the phone and the OS..

I tend to delete 1/2 or more pics for bad quality on my iPhone... Terrific

I agree...im just an average/occasional camera user and too me its perfectly fine. Its definitely the best camera on any windows phone and definitely on par with other high end smartphones.
On a side note...the build quality on this phone is one of the best, if not the best....that's where the weight comes from.

Video is private and can't be viewed! But still a good read!

I think the lack of selecting where to measure light (centered, all or spot) is the biggest problem. And here is an example, you stand on your balcony and want to shoot a picture of your family from inside so you see the sky behind. With the settings now i think the people would be impossible to see or the sky would be overblown. But you can not control it if you dont have spot measure. Thats a big problem and i as a photographer know what i'm speaking of.

Think you can remedy this by using tap to focus, it seems to work that way for the 900 anyways, but then the problem starts to lean if you just want focus and different brightness control.

Surely you're thinking of HDR rather than metering...? Besides, doesn't the 920 have a "half button" press and centre weighted? Just target whichever one you want to shoot, half-press, reframe, shoot.. Same as photography used to be.

for less extreme situations where the lighting of all subjects is within the dynamic range, I guess I see your point for having multi-point metering, but as a photographer you can certainly overcome the limitation...

Tap to focus. But if you're looking for something more sophisticated you should just snap with your DSLR.

impressive first picture is my favorite

i mean house photo is my favorite

I'm very much looking forward to getting my Lumia920 due to the camera. I don't particularly care that it's not quite as sharp as the iPhone5 or GS3's camera given the low-light & optical image stabilisation on it.

Whenever I take pictures on my Omnia 7 I always end up taking the pictures about 4 or 5 times due to blur or having to adjust settings for not-perfect light conditions, which makes it tiresome for static shots and utterly useless for one off "hey, that's a cool thing happening right at this moment" shots.

From what I've seen of the Lumia 920's camera it lives up to everything Nokia has said, with the stabilisation and low-light features working perfectly. They never suggested it would be a revolutionary quality for perfect condition shots like some people seem to be expecting but it certainly looks well above average, just not above the top-end competitors. Surely above average shots in perfect phone-cam conditions + amazing low-light shots + best stabilisation tech on the market = overall best camera on the market? The difference between the iPhone 5's & GS3's low-light shots compared to the 920's is far far greater than the difference between the 920's perfect-light shots compared to the others.

I totally agree with you....and sooner Nokia will upgrade even the sharpens issue...love l920....ill get you soon!!!

Haven't had the chance to take alot of pictures. Did shot a little video and it looks great. I bought this phone for the camera.

my 900 is like night and day after the update so if its anything like that the 920 is gonna be the best in day light to, cant wait to get mine, still hoping for a nokia tablet also.

Wow...i hate to say this but pocket camera are gone!! My lumia 900 is the best camera I've ever had in a phone even my 710 camera was acceptable...you can't even tell on Facebook...I'm still skipping the 920

Then n8 with 12megapixel even better, go back to that phone then...come on this camera is stunning, day-light will be sharp soon even though its already amazing....

How did you guys get the Color Balance, Vibrance, Brightness and Clarity options in Creative Suite?
On the 920, I only get the presets in Creative Suite: Amber, Opal, etc.....
No manual fixes!

You swipe to right, there you have the adjust (I think you are now on the "fix" page) (or the other way around).
At least that's how it is in the 800 Creative Suite.

The interface is different on the 920. I just figured it out.

You pick one of the presets, then make sure the phone is in Landscape, then you tap on Edit.

After choosing your filter (or none) you need to hit the Pencil at the bottom. There you can fix everything else...

The L920 camera has alot of potential as a backup pocketable camera for those of us that don't always want to carry a DSLR around...Nokia just needs to push out that firmware update to address the minor issues, that are holding its hardware from performing optimally. After some minor tweaks my L920 will easily surpass the optical performance of the iPhone5/Samsung SG3.

I may be a complete buffoon, but I don't see a damn thing wrong with the images. If by softness you guys mean it looks realistic without seemingly made to be on a poster I am okay with that. Nothing wrong with an extremely, crisp, sharp image, but I don't see thus phones camera being sub par.

You can't really see the softness in photos above because they are resized. The two that have been compared - before and after using Creative Studio - should show you the difference.

I do not like how the Lumia 920 review is staying above everyting else in the new site design/layout.

I get it is the promoted article, but when I visit the page I have to actually scroll down to see if there is new contect, very inconvenient. And I often miss new contect because of it. I thought the site had not even been updated in days until I scrolled down one time by accident...!


Use the app. It's pretty awesome! Would be better with in-post pics & clickable links in the forums, *hint-looking at you, Jay* but still...

Even on a workstation the featured article images take up too much room IMO. I wish they were smaller. But even more so, I wish the new site was more mobile-friendly. If only the text were larger. (Yes, I have tried the app. But it won't let me post, and I can't login. Do I have to pay to login?)

You'll be prompted to login as soon as you try to post. I had some some login issues too, just delete and reinstall fixes that.

DAMN that black 920 looks awesome on the Surface keyboard! How could anyone go for any other color?! :P

I want to say: dslr camera now can rest

I think the photos look great.
But the video is stuttering. :(

plays smoothly for me, try playing it again after it is cached.

MyDaughter and I took our L920s to a wedding in Cocco Beach this weekend. The Groom and most of his family were using iphone 5's. Our pictures outshined theirs in almost every occaision. Even had 1 say he was taking his phone back.....
I am not sure what I am missing. Before you ask, my daughter is in Photograghy 2 Class in College.


Did you take photos indoors or outdoors? Of course the 920 crushes the competition indoors.

I was a very harsh critic of the Lumia 900's camera. I received the 920 this weekend and was VERY pleased to discover that the picture quality is excellent. Night and day when compared to the 900.

So far, the iPhone is touted as the best camera phone out their. I'd love to see a shoot to set the records straight. Lisa from mobiltechreview was not impressed with the camera stated the L920 is not the best camera phone out their and that it holds its own against the GS3, note 2, and iPhone. What I'm I to think hearing as such from a professional tech reviewer as her?

Not sure why the iP5 is touted as the best, as from my findings, the Nokia 808 is considered THE best cameraphone on the market.

...and why did I spell "their" wrong?

And for that matter, why did you say "What I'm I to think"? ;)

Meaning kind of stressing to hear something like that. Pureview suppose to be best of best not something that holds its own.

I have an iPhone 4s(camera I is pretty much the same as the iPhone 5) and the Nokia 920. I honestly think the 920 takes better pictures. I think their is an anti Microsoft bias in a lot of these reviews.

I agree..people tend to forget its a freaking phone...omg the iphone4/s is comparable to my lumia 900..

As my wife said "you are now the family photographer" she has an iPhone 5 ;)

The video is impressive... But what's up with the sound?!

The Lumia 920 has 6X zoom.

I think I've passed that building on 280 before on that first night shot picture....

As someone who likes to hangout in clubs and lounge also coming from a Dell venue pro, all I have to say is that I'm finally the one making fun of my friend's "crappy" IPhone pictures .:) I'm more than happy with the phone's camera, which is great for my lifestyle.

I haven't received my Lumia 920 yet as it's still processing since Thursday :(, but I have a question. Can't one use a third party camera app that will provide more features/adjustments? I just ask because on my Android devices I am able to do it.

PhotoFunia is one of the best third party apps for the Lumia 920.. it has more than 300 filter, also, it's amazing coz u can also edit your pictures to be on a magazine or what not. Well, Nokia Lumia 920 is the best thing Nokia had ever made.

I shoot for a living, it was raining on my way to work and I just put the 920 in the car mount and hit record. The results beat out everything else that I have ever used in this situation ( driving at night , or driving all together ) . Better than any gopro ( way more stable ) , iPhone or even my L900. I imported the footage into my editing system and it was the opening shot for the morning news. This is the first time that I felt good using cell phone video because you could not tell at all. Can't wait for the next time my 920 will make air. As far a the still pictures go, I really did not shoot that many so far but the results have been stunning.

You should put a little "shot from a Nokia Lumia 920" tag on your videos so the viewers will know which phone to buy.

I get a feeling that Nokia hunkered down on the low light abilities in time for launch, and decided they'd get the rest with updates.
Deadlines!

Further, coming from a DVP, I think I'll hardly notice any shortcomings. Especially since I wrecked the already awful camera on this thing trying to clean the lens. Now everything looks like a dream sequence. I suspect Dell made the lens from plastic, and I got a bit overzealous trying to remove a couple black splotches which formed on the lens.

I don't know what the fuss is about ... if the only complaint is "soft" photos, I'd say shut the hell up and use a DSLR if you're that obsessive. I've been taking lots of random shots this weekend, and I'm very pleased with the results.
I haven't seen a single photo sample yet that has made me scream, "OMG, I'm taking this thing back." The few "bad color" samples I've seen online can easily be tweaked by firmware and not being an anal-retentive douchebag.

Can you please do a photo comparrison between the 8x and Nokia? Just because I want the 920 but for me the 8x is cheaper, I know they are both exceptional cameras just id love to see what you guys think. Cheers matt

Except the low light photos, the ones taken during the day... are they any better than the ones took with Lumia 900? Can anybody make a comparison between Lumia 900's camera and Lumia 920's?

I picked up the 920 over the weekend for my wife. I have admittedly been unable to put the camera through a proper amount of testing and enjoyed this thurough review!
One thing I have noticed which I have not seen addressed is regarding the low light shots. While the camera does perform exceedingly well in low light conditions by illuminating the subject without being a true flash, there doesn't seem to be a way to disable the hardware from relying on the super bright LED light when the low light is exactly WHY you want to take a photo.
For Example: After we picked up the 920 my wife and I headed out to Salt Lick (I popular BBQ Restaraunt in the Austin Area) which has some quite romantic (romance at a BBQ spot?! Go with me on this!) settings in the courtyard. In the view finder the ambient lighting was enough to set the romantic tone of the photo and subjects could be seen clearly enough without support from the low light support. I turned the flash off though I couldn't find a way to dissable the low light response of turning the LED on for illuminating in the low light conditions. This resulted in a shot that looked more like a photo with a flash (washed out and a little harsh) and blurred due to the slower shutterspeed. I couldn't get the photo to come out! The scene by itself was darker but as a said illuminated enough that I wish I could have taken a photo without the low light assist.
I hope any firmware updates consider this nuanced in between type condition for photos and includes a way to disable the lowlight assist if needed.
Anyone else have this issue or found a work around?

You can turn off the Focus Assist Light. Just go to the settings while in camera.

I have the same problem, and I've turned off focus assist, but haven't tried the finger over LED trick.

I really like how good snapshots look when taken with an iPhone, but I realize it is due to artificial color saturation processing. Granted, colors may be more "realistic" with other cameras, but I think iPhone pics are generally quite flattering to the subjects. I'm concerned that the colors may be muted with my soon-to-arrive Lumia 920. If this is the case, is there a way to permanently tweak the settings manually for better snapshots?
Also, how long did it take for Nokia to update the Lumia 900 for improved camera performance?

Anyone care to enlighten me on ISO-settings. What should i use and when? Thank's!

I guess I'm too used to my "real" camera; I've had my lumia 920 for a few weeks, and the only pictures that really come out nice are outdoor daytime/nighttime landscape pictures (at dusk or with moon light) and indoor natural light (daytime/early evening) pics.
With any REAL lowlight scenes that have any artificial light (city/urban scenes, infoor night scenes) Lumia tries to over compensate and they pics are HORRIBLY washed out. I deleted about 80% of my christmas family photos
Windows Central Newsletter
Thank you for signing up to Windows Central. You will receive a verification email shortly.
There was a problem. Please refresh the page and try again.