Nokia Lumia 925 announced for Australia, available from July 17th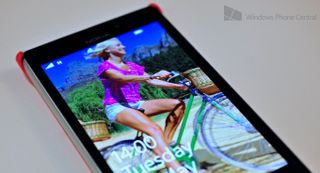 Nokia Australia has announced the Lumia 925 will be available this month with retailers across the country looking set to have the device available on the 17th. Telstra will also be stocking the new flagship Windows Phone from July 30th and Optus on August 1st. The price for the new Nokia smartphone is stated to be $699.
If you haven't already done so, we urge you to check out our Lumia 925 review for more details and our thoughts on the Windows Phone. So who's excited to get their hands on one?
Source: Facebook; thanks, Nikhil, for the tip!
Windows Central Newsletter
Get the best of Windows Central in your inbox, every day!
Rich Edmonds was formerly a Senior Editor of PC hardware at Windows Central, covering everything related to PC components and NAS. He's been involved in technology for more than a decade and knows a thing or two about the magic inside a PC chassis. You can follow him on Twitter at @RichEdmonds.
17th of July is just around the corner and I will be getting one from Tmobile.

Good news, but a bit late..

Just the same time I'll be getting one here in Russia, can't wait any longer :)

Nice, I'll go to Telstra and give it a try.

Pricing it above the S4 and HTC One is not a very good way to gain marketshare.

Cheapest I've seen S4 for is $720 and best price for HTC One is $686... Both of those phones are a few months old and have dropped from their original prices. The launch price of $699 is less than the S4 and only $10 more than the HTC One, but you can get the 925 from Harvey Norman for $598, which is cheaper than them both... http://www.harveynorman.com.au/nokia-lumia-925-windows-8-phone-black.html http://www.harveynorman.com.au/nokia-lumia-925-windows-8-phone-white.html

Kogan has a 16GB S4 and HTC One for $630. $598 is better, but for the hardware inside its still epensive. The whole advantage of WP is that it doesnt need Android specs, this phone doesnt have them and as such shouldnt have a similiar price.

I'm looking forward to seeing it up close. Glad Telstra has it.

Does anyone know if Telstra are stocking the 32gb one?

Good news, hopefully it makes it across the ditch to New Zealand too.

Overpriced. Sorry, but this price point is ridiculous for a dual-core, 1GB RAM, 16GB storage phone in mid-2013. Apple might get away with this, but Nokia can not.

windows mobile runs better on 1gb ram than android does on 2. Guaranteed. That dual core is TWICE the speed of android dual core processors. Look up comparisons.

I don't disagree with you, but Nokia can't get away with charging premium prices for non-premium hardware. This is a max $550 device off contract IMO.

People still simply worry about specs! They just don't know how optimized are these Lumia hardware for windowsphone 8. Android needs 8 cores to beat a single core Lumia 800 and people who have used it at least once would know it for sure

I'm sorry you don't understand my point. This isn't a premium device as far as hardware specifications and shouldn't priced as such.

This phone is absolutely and truly gorgeous!!! ...and I was really freaking out about the hump to start off!?

I'm confused.. Telstra has the 920 exclusively, and now this.. I'm a Telstra customer but I would've thought they would've prefered to spread their flagships out amongst other carriers

.......they are?
Optus gets it as well??

920 was never exclusive... you can get Telstra or Optus model from Harvey. I thought it was available unlocked elsewhere. You can currently pre-order the 925 from Harvey for $598

Telstra has the 925!

I thought Optus would have exclusive rights!

Now VodaCrap AU has to get the L925. We all know they won't.

Optus? When have they had anything exclusive? Telstra always gets the good stuff. I'm with Vodafone but I'm currently using a Telstra mobile - it was never carrier locked and works fine.

For me, it seems to late as the EOS will be presented in two days and will be sale at the same price but with a huge better APN at least, and maybe two or three others improvements.

If both the EOS, 925 and 920 are on Telstra, it's just more choices for the people who want a high range lumia.
The EOS has a 41MP camera, overkill for some people, perfect for others. It's the same with the 925 and the 920.

Glad there's some news today. Yesterday was... Dead. The 11th can't come fast enough.

Heh, it was a long weekend. Though a nice break for everyone!

Unless the 32gb is available this is a fail... Gives both Nokia and WP a bad rep with flagships only having 16gb on board. 920 ftw

I agree but I'll b grabbing 1 nonetheless lol

I don't think I'm gonna be paying that much for the 925, I mean the hardware is almost the same as my 920, why should I spend that much for a small upgrade.

Technically a downgrade if it's only 16 GB