Nokia Lumia 925 Review: The best Windows Phone available?
Windows Phone Central's review of Nokia's next flagship Windows Phone 8 device, the Lumia 925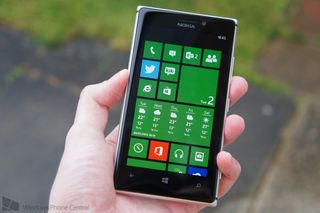 (Image credit: Windows Central)
Nokia has numerous Windows Phone 8 handsets available on the market, but that hasn't stopped the Finnish manufacturer from launching yet another flagship smartphone. The Lumia 920 launched late last year, along with Microsoft's Windows Phone 8 to the public, and since then we've seen multiple devices come to life, including the affordable Lumia 520. Nokia is certainly hitting each price point.
We've got our hands on the new Nokia Lumia 925 and have been able to play with the new smartphone to see how it fares with low-light photography, performance and general mobile phone use. Billed as the best Windows Phone experience yet, how does the Nokia Lumia 925 stack up and is the mobile phone as good as Nokia promote it to be? If you're in a hurry and can't read our review: yes, it's actually that good.
/
Swipe to scroll horizontally

Light, thin and runs the latest version of Windows Phone 8 (GDR 2). Sporting all the bells and whistles, including optional wireless charging, NFC and Nokia's plethora of apps and services. Aluminium / polycarbonate combo build provides a premium look and feel.Available in multiple markets.

Gap between metal and polycarbonate backing can collect dust. Not a huge improvement on the Lumia 920.

There's not much to go on if you're looking at criticising the Lumia 925. Nokia has done a golden job at getting the Lumia flagship just right with the balance on functionality and design slap bang in the middle. If you skipped the Lumia 920, this phone is for you.
The Design
Nokia has received numerous rewards for the design of its Windows Phones, with the Lumia 920 picking up a fair few itself. While the company officially states the Lumia 925 isn't an upgrade to the Lumia 920, it sure feels like it when you pick the new flagship Windows Phone up for the first time. When unboxing the product, you know you're in for a premium ride.
The new Lumia also takes consumers away from the usual (and well-loved) polycarbonate shell Nokia has utilised for the Lumia 800, Lumia 900 and Lumia 920. The company opted for a polycarbonate back cover, matched with an aluminium frame around the sides. It's worth noting immediately that the metal isn't there "just because." Nokia didn't just look at competitor hardware and think they could follow suit. The aluminium actually works with the antenna on-board. And by 'works', we mean you're not required to hold the Lumia 925 upside down to obtain a strong reception.
We're looking at a new location for the MicroUSB port, which is now situated at the top of the device, in-between the MicroSIM tray and headphone jack. This change now frees up the bottom of the device, but we're sure owners be more interested in taking advantage of the optional wireless charging (goodbye cables).
The left-hand side of the Lumia 925 is also bare and sleek looking. The opposite side sports the usual volume controls, power button and camera control. These buttons have been revamped to feel much sturdier than what is on previous Lumia products and they feel premium to match a high-end look. Speaking of sides, there are two black stripes on either side of the Lumia 925 that separate the antenna.
The glass display, which is 4.5-inches by the way, appears to float within the device. There's hardly a fold or edge. It's completely flush and looks as though it molds into the metal sides. Because the Lumia 925 further improves on the PureView camera technology that has been present in the Lumia family of Windows Phones, there's a slight hump on the rear of the product. Remember that this flagship is thinner than the Lumia 920, but sports improved optics. There's a sixth lens and OIS (optical image stabilisation), but we'll get to all that later.
There's only one question with the design of the Lumia 925: the Lumia 920 was built to survive harsh winters and cold wars (but not an AK-47), but how about this new flagship?
The Display
The Lumia 920 features an IPS LCD, but Nokia has chosen to go with Samsung and its AMOLED screen technology. This is met with our approval, tenfold. Samsung's display really brings the Windows Phone to light with Nokia's ClearBlack technology. Blacks are indeed black and the whole thing just looks so vibrant and beautiful. It's easily the best display we've seen for a Windows Phone yet.
The familiar Super Sensitive Touch returns, meaning you can effectively use the phone without having to take your gloves off, or if you're simply in the lazy mood to use your keys instead of a thumb / finger. We could go on and on, and on about the display, it's been nailed that well (we assume literally with the Gorilla Glass protection). The display looks as though it's part of the shell itself with how there's a subtle (and by subtle, I mean subtle) curve in the display where it meets the aluminium sides.
Speaking of which (aluminium), when looking at the screen, you can see the metal coating and it screams premium at you. Nokia's PureMotion HD+ tech is on-board and owners are in for an eye watering experience. This enhances animations on screen, perfect for gaming, video playback and general app and system use.
There's even a colour profile area in the settings to configure saturation and temperature of on-screen colours – perfect for those who don't rate Samsung's screen technology when it comes to stuff that's not in black and white. To close the screen section of this review, it's also worth noting that the display is a breeze to use in the daylight. And by daylight, I mean sun blazing, ultimate glare in your face daylight. Kudos, Nokia.
The Hardware
There's not an awful lot to say regarding hardware, especially if you're familiar with the specifications of Nokia's Lumia 920 and Lumia 928. We've got the same dual-core Snapdragon CPU (1.5GHz), which is accompanied by 1GB RAM, but as noted above Nokia has decided to go for a 4.5-inch HD (1280x768) AMOLED display.
A slight let down is the lack of storage in the Lumia 925. For a premium Windows Phone experience, we'd expect more than 16GB, especially if the companies backing the platform intend to force cloud services and streaming down consumer throats. Even so, there's still a lack of microSD, but we're almost thankful for it not being included. We like the design as is and another port could have added complications. However, not every consumer will see it that way.
It's not all bad as a 32GB option will be available, but a 32 / 64GB combo would have been rather stupendous. Should you be looking at the larger configuration, do take note that some mobile operators (example: Vodafone in the UK) are snapping up the 32GB version as an exclusive deal, so be prepared to get migrating if you desperately want the Lumia handset and the more spacious cargo hold.
A noticeable absence is Wireless Charging. Built-in, that is. Nokia has opted to shave some weight off the design by making wireless charging optional with a back cover. We've seen the cover in action and it's not huge so we don't see it as a negative (in fact, it offers protection to the aluminium sides and polycarbonate rear), but the Lumia 920 is handy to have the functionality inside the shell so there's no need to hunt for that compatible cover if you're not a fan of wrapping your mobile phones in bubble wrap.
It's worth noting that the removable cover may well be an optional purchase for consumers and may not come packaged with the device itself (ours didn't come with one, boo). Any Qi compatible charging station or dock will do once you've eventually managed to attach the Lumia 925 to its protective holder. That said, the optional cover should come with the device, especially at this price point.
It's not all doom and gloom as the Lumia 925 does come packing NFC and all the bells and whistles for navigation, connectivity and productivity. LTE is also supported should you be with a mobile operator that offers SIM cards with improved speeds. Getting one through the day and accomplishing tasks thrown at it is a cinch with the 2000mAh non-removable battery, which fortunately does not require a shovel and heap of coal to remain powered.
We've spoken about how remarkable the design is, but it's also an incredible achievement for Nokia to cut so much weight from the Lumia 920, while retaining much of the hardware. When first holding the Windows Phone, it's almost surprising to know just how light it is. At just 139g, it's not as lightweight as the Samsung ATIV S (135g) or HTC 8X (130g), but Nokia has done a superb job in cutting it down for those poor souls who complained about the Lumia 920.
Seriously, do you?
The Software
The Lumia 925 – being a Windows Phone – runs Windows Phone 8. What's interesting about this handset is that it comes with the latest update, which isn't currently available to other devices. GDR2 (General Distribution Release 2) has been covered by Windows Phone Central in the past, along with an incredible review of the Windows Phone 8 operating system. It's well worth checking out both the review and our past coverage of what you can expect in this upcoming upgrade.
Nokia hasn't just sat back and allowed Microsoft to get down and dirty with software improvements as the Lumia 925 also sports the Amber firmware update. Announced in London back in May, the update from the manufacturer introduces the Lumia Colour Profile, the new Smart Camera app, as well as the Glance Screen. Again, we've gone over this new feature in the past, as we as new products and services Nokia will be introducing.
What's interesting about Glance Screen and the Lumia 925 is how Nokia has utilised AMOLED, which will save battery and won't use much charge when the clock is on display. When you first notice the clock and double-tap to unlock, you do question just how long it'll be until you head into the settings and turn it off. After some time and use your mind has been completely swayed the other way. It's a useful feature and one we're sure many will come to love once the manufacturer rolls out the Amber update.
Finally we have a data management and tracker available. Data Sense was unveiled by Microsoft some time ago but was locked to Verizon in the US. This feature is bundled in GDR2 and we've enjoyed utilising the app, entering in contract data limits and keeping within the allowance. This is a highly anticipated release many will jump on. We're not entirely sure why it's taken this long to get such an important feature out to the public, but better late than never. Be sure to read more into Data Sense with our previous coverage.
Nokia has updated its HERE services, notably HERE Maps to take advantage of LiveSight. This new feature is essentially City Lens, but improved and integrated into the mapping experience. It's a part of the Windows Phone I simply can't cease using while out and about, unless battery saver kicks in. Nokia has made it so POIs (points of interests) appear on a 2D map layout with compass support so you can actually see which way is the correct path for that particular listing. Holding the device up will then fire up the augmented reality.
This can all be kicked off by tapping the LiveSight icon when using HERE Maps and the usual POI details can be displayed when selecting each listing. Really cool. If you're not familiar with the apps available for Nokia Windows Phones, I strongly urge you to check out the Nokia Collection here on our website. It's packed full of updates, releases and more juicy details on each offering.
Back to Windows Phone 8. You know the drill already. But if not, Microsoft continues to innovate on and improve its mobile experience for consumers. The Windows Phone Store has over 150,000 apps available and while many official apps aren't yet available, third-party developers are filling the gaps with high quality solutions. GDR2 is yet another jump in the right direction and Microsoft should not be hit hard when it comes to the ecosystem, especially with Windows 8 and Xbox One.
The Lumia 925 powers through daily tasks with Windows Phone 8 and the Snapdragon dual-core CPU. We don't need more cores. Really, we don't. The argument may stand for gaming, but even then we could look at graphical power over CPU, but that's a whole different argument. Fact is: the Lumia 925 is priced as a premium handset and it sure shows when you turn the device on and see that familiar, friendly blue screen (no, not the Blue Screen of Death).
Playing games and Xbox for Windows Phone titles are also a breeze with no issues when it comes to stuttering or "lag." You'll have no issues with the latest or future releases, unless they're rather large in size. Developers are beginning to step up the quality on Windows Phone and the store listings reflect this with several hundreds of MBs required per install. It all adds up when you only have 16GB to spare and you have to take into account the OS, apps and other media.
The Shooters
On the rear of the device, an 8.7MP PureView shooter looks to be attempting to leap out of the case, and while it's similar to the Lumia 920, Nokia has improved the optics with a sixth lens added. You've also got the usual Carl Zeiss (or now just Zeiss) lens, as well as Gorilla Glass to protect it from general use. For Skype calls and general fooling around, there's also a 1.2MP wide-angle camera on the front of the device. So how does the rear shooter perform? One word: outstanding.
Windows Phones and smartphones in general suffer from bad to terrible low-light performance. The Lumia 920 corrected this with OIS (optical image stabilisation), essentially adding springs to the camera. This has been improved further on in the Lumia 925, allowing Nokia to fit the same camera tech in a thinner and lighter body. The issue with the Lumia 920 was daylight performance. I feared when I took the Lumia 925 for a spin outside that it may suffer the same fate as its predecessor, but this was not the case.