Nokia Lumia 925 Review: The best Windows Phone available?
By Rich Edmonds last updated
Windows Phone Central's review of Nokia's next flagship Windows Phone 8 device, the Lumia 925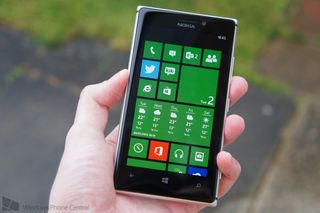 (Image credit: Windows Central)
Nokia has numerous Windows Phone 8 handsets available on the market, but that hasn't stopped the Finnish manufacturer from launching yet another flagship smartphone. The Lumia 920 launched late last year, along with Microsoft's Windows Phone 8 to the public, and since then we've seen multiple devices come to life, including the affordable Lumia 520. Nokia is certainly hitting each price point.
We've got our hands on the new Nokia Lumia 925 and have been able to play with the new smartphone to see how it fares with low-light photography, performance and general mobile phone use. Billed as the best Windows Phone experience yet, how does the Nokia Lumia 925 stack up and is the mobile phone as good as Nokia promote it to be? If you're in a hurry and can't read our review: yes, it's actually that good.
/



---

Light, thin and runs the latest version of Windows Phone 8 (GDR 2). Sporting all the bells and whistles, including optional wireless charging, NFC and Nokia's plethora of apps and services. Aluminium / polycarbonate combo build provides a premium look and feel.Available in multiple markets.



---

Gap between metal and polycarbonate backing can collect dust. Not a huge improvement on the Lumia 920.



---

There's not much to go on if you're looking at criticising the Lumia 925. Nokia has done a golden job at getting the Lumia flagship just right with the balance on functionality and design slap bang in the middle. If you skipped the Lumia 920, this phone is for you.
The Design
Nokia has received numerous rewards for the design of its Windows Phones, with the Lumia 920 picking up a fair few itself. While the company officially states the Lumia 925 isn't an upgrade to the Lumia 920, it sure feels like it when you pick the new flagship Windows Phone up for the first time. When unboxing the product, you know you're in for a premium ride.
The new Lumia also takes consumers away from the usual (and well-loved) polycarbonate shell Nokia has utilised for the Lumia 800, Lumia 900 and Lumia 920. The company opted for a polycarbonate back cover, matched with an aluminium frame around the sides. It's worth noting immediately that the metal isn't there "just because." Nokia didn't just look at competitor hardware and think they could follow suit. The aluminium actually works with the antenna on-board. And by 'works', we mean you're not required to hold the Lumia 925 upside down to obtain a strong reception.
We're looking at a new location for the MicroUSB port, which is now situated at the top of the device, in-between the MicroSIM tray and headphone jack. This change now frees up the bottom of the device, but we're sure owners be more interested in taking advantage of the optional wireless charging (goodbye cables).
The left-hand side of the Lumia 925 is also bare and sleek looking. The opposite side sports the usual volume controls, power button and camera control. These buttons have been revamped to feel much sturdier than what is on previous Lumia products and they feel premium to match a high-end look. Speaking of sides, there are two black stripes on either side of the Lumia 925 that separate the antenna.
The glass display, which is 4.5-inches by the way, appears to float within the device. There's hardly a fold or edge. It's completely flush and looks as though it molds into the metal sides. Because the Lumia 925 further improves on the PureView camera technology that has been present in the Lumia family of Windows Phones, there's a slight hump on the rear of the product. Remember that this flagship is thinner than the Lumia 920, but sports improved optics. There's a sixth lens and OIS (optical image stabilisation), but we'll get to all that later.
There's only one question with the design of the Lumia 925: the Lumia 920 was built to survive harsh winters and cold wars (but not an AK-47), but how about this new flagship?
The Display
The Lumia 920 features an IPS LCD, but Nokia has chosen to go with Samsung and its AMOLED screen technology. This is met with our approval, tenfold. Samsung's display really brings the Windows Phone to light with Nokia's ClearBlack technology. Blacks are indeed black and the whole thing just looks so vibrant and beautiful. It's easily the best display we've seen for a Windows Phone yet.
The familiar Super Sensitive Touch returns, meaning you can effectively use the phone without having to take your gloves off, or if you're simply in the lazy mood to use your keys instead of a thumb / finger. We could go on and on, and on about the display, it's been nailed that well (we assume literally with the Gorilla Glass protection). The display looks as though it's part of the shell itself with how there's a subtle (and by subtle, I mean subtle) curve in the display where it meets the aluminium sides.
Speaking of which (aluminium), when looking at the screen, you can see the metal coating and it screams premium at you. Nokia's PureMotion HD+ tech is on-board and owners are in for an eye watering experience. This enhances animations on screen, perfect for gaming, video playback and general app and system use.
There's even a colour profile area in the settings to configure saturation and temperature of on-screen colours – perfect for those who don't rate Samsung's screen technology when it comes to stuff that's not in black and white. To close the screen section of this review, it's also worth noting that the display is a breeze to use in the daylight. And by daylight, I mean sun blazing, ultimate glare in your face daylight. Kudos, Nokia.
The Hardware
There's not an awful lot to say regarding hardware, especially if you're familiar with the specifications of Nokia's Lumia 920 and Lumia 928. We've got the same dual-core Snapdragon CPU (1.5GHz), which is accompanied by 1GB RAM, but as noted above Nokia has decided to go for a 4.5-inch HD (1280x768) AMOLED display.
A slight let down is the lack of storage in the Lumia 925. For a premium Windows Phone experience, we'd expect more than 16GB, especially if the companies backing the platform intend to force cloud services and streaming down consumer throats. Even so, there's still a lack of microSD, but we're almost thankful for it not being included. We like the design as is and another port could have added complications. However, not every consumer will see it that way.
It's not all bad as a 32GB option will be available, but a 32 / 64GB combo would have been rather stupendous. Should you be looking at the larger configuration, do take note that some mobile operators (example: Vodafone in the UK) are snapping up the 32GB version as an exclusive deal, so be prepared to get migrating if you desperately want the Lumia handset and the more spacious cargo hold.
A noticeable absence is Wireless Charging. Built-in, that is. Nokia has opted to shave some weight off the design by making wireless charging optional with a back cover. We've seen the cover in action and it's not huge so we don't see it as a negative (in fact, it offers protection to the aluminium sides and polycarbonate rear), but the Lumia 920 is handy to have the functionality inside the shell so there's no need to hunt for that compatible cover if you're not a fan of wrapping your mobile phones in bubble wrap.
It's worth noting that the removable cover may well be an optional purchase for consumers and may not come packaged with the device itself (ours didn't come with one, boo). Any Qi compatible charging station or dock will do once you've eventually managed to attach the Lumia 925 to its protective holder. That said, the optional cover should come with the device, especially at this price point.
It's not all doom and gloom as the Lumia 925 does come packing NFC and all the bells and whistles for navigation, connectivity and productivity. LTE is also supported should you be with a mobile operator that offers SIM cards with improved speeds. Getting one through the day and accomplishing tasks thrown at it is a cinch with the 2000mAh non-removable battery, which fortunately does not require a shovel and heap of coal to remain powered.
We've spoken about how remarkable the design is, but it's also an incredible achievement for Nokia to cut so much weight from the Lumia 920, while retaining much of the hardware. When first holding the Windows Phone, it's almost surprising to know just how light it is. At just 139g, it's not as lightweight as the Samsung ATIV S (135g) or HTC 8X (130g), but Nokia has done a superb job in cutting it down for those poor souls who complained about the Lumia 920.
Seriously, do you?
The Software
The Lumia 925 – being a Windows Phone – runs Windows Phone 8. What's interesting about this handset is that it comes with the latest update, which isn't currently available to other devices. GDR2 (General Distribution Release 2) has been covered by Windows Phone Central in the past, along with an incredible review of the Windows Phone 8 operating system. It's well worth checking out both the review and our past coverage of what you can expect in this upcoming upgrade.
Nokia hasn't just sat back and allowed Microsoft to get down and dirty with software improvements as the Lumia 925 also sports the Amber firmware update. Announced in London back in May, the update from the manufacturer introduces the Lumia Colour Profile, the new Smart Camera app, as well as the Glance Screen. Again, we've gone over this new feature in the past, as we as new products and services Nokia will be introducing.
What's interesting about Glance Screen and the Lumia 925 is how Nokia has utilised AMOLED, which will save battery and won't use much charge when the clock is on display. When you first notice the clock and double-tap to unlock, you do question just how long it'll be until you head into the settings and turn it off. After some time and use your mind has been completely swayed the other way. It's a useful feature and one we're sure many will come to love once the manufacturer rolls out the Amber update.
Finally we have a data management and tracker available. Data Sense was unveiled by Microsoft some time ago but was locked to Verizon in the US. This feature is bundled in GDR2 and we've enjoyed utilising the app, entering in contract data limits and keeping within the allowance. This is a highly anticipated release many will jump on. We're not entirely sure why it's taken this long to get such an important feature out to the public, but better late than never. Be sure to read more into Data Sense with our previous coverage.
Nokia has updated its HERE services, notably HERE Maps to take advantage of LiveSight. This new feature is essentially City Lens, but improved and integrated into the mapping experience. It's a part of the Windows Phone I simply can't cease using while out and about, unless battery saver kicks in. Nokia has made it so POIs (points of interests) appear on a 2D map layout with compass support so you can actually see which way is the correct path for that particular listing. Holding the device up will then fire up the augmented reality.
This can all be kicked off by tapping the LiveSight icon when using HERE Maps and the usual POI details can be displayed when selecting each listing. Really cool. If you're not familiar with the apps available for Nokia Windows Phones, I strongly urge you to check out the Nokia Collection here on our website. It's packed full of updates, releases and more juicy details on each offering.
Back to Windows Phone 8. You know the drill already. But if not, Microsoft continues to innovate on and improve its mobile experience for consumers. The Windows Phone Store has over 150,000 apps available and while many official apps aren't yet available, third-party developers are filling the gaps with high quality solutions. GDR2 is yet another jump in the right direction and Microsoft should not be hit hard when it comes to the ecosystem, especially with Windows 8 and Xbox One.
The Lumia 925 powers through daily tasks with Windows Phone 8 and the Snapdragon dual-core CPU. We don't need more cores. Really, we don't. The argument may stand for gaming, but even then we could look at graphical power over CPU, but that's a whole different argument. Fact is: the Lumia 925 is priced as a premium handset and it sure shows when you turn the device on and see that familiar, friendly blue screen (no, not the Blue Screen of Death).
Playing games and Xbox for Windows Phone titles are also a breeze with no issues when it comes to stuttering or "lag." You'll have no issues with the latest or future releases, unless they're rather large in size. Developers are beginning to step up the quality on Windows Phone and the store listings reflect this with several hundreds of MBs required per install. It all adds up when you only have 16GB to spare and you have to take into account the OS, apps and other media.
The Shooters
On the rear of the device, an 8.7MP PureView shooter looks to be attempting to leap out of the case, and while it's similar to the Lumia 920, Nokia has improved the optics with a sixth lens added. You've also got the usual Carl Zeiss (or now just Zeiss) lens, as well as Gorilla Glass to protect it from general use. For Skype calls and general fooling around, there's also a 1.2MP wide-angle camera on the front of the device. So how does the rear shooter perform? One word: outstanding.
Windows Phones and smartphones in general suffer from bad to terrible low-light performance. The Lumia 920 corrected this with OIS (optical image stabilisation), essentially adding springs to the camera. This has been improved further on in the Lumia 925, allowing Nokia to fit the same camera tech in a thinner and lighter body. The issue with the Lumia 920 was daylight performance. I feared when I took the Lumia 925 for a spin outside that it may suffer the same fate as its predecessor, but this was not the case.
Image 1 of 2
Image 2 of 2
Comparison between the Lumia 925 and Lumia 920:
The Lumia 925 captures daylight shots with an excellent level of quality, especially when you're out and involved in macro and landscape photography.
All the above shots were used with the Lumia 925's auto settings.
The dual LED flash helps with both low-light photography and focus assist. But we're not stopping with just still images as recording video is just as impressive. I was surprised to see how sharp and clear footage was. Showing the results to other people had them guessing at which compact system shooter I was using, only to be stunned by the device being a smartphone. A Windows Phone.
Nokia invited the media who attended the Lumia 925 event to see the local circus act in London. This was an exclusive viewing of the spectacular show, which prohibits phones and cameras being used for recording while performances are live. This was an obvious choice to really test out the capabilities of the Lumia 925 and see what it's all about. We'd like to pass on a massive thanks to the Limbo (www.limbotheshow.com) team and recommend you check out the show if you're in London. It's a blast.
While the results may appear slightly grainy, it was difficult to get the right shot with the terrible amount of lighting on offer, but a few came out quite well. Again, we played with the phone's default settings, as well as some night shots, but the above is taken with the auto. We also managed to grab a quick video recording as a member of the circus finished his daring act.
Much like the photos above, the results are pretty good. It's clear to see what's going on in the background, sound is good (the music was quite loud) and overall it's an impressive recording. We're looking at many improvements over the Lumia 920, but it's still not perfect. That's now nit-picking as this is a smartphone at the end of the day, and not a DSLR.
If you've been wondering whether or not the Lumia 925 will be an improvement over the Lumia 920 in terms of photography, I can safely say it is with a notable difference in quality. I'm sure there will be improvements applied as time passes by on the software side of things, but what Nokia has refined here is a closer step towards perfection. It'll be interesting to see how the EOS tops this.
The added Smart Camera app helps you edit photos after you've taken the shots, and you can now set to use the lens as the default setting. This is especially useful if you prefer using Nokia's solution over the default Windows Phone camera app.
Lumia 925 vs. Lumia 920
I've compared the Lumia 925 to the Lumia 920 in this article, which I believe is an important route to head down, especially if consumers are going to have to choose between the two, and should you have access to Verizon it then becomes three. Which flagship Windows Phone should you purchase? It's entirely down to personal preference. If you want to have all the features built-in, more storage available and don't mind the added weight, definitely take up the Lumia 920.
But if you're into the latest and best features and technology, as well as a premium look and feel, the Lumia 925 is probably the best fit. There's really no right and wrong choice as both Windows Phones sport similar specifications – it's only the odd feature or component that makes the difference. That, and if you prefer aluminium to the full shell the Lumia 920 sports.
On the Lumia 920, you have built-in wireless charging, but on the Lumia 925, you have an improved camera and display. This is just an example as to what you can look at when you're analysing the minor differences.
The Phone
It's all well and dandy praising (and criticising) a mobile phone, but how does it fare in the real world? The Lumia 925 is a superb mobile phone, but we've come to expect such quality from Nokia – the brand has been in the business since Snake was the coolest mobile game – those pesky birds!
Call quality was excellent through testing with no issues at all. Actually, it was interesting how the Lumia 925 is the first Windows Phone that I haven't had to turn the in-call volume up beyond the maximum value and into space to hear the person I'm talking to when in an environment with high levels of background noise. The design and feel of the device is top notch with no issues with reception or drop outs. I enjoyed getting the phone out and playing with the screen rather than having it stashed away. I wanted to show it off.
As with any Windows Phone with a 2000mAh power plant, we managed to get through the day without charging. We attempted to emulate general use, which included emails, apps, some gaming, messaging, social interaction and more. The added option of wireless charging is a great way to avoid fiddling with the pesky USB cable and makes life that much easier.
We have to come back to the 16GB of storage, though. It's simply not enough in my opinion and not what consumers should be getting in a premium smartphone - especially at the price Nokia will be asking for. Since the Lumia 920 was 32GB as standard, I almost feel as though Nokia may have cut back too much with this device and we've gone back a step. It's quite the opposite of the famous saying: two steps forward, one step back. As a flagship Windows Phone, we should be hitting those first two steps and staying put.
It's hard to get around the storage restrictions, particularly because through use the flash chips are utilised a fair amount. From emails to photos, apps to games, everyone uses data and stores it locally. We've got to look at increasing the amount of storage supplied as standard, especially if we're to going with improving the cloud and streaming services offered by both Nokia and Microsoft.
So is the Lumia 925 the best Windows Phone? Definitely. Is it worth purchasing? Absolutely. Are there areas Nokia can improve on? Unfortunately so.
It's heart-breaking to say it, but while it's a superb product, it falls short of being the dream phone. I would have liked to see the wireless charging put back into the device without having to rely on an optional accessory, especially if it's not even included in the retail box.
There are other flaws like the slight gap between the polycarbonate back and aluminium sides where dust can get caught, but we're continuing to see Nokia move in the right direction. The Lumia 925 will win the hearts of owners on its premium look and feel alone and Nokia has done an excellent job in designing such an elegant piece of kit, but it's certainly not perfect.
Saying that, when have we ever been able to call a smartphone "perfect"?
Rich Edmonds is a word conjurer at Windows Central, covering everything related to Windows, gaming, and hardware. He's been involved in technology for more than a decade and knows a thing or two about the magic inside a device chassis. You can follow him over on Twitter at @RichEdmonds.
I just saw a lady at DFW airport holding a 520.. That was lovely❕

Awsome last year when I went to see fireworks at the state fair I saw a HTC Radar and a Nokia Lumia 900

What's even crazier is today, at work, these guys we're talking about how amazing "that 42 mp WP" is going to be.. One guy even mentioned lossless zoom.. I'm just sitting back thinking that people are really beginning to respect WP, albeit thanks to Nokia.. And last night my friends GF noticed how smooth my fire works videos were, and can you believe she asked me if that was OIS??.. Amazing❕.. That's three positive WP instances in less than 24 hours.. The funny thing is that all three are Nokia related.. I seriously think EOS is going to change things.. Even some dedicated iDroid fans are going to have to get their hands on that 41mp camera, and that's going to translate into market share.. Heck, I believe this phone single handedly will bring developers onboard because they won't be able to resist making camera apps for EOS.. I can't wait till next week❕❗❕

nice. and even here at my school, i saw two lumias (800 , 900) owned by two different people

In the event this isn't all sarcastic, I've converted at least 4 users to WP over the last year. Good thing is, all but one absolutely love it.
The guy who's got a bit of buyer's remorse should've really gotten an android, for his needs. He likes playing every single game and really hates that he has to wait so long on WP, if the game comes down at all. He's also on 7.8 so he's a bit disgruntled, but I totally warned him about this and told him how the 620 would be hitting stores soon and was rumored to be cheap.

Its just like iphone 4 iphone 4s

Not really, the reason why the 925 is here is because of the complaint of the 920's thickness and weight. Moving from the iPhone 4 to the 4S is a bigger upgrade than this (except in design).
The 925 is lacking wireless charging and has 1/2 the storage of the 920 that will get similar features with the amber update. The only difference is the camera's 6th lens, and the "notification" light in the windows/home button and the amoled screen vs lcd (personal preference)
While the design is new i find it generic, while i really like the white model (i REALLY do) the grey one just looks cheap and the black one is bland, the 920 is more bold and unique, and the back lacks the flush, clean and uncluttered design of the 920.I personally consider this a downgrade in design, but that's just personal opinion. And i still don't see the point in releasing this phone with the EOS coming.
I just hope that Nokia doesn't release the L1025 with GDR3 with a 1080p display and a newer processor after the EOS/1020/909, that wouldn't be the first time they did that (900=>920, anyone?)

It's not like the 4S. On the 4S, I was able to get 64GB

REALLY nice phone from Nokia here.
Shame they're starting to sell this, just as we are poised to get that 41MP point-shoot killer of a Lumia (909? 1020? AT&T exclusive?)
Oh well,...

Yeah but do mass consumers really want a 41mp camera? I'm getting one and will be selling my 920...but I'm a fan boy, lol! For the average user, I'd say that it is fairly attractive...although extra storage would've been nice! Vodafone UK has 32gb! It makes little to no sense!!!

The way I understand it is that it does not generally produce 41mp photos but uses oversampling to produce smaller very good quality pictures. If they follow the 808 then this would be 5 meg. It does give the option though to use them all. However I suspect most will use whatever the default turns out to be.
http://en.wikipedia.org/wiki/Nokia_808_PureView

You need to finish reading about the 808. The sensor is 41MP, but It takes up to 38MP photos and oversamples down to 5MP if you want to. You could just take 38MP photos if you'd like.

Unlike the 808 Pureview, the Lumia EOS/1020/1000/909 was rumored to save _both_ a full resolution 38MP picture _and_ a lower resolution 5-8MP picture obtained by pixel binning for each shot. So the power user has both and can choose later.

T-Mobile seems to have done it again - made the release date(almost exactly the same week as the 909 will be announced) and the lowest memory model of the 925 for consumers to avoid them. It now appearant why they are number 4!

Ok, maybe a stupid question. Was this a European review? Written like the 928 doesn't exist... Would've liked to have seen more of a comparo between the 925 and 928.

The 925 isn't available in the states yet so yea it was the international version. Check out pocketnow.com for that comparison.

Ah, you mean the phone that's available for just an American mobile operator? Right, silly me, our international audience would have preferred to see that as an important addition. We'll have something up on the Lumia 928 in the near future, which will go into more detail.

Lol rich is taking after Daniel I see :P

Actually, Rich, I think the international crowd would like to see a comparison between the 925 and 928 to see how theirs specs up to the US model. Glad you're doing one soon...

I couldn't care less about the 928 since it'll never be available internationally. I'm pretty sure most of the audience of readers feel the same way as well. We don't care about a phone that we'll never get. Sure it might be nice to know, but really, it's like asking someone to review a unicorn when what we want is a horse. What I wanted to know is how the 925 compares to the 920, which the review addressed pretty well. That was a really great job on the article, Rich. It's helped me narrow down my choice to the 925, provided that the 32GB option is available. Otherwise 920 it is for me.

"So is the Lumia 925 the best Windows Phone? Definitely"
Better than the 928, eh?

Only the version with SD slot.

This review has me even more excited for the next event from Nokia. If they were able to make nice improvements in optics within 7 months from the 920 to the 925, I can't wait to see how improved the Pureview 808 has progressed. I'm really hoping for a camera that amazes.

Does anyone knows about that weather app that's showing in the 925 screens with 5-day forecast?

That's Amazing Weather HD. http://www.windowsphone.com/s?appid=c7ac43c5-5d99-4e65-913d-e92e253e9e99

This question is always asked in all the articles whenever there's a start screen with this app. :D LoL

I want it so bad. Can't wait for T-Mobile to get it.

Same. Any rumors they might include a charging case as a promo?

I'd happily pass on the charging shell in exchange for 32GB.

I went to the tmobile store on friday and the rep. showed me some cases for the lumia 925 but no wireless. also told me that in 5 days threy should have a phone to show. can't wait...


I'm curious, given that the OLED screen comes from Samsung, is it Pentile or does it use a conventional RGB pixel arrangement? I'm not a fan of the Pentile displays because the pattern is obvious even on HD displays. Second, does the 925 have the same propensity as the 920 for getting really hot during gaming? In my experience that's what leads to excessive battery drain.

No. AMOLED and OLED are types of screens. They are not owned by Samsung nor invented by them, Samsung just happened to be the first mass producers of them. I contacted Nokia and they said that they have no affiliation with Samsungs regarding thier display technology. Nokias displays are made by Nokia "in house" as he said, hence why they still ahve a physical clear black sheet for the "clearblack " technology.

I think you've misunderstood my question and the technology I'm referring to. AMOLED and OLED are essentially the same thing; it's the particular implementation that varies. The question I asked, however, technically has nothing to do with OLED. Pentile displays refer to subpixel arrangement. Traditional RGB sub pixels are arranged in columns red-green-blue. Pentile displays, however, use a different matrix, usually consisting of extra green pixels. The common arrangement is RGBG with every row alternating the red and green. The idea behind this is to create energy efficient displays because you can achieve similar levels of luminance with fewer pixels. The reason it works is because the human retina is more sensitive to green. It's pointless to implement this arrangement with IPS and other LCD displays because the power draw comes from the backlight, not the pixels themselves. But it's beneficial for OLED because you can have a full white screen drawing less power with Pentile than with a traditional RGB setup. As far as I'm concerned, however, it's a compromise on image quality which is why I'm not a fan. The widespread complaint is that the pattern is far more obvious even on high definition displays. It also creates weird artifacts around the edges of high contrast objects and single-pixel lines. Given the high contrast design of Windows Phone, I'm guessing these deficiencies would be all the more obvious. The reason why I refer to Samsung is because many of their displays are Pentile; they're one of it's biggest backers. The Galaxy S4, for example, features such a display.

I think he meant his response as a rebuttal against the review, in which Rich says that the display is made by Samsung.

I don't have the spec sheet here to reference, but the 928 and 925 are both better displays than all three Galaxy S4s we tested. The Galaxy S3 and S4 (even the 1080 display) have a 'screened' effect, as the between pixel masking is visible. Having a 1080 display is lost on the S4 when a portion of the pixel space is taken up by a the grid separating pixels. The between pixel masking is NOT visible on the 928 or 925, so even though they are a lower resolution screen, they present a more 'solid' image.

Well I just thought I'd point it out. Samsung are mass producers of AMOLED displays and are using them even in thier cameras amongst other things. But yeah, the display is not made by Samsung, thats why you are saying the AMOLED on the Nokia 925 and 928 is superior to the one on the GS4, well Samsung wouldnt manufacturer a display for Nokia for thier one to be better than thier own device, if that makes sense. I had the ATIV S earlier in the year and I had two of the models and I noticed there where black blotches all over the screen, viasable in the settings menu in windows phone. Apparently that is down to general poor manufacturing quality on Samsungs part.
Im getting my 925 tomorrow. As far as Im awear, AMOLED displays use very little energy comapred to standard LCD??

*facepalm* The phone getting warm does not cause battery drain (it would have to get uncomfortably/painfully hot to do that). It is the other way around: When you are using the phone a lot then it gets warm because it is using more power/battery. Personally I have not used a 925, so this is pure speculation. But my assumption is that with a thinner body and less dense parts (thus lighter weight) the phone will warm up and cool down very quickly compared to the 920 which warms up slowly and takes forever to cool down. Still, I would expect both phones to have the same peak heat because they are using the exact same processor and graphics unit, and probably have very similar head spreaders.
But as I said, that is speculation. You would have to play with one in a store to really find out. In my experience GPS navigation gets the phone the hottest, so you can probably turn that on for a few minutes to get an idea of what it would be like when pushing a game.

What was that name of that weather apps live tile?

That's Amazing Weather HD. http://www.windowsphone.com/s?appid=c7ac43c5-5d99-4e65-913d-e92e253e9e99

My only issue with the Lumia devices is they use 15:9 aspect. I'm so used to 16:9 on my Ativ right now, I just couldn't move away from it.

Some troubles you have...

I'd like to see a review of the 925 vs the 928. It seems like the 928 is a little better. It has all t the features of the 920 built in + xenon flash and amoled screen. At 32gb.

Wait, the 928 has all the features of the 928 built in!? Crazy.

And if you meant the 925 you're wrong. 925 has 6th lens and GDR2+Amber updates and is still thinner and lighter than the 928.

Sure, but otherwise the 928 is equal or better in almost every way aside from that. It has the same 1270x768 OLED screen, built-in wireless charging, and 32GB standard. The thing I don't get is why the 928 got almost no buzz at all -- Nokia, Verizon, WPCentral, and everyone else basically mentioned it for 5 minutes, then proceeded to completely ignore it. Where was the in-depth review like the 925 got? Or all the fanfare, especially when it also improved on the 920 in various ways. Just kind of weird.

Where did it improve on the 920, besides the AMOLED screen?

It's thinner/lighter, and has a xenon flash. I don't really care that much, I just find it odd how much of a difference there was in the amount of press between the 928 and 925. Even on launch day, the 928 was 3rd in the splash banner rotation on VZW's front page, and it quickly disappeared a couple days later, and after a few weeks was down to $.01 on contract. It's kind of like no one really cared about that device or whether it sold, VZW and Nokia included. As others have pointed out, it's probably due in part to the fact that it's on a CDMA carrier, and therefore perceived to be useless to most of the world (despite it supporting many GSM bands too). It's just strange to me that the 925, which is roughly the same incremental improvement over the 920 as the 928 was, is being made to seem like such a huge deal. (Although I'm happy that the suffering of all the TMO folks who have been waiting for a real phone is finally over now.)

Thats probably because the 928 isa carrier exclusive and this sells worldwide. So think of the 928 as a candy that Nokia handed over to little kid Verizon when daddy Nokia just opened a candy store. :D

Don't worry about the buzz; It's selling. The 920 got all the buzz and was still outsold by the 710, 610. I've sold more accessories for the 928 than i have for the 920 and 900 combined. And the phone isn't even turned on at the Verizon store in my mall. It means people are going there and asking for that phone.

Fine. Minor typo. Fixed.
But anyhow, the GDR2 Update is coming to all phones soon anyway. And personally, I don't consider thinner and lighter to be an upgrade, at least not if its only by a few mm.
So I'll stick with my 928 lol.

6th lens?
Do you actually know what this means and why it is there? Hint: This is to reduce the size of the optics. 5 lenses are just as effective optically, but makes it slightly larger.

The GDR2+Amber update running on the 925 is probably not the final version, as it will probably receive a minor update in August as well.
The 928 also has several preliminary GDR2 features.
When the update releases, this no longer matters, as the 928 and 920 will get both updates, and with the 928 having the SAME display technology will have the same features as the 925.


The 928 has a couple of features the 925 DOES NOT have and they important.
- The 928 has a Dual Flash as well, one being LED and the other is Xenon, which is faster and brighter, allowing night shots to use faster shutter speeds than the 925.
- The 928 also has a wider range or radio support with CDMA and more LTE frequencies, offering the fastest LTE speeds with the widest range of carrier and tower support.
- The 928 also has an additional Microphone used in the Microphone Array.
- The 928 also has a slightly stronger set of onboard speakers.

The 925 is a bit lighter and has a removable battery and removable storage. It also can be upgrade to support wireless charging like the 928.

The 925 and 928 are both strong phones, and each have some bragging rights.

928 is not much better than the 920/925. The screen amoled like the 925 insdead of the ips screen used in the 920, and it has built in wireless charging like the 920 which the 925 is missing.
For the camera it has a xenon flash which is an improvement over the other 2, but it does not have the extra lense of the 925. I almost never use the flash (you don't need to due to good light sensitivity), so having one flash over the other really does not make a difference to me.
In some areas the 32GB version of the 925 will be limited to carriers, but not in the US where the 928 will be found, so that is a moot point.
The 928 will have less volume than the 920 but the same thickness, where the 925 is overall slimmer and lighter than the others. Really it is a case of picking whichever one you happen to like the look of. The internals are all the same across all 3 devices, which means that for the most part you are going to get identical features and performance from any of them. None is a clear upgrade other the others, especially once the GDR2 update hits the Lumia 920.
I fear the same is going to be said for the EOS/909/929/1029 or whatever it is going to be called. Same internals, but this time trading weight and size for a better camera. But at least it will be a much better camera, where the 925/928 are only marginally better. The clear "Upgrades" simply cannot come out until the release of GDR3 later this year when restrictions on resolution, CPU, and UI size get bumped up to the next level.

A boring grey flounder as one that lives in the slush of Bristol Channel. Where have all the colours gone? This thing has as much character as an amoeba.

I find it understated and classy. I hated the leaks, but the proper pics actually look very good. Actually so good that I now feel that this is definitely better looking than my black 920. seems you are underestimating an amoeba :P

Agree. The Lumia 925 is aesthetically very sophisticated. I really like the aluminum/white version, but I will say that although I have never owned nor wanted a black phone, the Lumia 925 in black is the only phone that has me 'thinking' about getting one - I really like the aluminum, which looks like a gun metal, against the black polycarbonite.

If I can get either color in the US without the T-Mobile branding on it, at a reasonable price, I am getting one even if it is only 16GB of storage.

I love how cameras were prohibited at the event, which made it an obvious choice to test out the camera, lol.

It's settled the 925 is the top W8phone. Unfortunately I can't go from 32GB to 16GB. Hopefully T-Mobile will eventually get a 32GB version. Until then I'll stick with me 920

I'm praying for that too but T-mobile's cheap when it comes to Windows Phone. I hope apple is charging them a fortune for their fragile iPhones like they do everywhere else.

I don't agree with your opinion that it's the best WP. The L920, the true flagship, remains the best. What the L925 has better in terms of software, the L920 will also receive. So, in the end, the difference is in the wireless charging and the extra lense (the display is really up to personal choice). And the design.
I find the L925 cheap looking and far far far from a "premium" design. That remains with the L920. It's a matter of taste, of course. But the design of the L920 has granted it numerous prizes and the L925's design hasn't been that spoken about (apart from the fact that its a bit lighter).

I think the optional wireless charging case is a step backwards too. It's been done years ago, and the point is to really integrate it into the phone. Not sure why they took this step. If it was to shave off a millimeter then it is not worth it. It actually doesn't look dramatically thinner than the 920 either....

It's not about the thickness, it's about the weight. The 920 is very heavy compared to other flagships. If you've compared an Ativ S or even a GS4 in hand to a 920, then you'd definitely notice this. The 925 was designed and sold to address the market segment of users that were concerned with the weight issue of the 920. This, along with the business user market (the flashy colors/bulkiness of the 920 might have put them off), is the one the 925 is targeted specifically at.

It won't receive the 6th lens. But of course it isn't the best and neither is the Lumia 920. Lumia EOS is.

Funny thing about an opinion, it's subjective.

Totally disagree with you. Not having the wireless charging is of no consequence for my usage, and even if it had wireless charging, I really would not be inclined shell out an additional $50+ to purchase a charging plate.

The Lumia 925 is classy and sophisticated, and would not clash with ANY wardrobe style, in my opinion. But you, I, and everyone else are entitled to our opinions.

Interesting opinion. I've played around with both 920 and 925 and once you take that 925 for a ride you don't want to come back to 920. But that's just my opinion.

I personally think this is the best looking wp on the market today

The success of the 925 will depend on advertising. I would also put advertisings in fashion magazines, the design allows for it. This phone is to sell to white colar folks and companies, so what they read and dream is where you put the ads.

Such a stunningly gorgeous phone. I got a Rogers 920 to use on T-Mobile in early May and it's going to take everything in me not to order myself a 925 as well. Maybe in a few months or sometime next year if temptation is too great...

What weather app Is that?

Ill be getting this when it drops it price due to the upcoming Nokia even.

The video link in wpcenrral app is broken.

I really want this phone when it comes to T-Mobile in the U.S.

Every one that reviewed this phone keeps talking about the gap between the polycarbonate and the aluminum. For me that's a deal breaker.

While definitely a great phone I find it a step back from the 920. 16 GB is a deal breakers and the phone is too fragile( at least according to a drop test available on YouTube). The boring colors don't help either. A phone only for people too weak for the 920.

This is the only one I could find.

http://www.youtube.com/watch?v=W95-aOvzQo4

Phone does fine when dropped on its edge from 5 feet, so not bad. Of course the screen cracks when it's dropped screen first. That happens with every phone.

Whats the name of that weather app? The one that looks like amazing weather?

I see what you did there...

But...the power jack placement will wreak havoc with my in-car set-up. I though that "center-bottom" had become a M$ dictate. I hope the EOS finds it located center-bottom...

Nope. The Arrive (HTC 7 Pro) had it along the left edge.

Agreed, bottom center for USB, top (preferably center) for the headphone jack. If you are going to move or hide things then make it be the location of things like sim and sd card slots that you don't mess with on a daily basis.
Also, if we could get programmers to agree that the left side of the phone (the side without the buttons) is the default bottom when in landscape mode? I have a few apps that are not orientation sensitive and they insist on putting the buttons on the bottom, but that is where I support my phone, so I sometimes hit the camera and volume buttons if I adjust my grip. That is never a problem when oriented the other way.

Looks great!
But it doesn't seem that much thinner than the 920 even if it is aluminum, which kind of takes away the purpose. "Optional wireless charging" should be in The Bad section too, because it is actually a step behind. Additional attachments to make your phone charge wirelessly exists years ago. The point is to integrate it seamlessly into the phone...Which is why I still think 920 is the superior phone. It is not a game changing feature but something that proves it is a 'now' phone and something Nokia should be pushing more if they started spreading the word. Adding a case for it is just ridiculous.

It definitely feels much thinner, lighter and nicer at hand than 920. 920 is a tank compared to 925 for sure. A nice tank still.

I still believe Lumia 920 is better. However, regarding dust issue, I don't understand why Nokia doesn't work in this direction. Seriously, every Nokia phone I used suffered from this. Nokia 3230 (screen) -> N73 ME (between lens cover and body) -> N97 mini (imagine dust in the camera of this masterpiece) -> Lumia 920 (front camera), and now Lumia 925 as suggested in this article. Why doesn't Nokia fix this thing up. There are waterproof phones now, and we still suffer from dust.

Water evaporates, dust does not. The review only mentioned dust along the back of the device, not around the screen.

No I can't believe that video and camera quality. Every picture looks better when its taken in the UK hahaha

Switching to T-Mobile soon for Verizon not being able to provide a bill under $500. Hopefully they'll get it soon. Just one thing please tell me it wont have carrier billing. I would get in to that way too much

I manage a T-Mobile. Let me know, and I'll gladly switch you over. ;)

Nice enough phone but wouldn't swap my Ativ S for it.

I would swap that even for a 520 ;)

"Nokia have gone for Samsungs AMOLED display" Hahaha. This had me worried briefly. I actually thought Nokia were using Samsung displays. Well I contacted Nokia regarding this because I already contacted them about another question regarding the 925 and they said Nokia use thier own AMOLED screens developed by Nokia (hence why it still uses a clear black filter). AMOLED is a type of screen, its not owned nor was it invented by Samsung. Still is a far superior display than normal LCD in my opinion.

Wireless charging is never coming back as built in. Simply because the 920 was "beautiful, great OS, amazing camera! But its a FAT TANK!!!! Its so HEAVY!" said nearly every freaking reviewer. So we all have to suffer because of idiotic criticisms like that. Give me a 9-10 mm phone don't care how heavy it is. Its a PHONE it won't break your arm! Give me real innovation! Yay! Its thin but what's the point if the cost of a thin phone is paid with great features? Finally the thing that really annoys me is the people that complained about the weight complain that there is no wireless charging (which caused the so called heavy weight). What?

Stop it! You are being too logical! Yes, love the in built wireless charging for my 920, but not having it enables two things, to drop the price of the phone and make extra money off the accessories. Most people won't use wireless charging, but almost all will prefer a cheaper phone.

Like the 920 isn't/wasn't already cheap.

Show of hands, who has a 920 that does not love wireless charging?
Seriously, this maybe a make or break feature for all my phones from now on.

I agree and I have a 928 and HAD a 8X with wireless charging....My next phone WILL have it built in...No addon parts to make the phone bigger...

Believe me i can't life without wireless charging, i'm so used to it, i have the fatboy pillow and the free other one, i love it, i can't imagine myself without a phone that does not have built in wireless charging .....

Greetzz.

Good reveiw I want this phone even more. I can't wait until it gets realeased on T-Mobile.

If Nokia expects everything to be uploaded to the cloud then they should have Microsoft give out more free space on SkyDrive if they're that eager to have it all on the freaking cloud!!!!! 12 GB of usable space??? what?

Very nice phone, I wish all my tmo brothers the best.. Im still rocking the 900 I have a 920 gave it to my gf in yellow.. Men I want a 5 inch nokia phone under 5 inch won't let me get rid of my 7.8.. But I tell u all there's a big difference between 7.8 and 8.. Peace

The best WP8 is Samsung Ativ S. It has microSD and HD display.
Nokia should realise that smartphone is not a DSLR and simple 2Mpix camera is more then enough.

5mp minimum. I can imagine how terrible 2mp would look. Even when I had a 3.8, the pictures were grainy looking no matter what conditions were.

This is retarded. You should realize that people have preferences for what is important to them. I will take a better phone camera over the microsd/space and "hd" display. Either that or Samsung should stop including expansion slots and hd displays because smartphones are not desktops or laptops.

If you have a good camera then you'll want more storage - MicroSD is essential. Mobiles are small camera and MP3 player replacements - they both need storage, so Nokia should just provide a slot for people to use!

Good luck finding a DSLR that can fit in your pocket. People have their phones on them all the time, but a DSLR is only brought out when you specifically want to take photos - which means you wont have a camera for 98% of the moments you want to capture. It's hard to even travel with a DSLR as you become a target for thieves, and some places refuse the use of "professional equipment", especially if you have a big lens with you. Anyway, it's not supposed to replace DSLR level equipment - it's supposed to replace the simpler point-n-click cameras. Personally I hate carrying too many things in my pockets, so I rarely bother to take my camera with me anymore and use my phone for photos almost exclusively. Nokia have realised perfectly that people want a brilliant camera on their phone, and they're willing to pay for it.

ATIV only has 720p display and no clearblack technology. You should realize that Carl Zeiss camera with OIS is miles better than that bulk ATIV camera. I don't see any point going to ATIV unless you can get it dirt cheap.

What use does 1080p have on a smartphone?

Interested in the color profile bit. Would be nice to have on my 521 as the orange looks like sherbert, my hd7 had better color saturation on certain colors. Now if they could do something about other storage.....i would be fine with having apps installed to the SD card similar to Android instead of the phone itself.

Not sure if this has been mentioned, but Nokia reassured that all the software improvements made to the optics would carry over to the 920. I would advise 920 owners planning on getting a 925 to wait and see if the improvements will bring their camera up to the 925's quality. That 6th lens was added according to Nokia to improve detail, not so much for color or other photo qualities.

The 920 still won't have the 6th glass lens, though, which makes a big difference in daylight pics.

Dang ol', name's Aryan n' tellyawhat, hate erry single oneayou, knowudimsayin? All ya'll fat, dang ol', dumbusdoorknobsyankees, talkinabout, spend errydamnsecondoftheday checkin out du dumb phonvideos. Talkinabout, damnwaste atime, yaskme, knowimsayin'?. For realman, anyo'ya'll even, talkinabout, goin out to the club, getwhatimean, get somudatyaknow, WHOO WHOO, knowimsayinman? Talkinabout, y'know it IS purdyfun gettinon dang ol' computer, and just click-click-click-click-click, thateasyman, gettinon the dang ol' websites and just lookinatda dang ol' picshas and bein' like hehelookadis, man, knowimsayin, but tellyahwut, ya'll takinittoofar man, tellinya, too far. Don't be, talkinbout, beatinaroun a bush, juslike, bestraightuptalkinabouttellitlikeitis. Dangol', juslookatme,man. Gotnoproblemso'erhere,man, tellyouhwut. Gotmeset o' weights, knowimsayin, jusgetonthatb-b-benchpress, knowimsayin, juslike twohunderdthreehundered pounds, justbelike SOOPSOOPSOOP, dangol, like40repsaintnothin, turnarounddangol, getouttomyridesallyman, revituplike VROOMVROOMVROOM, dangol, built hermuhself, knowimsayinman? Watyou uptoman, dangolgettinonthecomputer, justlike, typetytype, talkinbout, nakedcartoonsman. Tellyuhwutman, dangol, gotme3rdgirlthisweek, tookherhome, knowimsayinman. (Talkinabout, gettindownandirtywiththatmouthaction, knowimtalkinboutman? Justlikedangol, talkinbout, just like.. damn). Dangol, shouldbeashamed ayourselves. Tellyouhwutman, justtellinitlikeitis.

Bet you can't say that 5x fast!

D'yunawtspik englshmayt? Dangol yankee

So the 928 has a xenon flash, 32 GB of storage, integrated wireless charging, and is still thinner and lighter than the 920. And it is on a carrier with 100 million plus customers, and works internationally...where's the review?

What is the weather app that is used in the headline's photo?

Its been asked and answered several times. Amazing Weather

You mean the one that looks amazing?

So GDR2 doesn't bring notification either. Hmm. Nice phone, beautiful phone in fact, but I'll wait.

+1 but you registered to troll? How is that not a waste of time?

No Micro SD slot available? No thanks.

What does that have to do with this?

Having had the opportunity to hold the 925 next to my 920, the reduced weight is quite noticeable. However, the backside of the 925 just seems off to me. The design choice by Nokia, using polycarbonate and aluminium, makes for a rather unfortunate mix here compared to the 920, imo. The real deal breaker, however, is the non-expandable storage of just 16GB. For users with heavy media usage, like me, this is a no-go.

Agreed my 925 has a shitty gap between poly back and alloy frame it also feels very thin and cheap, I use it as a daily driver but have installed only wpc app and map data, my 920 is loaded with games and apps and I use that at home... 16gb what the f were they thinking? Phones should have 64gb if no SD imo, my n9 has 64gb and most of the amber features...im thinking this is Microsoft's influence not nokias

Nokia is making the same mistake that Blackberry made from 2007-2010. They are breaking up their own market by putting (essentially) the same device on different carriers with different names. Do you know why the iPhone has such a huge market share? Because if you want a phone from Apple, you have 1 choice... The iPhone. And from that, you get to be a name brand. Instead the Lumia (which is a catchy name) gets watered down with having to remember the model number. The 928, 925, and 920 are for all intents and purposes the same phone. Why not just put them out as one phone, they could even do a mid cycle refresh. Keep the model number within the factory and off the streets, its confusing to everyday users, and adds unneeded competition within the Nokia family.

Really? Uh android seems to be doing well with that same exact same strategy.

Hey, town retard,
1. Android is an operating system, not a device manufacture.
2. I cant think of a device running Android that has a different model number (that its marketed by) on each carrier.
3. I have a Windows Phone so don't mistake me as an android fanboy.

I like my red 920, but I think I like the 925 a little more. They should make one with aluminum sides and frame and a red polycarbonate back.

I got my 925 three days ago and really love this peace of awesomeness!

Am i the only one thinking 16GB storage with no SD slot is a fail?

I think so, yes. I would gladly switch my 8Gb internal + 8Gb SD to 16Gb internal memory.

No but this is a tmobilehone so...

I'll stick with my 928. It has the same ever so slight angled amoled screen as the 925. I am hopeful that Nokia will continue the 808 technology until all of their high end phones have the better camera standard. Quad core 2gb ram 32gb storage with micro SD expansion. 41mp camera with fully extruded aluminum casing. Keep the screen around 4.5 inch but bump up the resolution to 1920x1080. That is pretty much the next phone I would consider getting. Until then I'm happy with my 928.

What is the weather app in pics? .......pmsl

it's called amazing tampon :-P

Its called "Amazing Weather HD". WPcentral has made articles about it, like updates and about new features on it. and there is a paid and and lite version.

http://www.wpcentral.com/tag/amazing-weather-hd

Thank you Emi, I was kidding as numerous ppl asked this, actually have the paid version on 920 and its pretty accurate, only use sml tile. Cheers

IPS>>>>>>>>>>>>Amoled IMO.

this is certainly the best windows phone that currently exists, hoping that Nokia will soon offer us the first phablet WP which will compete with galaxy note 3

What's the Weather App used in the review video & pictures. I've searched the Store for it but can't find it anywhere?

Roland

This is a fair review of the phone itself -- which is appropriate for a blog with global readership.
That said, we all live somewhere, and for those of us living in the U.S., this handset is a slightly different proposition. The industrial design is lovely, but my choice boiled down to:
928: 32GB storage, looks good in white, available on Verizon
925: 16GB storage, looks great, but no wireless charging, and available only on TMobile.
I spend a significant amount of time in an area where Verizon's LTE network is strong, but where Tmo doesn't even have 3G coverage. I might want the 925, but if it's going to be stuck in 2G half the time . . . that's madness. If it were available on AT&T, I'd have a real decision to make. Fortunately for my indecisive self, it isn't.
At least for me: 928 > 920 > 925

till now it is the best wp8 phone in every aspect (hardware, design and software) but does it come with capacity more than 16 GB?

At least Vodafone has 32Gb model.

My wishlist for next nokia Lumia:
Quadcore processor (snapdragon 800 )
1.5~2GB RAM
32GB storage space
1080p IPS/AMOLED display
41MP camera
Screen size ~5 inches
Battery 3000mAh
There'll be no phone which will beat these specs(atleast in WP category)

I would change the memory to 64GBs for my wishlist

it sux that we have to till GDR3 update from WP. At this point microsoft is holding back nokia :(. Camera and display (with clear black tech) by nokia are already the best in the market. Even my 800 looks better under sun compared to SG4 (which my roomie has). Next year I'm gonna upgrade if atleast quadcore and 1080p display conditions are met.

And microSD slot on top of the 64gb :)

1080p on Windows Phone 8? What, so the tiles can look even "crisper?" It's utterly useless for such a small device; I don't know why people are demanding a 1080 smartphone of any make.

haha!
That's one heck of a spec..
i like the 3000mAh battery!
Nokia Phones are evidently great when it comes to battery longivity.
but 1080? for a 5 inch display?? that's not necessary.
BUT!!!! I would like that 1080p if the phone has a video Micro HDMI output.
that would put the 1080 greatly to use.. play games on a 40 inc tv or watch movies.

So youre telling me that theonly features gdr 2 offer is data sense? that is fucking lame. What about:
seperate volume controls for music, calls , ringtones andd notifications?
custom notification sounds?
1080p and higher screen resolutions?
thinner andlighter phones?
I have been a WP fan for a long time but if these items arent checked as done by xmas then unfortunately i will be going to android.


by next summer ur wish will come true. be patient

Next summer? thats way too long....I have evry MS service they sell but thier phone wont be one of them if those changes dot become reality by xmas.

Actually rumours say that GDR3 is expected this fall but I'm a bit skeptical. HTC is rumoured to be manufacturing a clone to its popular HTC One for windows with GDR3. At this point nothing is confirmed so take these news with a pinch of salt. Honestly GDR2 doesn't have many noteworthy improvements. Just some minor software tweaks. Windows has to keep up with the competition. They can't do these things at their leisure if they want to establish themselves in this market. Simple truth is windows is holding back Nokia which produces one of the best hardwares out there.

Very Nice,
Just a question," wich weather view app is showing on the main screen?"

Look up, that question has been answered about 30 times...

Great, I had viewed the GDR2 Lumia 925, very good. Will Lumia 925 come to Indonesia? I can guest the price is must be so expensive, like Lumia 920.

WiFi Calling Does Not work !!
I have had a 925 since July 17th, first day on T-Moblie. There is a large icon on the screen for it. However, WIFI calling does not work. The T-Moblie tech support people have been overly delightful, charming, etc. However, even with changing out the Sim card, changing out the phone, it still does not work. I am now waiting for a third set of engineers to dazzle me with a solution.
You can quickly test out WiFi calling. Click the WiFi icon on the main screen. Set WiFi Calling to WiFi ONLY. Next check your wifi connection to the net by opeing the browser and connecting to a website of your choice. If you see it, your connected.
Once confirmed, now try to place a Call. It will quickly tell you that the call has ending, and you have no CELL connection.
Now, here is what I think is wrong. When you want to make a call over WiFi, you need to make a Internet network connection to a secure T-Moblie VOIP server first. Watching via packet sniffing on my network, I saw no such packet connections being attempted.
I hope they get this fixed soon.

The dust collection thingy is a deal breaker for me...

hi, i a WP 720 user. And i just wanna say that, i was an iOS user, despite of the apps of iOS and games that are more available for download compared to WP apps and games, i still changed my iPhone for a Windows Phone! And it's been almost a week with me. And it's better than my iPhone, iPhone 4s and WP 720, I would choose WP.. Graphics is greater than iOS, Speed is more better, and WP price is more cheaper than iOS, but brings a lot of package in just one phone!
camera is ultimately great! and apps in WP are segregated according to it's type, Camera apps can also be found in default camera so i don't have to scroll so much to find my app.
really great! if rated from 1 to 10. i'd rate it 13! haha

Nokia Lumia 925 is a nice phone and the feature of window phone in it is really very amazing and it will attract the customers towards it.
http://www.telesepetim.com/

Guys, I need urgent help....purchased a Nokia Lumia 925 ten days back from Amazon India....the first week, it was all fine, and then the phone started heating up, and the battery started draining too fast....I came to know after some googling that the Nokia Lumia Amber upgrade in general is causing these issues; so this is an issue with even older phones which have been upgraded to Amber....my phone is always connected to the charger now, at home, in the office, and in my car....otherwise, the battery just does not last more than 3-5 hours....this is a disgrace....@ Nokia and Windows, PLEASE HELP URGENTLY !!

Just a comment about the SD slot part man they could easily put in one and not affect the design like the Lumia 520 wich its SD slot is within the device
Windows Central Newsletter
Get the best of Windows Central in in your inbox, every day!
Thank you for signing up to Windows Central. You will receive a verification email shortly.
There was a problem. Please refresh the page and try again.