Nokia Lumia 925 available for pre-order at O2 UK, will ship on launch day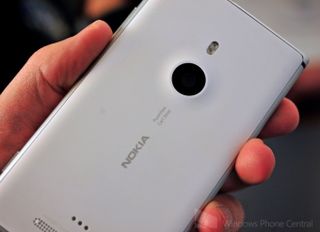 UK mobile operator O2 has published its product listing for the Nokia Lumia 925. The new flagship Windows Phone is available on a variety of plans, providing consumers with ample choice between plan allowances, up-front handset fees and monthly contract costs. The company is also shipping out Lumia 925 units on launch day to those who pre-order by June 12th. If you want the new Windows Phone as soon as possible, be sure to get in quickly.
The website states the pre-order offer will only stand while stocks last. The 4G smartphone is available in white, an exclusive deal at O2. The mobile operator is looking to roll out its 4G upgrades later this year, so investing in a Windows Phone capable of LTE connectivity is a sure enough bet to get the owner on faster data speeds once the upgrades have been applied.
O2 has the lowest plan at £11 a month, with an upfront fee of £549.99 for the Lumia 925. This plan includes 50 minutes, unlimited SMS and 100MB of data. On the other end of the scale, we have the £37 a month option, with the handset included at no extra cost. Unlimited calls and SMS are coupled with 1GB of data allowance. To make the deal slightly sweeter, should you add a wireless charging plate (£49.99), O2 will throw in a wireless charging shell for free (three colours available).
Be sure to check out the Lumia 925 product listing on the O2 online store for more details and the option to pre-order. Updates and alerts on the status of the Windows Phone will be published on the store, so stay tuned in case delays occur. It's worth noting that the Lumia 925 does not come with a charger (O2 is attempting to save the environment), but an option is available when checking out to add one in at a discounted price.
If you're interested at other sources within the UK, check out our coverage on where the Lumia 925 will be available.
Source: O2 (opens in new tab); thanks, Les and Jacja, for the tips!
Windows Central Newsletter
Get the best of Windows Central in your inbox, every day!
Rich Edmonds was formerly a Senior Editor of PC hardware at Windows Central, covering everything related to PC components and NAS. He's been involved in technology for more than a decade and knows a thing or two about the magic inside a PC chassis. You can follow him on Twitter at @RichEdmonds.
paid 459 for the 920 on P4U back in the days - with free wireless charger

Mine got bricked and replaced so i went put the IMEI of the second phone in and got 2 wireless chargers free.

you should not tell anyone - but i got one charger at work and one at home too :)

Why didn't think of that, lol! I had to get mines exchanged twice so could have had 2 extra chargers on top the two I have (my bro got one free too)!

When O2 finally stocked the 920 it was priced far higher than at EE. Their PAYG price was over £100 more.
I was hoping their price on the 925 would be more reasonable, only as I'm with Tesco Mobile and it'll save me buying sim free or getting one unlocked, but sadly O2 have once again failed to impress.

Sweet baby Jesus £549 upfront? I'll see what Three UK offer...

Three are very good at pricing better than everyone else so i would defiantly wait.

I paid 350 pounds for my Vodafone locked 820.

hahaha £549 with a £264 contract? £813?! And for that you get 100mb of data a month? They can't be serious.


Waiting for TMobile to annouce the D-day.

£549 up front with £264 on contract! REDICULUS. Nokia just doesn't know how to consistantly price their smartphone. Good thing I got the lumia 920 for just £260. I'll wait 2 months and the price will drop to &300 (260 if lucky).

You do understand, that £549.99 is O2's price, not Nokia's?

Why get the 925 if you already have the 920?

it is what it is man.. some people just don't use their heads and wait it out but rather prefer to get ass raped considering its inevitable that the gadget's price will drop in a few months after its release.

I typed in Lumia 925 on google (yes i know) and the prices i got for sim only was £395. Don't know what o2 have been smoking. Its not the fucking rip off iphone.

dont get ripped off by O2's poor offering. Im guessing Three will be offering this on The One Plan with 2000 minutes, 5000 texts, 5000 3 to 3 minutes, all-you-can-eat data, including unlimited tethering for anything between £30-£35 per month with no upfront cost.

£549 for phone + £264 for contract!!! You must be joking. SAMSUNG ATIV is available for only £240 sim free. And is far better phone. You can get sim only contract for £10 a month on same network via Tesco. That includes 500 mins, 500mb data, unlimited sms. Nokia please don't take us for granted. If you don't get the price right it will be failure. Real shame ...

Derp, complain about nokias prices. Herp, not realise its o2 that set prices. Derp, stop reading after the first price and fail to read the second one. Herp, quote prices £2 under the price you complain about

Can you unlock this for AT&T, does anyone know?

That deal is so bad it should be illegal.

It's O2, of course they're being serious! What's even more ridiculous is the fact people will pay them for it.

Any rumors on when it'll launch on T-Mobile USA?

Will be waiting for the 32Gb to come out SIM Free or on other networks in the UK, as Voda is utter rubbish where I am

What he said. My jaw is on the floor that they are going with a 16gb version. It's like releasing a psports car with a 1 litre engine. Pathetic.

Nice overview vid. Not sure about that snap on cover though. Looks good from the back of the phone, but not so good from the front and sides.

Will this one be available in Holland?

I hadn't realised that this was only on going to be on general release as a 16gb phone. What is this 2008? MASSIVE fail and the sole reason I will not be upgrading to what is an otherwise impressive looking phone. What a joke.