Nokia shows how the Lumia Icon beats Samsung's Galaxy S4 in drag race recording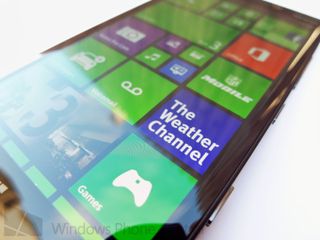 Nokia US is going on the offensive with the Nokia Lumia Icon, coming soon to mobile operator Verizon. The Finnish company has released the above video, showing off the recording capabilities of the Windows Phone. The footage, captured on both the Lumia Icon and a Samsung Galaxy S4, illustrates how Nokia smartphones are able to both focus and capture scenes more effectively, leading to better results.
Featuring two loud engines revving up and ready to race, Nokia takes both the Lumia Icon and Galaxy S4 for a spin, recording the same scene. It's clear with the end result to see how Nokia's technology provides the consumer with the ability to focus on what's happening then and there when recording, eliminating overpowering ambience.
Pre-orders for the Lumia Icon are expected to kick off today with device availability next Thursday, February 20th. Will you be picking one up? We'll have our in-depth review of the Lumia Icon up soon.
Source: Youtube, via: TechRadar, WPCentral Forum
Windows Central Newsletter
Get the best of Windows Central in in your inbox, every day!
Rich Edmonds was formerly a Senior Editor of PC hardware at Windows Central, covering everything related to PC components and NAS. He's been involved in technology for more than a decade and knows a thing or two about the magic inside a PC chassis. You can follow him on Twitter at @RichEdmonds.
Why is that leak news still on the top? Wpc app is not showing me live tile notifications too. Is that a bug??

Maybe the Leaked news is pinned :O

R u getting your live tiles notifications?

Same thing happening here. I didn't realize that I had missed a handful of articles until a few minutes ago. I'm guessing that they pinned the article, since it is such big news. I think the video has been taken down, too.

Ya we all know the news is big doesnt mean we miss out small notifications and other articles

None of us are getting live tile notifications. Even mine has stopped ever since the leak news was pinned.

Who pins it Jay,Rubino or Rich?

I thought it was just me!

I reported it a little earlier through the app. Fingers crossed it's addressed soon!

I'm getting the feeling it's actually working as intended. I think they see that the 8.1 leaks are such big news that they've made it a permanent top story, and as such it constantly has the top-story Live Tile treatment. Meanwhile, on the WP8 Live Tile, the 2nd and 3rd story still update as normal, so I'm highly doubting its a bug.

I think it keeps getting updated and "counts" as a "new" article

Yeah same here, thought I had no news, but there were a few new articles and my live tile didn't tell me

Mine left an old news item as the first one I see when I opened the app. It then had the new ones below it.

Could be true, but S4 beat it to the carriers first... :-(

Cool so when I show my buddy how slow his M3 is we can watch it over and over ;)

Lies. A M3 is not slow! None of the ///M cars are slow! On a side note, have you seen the new MB S Class Coupé? Dying to see an AMG version of that soon.

It is to my C63 ;)
I hope they make the S coupe in a 65AMG

I said none of the M cars are slow but then I remembered about the X5/6M. They are toys if compared to a G63 or 65AMG. Anyways I like Bimmers because that is what I can drive if I nag my dad enough so he let me drive his e60 M5. Not a new car but badass nonetheless :P I got myself a crappy car though.

You know that M3 beats C63AMG on track, it's more balanced, just slower on drag race, but in europe we like to go in corners too.

I wonder where the C63 is made ;) I can take a M3 on track but then I'm not stock

Wow a beefed up AMG must be a serious track warrior. Then again what I like about European sports cars is that they are made to be fast on straight lines and very good at making turns. Respect to your C63, Ryan :)

Hopefully we'll have a price soon since this phone has been officially acknowledged now. Posted via the WPC App for Android!

Is that a real ad? terrible lol

It's not an ad meant for TV or anything like that, it's more like a promo or a teaser for the upcoming announcement. It seems like there's probably more to it. My guess is they'll have a longer version at the actual unveiling to demonstrate new camera/audio features.

I was looking at the hot girl the entire time and didn't even notice they filmed it with two different phones until I watched it again :S

Me too! And then I had to watch it again. Didn't see any cars or phones....

The little two-stepping backwards after she flags the cars is hot.

The girl should be the icon. Much wow

Yea I cannot tell a lie, she caught my attention

I want to be excited about the 929. But after seeing the 1520s 6 inch screen its hard to not dump Verizon and open an att account. I like big displays but the 929 is only a half inch larger than my 928 :(

Screw tha Icon.... Look at that girl, you nerds❕

Aren't new WP8.1 devices coming soon? Why would anyone want to buy this Droid looking device.

Rich please unpin the leak news. Its preventing the notifications to get displayed on live tiles. Please!!!!

That's pretty awesome. It's videos like this that need to be shown on tv, people who don't know much about WP(and think they'l never make it in the real world) need to be impressed by stuff.

T-Mobile needs a new windows phone!

T-Mobile needs to supports the phones they have.

Very impressive...however the G4 is an "old" phone, who's strong suits are not its audio, video, and camera capabilities...so I'm not sure what the video's target audience is other than WP fans. I doubt it swayed very many iPhone or Android hardliners, especially when those platforms have some new hardware coming out as well.

Yeah, the GS5 will be out soon, but for now, the GS4 remains one of the most popular high end smartphones. This is likely why they demoed the Icon against it.

There is a problem with web too.I didn't realize that i had missed so much articles, before opening the full site.. (I was in AC and checked the down menu, it showed no news, but it was not true)..

This won't matter once the S5 is releases...

haac, rich recording, ois..... my friend felt good about buying a gs3 and was showing it off all the time... then i got my nl920 and we compared... you just cannot beat lumia in recording

It's actually funny that they didn't even announce it yet. But after all the leaks, it doesn't even surprise me.

I like what i see (and i'm not interested in cars)

the video is unlisted on their youtube channel

Did I miss the part where Nokia\Microsoft\Verizon officially announced this phone?

Side note, that chick is hot!!

Galaxy S4 is 1 year old.....in the smartphone world where technology change every 6 months means two generations could go by in one year time!

That's dumb comparison my 920 has better audio/video quality then the s4. Why not compare it with the note 3 or LG g2 or Sony z1

becoz more people know of/own an s4. so it would hit more ppl right in the ego as opposed to comparing it with a phone that noone has <relatively> like the G2 or Z1 or whatever. S4 is clearly the most sold high end android as of date

Finally a phone for the coveted drag racing demographic.

Finally a phone for the coveted drag racing demographic.
Windows Central Newsletter
Thank you for signing up to Windows Central. You will receive a verification email shortly.
There was a problem. Please refresh the page and try again.