Nokia Lumia Icon: Preorder next week, due to land on Verizon February 20th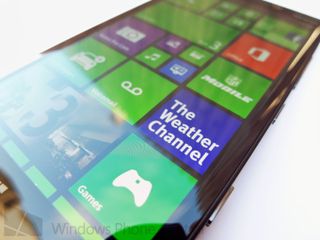 With yesterday's all but obvious teaser for the Lumia Icon – otherwise known as the Lumia 929 – you would suspect that a launch date and announcement wouldn't be too far off from now. Granted, expected dates have come and gone in the past, but now that Verizon stores are receiving inventory for accessories and Nokia US is tossing up videos, we're much more confident this time around.
The latest intel has the Lumia Icon due for availability on Thursday, February 20th. Verizon traditionally launches new devices on that day of the week, so that lines up with expectations. It also matches anticipations that this device will come out before Mobile World Congress (so don't expect it to be announced there).
Even more, we're hearing that the Icon will go on pre-order at Microsoft Stores on Wednesday, February 12th, with a $50 deposit, making an official announcement from Verizon by early next week very likely.
Inventory (Click to enlarge)
The information and confirmation comes via in-store inventory listings, seen above. We've witnessed such proof in the past, only to have Verizon push the date back. In theory, that could happen here, but as mentioned earlier, in-store inventory and promotions have already begun, making it less likely.
The Lumia Icon, previously known as the Lumia 929, sports some very impressive specifications. In fact, it's all but the Lumia 1520 in a smaller package. Coming in Black or White, the new Verizon flagship will sport the following features:
Verizon Nokia Lumia Icon
Windows Phone 8 Update 3, Lumia Black
5" 1080P AMOLED Display
2.2 GHz Quad-Core Snapdragon 800 CPU
32 GB internal Storage
2 GB RAM
20 MP PureView camera with dual LED flash
Qi-Wireless charging
2510 mAh battery
880 hours Standby; 13.83 hours Talk Time
Dimensions: 5.37 in (H): 2.81 in (W): 0.41 in
All in all, it's the spitting image of the Lumia 928, but with cutting edge hardware jammed into a device that is only slightly taller than its predecessor. The Lumia Icon also sports a metal-frame around the body, greatly improving the feel (and quality) of the device.
The Lumia Icon was previously known as the Lumia 929, but we've been told that Verizon requested the marketing re-brand to better differentiate from AT&T and other carriers. This move is similar to their 'Droid movement when they first adopted Android devices. There's no evidence though that this will become the norm for future Lumias (or what those will be called under Microsoft).
Yesterday's teaser video uses the tagline 'See and hear what you've been missing', which is the same language used on Verizon's website that accidentally went live a few times, all but confirming the relatedness.
Daniel Rubino is the Executive Editor of Windows Central, head reviewer, podcast co-host, and analyst. He has been covering Microsoft here since 2007, back when this site was called WMExperts (and later Windows Phone Central). His interests include Windows, Microsoft Surface, laptops, next-gen computing, and arguing with people on the internet.
Nice! Can't wait for AT&T to come out with a comparable model!

They will give it about 3 weeks to a month, then we will hear about 6 new phones coming out on AT&T with comparible or better specs...that's how it went for WP7 and the 928...

True! This phone hasn't been released yet and its already dated.Got tired of waiting and went for a nexus 5. Probably wait till next OS update before getting my 6th WP.

I'm close to doing the same. Even thoug the Icon is now close I may end up waiting and getting a GS5 or the next HTC One. It really upsets me that this device, which should have shipped 2-3 months ago, is just now coming out. I'm all for them delivering a great WP8.1 update as well but, by time we see a device with it, we'll be a year past the original ship date. My patience is wearing thin...

I am happy with my Lumia 1020, and I think soon the Lumia will have the 41MP on verizon.

Can't wait for T-mobile to.......N/M

Anyone know if it supports T-Mobile bands and if you can add an SD card expansion.

Bands partially yes (no LTE + only HSPA+ in refarmed area) and no SD card based on leaked specs

Leaked product page revealed support for band 4 LTE. If that holds, yes to LTE.

Verizon, AT&T and T-Mobile all share LTE band 4, and all New Verizon LTE phones (including the 928, though the Black firmware will need to turn it on) have LTE bands 4 and 13.

When I worked for MS Store every Verizon WP8 device I sold worked with T-Mo and AT&T since Verizon allowed them to be unlocked out of the box. If the pattern continues, definitely yes. You should be able to take in 4G HSPA+ and LTE connectivity where available but that all depends on the frequency band support on the handset. I haven't seen any confirmations on what it support yet. Maybe on Feb 12 that info will be available. I don't think it will had SD card support - haven't seen any reports suggesting it would and Nokia haven't put SD card slots on their premium handsets, only their budget/mid-range devices so far.

I'm still annoyed about how AT&T got the 925, which was supposed to be T-Mobile's exclusive. I guess that's what happens when T-Mobile doesn't bother to promote it or even update it to GDR3 or Black.

Me too. Does t-mobile just not have exclusives? They are so weak im so many areas. Pisses me off.

Sony Xperia Z1s? Posted via the WPC App for Android!

They have the Sony Xperia Z1s, which is a pretty good exclusive, but it's an Android. Pretty much all of their other devices are devices the other carriers have. Correct me if I'm wrong, but I believe the 925 is the only Lumia device to be on more than one major US carrier. If Nokia is going to break that "rule," they might as well just give everyone the good phones like the 1020, 1520, 929, etc.

Could not agree more!
On a side note can't wait to upgrade from my 928 :D

Weak little lamb in the house of giants, yes!

GDR3 was released... Im pissed Black is hung up tho. Should be a dev preview for ALL updates. This waiting shit is bull considering the money dumped to get the devices. At least give us a time frame so we know. Not "in the coming weeks" im amazed they always manage to typo that since its actually supposed to say "months". End of rant.

looking at the edges reminds me of the surface tablet

Looks awesome. Too bad AT&T gimped the 1520 or else I might have purchased that. This, like all VZW Windows Phones, probably won't support MMS if used on a different carrier.

I don't use MMS, is that the only difference using on another carrier? Considering buying the Lumia Icon off-contract to use on AT&T or T-Mobile.

According to tech support (VZW), MMS is used (yes, cellular data) when you text a picture.

Only problem I have had with Verizon windows phones T Mobile is SMS only sending over 2g, haven't had problems when I put an AT&T sim in them. That and having to reset the phone if you go back to Verizon so that LTE will work

Woohoo. :D
Waiting for the international version. ;)

Honestly, do not expect one anytime before 8.1 and not at MWC.

I hope a variant for AT&T and global is announced. Like I said, I HOPE. :)

WP 8.1 isn't even that far away! Can't wait :)


It's coming nevertheless. There's a hole between the 625 (4.7") and the 1520 (6") that will be plugged with a 5" to 5.5" model, I'm sure of it - I can feel it in my bones. LOL!

There's a hole to be filled with a phone featuring AMOLED, PureView and built-in QI.
I would get a 925 if the charging covers weren't so hideous.
I do hope something similar to 929 comes to Europe soon. Until then I'm sticking with my ugly 820.

International version and this would be my new phone, but want the glossy red please. +920 UK

Same here, I would LOVE this in Sweden!

I saw Cyan/ Gray and my hopes and dreams were destroyed immediately :[

I want that. Bring it to AT&T!

AT&T has it already, its just a smaller 1520. Posted via the WPC App for Android!

except for the critical (for me anyway) lack of a SD Card Slot

That's what is frustrating me too. I really want to move to WP, but I am worried about the lack of SD support and a comparatively small battery for such a big screen. If Verizon had a 32gb version of the 1520 I would own it already. Their coverage is so much better than ATT that I could never consider switching, so it looks like I will have to make some serious compromises. Either that or go with the Note 3, and put off my WP plans for two more years. *sigh*

So, you would switch to WP if Verizon had a32GB version of the 1520? The ICON is a 32GB Phone!

Savagelizard is on AT&T who's 1520 is only 16gb. Savagelizard no doubt knows the Icon is 32gb, but clearly states that their concern with the Icon is over the battery and the lack of SD Card slot. read for comprehension

Precisely the reason why I want it. All the goodies of the 1520, without the massive size.

Which means my 928 won't be getting an update till after.

Waiting for a Intl variant.

880 hours standby?????????????

My only question: Nokia will announce the Normandy on MWC?

So a Nokia Android phone is actually going to see the light of day? I wonder what Microsoft will do with that going forward...

Probably keep it. It's cheaper than to maintain the S30 and S40 series and will have access to Android stores such as Amazon which is good for emerging markets, while being able to have Microsoft services in it instead of Google's.
However...if they do that, they won't be allowed to use the Nokia branding on those feature phones (as per terms of the deal).

Elop will turn out to be the ultimate Trojan - for google.

LOL I would seriously die laughing if that was to happen. But even if he was, with Gates back at Microsoft, he might well kiss any of his plans goodbye.

Just how much do you think Bill can accomplish with just one day a week at MS?

Why have you stopped doing coverage of the Normandy?

I think it's Android Central that will be covering the Normandy since, well, forked or not it's still an Android phone.

Well that's obvious, but WPC was covering it, and just stopped.. I'm asking why.

I know. I based my answer on AC's last podcast to mention Normandy. Someone asked who would be covering Normandy at MWC and they were saying that they would still have to talk with the folks at WPC about it but probably it would be AC since it's an Android phone. So I interpret WPC's silence on the matter as a sign that they had talked with AC's folks and moved the Normandy coverage to their hands.

Ugh, I hope that is not all they are announcing. I'm trying to forget that phones existence lol

Wow it has a little bit of a surface design!

That's the first thing I noticed too. Would be a nice match to my S2.

LOL! You had me confused there for a while because the Samsung Galaxy S2 is also usually refered to only as the S2.

Haha same thought. S2? Why a galaxy phone? Ohh... Surface 2 duh

Yep, that profile is unmistakable!

I need this phone, BUT on AT&T

Verizon likes this boxy design I guess!

Is it going to have Nokia black firmware in it? Or would still be Amber?

Yes, it will have Black, per the article.

I wonder why didn't they jammed a 3000 battery in it. It would certainly serve it better. Hopefully Goldfinger will have it.

I was thinking that as well when I read it, I dont see why they couldn't the SONY XPERIA Z1 has 3,000mAh battery and gets me through the day maybe two.

Enough with the Sony talk. And besides, this has Qi built in, so that could be one reason why they couldn't make a bigger battery.

I was comparing with the z1 since I have it and got similar specs to the ICON and it would be best to go with a 3000mAh battery since it gets me through a full day use and to power such a display. I dont see why they couldnt fit an 3000mAh battery with the QI wireless charging since it about 10mm in width and z1 about 8mm in width and with the other dimmesion being similar as well. I also think that the new flagship devices being release this year will mostly have 3000mAh batterys and I would personally would prefer 3000mAh over 2500mAh just for that little bit more juice.

I hope it can work on T-Mobile.

I want this on T-Mobile damnit.

Hmmm...From side it looks bit like surface, are we already seeing MS design influence on Lumia?

No. This phone was in development before the MS deal.

And the 928 already has that design style. If anything, Verizon asked for them to resemble the Surface because of the OS and nothing else.

...and how far back MS deal was in development? Sure it was before this phone was conceptualised? Or may be I should just stop my imagination running wild..

Wasn't the exploratory meeting between Microsoft and Nokia on the buy-out happened in January 2013 and the official announcement came sometime in the middle of 2013? So maybe the Icon came after the decision to buy? I'm just speculating of course.

That's a Verizon Droid design which I've always hated, but very happy for everyone on Verizon hope Nokia fixed all bugs which all us 1520 users are experiencing and apparently don't care.

All 920 bugs still happened with 928.. Unlikely they fixing any bugs.

That's true but 920/928 bugs weren't that annoying like the 1520's. In less then a month of the 920's release we had a system update and fixed alot of bugs but the 1520's are stupid annoying. I called Nokia a week ago and they told me that there no issues reported for your Lumia model.

Spinning gears on reset, screen freeze, audio/headphone issues... Some probably hardware issues, but still plentiful with 928

I wish there's 5" counterpart coming to AT&T too! I'm upgrading next month, so I'm in high hopes here. I'm supposed to be getting L1520, but it's too big and sits very big in my hands which I find uncomfortable. Hopefully I'm getting some good news on MWC. Possibly "1820"? That edgy design is very reminiscent of Surface!!! So attractive!

Some sources said it will have a 20 megapixel camera, so, that's neat.

It has a 20MP Camera. Posted via the WPC App for Android!

Holy fish sticks! It's here!

With how thick it is the battery should be bigger.

Well it has Qi built in, so...

Yeah they at least put it to 3000mAh to power the display and that. QI wireless shouldnt take up that much room to add the extra juice in power and if there using the newer version which is more thin then they should be a bigger battery.

Sucks they would miss the boat for valentines day.

... How much standby time?

That's 36.6666666666666666 days? Really?

I'm sure all OEMs test their phones before all the battery-sucking apps are installed. So probably 36 days is about right.

Im holding off because of battery life. Waiting for a thorough review from WPCentral :D
Also, waiting to see what the price is off contract. *gulps*

A lot of monies i bet. Posted via the WPC App for Android!

I will just wait for 8.1 new devices.... In less than two months

Don't expect any 8.1 device to improve anything over this. WP8.1 isn't THAT big of a deal as people paint it, to require new hardware. All WP8 devices will be upgraded to 8.1. That alone should give you an indication of the hardware needs. Since the SD800 at 2.2 is at the industry's top spec-wise, no other device will go over that. Specially no WP device.

Maybe not hardware wise but a rather big on the software side of things

Well, not necessarily. While it is true, and I would add obvious because it would suicidal to do otherwise, that all WP 8 devices will receive WP 8.1 this does not mean that all the new functionalities of the OS, whatever they are, will be available for all existing devices. For example: some could require a quad-core processors, others a 1080 screen and so on...
In other words I see no rationale to spend €600\700 to replace my 920 now when in less the two months I will have a clearer idea of what is coming on the table, both as hardware and software.

SD 805 is right around the corner :)

ATT customer here and I am jealous.

Specs are definitely packing. That's really a worthy update to the 920, but I guess we won't get a real flagship until 8.1. Hope they deliver.

Finally. Can't wait to get it in my hands.

Finally! Who wants a like new 928...for a small fee? I wonder how much they'll give me to trade it in.

like $60. unless you renew a contract too in which i think they give like $100 or something still stupid. just craigslist/ebay/swappa it!

i would buy it and use it internationally since it should come factory unlocked

Looks like how a Surface Phone would have looked like on the side image.

I was just thinking the same thing!

Sure would've liked the SD Card slot on this bad boy. Oh well, saving $$ for this one.

Waiting for this phone has felt like the equivelant of waiting to get my driver's license when I was 2 years too young.

Wait.. Preorder? Anyone know the link to it? I would love to get my hands on one of those beasts

My natural question is that if this comes with Update 3 & Black... when will Verizon flip the switch and gi e everyone else Black?

Probably when it comes out, :( Posted via the WPC App for Android!

Just want to know what deals will be offered with a Verizon 2 year contract, and if they'll be offered as soon as the device is offered. If not, what's the estimated price of the phone on a VZ 2 year contract? What has been the pattern with previous Windows phones on this carrier? Thanks

Dope, but still not f*ckin with the 1520! :)

That standby time is really good.

Nice but wish Verizon would also offer the 1520. Some of us would actually like to have the larger screen. This isn't much bigger than my current 928. And leaving out various colors yet again is a big upset. I wish I could afford to just jump to att!

Wow this phone is amazing! But will wait to see updated version of Lumia 1020. Hope the same specs like this one (or snrgn 805) and 41mpx. This will be THE BEST phone ever! :-)

Finally! Actually it wasn't too bad for me. I only went off contract about a month ago. I know some have been waiting since November for this phone. Now....where to get it from and what will the contract price be?

I want Nokia/Microsoft to announce a new phone with the specs of the 1520 but with the 41MP camera. I tried out the 1020 at a retailer the other day and was totally blown away by the zoom functionality. That combination would be really awesome!

Same here! This phone + iPhone 6 and you are unstoppable! Best of both worlds! :-)))

It would be awesome indeed. But you'll have to wait quite a bit for that, I'm affraid.

I won't be upgrading from my 920 until the end of the year but if Verizon phones get to keep qi and AT&T keeps removing it. I will be switching providers!

Does Nokia really not have the resources to release their flagship devices across all three major US carriers or is there some other hindrance/strategy involved behind the scenes. I have been waiting on a true flagship(and not one hampered by storage limitations in the Lumia 925) to come to T-Mobile ever since the Lumia 900 came out with Windows Phone 7. Do I really just need to switch to AT&T or Verizon to get a killer phone?

Blame the US market. In Europe, Nokia releases their phones to the general public and the carriers pick the ones they want. There's no such thing as "exclusive models". Then again, the majority of us in Europe buy phones in PAYG mode and not on contracts. In the US people seem strange to the concept of buying without contracts and without a carrier attached which is why probably Nokia has to go directly to the carriers and let them chose what they want.

Well there's a Galaxy S and an iPhone on every carrier. If Apple and Samsung can do it what's stopping Nokia. Nokia is basically the Samsung of Windows Phone seeing as how they are really the driving force behind Windows Phone with HTC, Samsung, and other brands lurking far behind in the shadows.

"pre-order at the Microsoft store" LOL lol LOL lol

LED Flash, center placed head phone jack and release date 1.2 months away from 8.1 unveil. I wont be getting this, my 928 works great still.

man, that side profile suggests this phone will blend in perfectly with the Surface machines... :p I was in the store the other day and played with the 1520. It's not as big as I imagined (6" blows my mind). It didn't feel as big as my friend's Note 3 (though to be fair, maybe the Note 3 conditioned me to the big size). But I think 5" is plenty big enough.

that WOULD have a MIcroSD slot...

It says "Nokia Lumia Icon Verizon" black/white and "Nokia Lumia Icon" grey/cyan . This means that there are TWO MODELS.

I really want a 4.7 inch but with high end specs then i can ditch my 925. Man that would be amazing. But would need to be all around the world not just US.

@sip1995 grey/cyan is the case, not the phone. There are two phone models. One is black and one is white. Typical Verizon... still, gloss red is a poor substitute for good network coverage.

Why the hell Nokia allowed exclusive right only to one carriers. Does that one carriers alone manage to sell millions and millions of it ?

That's what I hate about AT&T, I want a 1020 but im stuck at verizon, so the icon is going to be a nice change for me

the largest carrier on the continent? yeah you do what they ask.

I believe I speak for every WP8 lover on Verizon when I say, "It's about damn time."

What Lumia is then expected at the MWC this year? Or is Nokia going to stay out of the event?

Nokia will be there...for the 'Normandy'. But no new WP devices, sorry.

No new Lumia devices.......why Nokia ?

what tells us they they are doing a normandy release at mwc???, the only thing nokia has said is they will have a booth there and a press conference before mwc??? nothing anywhere states anythng about an normandy phone, if it is released it will be an asha device anyways, not an andriod phone.

It will be LCD not Amoled.

And what proof do you have it's IPS? Everything so far has indicated AMOLED again.

It looks AMOLED to me... (looks again) Yup, this is AMOLED.

Any info if Microsoft / Nokia deal will be finalized next week?

Why can't we get Qi, SD Card and 32 GB? I really wanted the 1520 but ATT took a massive dump on that thing and now Verizon isn't going to have the SD Card. They just can't seem to get the phone I want, I've had the 920 for 18 months and I need more storage for music which is solved by the SD Card. I need the 32 GB because of all the big games I've got on my phone, really hate having to uninstall games just to download a couple more albums or try another game. I really like the WP platform and would hate to have to start looking at Android or the rumored larger phone from Apple.

MS will probably never see your comment lol. Your right. And you know... A high percentage are asking for the same things. Practically everyone. They need to give us what we want. Being MS you need to understand, they know what there doing. They do everything for a reason and for a paycheck. Dont think they don't know you want it. They know exactly what u want. There going to give it to u in bits and pieces until they sell a billion phones and then move on to the next big thing.

This looks like a Surface phone. Want!

That's the flagship i wish to see in europe. Not too big camera, not too big screen, just normal beautiful flagship :) perfect.. i hope in half year it will make way to the other side of the ocean

getting a bit tired now of US carrier exclusives, Nokia should make each model available worldwide and then stamp nasty carrier logos on stuff if they really really have to

Looks really boring :/ when you compare it to stuff like the 925 its not even in the same league

Well I got tired of waiting and have now had my note 3 for a month and 10 days. But... can't go round with a note 3.

Price? any guesses on the price? $50 deposit but no price listed.

Ugly. But Verizon always gets the Lego shaped phones. TMO bring us 5"

How come since wp7 all thats changed is what the phone looks like? And internals. No ground breaking external functionality to set it apart from other phones..... Same stuff over and over again. Bring us something other phones "dont " have already.......

Hopefully by the time my upgrade comes around in November Verizon will have more new windows phones. I love the specs of the Icon but the design is ugly. If they kept the 1520s design but smaller I would be ecstatic.

Any intel on full (month-to-month) price? $777?

Correct me if I am wrong. but doesn't it say the handset itself will be avialable on the 19th and the accessories on the 20th? I don't know I am just a little confused cause the title says available on the 20th.

My dream Lumia is : 41 mp Pureview Zeiss camera
Qi wireless charging
Red
SD slot
64 gb on board storage
3 gb ram
Stereo recording
BT 4.0
Xenon flash
Everything else the Icon has

the icon has Qi, stereo recording, and BT 4.0

Am I right in thinking that the teaser indicates this thing will have stereo recording?

That looks like a awesome device that will launch and Verizon has great coverage too bad that their service is high i may consider going back to them but i will stick with at&t and get the 1520. Posted via the WPC App for Android!

Sucks that its raining here in my town. Camping out in my tent kinda sucks but i will be the first one with one.

When will Nokia get it right? nice phone but, with out a card slot (MicroSD), it's not what I would see as a flagship phone. Nice phone, no question but, it needs 64gb or 32gb with MicroSD. Nokia is starting to dispoint me, is this something MS set ? Is 32gb really enough for everyone ? I know on my 928 I need to delete apps just to install new ones...it's getting old... I guess I will hold on to my buggy 928 for a little longer to see what HTC and Samsung hits with. Very dispointing, ALMOST perfect phone spec wise but, I will skip this one...Unless I get one dirt cheap used or something. At least they added the FM radio that SHOULD of been on the 928.....starting to dislike Nokia... I hope HTC comes out with a good one...at least my old 8X was rock solid, nothing like the bugs on my 928...


Please, no flames my way!!! Just a thought. I know many keep saying "no SD slot, more memory needed", but this does seem a little silly to me. Maybe I use my phone, for the most part, as a business phone, and don't need all the memory. I've had several Android phones over the last number of years, and would agree, that the more memory the better. However, since switching to Windows Phone (best phone decision I've maid in 15 years), the memory need is not there. Windows Phone is a much smaller package (IO size and demand), as is the apps. Now, if you need 20 different games and such, that would be one thing. But for me, I bought this phone for business first, and that is where it excels. I do think the flexibility of an SD card slot is great, but definately not a huge need. With Skydrive storing my photos and such, 32gb is quite a bit of storage. Again, just my 2 cents!

Anyone have a guess as to how this will affect the 928 pricing? I need to replace this irritating Galaxy Nexus and I don't get an actual upgrade till next year. So since I likely won't have the funds to pony up for the Icon I'm looking to get the 928. If the price is gonna drop pretty nicely then I'll just wait till then, if not I might go ahead and get one...

I am also replacing my Galaxy Nexus with the Icon - It is the bane of my existance for the past 6 months or so, and no matter what ROM, or Kernal i use, it is pretty much unusable. The Lag is so bad i want to throw it every time i take it out of my pocket. It has completely soured my Android experience to the point that I want nothing to do with it anymore, and I was a former fanboy. Either way, Im looking forward to this for a while now, hopefully these are not rumors anymore, and I can preorder the white tomorrow.

Why does everyone think it's going to have an AMOLED display? It will be LCD Posted via the WPC App for Android!

I wanted this phone, 3 months ago, the hold up is stupid, now I'll just wait for 8.1 devices.

you realize you will be waiting till probably November?
Windows Central Newsletter
Get the best of Windows Central in in your inbox, every day!
Thank you for signing up to Windows Central. You will receive a verification email shortly.
There was a problem. Please refresh the page and try again.