Nokia Music update includes Windows Phone 8 features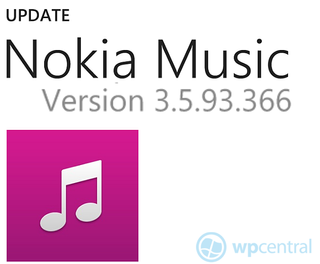 Windows Phone 8 is just in the process of being released and with it comes updated apps. Notably Nokia's own apps are getting spruced up to take advantage of the new platform.
Yesterday saw an update go out to Nokia Music, its actually still showing as 3.5.93.366 but announced some new features with regard to the newest version of the Windows Phone OS.
The update is said to bring the following:-
**New Features for WP8**
Equalizer and Dolby Experience accessed from the player menu
Support deletion of Songs within My Music
Login to Nokia Music using Facebook account
Extended language support WP8
All sounds good doesn't it? Delete works and I'm sure the option to login with Facebook was there but there doesn't seem to be any way at present to access the Dolby features from the player menu as they suggested. I personally tired with headphones plugged in (as that's part of the feature) and without, no luck finding that graphic.
The app does now allow you to delete tracks from your collection which might be useful to some but the EQ while playing back music would have been far more welcome. We're wondering what happened to that feature. We're certainly pleased to see that Nokia are full steam ahead with getting their great exclusive apps updated for Windows Phone 8.
Nokia Music is a great service and totally free if you're a Lumia owner so we'd encourage you to try it out if you haven't already done so. You can find it here in the (opens in new tab) Nokia Collection on your Lumia Windows Phone. Nokia recently told us of their commitment to this feature and we're expecting some rapid fire updates to its capabilities to come shortly.
We'd like to know what you think of Nokia Music in its current form, features you'd like to see in the future and any tips you might have for getting the best out it it. Please let us know in the comments below.
I just wish Nokia would increase the number of countries this app is available to.

On that note, will it work in Canada?

Would love to have Nokia Music and Nokia Reading in Canada.

Probably because you don't have a windows phone 8?

The app is free - if it's available in your country. Most of Europe isn't covered by it.

That's the downside with all these media services, as good as they are most of them don't even work in my country. Such a pain in the butt really.

On my Lumia 920 it says it can't be installed on my phone as the app only supports WVGA. I've seen this with a few apps (Tunein Radio being another).

obviously you need Windows Phone 8 /dual core/<insert excuse> to be able to login with Facebook and delete music *rolleyes*

...and the abandonment continues.

inteller, please stop. The article on Engadget (posted a few days ago) confirmed that these features will be available for current WP7.5 Lumia devices when the 7.8 updates rolls out.

Dry your eyes...

If the news is real it great news for current lumia users

so we will get WP8 app features when 7.8 rolls out? hardly.

Xbox Music vs. Nokia Music ???

Good question, I've only been using Xbox music. Only because my music files appear more organized.

Frustrated that it's not available in Canada. Even more so that it's even listed in the Nokia Store catalog, but it's impossible to download. If it's not available to me, why even show it? (And how has someone in my region reviewed it (5 stars, btw), taunting me?).
Likewise with Nokia's ESPN app.

If he has bought the phone he might have been able to use.
I bought my Lumia 800 from UK and was able to use Nokia Music here in Sweden month before it came available here.

I hope they don't turn this into ANOTHER Spotify-like app, with the fb logging in and all

Nokia reading is not available in India
Windows Central Newsletter
Get the best of Windows Central in in your inbox, every day!
Thank you for signing up to Windows Central. You will receive a verification email shortly.
There was a problem. Please refresh the page and try again.