Nokia Music updated to version 3.0 and Play To bumped to 1.3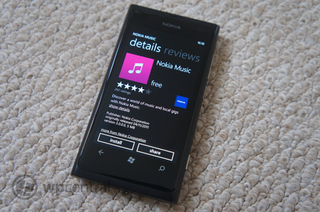 Nokia Music has been updated to version 3.0, and we've got some information regarding what's included in this release. According to the changelog provided in the Marketplace description, which we believe to be slightly off, the following has been included:
Download all types of mixes to listen to offline
'Pin to start' any mix so you can quickly play your favorites
See what mixes and songs you've previously listened to by tapping 'recent mixes'
Search for gigs by artist, venue and city
Share details of the song you are playing to social networks, over email and messaging
Fixed disappearing menu options
As well as the Music app update, Nokia also pushed out a new version of Play To, but no changelog has been published, though we have received word that connectivity within the app is much quicker. Both apps are well worth checking out, especially if you're either into music while on the go, or wish to make use of DLNA functionality.
You can download both Nokia Music and Play To from the Nokia Collection.
Thanks, TallPaul86, for the heads up!
Rich Edmonds is Senior Editor of PC hardware at Windows Central, covering everything related to PC components and NAS. He's been involved in technology for more than a decade and knows a thing or two about the magic inside a PC chassis. You can follow him over on Twitter at @RichEdmonds.
Why Nokia Music isn't available in the United States? That's the main app I was looking forward to having when I bought my L900

...because it's the international alternative for those that can't get Zune/Xbox Music. =/

Nokia Music is available countries that have Zune as well, like UK.

Itä's different service. It's like Pandora, without any ads.

Everytime I see the name Play To I always think of the old LG's DLNA app's name, cleverly renamed to SmartShare

PlayTo... Still no sound from videos through my Panasonic Viera ST30. Everything else works fine.

I still can't get my tv to find my phone. Is it supposed to work directly to the tv with stuff on my phone or is to control dlna from my computer (which I can never get to work right).

Its a shame that PlayTo can't stream playlists downloaded by Nokia Music to an external device. Now that would be cool.

The update has fixed play to on my lumia 800! I can now play music directly to my LG smarttv without the app crashing out!

I like the offline mode for custom mixes. I use it now as ita picked up some good songs

Off topic: Can anyone let me know where Samsung's DLNA app Allshare gone?? Couldn't find it in Samsung zone as well as in marketplace?

I updated it on my Lumia 800, but after the load screen it goes back to the start screen. I uninstalled it twice, but nothing. I'm not the only one with this problem.

I am also having the same problem! it just goes back to the main screen,over and over again, I also uninstalled but same thing. anyone knows how to fix this?



Is it available for lumia 710 in india.

I know that Nokia Music is available in full only in countries where Zune is also available. That's a shame as I live in Romania and by using Nokia Music 3.0 I can only listen to my own playlist. However, I could listen to other online playlists and make them available offline before with Nokia Music 2.0 because my device is registered with a UK Windows Live account.
Therefore, my question would be: Is there any way I can still get online radio mixes availalbe for my device now with the new Nokia Music 3.0 given the current setup or must I wait for Zune to become available in Romania too?
If you know a way around this, please help. I love the previous app and it's a shame the updated one has restricted access.
Thank you!

No new in windows phone ri8 nw i just hate ri8 nw windows phone...no
new lock pattern, no new apps,, no new updats,, no new screen savers,,
no new unlock clocks,, wat can i do m just bored wid windows phone and
no gamez all gud gamez r paid i have windows ri8 nw:-(:-(:-(:-(:-(

anyone can provide me with a qr barcode?im from malaysia and i dont see any update for nokia music
Windows Central Newsletter
Thank you for signing up to Windows Central. You will receive a verification email shortly.
There was a problem. Please refresh the page and try again.