Nokia Photo Transfer for Mac adds support for DNG file transfer in latest update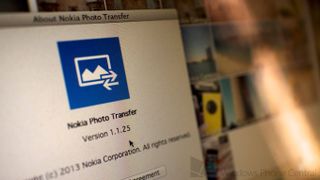 Nokia Photo Transfer for Mac just got an update, adding support for DNG file transfer. This comes just before the release of the Nokia Lumia 1520, which is the first smartphone to offer raw file output. The photos in lossless DNG (Digital Negative) file format allow you to adjust several things like white balance, contrast, or shadow and highlight levels on your computer without damaging it too much. People who are passionate about photography will have more flexibility editing the DNG files compared to JPEG files.
According to the change log, this is what's new in version v1.1.25:
Added support for DNG file transfer for supported Lumia devices.
The Nokia Lumia 1520 will support RAW out of the box, while an update for the Lumia 1020 comes soon after. To get those files into your Mac, open up Nokia Photo Transfer and connect your Nokia Lumia with a USB cable. You can then use photo-editing apps like Aperture or Lightroom to play with the photos.
Nokia Photo Transfer also lets you transfer normal photos and videos, as well as other types of photos and videos taken with SmartShoot, Cinemagraph, Nokia Smart Camera, or Nokia Pro Camera. It is a free download from Nokia's support page.
How big is a DNG picture typically... ? I noticed my L925 takes pix at around 600-800kb which is small IMO. My old iPhone took them at 1MB+... Obviously the quality of L925 is the best I've had :) guess I dont know much about it.

Actually, you're seeing the small one.
When you share a pic with email or whatsapp (for example), it get the small size to share, but the original pic has 2mb or more.
I, personally, think this should be a setting that we could set up.

Well, when I plug my phone into my PC and go to my pix... In Camera Roll I see the sizes I mentioned above... Didn't see any bigger ones.... :/ im big into quality and im the same with music. I even use Wave music files on my iPod Classic because the sound is way better. Obviously 50MB songs are 10x bigger than average but w.e :)

I guess that's good. There are still a lot of artsy types that insist on using Macs, their pocketbooks be damned.

Does this mean the 1520 ships with Black?

Yes the Lumia 1520 ships with the black update.

Nokia really needs to make a PC desktop app for editing smart cam, refocus and 41mp zoom photos just like you can on the phone. And would be great if they would throw in features like combining photos into a HDR image, after all the tiny phone screen is never great for editing photos, but a 17" + PC screen is.

Does this mean Black is coming out soon? :D
Windows Central Newsletter
Get the best of Windows Central in in your inbox, every day!
Thank you for signing up to Windows Central. You will receive a verification email shortly.
There was a problem. Please refresh the page and try again.