Nokia Refocus app latest to be rebranded by Microsoft to Lumia Refocus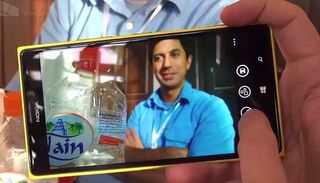 Microsoft continues to rebrand the Windows Phone apps that were previously developed by Nokia. Today, the latest such name change went live as the Nokia Refocus app got an update, and a rebranding to Lumia Refocus.
The app itself launched less than a year ago and allows owners of Lumia PureView smartphones to take a picture and then manipulate the focus point of the photograph. Today's update only included the name change; no other features or anything else has changed with this photo app.
Microsoft is expected to completely ditch the Nokia branding from its mobile phone division by the end of the year. The company is already begun the process of redirecting visitors to Nokia's web sites around the world to the new Microsoft Mobile location.
Windows Central Newsletter
Get the best of Windows Central in your inbox, every day!
Would be nice if they integrated it in Lumia camera...

I'm more curious as to whether Lumia-specific apps and firmware updates will continue, or will Microsoft see more value in those being available to all Windows phone owners.

Honestly, why does it take so long to just rebrand an app? love this app but don't use it often.

Thanks for not including "what do you think......" at the end of the article. Keep up the good work.

I'm pretty sure we all feel sad that a legendary brand is fading away, but we still understand the necessary steps for a Windows 10 one ecosystem :|

Agreed. I have never been unhappy with a Nokia phone and will miss the brand. BTW I still own an N-Gage QD and almost all the games

Yeah, about time they stopped that. Was strangely welcoming to be able to get to the comments without feeling like I was being spoon-fed. I always get confused by all these camera apps, I keep thinking EVERYTHING is now in Lumia Camera, and then when I want to use a feature I find I don't have it and need a separate app. Lumia Camera is great, and hopefully with Denim will become even more so and improve it's speed - but even with all that it still could be improved by integrating all these different features into the core camera app.

This app is more powerful than the built in in the HTC camera?? I am just asking to know why this is not built in the Lumia Camera app...

Not available in Brazil. How did you use magic to download the app? :D

only rebrand? what about save to DNG? -.-

Why refocus doesn't support high res... I don't care it takes long time to capture

Yes! Of all the ways they could improve Refocus, all they do is change the name? Lame. Would love to see hi-res and have it just part of Lumia Camera. Honestly, since I have Lumia Camera set as my camera button default, that's my go-to camera, and i forget i have others. I haven't used Refocus for a long time just because it's not right there handy.

With the mess of things such as the Xbox music, video, and game hub.... The lag many of us are experiencing with WP8.1....etc.... Time could be used well elsewhere.

Exactly!
Instead of doing half-baked apps and worthless namings.... Do they need to write a special code to rename an app!! :p

I highly doubt they dedicated a team of developers to change the name. :/

Xbox music works great for me now since the last updates. Love the cloud collection feature. I honestly don't get why so many people are having problems.

I'll miss NOKIA branding! :(

Look at your phone. Do a Bing search, if you seek, you shall find the Nokia branding. /s

If its just rebranding and no new features, why don't they update all at once.

I, don't know how to use it :/
Lumia 720

What's left now to rebrand is Nokia Chat Beta, Nokia Camera Beta, and Nokia Trailers. And yes I use Trailers and Chat a lot. :3

Now they just need to do the same with the branding on the phones. Change 'NOKIA' to 'LUMIA', not 'Microsoft'.

Ooh that would be catchy eh...

Great app. By the way can anybody tell me why that cars game gameloft isn't showing up in the store?

I can see the app in Store. Lumia 930 Localization USA.

The app stil lags way behind what google, samsung, LG, Sony and HTC included in their regular camera apps. It only works on very close close ups, the effect is minimal.

It'd be nice if they fixed the Place Tag app.

I know we have been through this multiple times, but can anybody explain one more time why do we have 4 different Lumia apps (Cinemagraph, Panorama (very bad), Refocus, Selfie) instead of packing these features into the camera app? Other than that, I'm very happy to see these amazing and groundbreaking updates. After months of eagerly waiting, we have new app names! Who needs new featues and performance improvements? /s /rant

The camera app will take even more time to load, then... :(

Exactly.... First of all.. these multiple apps are to be integrated into one functional app. Regarding your other comment I believe the nor so great updates provided can be attributed to the fact that MSFT is trying to do many things at once.. Windows 10, MS Office improvements etc.. Nevertheless better stuff is expected from them

The rebranding will come in handy especially when Microsoft port this app over to ios and Android. Probably making it ten times better for those platforms then it is on WP

Ask them to do something productive please.

I like this app a lot. But honestly I feel it's high time to integrate the many independent lens provided as individual app into one unified app so as to make them more user friendly. Is difficult to keep track of the many individual apps.

Selfies aren't enough for Dan, now he's got staff taking pics of people taking pics of him. You sir win!!

If I ever leave windows phone I don't know what ill miss more - WP or WPcentral

I miss the Nokia branding!!! It's sad to let that go

Handy Photo is much more powerful and useful app than this one. Looking to see HP for WP

Not available for my phone? Why would that be? I have an Icon. Did Verizon block this, too?

i need a good yahoo messenger app

Changing the brand name from nokia to just lumia is not an encourageable process. The name "NOKIA" still matters to lot of people.