Tune in! Nokia to run Indian reality TV show to judge submitted app ideas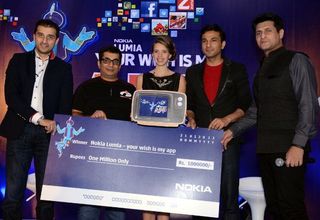 Nokia India launched an initiative in collaboration with NDTV, which saw consumers provided with the unique opportunity to submit their mobile app ideas that have potential to be developed for Windows Phone, so other owners can enjoy the experience. A reality TV show, "Nokia Lumia Your Wish Is My App" is set to be produced where app ideas will be pitched and judged by a panel of well-known faces in India.
The contest prior to the TV show has received a staggering 35,000 app idea submissions from consumers since it was announced in December.
Nokia has also unveiled the fifth judge of the show. Bollywood actress and youth icon, Kalki Koechlin, who joins Rajiv Makhni, NDTV Managing Editor & Tech Guru; Vishal Gondal, Managing Director-Digital, DisneyUTV; Raj Chinai, Venture Capitalist & Co-Founder, Harvard Business School Alumni Angels; and Vikas Khanna, New York based Michelin Starred Celebrity Chef.
Out of the number of ideas submitted, only a mere 42 will be shortlisted and consumers with the most exciting ideas will be called in to participate in the first app reality TV show. The prize on offer for first place, should your idea be selected as winner is Rs 1million ($186,000). The show will begin airing on NDTV starting February 9th, which will show viewers consumers showcasing their ideas in front of the panel of judges.
Gerard Rego, Director - Developer Experience, Nokia India had the following to comment on the results of the entries:
Not only is the main prize up for grabs, but the collaboration between Nokia and NDTV is also set to give away Rs 5 lakhs ($9,300) and Rs 2 lakhs ($3,720) to runner-ups. It's also noted that three lucky winners will stand a chance of winning a Lumia 920 Windows Phone. Much like Britain's Got Talent (or the American counterpart), we're sure this idea will go down well with developers and those interested in technology.
The fact that the companies managed to accumulate over 35,000 entries for app ideas on Windows Phone displays a fair size of interest from general consumers. What do we think of an actual reality TV show being aired for apps to be made onto the platform? We're not too sure. Sure, it hits two birds with one stone - marketing, promotion and app ideas being funneled for development.
But we could skip the show and just pump as many ideas into apps as possible. Employ 100 developers, shove them into a basement filled with gadgets, jacuzzi, Xbox, Master Chiefs, MMORPGs, pop soda, 3D TVs and task them to turn as many ideas as possible into apps. Actually, that would be an even better show, right?
Source: India Info Online, via: WMPU
Rich Edmonds is Senior Editor of PC hardware at Windows Central, covering everything related to PC components and NAS. He's been involved in technology for more than a decade and knows a thing or two about the magic inside a PC chassis. You can follow him over on Twitter at @RichEdmonds.
U know 34,000 of those entries will be instagram haha

Hopefully there will be some apps that search forums for stupid comments and removes them too

Ooh that'd be pretty neat, great idea. Submit that

Go to the Surface Marketplace. If that is any indication, be prepared to be bombarded by utter-crap. Hahahaha

I've submitted a news tip to Daniel last December but it wasn't picked-up. It's about Windows 8 producing a series in partnership with Indonesia biggest production house. I think it's a worthy news although this is a WP site and not Windows 8 so I understand.

Ok, out of those 35k, i guess only 10% are really good app idea which could be turned into realty, others are just crappy ideas like droid emulator, multi os app, more and more useless instant messangrs, and other wild apps that are just impossible to make. BTW, i also participated in that and submitted 23 ideas, see them and say what u think....... http://mobihalo.wordpress.com/2012/12/22/my-entries-in-nokia-your-wish-i...
And if any dev has interest, please turn them in real, co i am not short listed :'(

Like the 1st comment you received almost all of your ideas are amateur if not bad. I have spent another 20 mins or so, so I could steal one, I haven't found anything worthy! :(

Rs. 1 million is 18,600$. Stop exaggerating as usual WPCentral.

I think this is brilliant, I personally think 1 Million INR (~20,000 USD) is a bit overkill for one entry though. I think it would've been better if they split it up into more prizes in order to get more apps and more devs in.

How much is 1 Million Rs? 18600?? Wrong!

i meant that Rs 1million ($186,000) is wrong

Yes, it is unfortunate that Rich Edmonds won't accept it and move on.
Windows Central Newsletter
Thank you for signing up to Windows Central. You will receive a verification email shortly.
There was a problem. Please refresh the page and try again.