Nokia's market share in India grows to 5% in Q3 2013; positive signs for further growth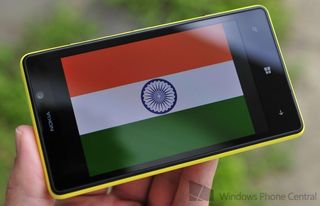 As the India smartphone market overall grew by 229% year over year (YoY) in the third quarter of 2013, Nokia's Lumia range of devices continued to show a growth trajectory and garnered close to 5% market share. In the mobile phone market in India, Nokia is on the second spot, close on the heels of market leader – Samsung. This latest data coincides with the continued strong growth in India for Windows Phone.
According to International Data Corporation's (IDC) APEJ Quarterly Mobile Phone Tracker, vendors shipped a total of 12.8 million smartphones in Q3 2013 compared to 3.8 million units in the same period of 2012. While the third quarter of 2013 witnessed a slowdown in the numbers for top local vendors such as Micromax and Karbonn, Samsung and Nokia made up for close to 30% of the overall market.
For Nokia, the quarter of 2013 saw a few notable launches like the Lumia 625 and Lumia 925 which have been able to generate positive interest from consumers and developers alike.
The report suggests that the 5.0inch-6.99inch screen-sized smartphones (aka 'phablets') continued to show sustained growth in Q3 2013 as well contributing 23% in the overall market in terms of volume. That should augur well for Nokia too as the Nokia Lumia 1320 and the Nokia Lumia 1520 should come to India soon, although Nokia hasn't announced any dates just yet.
Source: IDC Asia Pacific Quarterly Mobile Phone Tracker, 3Q 2013
Windows Central Newsletter
Get the best of Windows Central in in your inbox, every day!
India has one of large markets in the world , i m not sure why nokia not cashing by releasing the new mobiles

I'm just happy to see a graph with apple in the 'others' section where it belongs... No matter how impoverished the country lol

Ironically if not for apple, we would probably all be using blackberries and winMo and windows phone 8 wouldn't even exist.

I was quite happy with win mob, I thought it wad quite good and much more flexible than ios

They do have the second largest populated country in the world but their smartphone market is probably one of the smallest.

India is already the 3rd biggest smartphone market in the world behind us and china.Has recently overtaken Japan for the spot.

nice to see if nokia No.1 in upcoming quarter in India

I think Nokia will beat all to the first place but not before Q3 2014. For now, Samsung might get a strong push, not for long as WP8.1 launches.

Only 19% smartphone market share in India? That surprises me.

Read my comment again, I'm sure you'll get it eventually.

Thanks for the condecendence.

Why surprising? 19% share for a market as competitive and large as India's is actually quite good. I think people often underestimate how large the market down there is and the kind of money that is still being generated by the middle class (despite the recent downturn). 19% is very respectable considering that.

19% of 1.3 billion people use a smartphone in India. Still surprising?

They still have a lot of work to do. In Brazil, the Lumia 520 used to be an easy choice to me when someone asked me for a budget smartphone. But with Moto G now for sale, it's a much tougher sell. The Lumia 525 isn't available here yet and probably won't be much of a contender for the G either. I believe the same might be true for the Indian market. I hope that Nokia (and Microsoft) improve their low-end devices as quick as possible to take vantage of the momentum they built.

Tell me about it... I was recently seeing several people owning Lumia devices (mostly 520 and 620). Yesterday I was at Vivo - who btw is supposedly supporting Windows Phones here in Brazil - and this vendor was showing off the Moto G/X to a couple. And the worst thing, he was only talking about the camera, not the ease of use that WP offers... I wish I could fire that douche.

It reminds me when AT&T was promoting the Lumia 900 in the US. Its sales people kept offering iPhones for costumers because they thought it was an easier sale

The Lumia 520 walks over the moto G, leave alone the 525..

Moto G doesn't have sd card slot.I don't think Moto G will appeal to many with it's limited internal storage.Only people who don't care about new apps and games at play store would think about buying it.

I agree that's a bummer, but if you're a first-time smartphone buyer you probably don't know how much storage you might need and how necessary a microSD slot is on Android phones.

I took a trip to India recently and was pleasantly surprised with how many people I saw holding WP devices. Among my extended family out there that I was visiting, I saw a few 520s, a couple of 920s, and a couple of 925s. Definitely saw more of them out there than I see here in the U.S.

Preference is mainly because of the name nokia than the os . Once msoft removes the name nokia, im sure there ll be a drop in market share of wp in India

The brand nokia is still big in india. Microsoft will be taking a big risk if they are to remove it.

Its definitely risky if they remove Nokia logo in India because we people here love Nokia and its quality,It would be better if MS takes patent of Nokia's name for another 10 years

Can you post some info on the 2 new CEO choices if true I would like to see the comments in that section!

http://www.wpcentral.com/microsoft-ceo-search-reportedly-narrowed-down-just-two-candidates

Now if they can just release the Lumia 1520 here soon... I can't wait to get my hands on one.

Yep its world no2 in terms of population. There's a huge potential to make money since people like to spend. If wp has more apps coming in, and better features in 8.1 there will be alot more growth in wp segement. Affordable handsets rule the roost though

Luv you people over in India. Yes go for WP/Nokia

Love u toooooo guys we always ....

India is one of the largest & fastest growing smartphone markets in the world. Nokia should not take this casually, they do not have much advertising in India & other times.. their ads suck. Only people who really knowledgeable buy a WP (except 520 , that just sells in huge nos). WP phones are among the highest rated on Flipkart (india's largest e-commerce site). Almost no phone has a average rating less than 4 & most of them are hovering aroung 4.4/4.5. Its clear people do love Nokia products still. But it continues to amaze me how much Nokia still focuses on US (nothing against the US mind you) - a lot of bing services are not available in India. A lot of apps are not available in India. Product launches are so late, people get bored & move to the next thing. Come on Nokia, if you want to start changing something start from where you have an advantage! If popularity grows even from other countries, then surely a stage will come where it will start getting popular in the weaker markets like US!

+520.... Can you read my mind?

HarkAtYou: you must be living in stone age?

Thats my country..we love Nokia...!
Windows Central Newsletter
Thank you for signing up to Windows Central. You will receive a verification email shortly.
There was a problem. Please refresh the page and try again.