Nokia to sell Qt software unit to Digia and increase focus on Windows Phone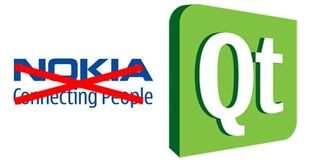 Nokia has reached an agreement to sell its Qt app development tools unit to Digia as it focuses on Windows Phone 8 and its future partnership with Microsoft. Nokia will be placing all its eggs into one basket and will be pushing its next line of Windows Phones harder to continue the increase in platform shipping and sales figures.
Purchasing the Qt technology back in 2008, Nokia provided its developer community with tools to write apps for both Symbian and MeeGo devices, but the manufacturer has since halted expansion on both platforms, favouring its partnership with Microsoft and the Windows Phone operating system.
According to a statement from Nokia, as many as 125 employees will be transferred to Digia as part of the deal. This sale illustrates how Nokia is looking to both strengthen its partnership with and increase its dependence on Microsoft, attempting to drain sales from Apple and manufacturers building Android smartphones.
Nokia hasn't fallen short of job cuts with more than 20,000 being lost with plant closures to help return the company to profit, and the sale of Qt is another step in the direction to thin out units, projects and properties. Janardan Menon, an analyst at Liberum Capital Ltd., had the following to comment on the deal,
Nokia is expected to unveil new Windows Phones at Nokia World this year, which will show what the manufacturer can achieve with Microsoft's new vision of Windows Phone under the hood. It'll be interesting to see what Nokia can bring to the table that will be able to capture the public's attention with a "WOW!" factor.
What do you make of the selling of its Qt unit? Do you believe it's time for Nokia to cut deep and focus heavily on its partnership with Microsoft? Let us know your thoughts in the comments.
via: Businessweek
Rich Edmonds is Senior Editor of PC hardware at Windows Central, covering everything related to PC components and NAS. He's been involved in technology for more than a decade and knows a thing or two about the magic inside a PC chassis. You can follow him over on Twitter at @RichEdmonds.
It's a logical step, but likely won't be endorsed by most investors. That could have a serious impact; cross your fingers it doesn't.

Why ? Investors these days are in love with austerity.

I believe they are trying to strengthen the pot for Microsoft. If I'm not mistaken, when Microsoft look into buying Nokia, they backed out of the deal when they say Nokias' books... So maybe this is Nokias' way of proving themselves.

i don't see how this could have serious impact? i mean Qt has no place in Nokia anymore seeing as how both Meego and Symbian went the way of dodo, it's actually better that they get some money back by selling it off rather than keeping it and let it sit there doing nothing

just my 2c

Nokia has to decide, 100% WP to be number one again, or continue to waste energies and money on no-future technologies...

"but likely won't be endorsed by most investors"... Unless investors read news and know about HP and they way WebOS went for them!

as an investor...I'm glad they are trimming away all the unnecssary fat.

MS is not buying Nokia, wish people would stop saying that.

Little sad, but a necessary step.
Nokia developers website is 90% on Symbian and qt right now.
I subscribed to Nokia dev newsletters but I think I never received a WP related email, maybe things will change now to prove Nokia is really focusing on WP at 100% now :)
My next first wp8 device will be a Nokia, from day 1 !!

I Think MS and Nokia should put striped down versions of WP7, a new OS, on all of Nokias feature phones. This would increase WP market share drastically... Forget fragmentation, were already there!

Nokia also sold a big IP (patents) portfolio, seems they are in serious need of cash now....

It really is a shame Nokia dumped MeeGo totally. I have a Nokia N9 now as well and oh my what a fine system it is. "Dead" before it got released though in favor of WP.

Jolla will continue the work with MeeGo though so I'm happy.

Gave my Lumia 800 to my girlfriend for the time being!
Windows Central Newsletter
Thank you for signing up to Windows Central. You will receive a verification email shortly.
There was a problem. Please refresh the page and try again.