Nokia's stock rebounds with 10% jump - sign of a small rebound?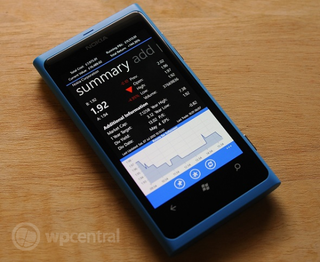 In what has to be a slight sigh of relief for investors, Nokia stock (NOK) has passed the $2 mark today closing at $2.02 a share or a 9.78% jump since opening.
That's up from its low just a week ago of $1.63 and could indicate renewed faith in the struggling smartphone company. From the look of it, most analysts and perhaps now investors think the worst is now behind Nokia. Having hit bottom, the company can only go up (or die trying).
That's not to say all is healthy. Investors, analysts and even Nokia themselves are still predicting next quarters earnings to continue to be weak. A return to profitability is still at least a few months away, assuming the company has a hit with Windows Phone 8 and carrier deals for their devices.
In related news, the cuts at the company continue and friend of the site and class act Keith Nowak, who handled Nokia's PR in the US, has unfortunately been let go today. Our best wishes to him in the future. You can read about Keith's experience with Nokia on his personal blog—it's a great read.
Daniel Rubino is the Editor-in-chief of Windows Central, head reviewer, podcast co-host, and analyst. He has been here covering Microsoft since 2007 when this site was called WMExperts (and later Windows Phone Central). His interests include Windows, Microsoft Surface, laptops, next-gen computing, and for some reason, watches. Before all this tech stuff, he worked on a Ph.D. in linguistics and ran the projectors at movie theaters, which has done absolutely nothing for his career.
Own a few, hope to get a good return several years sown the road. What stock app is that.? Looks very clean and metro. Using stock watch now, it's ok.

Good thing I bought some at 1.70

I hope they have hit the bottom, and are now on the rise. Sad to see Keith laid-off. That's never a fun thing to go through.

BTW, what stock app are you using Daniel?

Look up a couple of comments, markets & me. Great app

Bought some at $1.77, sold today. I believe it will drop again. I don't see a very good 3rd quarter, but after that, im buying for the long. ;-)

"The worst after them" - yeah, right. I'm not among the Lumia 900 owners who feel cheated, but common sense should tell anyone that this is not the bottom when the next quarter will include only WP 7.5 - based devices sold while the press is talking about WP 8. They'll have to tough this one out, and see an uptick in the final calendar year 2012 quarter (only two months of WP 8 devices, but at least Christmas business included).
(for those who don't get that, I'm not rebutting but affirming the previous poster.)

That's disappointing to hear about Keith. Wish him all the best!

10 % sound much but isn't really with so small amounts it's worth.

dammit, hoping it would go down to the 1.20s..oh well

The whole market was up strongly today so that's part of it today. But, Nokia has had a few good days in a row so yeah, hopefully the trend is now back up for the stock.

Bought at 1.68 and will be holding on to it and doubling shares soon.

They should start rising with about 4 mil sold this quarter that should give them a chance for people to spread word about how good windows phone actually is giving a chance for wp8 with Nokia to have a good start.

Bought 400 @ 1.75. Plan on more in after it drips again before going up. I may break even in the long run, but I feel I will at least make something. They won't go bankrupt, someone would buy them out worst comes to worse

I'll tell you how it works...

That's a temporary rise, so that medium-small share holders say ''Thank god it went up, if it keeps that momentum we will sell because we felt suffocating with all these dips''
It reaches $2.5, and medium-small share holders decide to sell massively. That's at the eve of announcement of Q3 2012 financial results. In the meanwhile the always spot-on financial analysts and professional services firms (call me Deloitte, PriceWaterhouseCoopers, Ernst & Young) will have their reports ready saying about dark days coming and downgrading Nokia's credit rating. Stock-for-sale abudance, the negative financial results and the dark prophecies from the professionals (yes those that 3 months before Lehman Brothers collapse gave it a AAA credit rating) will drive the stock to a new low of around $1.5. Then here come the sharks, that will see their ''investments'' quadraple in just a year or two... And the European recession still holds and some people have so much money that they dont know to do with it and shove it there that the sun never shine. And famine in Africa still holds...

Bacause the City never sleeps and masters the fine art of manipulation.
PS. Guess what, even if I want to buy @ $1.5 I can't. Guess what only a very small minority of small time share holders will sell @ $2.5.



Masters ? Umm.. Do you know that there is no shareholder with 5% and more. So, no matter the manipulation, the gain too small. And because the there are too many small shareholders (evenly), the manipulation to move the price is too costly and will be too obvious.

Don't worry, at least Goldman Sachs and Credit Suisse has faith in Nokia. Goldman Sachs may be more risk taker, but at least Credit Suisse is risk averse. So, they have calculated faith in Nokia.

Things will get much better, I believe that..

Bou 2000 shares at 1.57, should have bought it last week

So id it a good time to buy?

at $2 something a share, why not. Better odds than betting at a casino :) My only concern is Q3 earnings since that's when windows phone 8 was announced and probably slowed sales down a bit. I'll probably buy in every time the stock takes a big hit up to and on their Q3 earnings day.... and then i'm just goin to sit and hope for huge wp8 phone sales :)


Hehe, sounds like a good plan. This would be my first time buying shares so I'm a little apprehensive.
Windows Central Newsletter
Thank you for signing up to Windows Central. You will receive a verification email shortly.
There was a problem. Please refresh the page and try again.