Nokia updates HERE Maps for Windows Phone with new LiveSight features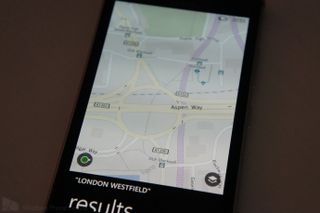 Nokia has released a rather large update for HERE Maps on Windows Phone. The app, now available for all hardware, already includes LiveSight but Nokia announced new functionality alongside the Lumia 1020 in the week just gone. This release includes said functionality and updates all consumers to the latest version. So what's new?
If you've somehow managed to miss all the action through the week, on all Windows Phones LiveSight in HERE Maps now enables users to pause scenes and browse around without holding the phone up and looking like a muppet. You'll of course need to do a nice 360 degree turn to get all the information and capture the necessary imagery, but after that you'll be able to check out exactly where everything is without waving the device in the air.
It's a big deal as it makes it easier to really dig in and check out what is where. You can even hit up individual POIs (points of interest) and see further details. Make sure you swing your Windows Phone in the figure 8 pattern before you leave the building though.
As well as the ability to do all of the above offline, Nokia has also made it so you can pin LiveSight to the Start screen. Now you can get quick access to finding out where POIs are on the map without having to waste time heading through HERE Maps and launching LiveSight. Supported transit (or rather public transportation) stations will reveal exactly which lines go through that particular stop.
Finally directions are more conveniently accessible by simply tapping on a POI on the screen and we've now got directions! This includes walking, public transportation and also in the car. Navigation can then be kicked off with easy access to HERE Drive should you wish to take advantage of turn-by-turn navigation. That's quite the update and one we're sure many avid fans will welcome the new features.
You can download HERE Maps from the Windows Phone Store for free.
Windows Central Newsletter
Get the best of Windows Central in your inbox, every day!
Rich Edmonds was formerly a Senior Editor of PC hardware at Windows Central, covering everything related to PC components and NAS. He's been involved in technology for more than a decade and knows a thing or two about the magic inside a PC chassis. You can follow him on Twitter at @RichEdmonds.
Still can't download, Samsung Ativ S, Norway

Tror store fortsatt er nede, prøvde å laste ned Timer Pack, men den vil heller ikke (L920)

Mente at den står som ikke tilgjengelig for min telefon :)

fjklfeiuow jeohwoaz efhw eowcjs kwak pwpzlejf flehel ;)

I was having the same issue in the UK but it worked when I tried with cellular rather than WiFi. Try downloading it over cellular, hopefully that works.

tried downloading on cellular downloaded quicker but still no dice on the install same error message pops up!

Does it get like 3/4 done then say Attention required. Tap here.

Wait for sometime. The update should pop up soon. The store is experiencing some errors currently. Hopefully Microsoft will sort it out and you'll be able to install the update soon.

I'm surprised you even could download it. Really stupid move from Nokia to allow Samsung etc users to get the basic navigation version free.

Imagine if an official Instagram app was released right now and no one would be able to download it..

Phones would break (not mine though) :)

Not needed. Instance works like a charm, two things are broken but are fixed in the current beta and videos are added there too.

I don't care for Instagram altogether but official app is big news and it's, well, official.. :P

Been in beta for weeks, and some say the developer has abandoned it.
Until instance has video and all features... and confirms it hasn't been abandoned, an official app is needed/wanted.

Those some are wrong. Dev responded to a tweet recently stating that an update will be released when the new features he is working on, are complete.

It has video already. You can't upload it yet but they are viewable.
The last beta of Instance date from 6/29 (29 June). Since when is that called abandonement? It's only a few weeks ago. Not every dev has 24/7 time to push out new releases.

I was in San Luis Obispo (driving down Hwy 1) over the July 4th weekend and the LiveSight feature in Here Maps helped me find the local Woodstock Pizza place. Felt awesome (got to use it for the first time outside of where I live)! But yes, this new feature is even better. Love how Nokia rolls out features that actually improve user-experience. :)

Updates are stalling since this afternoon. They download and after download I have to "click here" because it needs attention. Can't update anything.

Its all over some places are okay most appear to be having the error still. I just tried a cellular download and it it seems to download but not completely or its just not installing at all.

Still can't download, store is still down. Also YouTube app is back, can't download that either

U mean youtube from Microsoft....?

It's back to the old YouTube "app" they had before. Not the nice, feature rich one we had for a while. Glad I kept it and didn't update it, still works like a charm.

Nice to see all of these udates. Drive looks much better and maps has clearly been improved. Anyone know if POIs have been updated? That's probably the only lacking piece if not

Download is fine, but install process keeps failing.

Can't download on my 822. Keeps stopping at one point.

No download for me either on my 920 :(

Cant download. Lumia 920, Mexico

Isnt this supposed to work on all WP devices now?

Still can't update. In western Canada on a Lumia 920.

so I'm not alone here with the download error, phew.

Can't update in jordan
Error c101b000

None of the Here Apps update or install. Lumia 820 in UK

Nice but error during the install :(

I'm glad I downloaded this morning .....map, drive, transit....all good

Has anyone told Nokia about this?, or is this another problem like the SD cards that still don't work now :-/

Today Microsoft was going to shut down a few services for some kind of maintenance operation. Maybe that's why we are unable to use the store? I knew this was going to affect the mail & forums, at least.

Yeah, making this 8-like shaped calibration move is really hilarious :D

Just downloaded all HERE app updates in Ireland after a bit off perseverance after a couple of failed attempts. It appears to me that the downloads are on a limited capacity for some reason.

Lumia 920 in Canada... This will not download. But I had four updates, and they have been trying for.hours. Maps is the last one...

just finished download by my lumia 920@ toronto
time to have another try now


I got it, just required some patience... No I'm just waiting for the cinemagraph app to update.

yea....something go wrong with cinemagraph here as well...
can't find it at store, can't update it......


Favorites are crashing
.shame

Switzerland not available...

Does anyone have issues with their calibration? It always tells me something is interfering with the compass and I need to wave my phone in the air in a sideways 8 motion when I use it. Is it just me?

no puedo instalar esta actualizacion, LUMIA 920 CHILE

What's the use of the update for lumia 520

I just checked the app description in the store. From the "what's new" section, looks like there are a couple of improvements (other than the LiveSight ones) that are applicable to 520 too. One of them is: "access directions faster by simply tapping on a POI".

Don't tease us with software that can't be downloaded! (yet)

I have four updates that I can't install. :/

Any news on what exactly is up with the store? Tried getting "sbux" app plus the HERE updates and not working. I tried going to windowsphone.com to send the SBUX app to my phone and that didnt work either. I guess I'll just continue to wait.

Digital Compass on the ATIV S still can't be calibrated for Livesight.

Meh, I'd be more excited to see traffic and trafic rerouting.

I believe the new "my commute" feature in Here Drive/Drive+ is more along those lines.

That's the feature I really want to try as it sounds like it could be a good feature.

Oh wow, there finally is traffic. Now I am excited.

Not sure if anyone has mentioned it yet, but I can't download

Am I the only one who thinks the HERE logo sucks? Whenever you see it written in text, all caps are used, but the logo graphic uses lower case lettering rotated at some arbitrary angle. Are there no graphic designers in Espoo or what?

I wouldn't go as far as saying that it sucks, but I do think Nokia Drive for example sounded more marketable and catchy

Um what? I've had this feature for a week now. Used it last weekend

Just trying to figure out if wpcentral is late with news or somehow I struck gold is all

928 on Verizon, won't download and install

When will it be available for other countries like Belgium, capital of Europe ??

I had to buy a GPS Navigation, I was hoping to buy the Nokia HERE Drive with, later the + version to have more than my country but, instead of being able to download HERE Drive (no way to download HERE apps in Belgium on other devices than Nokia one's), I bought Copilot which is very nice !

They need to somehow intelligently integrate maps+transit with drive

There was a discussion with Nokia folks in the forums and they mentioned that they've deliberately kept them separate.

Am I the only one who can't finish the update? It just won't load!!

Weird that u picked south end, a couple of miles from me :)

Just completed the download

I still can't see the benefit of live sight, I think its just a gimmick, that rather makes you look weird and people think you are filming.

Can't look as weird as people taking pictures with their ipads.

The purpose of sight is you don't have to hold your phone at head level. If you use it as you normally would for sending messages or browsing, you will still be able to see what's around you... I like it!

I'm still hoping there will be a direct contact connection, not that going to the people hub is too hard, but I usually think "map->person" instead of "person->map"

Agreed. It should be both, in fact. People Hub knows where a person is, and Maps (or Drive, or whatever) can pull up a list of all contacts with mapping information to quickly search through. Then you can start in Maps or in People and it all just works.

Just got the 2 downloads to work on maps and drive apps at 4:35p.m. Pacific time Los Angeles

Just worked for me in Canada on Telus Mobility using a Samsung ATIV S

http://support.xbox.com/en-US/xbox-live-status?q6030655=1

As someone posted trying to access places makes the app exit to start.

Mine just updated Maps and Drive+, but i'll be damned if i can't find anything about a 'My Commute' feature anywhere.

*sigh* Nevermind...not available in New Zealand :(


Cinemagraph was removed from the store. Does anybody know when it will be available again?

What a great here drive and map update my lumia 820 rocks...love it guys...

Working great for me downloaded in one minute.

I open the app and it shows my wrong address.. Nice first impression

Download was good but as for the public transport features, it doesn't seems to be working. Living in Singapore, public transport is very essential, I hope Nokia can tag with Microsoft to beat Google's maps.

Still not buying the whole live sight/city lens stuff. Tried to use it a few times and havent found it useful... I'm not trolling, it's just nice in videos, but in practice it's more convenient to have a list of places. The addition of compass in the last update however is a major plus!


I was out of town visiting a different city last weekend and found it really helpful. We were looking for a particular pizza place (Woodstock Pizza) in a crowded market full of restaurants. We were running a tight schedule and LiveSight came to our rescue. Helped us find which direction to head in, and exactly how far to walk.

Not available in Israel...

I wonder if Live Site is going to replace the seperate City Lense App.... sure looks like it.

Get your facts straight, it is spelled sight not site and lens not lense, pmsl and you wanted me to listen to your opinions earlier pmsl think I peed a bit reading that EDIT: yes I did piss my shorts

Downloaded Ok and works, Pennsylvania, USA

Now it works got the apps here in Switzerland. Here drive will not accept some destinations as favorite.... Here maps will not display traffic while Bing maps does it. Otherwise two fine apps that save lots of space compared to Navigon.

Why don't they allow Drive to use the maps from more countries? I'm in South Africa at the moment and the maps work fine, but Drive won't start purely because I've got a SIM from the wrong country installed. At least just have a screen that warns me that it's not officially supported or whatever and let me confirm that I don't care.

Guess the HTC 8x didn't get the memo.