Nokia updates Pro Cam for the Lumia 1020, adds bracketing to the mix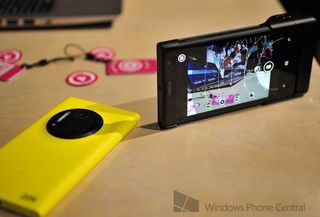 Nokia Pro Cam is a camera app that is currently only available on the new Lumia 1020. It reminds me a lot of the Windows Phone photography app ProShot or Camera360 in that Pro Cam gives you more control over the camera's settings.
While the Lumia 1020 is just hitting store shelves today, the Pro Cam app is seeing its first consumer update. The update for version 1.6.0.2 brings more user control to the table with a bracketing setting.
The bracketing setting will allow you to take 3 or 5 exposures at a range of exposure settings. The ranges available are -.5EV to +.5EV, -1EV to +1EV, and -2EV to +2EV. Bracketing is a great tool when you're not sure what the best exposure is and you don't want to spend a lot of time tinkering with settings between shots.
For those who haven't seen the update notification push through, you can find Nokia Pro Cam here (opens in new tab) in the Nokia Collection of the Windows Phone Store. It is our understanding that eventually Pro Cam will become available for other Lumia devices but for now, it's an exclusive for the Lumia 1020.
George is the Reviews Editor at Windows Central, concentrating on Windows 10 PC and Mobile apps. He's been a supporter of the platform since the days of Windows CE and uses his current Windows 10 Mobile phone daily to keep up with life and enjoy a game during down time.
Awesome, wonderfull, sexy, beautyfull, brilliant, now bring amber for my lumia 920 to bang it hard, and plz MS bring gdr3 soon + nokias other features with another lady name so i can keep banging like no before

Maybe they should also update it so that if this is your default camera app it doesn't require a PIN to unlock the phone to get to the camera...

You can do this in settings when your phone has the gdr2 update

Seriously? Cool! I thought I read somewhere that GDR2 is being pushed to some phones; is the 1020 one of them?

Thinking Lumia 925 launched with GDR2, I would expect Lumia 1020 to come with GDR2.

Awww Mann, now get us the gdr2+amber soooon!!!

Gdr2 n amber please release tomorrow itself , the wait is to long for nokia users

This is the price that we are paying for more features than the Samsung and HTC users...

Dont forget about the bugs htc8x members got fud badly

Auto exposure bracketing is also a helpful method for doing HDR shots in Photoshop. There's even a wizard for doing it with the same shot at varying exposures.

I was just about to post this same thing. Hopefully, Nokia will eventually add it into Pro Cam so we can do HDR on device. Even though on device HDR tends to not be as good as doing it in Photoshop.

This. Native HDR for the win, bring it on, Nokia.

Can't wait to get this on my 920

As Andygoes said, useful for HDR. Surprised there's no 'merge to HDR' option for shots taken at multiple EV's.

Can I say that everytime a got a Camera360 update I´m loving more this app?? Please Social Networks developers: contact the Camera360 team and integrate your apps. They have excelent camera controls and stunning filters!

That bracketing sets it up for HDR merge in photomatix :D

As Andygoes suggested, I wonder if they could implement an HDR option. I use the HDR Photo app all the time on my 920, but it would be nice if it were already baked in to Pro Cam

Couldn't and shouldn't they implement HDR with this as well if you can take 3/5 exposures? You'd have thought it would be a natural fit, as an option.

What a nice update for those 2 people who have the 1020...
And please...take your time releasing Amber Nokia...31st February 2019 should be a good date.

Lol do u want a buggy gdr 2 with amber ? I dont think so but i feel your pain but ill rather wait than get my phone bricked

I want updates to be faster. Specially when they're as small as GDR2/Amber...:/

I see what you did there with the date. Intentionally,right?

Thank you for understanding. We will update your phone before 31st Feb 2019. - Nokia.

BTW your numbers are not even correct.. as much as we know we have atleast 10 pple (from wpcentral) who have 1020.

Does Oggl Pro come with the 1020? I thought they said it did but I am not seeing it in the store.

And by "soon" it could be anytime between now and Christmas...

I'm pretty sure HDR is coming in the next update? Nokia is setting the stage. I mean why not after adding bracketing. It only makes sense.

HDR is just for Kids and theire Facebooks pics, or?

If pro cam hits lumia 510, that device will be just, wow.

I read only 92X phones will be getting it. Hoping that the 800 series gets it too.

Hahah, just a little hope for the day.

Giving Microsoft reputation when it comes to updates we might not get the amber+gdr2 update for a while or maybe never. We will probably face the same fate as the 7.5/7.8 update.

Yeah, keep telling yourself that.
You know Android might be a good change. There you will get no updates at all! :D

It seems Nokia operates like Apple when it comes to software, with updates supporting older hardware.

Will the smart cam pro be a full working app like on 1020 or will there be some software / hardware restrictions for 920?

Will this be the beginning of HDR?

Hopefully not. HDR is good for Kids and theire Pic on Facebook. Maybe HDR could be a part of Smart Cam.

You don't know what you're talking about. This sort of stuff is normally offered on SLR cameras or higher-end cameras and beyond the knowledge and capabilities of "kids". I know several semi-pro photographers who regularly make HDR shots.

2 questions about the bracketing.

1. how fast are all the photographs taken - I have noticed there is a delay between the photos you can take with the 1020, and if you have to wait a few seconds between each photo, it may be a useless feature without at tripod. Does it snap all photos at once and process afterwards?

2. Is there an ability to comine the photos into a HDR? this would provide more dynamic range into the highlights which is something lacking significatnly in camera phones. This definitely could be a start to official HDR support which would be exciting. I dont like "artsy" HDR though - need the option to make it subtle and natural looking.

So looking forward to this app on the 928.

I need pro cam for L620 :'(

check out this dude's 5 bracket combined photos with his 1020
amazing

http://www.flickr.com/photos/danielcheong/9415157101/
Windows Central Newsletter
Get the best of Windows Central in in your inbox, every day!
Thank you for signing up to Windows Central. You will receive a verification email shortly.
There was a problem. Please refresh the page and try again.