Nokia working on new Lumia 800 firmware, with possible tethering functionality?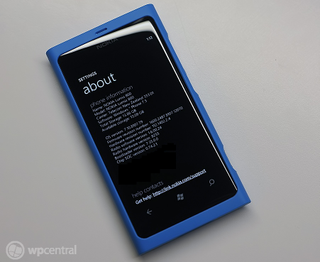 We've previously reported on how the Lumia 710 and 800 do not support Internet Sharing, but the 610 and 900 do. It's a slight pain that has separated Lumia Windows Phone owners. Thankfully Nokia has confirmed that tethering will be available on both the Lumia 710 and 800 in a future firmware update - something we're currently on the lookout for.
The folks from Plaffo are reporting that the official Nokia Lumia Update section of the website is reporting that Lumia 800 firmware on Vodafone in Italy is currently in development. The site notes that they've already received 12070 so this alteration on the update page has to be a future version. As well as Italy, both Vodafone Spain (thanks SmartphoneApps.es) and UK are also "software under creation".
Should the manufacturer be working on the next version, this would hopefully include the missing tethering functionality. Are you with Vodafone and already on 12070? You could well be the first in line for Internet Sharing.
Source: Plaffo, via: SmartphoneApps
Rich Edmonds is a word conjurer at Windows Central, covering everything related to Windows, gaming, and hardware. He's been involved in technology for more than a decade and knows a thing or two about the magic inside a device chassis. You can follow him over on Twitter at @RichEdmonds.
Well Nokia seems to be serious about WP.

Considering that both the N9 and the Lumia 800 were rushed to the market, I'm not surprised why Nokia is releasing updates at this pace. Well, at least its better than nothing.

Good that there are plans for a tethering update, but the one that I am looking forward to is the camera update to the Lumia 800.

I'll take this as a rumour. But I have to say, that the Nokia Hotline confirmed an update for the end of April / beginning of May. I guess we'll have to wait for it to show up in NaviFirm

I hope it will fix the volume bug.

What's that? I have an issue with my capacitive buttons thinking everything is a long press. It has been mentioned in the forum here, so I'm not the only one.

Can anyone tell me why I haven't seen a L800 anywhere except on MS website? I have a L900 but I do like the look of the curved glass. I also think it would be a great option for first time smartphone buyers. Does anyone else agree?

I, too, greatly prefer the aesthetics of the 800 over the 900. When I got to hold a 900 for the first time, I became even more happy with my 800.
The only 800 sold in the US that will fully work in the US is sold at the MSFT stores/site. It's product code RM-819. If you want an unbundled device, you may have to import from a country that sells the same variant as MSFT. If you get a European device, RM-801, you'd miss the 850MHz 3G band. This is quite noticeable for me.

if ur in the states, they aren't sold by any carriers and only available in MS stores... makes sense as they wanted to give L900 the main stage

if you're close to the border you "could" come over the Canada and buy it from Telus

Im in Canada and got it the day it came it...it is gorgeous! The 900 is cool and all, but I dont like the size, its just too big for me - its nice that Nokia gave us options though (in Canada we got the 710, 800 & 900).
My only issue is that Telus isnt pushing the latest battery/camera update out. I know there is a way to get it, but im not willing to do it, I prefer the official updates. So I cant say im too excited about this update since I didnt get the last one - I am still on ....11501.

I'm hoping we get at least one of the updates from Telus. Bell released every update for my HD7 so not used to this.

Using Lumia 800 up here in Canada too, but missed the LTE and front facing camera....

And photo quality in dark ambients too ;)

The 800 got a camera update which greatly improved it.

Cool, missing this since changing from Symbian to WP

This problem in Nokia's page is caused because Vodafone's having troubles releasing 12070 firmware... :-( Sorry for my english...

idk if anyone else is but i'm bothered that my tmobile lumia 710 has yet to receive any sort of firmware update from Nokie, not if i'm correct then Tmobile is to blame but i've seen the HD7 and radar get updates recently for the disappearing keyboard and the lumia still has little quirks... it took a few days for the 900 to get its update, what is up with that?

See my post above, Telus is behind too...

I too was gonna post that this seems to be a non story as the software in creation is the 12070 software for Vodafone as they stopped shipping the first release due to the volume problem.

i love the curved glass of 800 more than 900

Confirmation from Australia that the new Vodafone update here is a bugfix of 12070. 12072 is now deploying. http://www.wpdownunder.com/?p=4937 no Tethering.
Windows Central Newsletter
Get the best of Windows Central in in your inbox, every day!
Thank you for signing up to Windows Central. You will receive a verification email shortly.
There was a problem. Please refresh the page and try again.