Nokia's Elop says work has begun on WP7 phones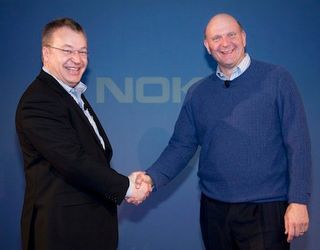 Nokia CEO (and former Microsoft bigwig), Stephen Elop has told Reuters that they are "right now, today, having people work on the first Windows Phone devices from Nokia." This comes just over a month after the partnership between Nokia and Microsoft was announced. [Edit: Though at Mobile World Congress, it was revealed that Nokia and Microsoft had been working together for "months" already at the engineering level]
When asked about a possible acquistion of Nokia by his former company, Elop sounded doubtful, saying:
Elop hopes to see a Nokia hadnset by the end of the year, but had previously stated that they would realistically be "be shipping in volume in 2012." Despite falling stock prices and unhappy workers walking out after the announcement, we are excited to see what the two technology giants' partnership produces. Until that time, we only have some concpets dreamed up by Nokia and their fans.
Source: Reuters; Via: TechCrunch
Windows Central Newsletter
Get the best of Windows Central in in your inbox, every day!
They can ship 1 device in 2011 and then go large with multiple models at multiple price points in 2012. Just itching to get one, WP7 on probably the best hardware maker's device with a decent camera, top build quality, penta band GSM radio and free offline navigation. Cant see how this can be beat.

I completely agree. This is definately what I am waiting for. My biggest concern is that they will not make any CDMA devices. As of right now, I don't believe they make any, at least none available on Sprint.Nokia devices with WP7 may be the only thing that could convince me to switch away from Sprint.

This is what I really expect, 1, probably 2 Nokia devices ready for holiday 2011 with a bigger flood starting in 2012.

I hoping for at least two devices in 2011 :)

So if verizon finally gets a HTC Trohpy and I'll only sign a 1 year agreement... to see what Nokia they offers about a year from now (about on schedule when a flood of devices should be out)

Probably the best idea right now. I expect some really good stuff when we get closer to WP8 sometime in 2012 anyways. You might be able to jump right up to a Nokia WP8 device.
Windows Central Newsletter
Thank you for signing up to Windows Central. You will receive a verification email shortly.
There was a problem. Please refresh the page and try again.