Nokia's Q4 performance exceeds expectations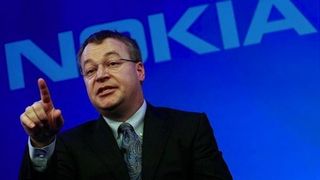 Preliminary estimates by Nokia indicate that the Finnish phone giant's Q4 2012 financial performance has exceeded expectations in their Devices & Services division, thanks in large part to the success of their Lumia line of Windows Phone devices. Their estimates suggest that Nokia achieved what it calls "underlying profitability" in Q4. In a press release, CEO Steven Elop shared his thoughts on the news:
According to the report, three primary factors contributed Nokia's successful fourth quarter:
Mobile Phones business unit and Lumia portfolio delivered better than expected results; and
Operating expenses were lower than expected.
Devices & Services non-IFRS operating margin for the fourth quarter 2012 now expected to be between break even and positive 2 percent.
It is estimated that Nokia totaled EUR 3.9 billion in the last three months of 2012 from sales of 86.3 million units. Of the 6.6 million smart devices sold, 4.4 million of those were Nokia Lumia devices powered by Windows Phone. This news jump started Nokia's stock, which shot up about 17% at the time of this story.
Nokia's Q4 estimates are a much needed boon to the company, who experienced mass layoffs and saw its stock plummet and credit rating downgraded since moving to the Windows Phone platform. However, they have been sure to temper expectations for the first quarter of 2013. They project that "seasonality and competitive environment" will lead to a dropoff from the end of 2012 to the start of 2013.
We shall see what the new year has in store for Nokia.
Source: Nokia
Windows Central Newsletter
Get the best of Windows Central in your inbox, every day!
How quick was that. Come on WPCentral, wmpoweruser reported this 6 hours ago.

It has been very disappointing to see WPCentral's reporting drop off - both in terms of quality as well as timing - over the past few weeks. They used to be my go-to site for all things Windows Phone. Not anymore.

yeah wpcentral is really losing it, not my 1st source of information any longer

I would rather wait 6 hrs to find this out than read it on WMPoweruser. WPCentral has nothing to worry about from them.

I don't think it is about WPCentral vs any other site, really. It is about them broadcasting information and/or news that directly impacts the Windows Phone ecosystem and community in a timely manner. As an investor, you'd rather not have to wait 6 hours to read such relevant news items now, would you? You would always then be behind the eight ball!
Just my 2 cents here.

Investors should be getting email alerts about the stocks important to them and not worry about a fan site for such imortant decision making information.

As an investor, I would not be waiting on either WMPowerUser or WPCentral, I would be watching for company press releases and analyst reports on my own so that I get the information as quickly as possible and unfiltered.

On the one hand it's nice to know these things earlier but on the other hand I like that wpcentral takes the time to verify all of the facts before posting them, unlike wmpoweruser. Even though I regularly check both sites, only wpcentral has me checking the app every half hour for updates. I freely admit it's one of my addictions.

Really I get my Phone news here. along with some win8 news. when I tend to my investments in the future of me and my family it's not WPC. I generally know what going on all day with my investments I don't need to come here for that info. Now if you want to pick apples and oranges there is no way you can compare WPC to WMP one has integrity the later does not. one will wait and make sure that what is posted is as accurate as the source the later does not. the list goes on it doesn't stop there so do not even compare the two.

100% Agree! I use to follow WMPoweruser because they had the most news the quickest. But after regurgitating numerous idiotic rumors based on miss-quotes, or miss leading headlines, I finally stopped. WPCentral is now my only place for WP news because they have the highest level of journalistic integrity amongst the numerous tech blogs. I especially love their Rumometer. It shows me this site is willing to tie their credibility to what they report.

Same here, I deleted their app and browser bookmark a few weeks ago because I just couldn't take their level of stupidity any more.

They definitely don't have anything to worry about from WMPU. However, I did read this info at MyNokiaBlog and Verge prior to seeing the story here.

As long as the story is reported, accurately, is really all that matters.

WMPoweruser's reporting is terrible. So bad I actually took them off all my news feeds along with ZDnet.

WPCentral is way better.

I wouldn't call what wmpoweruser does reporting. In most cases it is just regurgitating what they find on another website.

Who gives a shit how fast WPCENTRAL reports its far better reading from this site and commenting on here then anywhere els sho some love

6 hours? Get the pitchforks out, what an outrage!
/sarcasm

Good for Nokia and importantly good for windows phone way 2 go...happy Lumia customer :)

It would be neat if they sold as many WP phones as Asha phones! Maybe someday soon.

Soon that may happen as soon as L 620 and 520 would hit the shelves in the low cost markets

I have a $7 price target (long call option) for NOK, this is only the beginning y'all!!

That's a nice jump in the stock today! Shareholders will be happy.

Back when it hit $2 a share I planned on buying a couple thousand worth as a bet. Boy do I wish I had gone through with that. Hindsight...

I tucked in at $4.00 then went all out at $1.66 I figured Microsoft would go for the buy if got real bad and I would make out short term My goal is long term I can see this company in 24 months time being in the $16-20 range or better.

Slowly but surely!! I'm sure if they continue to push out new Lumia devices at a great price then everything will turn around.. Now, I think its time for some different form factors, like a Lumia with a physical keyboard.

Let's get a Nokia tablet out too!

I agree! And simply call it the Nokia Lumia T900, or T920..

Nice idea but there's already the Nokia Lumia 920T a 920 variant that's available on the China Mobile network.

Why does this suggestion make the Lumia phones sound like Terminators?

because Lumias are built tough :-P

YESSSS LONG LIVE PHYSICAL KEYBOARDS!

It's a nice idea, but it will never happen, imo. The market has already moved away from physical keyboards, it wouldn't make any sense to sink money into developing one when they are still trying to make WP viable. Once we have some decent marketshare numbers, then maybe, but not now.

Wrong! There's still a strong market for physical keyboards, maybe not in the high end, but a large amount of people still want them.. Diversity is going to be absolutely necessary.. I will agree with you that they might need to wait a while before doing such,, but then again why wait? The time is now! The market is not going to stop and wait for Microkia to catch up.

A physical keyboard? Have we not learned our lesson from Blackberry? They physical keyboard would be suicide.

It would be a qwerty slider. Very many people still want this..

While I'm going to try not to upgrade from my 920 until my 2 year contractis up, an equivalent phone with a qwerty slider would be very tempting. My first WP7 phone was the LG Quantum specifically because of that. My previous WM phones were also sliders.

Yea I'm curious how much if a market there is for this. Blackberry is about to find out in a few months with the release of their keyboarded phone, but I would like to see WP take another shot at some QWERTY sliders like the Quantum and the DVP.

We are all doomed I tell you! Doomed! ( scotish accent require)

Stocks up 18.35% at $4.44 right now.. good stuff and well done, now keep the momentum going!!

Still 4.4 milion devices that's maybe half of it is 920. That is not a number to be proud of.

Its Lumia as a whole that matters. Ultimately they are all windows phones....

Well, but L 920 have supply constraints. In a conference call, Elop admitted to cautious order of components and also supply shortage that contributed to reduced production of L920. Probably the next quarter should give us more detail... Moreover, L920 was launched in India today. I went to pre order mine yesterday and there were already more than 20 by then... People are waiting for L 620 that is going to be launched in first week of Feb.


Exactly. They sold this inspite of limited stocks. If they had plenty they might have a blown out quarter.. WEll anyway it is better.. they go the momentum now.. Now once they laugh it in india and China starting this quarter.. WEll they will have a big quarter q1 if they solve the supply issues. and with 620 coming out.. 620 will be huge in india and china and lant america etc..

They exceeded all expectations and thus, the number is something to be proud of. It'll take a while before they start reporting Samsung like numbers.

@fugo...They missed the entire month of October to release any new Lumia devices due to Microsoft releasing WP8 so late. 4.4 million is good considering. Fortunately, they had the Asha line, and no doubt some Lumia 7.5 devices to sell as a cushion.

It beat theirs and markets expectations. That is something to be proud of.

A windows 8 tablet from Nokia would be nice to see!

I hope Nokia releases 3 different handsets at MWC to raise that share price to 5$.
Nokia ASHA running WP8
Nokia Lumia 930 with a bigger pureview camera different chassis
Nokia tablet running Windows RT
Then annouce global availablity for the 920 and other devices.
Rolling thunder!

"Nokia ASHA running WP8"

If it runs WP, it is Lumia; if it runs S40 touch, it is Asha. So no Asha WP's. If it runs something else, it is called just, well, that (and those were sold in the range of 70 million units...)
Anyway, a major contributor to the good result seems to have been the network business unit, which is unrelated to WP and phones.

"Anyway, a major contributor to the good result seems to have been the network business unit, which is unrelated to WP and phones."
yeah a major contributors to those millions of phone sales

as Trappiste said, you can't have WP8 ashas because the asha brand is for S40 devices
a bigger lumia 930 would be suicide, that's what killed HTC, outdating their flagships in a month or so
a lumia RT tablet would be nice, especially with nokia's build quality and with a qualcomm snapdragon 800
global announcement of lumias would be excellent, I really want that, especially with the lumia 620 and 820 (at US prices), but I fear that would be impossible (and it actually contradicts with the 930 part you said) because they don't have enough lumias for their current markets, surely they won't have enough for more markets

Good job Nokia. Keep up with the production.

Great to hear. My 822 is my first Nokia device and I Iove it!

Nokia is making a big comeback. Just wait until the 920 is on most carriers...

Take your profits now!, Stock going to go down by 10% tomorrow and then sustain itself and then buy again.

This is true. On Nokia, the stock always does that.

And a ton other stocks as well especially tech stocks....Thats why people always say buy on the dip, tomorrow will be a dip.

Happens a lot on a lot of biotech stocks, but do people want to invest in high risk biotech stocks?

I would wait until next week, isn't friday the official numbers day for them? Buy on the rumor and sell on the news... It will most definitely be back into 4$ mark before February.

WTF is "underlying profitability"?

The time it took to type that, you would have had the answer by now if you did a Google search.

Blackberry currently sells more smartphones than Nokia sold in the quarter and Blackberry has 2 year old phones and are about to launch their new line-up in 20 days.

But Nokia is not the only windows phone maker... If you want a windows phone you have a choice between HTC, Nokia and Samsung. If you want to by a blackberry, then you only have the choices offered by blackberry.

lol, they are much much cheaper and more available, plus nokia counts ashas as smartphones

What about a 4inch high end device?not everyone wants a large phone. I like lumia 920 but its huge, not heavy, i like heavy. I'll stick to my 800 :)

From 25+ million (Symbian) in 2010 down to 4 million (windows phone) in 2012 .. considering the market expansion, I fail to see how this is good news.

The difference is the average profit per device. It's currently at ~$240. Apple basically killed their profit margin on Symbian devices. Of course Symbian devices sold but with little profit. So the only way to grow was to sell more devices which requires more manufacturing capacity, parts, logistics, etc.. Instead they are selling less Lumias, but are more profitable. So as they sell more they will make a lot more. At this rate if they sale 6.4 million in the Q1 they'll make an additional ~ 0.5 billion in profit.
This is Apples game... Apple doesn't need Androids marketshare because they make so much profit off of the devices they sale. Samsung is making a profit by shear volume which could hurt them in the long run. The biggest concern for Apple is declining profit margin.

Why must people be so negative. They sold decently regardless of negative comments and talk as well as more than they were expected to. This is a good day.
Not to mention the lacking of stock

I don't get it today, everyone is saying nokia is doing well today with 4.4 million lumias sold in q4, up from 2.9 in Q3. But in Q2 2012 they sold 4 million Lumias. With all the wp ads and the Christmas season boost they only managed to sell 400,000 more lumias. beating lowered expectations but still not seeing too much traction. let the fanboys attack. I love my lumia btw

Great numbers for a set of phones that's been available for 7 weeks. This projects to 50 Million smart phones sold over a year. Its pretty amazing that if they had the parts they could have easily broken 5 million. The interesting part is that the phone people really want is only available on AT&T. Once the exclusive agreement is up, it will.be interesting to see if they roll out a new device for multiple carriers or distribute the 920 to Verizon and TMobile.

the galaxy note 2 sold 7 million in that same quarter...... just saying

However, this was only on sale for 2 months, not three

How many networks is Note 2 on? How many is the L920 on? How long has Samsung been popular? How long has Android been adopted by the population? Your comparing apples and oranges.

You make the this announcement sound even better David Ray.

4.4 million phones sold or shipped?

Sold. They said sold. How ignorant must you be, seriously.

Apparently ignorant enough to be suspicious of elisions when companies have a track record of intentionally trying to gloss the distinction.


Great timing, the whole tax invasion thing in India has been some bad news for stock. I hope there's enough profit in the Lumia line to offset the 500 million of taxes that India wants, which I doubt, but Asha phones will probably save the day.


Yay! So proud! I've been waiting for this news. It was alot with limited stock! That's very impressive. Now hopefully Nokia gets the message that people are interested in buying their Lumia phones! And increase the stock!!!

I've always been a huge fan of Nokia's hardware. Remember the 8210? I had two of those. Software-wise I can't say they've done much. Switching to windows wasn't great news for me either. I once got two t-mobile shadows for free (they were free so why not get them) and they seriously sucked. Yo ucould argue that the shadow has an early version of windows mobile which is true but I was thinkign about whether I should even get the Lumia just because of my previous bad experience with windows mobile. As for the stock... we all know where the money is right now and investors do too, just look at the numbers: http://cell-phones.top5.com/best-selling-android-phones/

The difference is wpcentral usually puts their own words I to an article or topic where as wmpoweruser just copies and pastes other sites articles

Nokia made my bank account very happy.

Nokia are turning around despite windows phone unfortunately. Their networking equipment and Asha business are doing very well. Microsoft need to step it up on many levels. In my opinion, Nokia have been extremely patient with them, I'd have ditched em and gone to a multi-OS approach like HTC.

Almost everyone here wants WP to do well, but lets be objective. Only 4.4 million Lumias? How many units did they sell in the previous quarters? Don't think this that much of great news, maybe a step in the right direction. I know it only includes the WP8 for two months, but in light of Ballmer's statments of selling 4X and 5X as much, you would expect a lot more. Also, what happened to those suggestions of 10 million WP based on Facebook activations? Doubt HTC and Samsung sold 5.6 million units. Just my thoughts.


In the previous quarter they sold 2.9m according to Engadget

Take note that in Q4 2011, Nokia sold less that a million units.
That's all I have to say.

I've been out of the game of share dealing for about 6 years, you guys have made me want to go back into the game, Thanks. What do you guys suggest ? wait till it declines by 10% then buy ? or wait till it drops further ?

And those reports from Forbes are proven then to be market manipulation.
It looks now that the paid hacks there were trying to push the stock lower, grabbing some shares, and then getting the nice uptick.