Non-security patches for Windows 7 and 8.1 to be released in monthly updates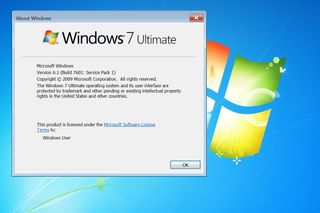 Microsoft has announced that from now on, non-security patches for Windows 7 and Windows 8.1 will be released in one rollup update that will be issued monthly.
Microsoft said (opens in new tab) this will also apply for updates to Windows Server 2008 R2 SP1, Windows Server 2012 and Windows Server 2012 R2:
Windows 7 SP1 users can now also download a new convenience rollup update (opens in new tab) that contains all of the security and non-security patches released since the release of the service pack until April 2016:
Finally, Microsoft has announced that in the next few months, updates for all versions of Windows will no longer be available in the Microsoft Download Center:
Windows Central Newsletter
Get the best of Windows Central in in your inbox, every day!
Catalogue bi bawo, se mo fe ra oja ni?

? This was posted in a pineapple under the sea.

Looks like a Creole language to me, but for the life of me I can't decipher if even though I speak 7 languages. Posted from Bikini Bottom via my Pineapple PineBook XPS 13"

Ms sholud stop updating windows 7 and put this old os in end of life

Why? You fell insecure with people using windows 7 or 8.1

Lol, i've not talked about w8.1, but just w7 that is a terribly old os and should be put in end of life

There is nothing wrong with Windows 7....Microsoft's best OS EVER.... dont believe me ? Look over the world's use of Windows 7, Windows 10 is not even close...Oh, it beat out Windows 8/8.1...not a big feat by any means.. The ONLY reason I am using 10 at home is because of DirectX 12, as Microsoft screwed over 7 and 8.1 users and do not support it..

I wouldn't say it's their best OS ever, but it's a good, solid one. And much more better than 8(.1).
I think Win 10 is their best OS ever, but I understand why people don't want to upgrade from 7. But W10 is gaining marketshare very fast, so your point about it is invalid. It was released less than a year ago, but is now installed on more than 300 million devices. Posted with the Windows Central app for Windows 10 on HP 250 G1 notebook. It is a scary old monster, I think :D

All depends on what hardware you run. Like some CPU/mbs didn't support certain security based extensions I believe it was that they implemented on 8.1 & some Wi-Fi adapters drivers still arnt 8.1 & above stable but 8.0 & below no problems

Win 10 was released less than a year ago. The adaption of Win 7 wasn't significantly better than that of Win 10. Especially not in businesses.

Windows 7 SP1 is on extended support until 2020. There's a hell of a lot of business users out there using Windows 7, it's still a great operating system. The company I work for has only just started looking in to updating to Windows 10.

The company I used to work for back in 2014, were still using XP... they upgraded to 7 in the beginning of 2015 lol.

Microsoft has to support Windows releases for at least 10 years total from initial release; 5 for mainstream support and 5 for extended support. They can't just end support for Windows 7 when businesses expect it to be supported until at least 2019.

This saved my bacon today.

The rollup update must be HUGE considering how many patches Windows 7 has had Posted via the Windows Central App for Android

476MB. It's non-critical updates. Does not include IE security updates or .NET updates.

Heavily compressed no doubt

I have a feeling that Microsoft is going to try to sneak GWX into Windows 7 and 8.1 PCs that haven't upgraded to 10 yet with non-security update rollups like this.

What stopped them from doing that before, Mr. Tinfoil Hat? Posted from Bikini Bottom via my Pineapple PineBook XPS 13"

I have my computer set to notify me when updates are available and I always uncheck and hide any updates that make reference to upgrading Windows. It's not that I don't want to use 10 at all; just that I don't think it's ready yet.

Image backup, install 10, install from the image, now you have some time to decide Or dual-boot a preview build ----------
I am someone, of the 2639th variety.

I'd have to buy yet another hard drive to make an image of it because I back up to an external drive. Also, I do use Windows 10 sometimes, just in a virtual machine. Besides, I already dual-boot Windows and Linux on separate disks; I could triple-boot with 10 but that sort of defeats the purpose of a free upgrade.

Windows 10, in its current state now, is quite ready for prime time.

It is pretty stable, just not quite ready for me personally; or rather, I'm not ready to give up 7. I keep going between wanting to upgrade to 10 and not wanting to.

I think you should at least upgrade once using GWX, so that your computer retains its free Windows 10 upgrade. Then you can toll back to Windows 7 (one click, through Settings) and install Windows 10 whenever you like, for free. Otherwise you'll have to pay $119 for a Home upgrade starting July 29.

Lol lately they've been auto downloading defender updates against my wishes(im using wsus for updates)
Windows Central Newsletter
Thank you for signing up to Windows Central. You will receive a verification email shortly.
There was a problem. Please refresh the page and try again.