NOW That's What I Call Music launches on Windows 8 and Windows Phone 8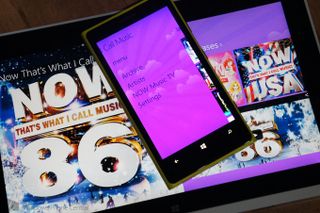 NOW That's What I Call Music (www.nowmusic.com) is the UK's longest running compilation brand, responsible for bringing together some of the best tracks and offering a complete package to consumers to purchase as digital download or disk pack. Music fans have been enjoying Sony's NTWICM albums for years.
If you enjoy staying up-to-date with the latest pop and chart music, you'll want to check out the two official apps that have just launched on Windows 8 and Windows Phone 8. Pass the break for all the details.
With these new apps, powered by Windows Azure, you'll be able to check out the full track list for each and every NOW album released since 1983. It's also possible to preview, share and purchase any track in the archive through Xbox Music. The NOW Top 20 - essentially the hottest tracks around today - are available in a convenient list for your enjoyment.
If all that wasn't enough already, NOW Music TV is included in the experience. You can achieve all functionality over 3G connectivity, but it's strongly advised you make full use of features present in the NOW app over Wi-Fi. The app is a must-download for all music fans, especially those who rely on NOW to help them discover new music, artists and hidden gems in the overcrowded industry.
Not only are chart toppers covered by NOW compilations, are you into dance from the 90s? You'll be able to check out mixes just for you from a decade ago with numerous genres and occasions covered. Then you have future news covered within the app, alerting you as to when new compilations are available and more.
You can download NOW That's What I Call Music from the Windows (opens in new tab) and Windows Phone Stores (Windows Phone 8 - QR code below) for free.
Windows Central Newsletter
Get the best of Windows Central in in your inbox, every day!
Rich Edmonds was formerly a Senior Editor of PC hardware at Windows Central, covering everything related to PC components and NAS. He's been involved in technology for more than a decade and knows a thing or two about the magic inside a PC chassis. You can follow him on Twitter at @RichEdmonds.
Oh my god this still exists, vomit

Such a helpful, productive comment.

The app itself is BS, static list of NOW music...............

Now That's What I Call Crap! (I'm sure the app is fine. I just never understood who buys these albums.)

The top songs of a year in a collection. I don't buy but there is an appeal to it.

The top COMMERCIAL songs of the year, not the top songs of the year.
There's a *huge* difference.

Actually, there's no difference. Top songs, means top sellers. Your personal preference doesn't make it "top".

Its good for looking back.. It's crazy how music brings back memories from a specific time period,, even if it's not your favorite music... Open minds.

I don't buy music PERIOD. But I did download an burn this NOW 86 for a friends 10 yr old daughter...so there's the market for it.

That's what I was wondering but I don't want to download it lol

Working with kids, it's a good idea to get a hold of what they're listening too. Some songs nowadays are just obscene, and you can only be helpfully discerning to the younger generations with knowledge of the culture! A bit deep for WPCentral, but worth mentioning a positive after all the negatives.

You are correct sir. My wife uses these tactics in her teaching.

At least it's not a Kidz Bop app.

Yeah, Kidz Bop isn't even close to this. NOW CDs are actually helpful when it comes to music. I don't use them but I like to check what new songs are out when I DJ.

Maybe if I download this Justin Bieber will follow me on Twitter, warranting a "congratulations" from evleaks.

This takes me back - I still remember the very first NOW album, ever - that first one was the best compilation set ever at the time. I still have it on LP. I think it was 1982 or 1983 when it came out - I was living in the UK as a kid at the time. The first Christmas version came out in the mid-80's - have that one on cassette: "The Christmas Tape"

"a must download"?? Lol...

Are all of these the clean versions of the songs? If so I think its great. Especially if you can take advantage of the Xbox pass.

I remember when the now cds first came out, man I feel old

The app itself it pretty poorly built, just a static list, no in app previews, really? Uninstalled.

I bought No 1 back in 1983. On cassette (kids go Bing it)... Phil Collins, Thompson Twins, Men At Work, Howard Jones.. Fuck I'm old.

"The app is a must-download for all music fans, especially those who rely on NOW to help them discover new music, artists and hidden gems in the overcrowded industry." This is some kind of sarcastic joke, right? It's a must for metalheads or techno lovers to get something coated in radio pop like Miley Cyrus and Maty Perry? That, and how is this for finding "hidden gems in the overcrowded music industry" when it's just a compilation of the most watered-down radio pop and rock garbage you could possibly find?

We get it. You're so superior and whatever you like is all that matters. Yawn

This could have been good but the older stuff is just songlists, no way to play them.
Windows Central Newsletter
Thank you for signing up to Windows Central. You will receive a verification email shortly.
There was a problem. Please refresh the page and try again.