A number of Microsoft-branded stores in Brazil are reportedly closing [Update: Confirmed]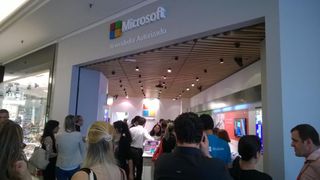 Microsoft may be closing a number of its branded authorized resellers in Brazil. A new report claims that many of them have shut their doors, but there's no definite word as to why this has happened.
According to WindowsMania.com.br, it's possible that Microsoft is simply shifting its strategy when it comes to stores in Brazil, which is one of the most popular countries for Windows Phone. It's also possible that Microsoft's decision to no longer make new devices in the country might have something to do with it. Again, none of this has been confirmed by Microsoft so take this with a grain of salt.
Update: Microsoft Brazil has now issued a statement to local blog WindowsTeam confirming the closures. From Microsoft (translated):
Thanks, James, for the tip!
Source: WindowsMania.com.br
Windows Central Newsletter
Get the best of Windows Central in in your inbox, every day!
It's sad how things come to this point. Stores closing, no devices being selled. Dark times arrived for the windows phone fans here Posted from Windows Central for Windows 10

Dark times arrived for the windows phone fans here

I hope the five of you make it through alright. I'll keep you in my thoughts.

Five haha the brazilian hue is strong in this one Posted from Windows Central for Windows 10

These kind of joke is old. Please try something else, no one is laughing.

Hehe relax guys, I made a joke about being one of 7 Canadian 950XL owners. You don't have to even give substance to this kind of comment

No way, in the forums for Canadian 950XL owners we could easily guestimate 15 of us, and I'm pretty confident now it's over 20.

That one made my day! LOL!!

There's more than 5 cuz I've brought over more than 10 myself from iOS and android.. Converted a 76 year old lady that had 3 strokes and brain surgery today just cause I let her play with my icon on 10 today she getting a 640 next week as a gift from me cuz she my aunt and she said she wants it. Posted from Windows Central for Windows 10 On My Lumia Icon

Brazil is one of the biggest markets for WP, smartass! Get your facts straight before crapping from your mouth.

Then why would they close their store and stop making phones there?

Because the reality is soon to change since we don't even have the no new devices ever since the 640 XL die to the taxes being ao high. Still doesn't give credibility to his lame joke...

I never said that it did. I was just asking a question that I didn't know the answer to.

One of the biggest markets and its still a pathetic 5.6%. Speaks volumes.

Better than the iPhone here.

Nope, iOS is double that at over 11% http://gs.statcounter.com/#mobile_os-BR-monthly-201602-201602-bar Another WP illusion shattered.

Do these numbers mean that there are currently more iOS devices than WP or they represent sales? Cause there are reports that show that Microsoft sold more devices than Apple a couple of months ago. (Tecmundo, "Dominado pelo Android, mercado brasileiro prefere o Windows Phone ao iOS")

Because people in Brazil generally can't afford iPhones, if they were able to, almost everyone would have one because they're a status symbol.

Lol, talk about taking it personally. Did he kill your dog too or something?

You must be a funny man in your imagination.

Its not US he is talking about

Brazil tarrifs are so high Nintendo abondoned the market and Apple built a factory in the country. Microsoft was probably losing money on the stores by not stocking anything built in the country.

They were selling lot of stuff built from the Manaus factory.

Microsoft brought this upon themselves, it's entirely their fault.

Look ma! It's another Chicken Little on Windows forum.

Windows Phone is pretty dead here. And used to be the second largest mobile market here. Thank you Nadella.

Except for holding almost the double sales share of iOS with 5.3% according to Kantar World Pannel. AND, last Black Friday was big for WP. Everything sold out, specially the 640. The São Paulo Store is fine afaik. Called them yesterday. The phone factoring here, yes, this was regarding the write off, and probably risk also into the account. We got a serious political crysis right now, which might have had an impact.

That's because the majority of Brazilians can't afford Apple products. Even in Europe Apple doesn't have that big of a market share and we live far better than the majority of the Brazilian population.

I wonder if they will stop selling MS phones in Argentina too, suddenly they are giving away Lumias 640 for free now (on a contract). And the XL at the same price I got my standard L640 three months ago! That's never happened with any other brand before.

I guess we'll need to wait, I doubt it. I'm from Argentina too

When Nadella said mobile first, cloud first, I didn't think he met windows phone in heaven.

Nokia was selling the phones,not Windows Phone itself.

Could it also be that Brazil's economy is circling the drain? Tough times.

Meanwhile, Apple is creating new Stores...

Apple's devices sell at higher margins and in greater quantities to make money off of the production and retail costs in Brazil.

Here Lumia outsells iPhones. Or it was. They still didn't bring 550, 650, 950...
​The last ad I saw, was of Lumia 640 in April/May.

I mean, why the f not right? Lumia 650 would sell like water. For an unknowing consumer, it's basically an cheap IPhone 5S when it comes to design.

right... Microsoft was too slow to acknowledge country like brazil where they could have had better marketing and popularity. It they had shown interest it would have been a different story.

Yeah, and worse, here we have almost all "local" apps.

Outselling doesn't mean nothing, unfortunately. Apple probably has a much higher revenue and profit than Microsoft here, at least with cell phones.

Apple does that everywhere.

From what i know they are having legal issues just like FBI vs Apple. Something like Brasil`s gov wanting some data from US based MS servers but MS declined access to the data.

No. Microsoft is not WhatsApp lol

I heard about that too. Might be a problem with the government. MS has butted heads with the US government over similar issues on demands for data stored on servers outside of the jurisdiction of the party making the request.

guys your bad informed, do the properly research, the thing here is with Facebook company the owner of WhatsApp.

You are spot on Florin - this is exactly what it is about. Watch this Youtube video starting at about 1:10. Brazil is actively extorting Microsoft.

Nadella always saying Mobile first,cloud first '.. But actually what happened..they are focusing only PC market and in mobile other platform first

ZIKA VIRUS STRIKES AGAIN!

Lol the surface phone is going to be 3"!

They are taking so long to release Cortana in portuguese. It could have saved windows phone in Brazil.

Lol good one!
But it's in fact very sad that Pt-Br Cortana still isn't available :(

It will be very funny when they release Cortana on PT-BR for Insiders, but in the RedStone build. I mean we don't have 950, 550 to use RedStone hahahaha

Nokia treated us very well. They opened a factory here and offered all their cellphones, and I'm a proud owner of a Brazillian-built gourgeos white 930. But since Microsoft took over Nokia, it all went downhill. We don't have the Surface line here, we don't have the 950/950XL/550, we don't have Cortana in Portuguese, which Microsoft promised us that it would be ready before 2016. I'm going to buy a new phone to replace my 930 later this year, and if the alleged Surface Phone or whatever Microsoft annouces isn't sold here, I'm going to buy the iPhone 7, because at least Apple, ridiculous price aside, offers their entire line usually the same week they are annouced worldwide.

Shouldn't you get back to flipping burgers

Stores selling only mice and keyboards and few Lumias? Thanks for closing them. Btw, we're still waiting for Cortana in portuguese for Insiders. Pffff.

Microsoft is abandoning Brazil. Windows 10 tablets are gone, the one left is a crap brand and its bein selling for twice the price from last year, Lumia Phones are almost gone, now we have 535, 635 and 640 only, none of them for a good price. I dont know what they are expecting to achieve with that...

I really miss the good times when Nokia, not Microsoft, was in charge here

There're 435, 532 and 735 yet. For now.

I can still find 710, 800, 830, 900, 930, 1020 and 1520. Dunno what you guys are talking about.

Where can you find? OLX? lol

710 http://buscando.extra.com.br/search?p=R&srid=S1-1DFWP&lbc=extra&w=lumia&... 1020 http://www.saldaodainformatica.com.br/smartphone/1168-smartphone-nokia-l... i wont do a link compilation of all models only to prove my point. but im sure that if you google it, you gonna find it. i still run into a couple of them in Vivo mall stores, whether in SP or RJ.

You do realize that "saldaodainformatica" where you found the 1020 comercializes USED devices, right? They are not new. The link you provided is even from a not well conserved one ranked as "silver" and not "gold"... Extra is selling a brand new Lumia 710 for a bargain. In US it costs US 70, in Brazil costs almost US 200. It is cheaper to buy one from ebay and send it to Brazil, pay the full taxes and you will still save some money. The 710 isnt even sold by EXTRA itself, but from a "partner" called LOJAS MINEIRAS which is rather unknown. They probably have just one or two left and since no one would ever buy that it still shows there as a Lumia for sale. You just proved our point, not yours.

Strange, MS, make not only phones though...

This is not a Microsoft Store, but smaller Microsoft "Authorized Reseller" stores. These resellers were probably linked to the factories.

But they don't sell Surface here and a lot of accessories , and I'm not sure if they sell Xbox on "MS Store" .

They do sell Xbox and games, and those are cheaper in there than in other places including Xbox Live.

You guys have to remember these are NOT official "Microsoft Stores" run by Microsoft like in the U.S., Canada, Austrailia and Puerto Rico. The stores in Brazil are smaller "Authorized Reseller" stores that were previously Nokia Resellers (You'll notice none of the resellers are listed here: https://www.windowscentral.com/e?link=https2F%2Fclick.linksynergy.co... Typically those types of stores have smaller volumes and smaller customer bases, and are expensive to lease and maintain, especially since there is no manufacturing faciltiies there now. It might seem more likely they are shifting strategy to open bigger official retail stores instead owned by Microsoft as they continue to expand the device markets. So really, this is not bad news... it's hopefully a better shift in strategy.

We got the same scenario for Apple, it used to have only resellers until Apple it self open two stores in the country, but...we are huge country with a lot of potential consumers, that resellers still have a lot of clients due the high demand of consumers, and none of them had closed even with the high price of apple products here, they just got all the products and thats it.

Re: thaman04,
Thank you for your intelligent comment.
"... these are not official "Microsoft stores"...and they are not run by Microsoft...". Please learn about business.

I was in Rio last week and the mall that's down the street from my house have a rebrand Nokia store . The only problem is that they only sell older phone 640 " 640 xl no surface tablet nice store however, I hope they keep it open.

"Authorized Reseller"? If true, those would not have been true Microsoft Stores but rather a separate non-Microsoft business with a contract with Microsoft allowing them to sell certain Microsoft products.

Microsoft doesn't own stores outside the US. All others are authorized resellers.

Nope. Here in Canada they are Microsoft owned.

Sorry, I never remember Canada. Where it says US read North America.

until today there is no sign of releasing the 950 in Brazil or any new phone...windows phone is losing momentum ....

You can't judge the policy of a company on minor rumors

On the Lumia 950 page of new FW update, the was the Brazil variant. 000-BR lol

After getting rid of Manaus factory the only factory MS has left is in Vietnam which main product is feature phones used for wahhabi-terrorists IED's.

Taxes are most likely very high, there's always an Online Retail store, better deals.

All MS products can be put on a small table so why even open a store?

The one at the Mega Mall in Minneapolis /St. Paul Minnesota USA is great and fun place. All kinds of computers to try out, the Answer Desk, sometimes training, try out Xbox one, Windows Phones, buy software, games, Insteon Home Automation products, and more. Watch 3D printing. They sell some products of their partners too.

How big a table do you need to place all of Apple's products on it?

Well that sucks. /Zika jokes incoming Posted via the Windows Central Beta App for my Lumia 950 XL

Zika wont harm you, just don't drink the tap water.

lol why is that? I'm brazilian and tap water is perfectly fine where i live. No even filtering is necessary.

Source? WindowsMania.com.br is written by kids. Please.

Thanks for your valued input

Please don't ignore the fact that not only Microsoft but several others companies are shutting their door on Brazil. Even a bank, HSBC has left the country last year. Brazilian economy is a mess and our crisis got a significant role in all that is happening.

Sorry: shutting their doors in Brazil

Yup from Zika to the massive corruption scandal let alone other massive problems. Brasil is in a mess. Which sucks for a beautiful country that it is Posted via the Windows Central Beta App for my Lumia 950 XL

A business is never abandoned when it fails. It is always put on sale

I doubt it. HSBC is one of the largest banks in the world

They already did that, it was on the news ... People are just waiting them finish the transition to Bradesco... A friend of mine was fired together with his team about a month ago because of it

"Make"? They manufactured Lumias in Brazil?????

Yes....used to have nokia factory here...all those stores were also Nokia store...some days ago I bought a keyboard at one of then, still say Nokia in the receipt

They also manufacture Xbox, its accessories and games.

My 930 was made in Manaus, so yep, they used to.

Were they new MS stores or rebranded Nokia stores? I can easily see them closing old Nokia stores.

Wtf... They closing stores over there... We don't even have one freaking store in Netherlands!

These were Nokia outlets and authorized resellers that were re-branded by MS, but not official stores.

I dont care what it is but i would just love to see something POSITIVE. Anything.

Head over to Android Central for that.

Nah, spywares are not so positive

Instead of closing them down, why cant MS choose to use these stores as a hub for all the OEM's using Windows on their devices.
That will help to improve the popularity of windows in the mobile/tablet market. That means more devs will embrace this platform and also will help the sales go up.

That's really sad, one of the biggest market of windows phone be treated like this. What hell do you think Microsoft strategy?

The problem..and a big problem here in brazil are the taxes and the bureaucracy to do anything in this country. Not to mention we got reduced in international standards for investments... I don't see any good in our near future... I am like most here...this year probably be my last year trying to stick with MSFT products... I will have to switch to apple and accept the absurd prices..but at least I would have a up-to-date device... I have a 950xl.. But I was lucky to travel abroad and acquire one...

When a franchisee (Brazil business company) doesn't comply with their agreement (with Microsoft) and thus violates the terms of the franchise agreement (with Microsoft) the franchisor (be it Microsoft, McDonalds, or Sears) will close the franchise. Typically, if the franchisees are complying with the terms and making a go of it, the franchisor wouldn't force them to close. Certainty, there could be a strategic decision for Microsoft to close a franchisees' business. The real reason may never be made public. Maybe it was as simple as the franchisee wasn't paying it's periodic franchise fees to Microsoft.

Until we know why this is happening, it's kind of impossible to comment.

M$ started started to close small stores in brazil later this will happen in other parts of the world too.So get ready to take in bad news in upcoming weeks.

Personally I think it is abit daft to close up physical stores in a region where Windows phone are doing well. Especially given the flurry of OEM activity we have seen recently and presuming that trend continues; people would need a physical store to at least get hands on with the devices and get assistance all the while allowing reps to upsell offoce 365 subs and what not. Pretty short sighted imo.

Soon we'll be hearing that MS itself is closing.... Posted via the Windows Central App for Android

I forgot to mention some thing very important that other countries have and we in brazil are way behind...is the support... Even though we don't get some hardware or software here we should be able to rely in some kind of global support per continent... Because I thought I had broken my 950xl... The only way I could get it fixed was by sending it back ti the usa..and that meant weeks of no phone and uncertainty... Not sure if this is correct..but after chattro g with a with a friend...he said that the support page for 950 I used are only available in the languages where the phones is officially sold... Since I am a native with the english language I never check for troubleshooting in portuguese... Can any one confirm this...??

Sad that you have to afford a phone. Buy an android and let it watch do the same things that the expensive morale booster for showoffs does. I pity people who need to buy expensive stuff to flaunt status, class etc

I only buy new phones as I need them...my last one was a 920 which had to be switched because the sim reader was faulty...had it for tree years...and I got the 950xl so I could get a phone which would last longer in the same ecosystem I used to... Like when I buy a new laptop...i will buy one near the top of the specs so I can take advantage of current and near future technologies stull to come...

I notice many people don't read the comments and then make ridiculous comments. I am always surprised by how much can be learned by reading the comments and eliminating the un-informed. The key phrases in this article are "Microsoft - Branded stores" and "authorized reseller".

Honestly I'd be more concerned about the lack of crowds in American MS stores. Ask yourself why Apple Stores are always busy - they have 'cool' products that always seem interesting and sexy to people. MS is starting to have this with Surface Pro 4 & Surface Book. But not nearly enough, you need a HERO phone.

Re: Migi2015,
Support, what you care about, even if you are anonymous. Check out and support your local Microsoft Store or visit the Mall of America store in Minneapolis /St. Paul, Minnesota USA.

I heard it was because they could not sing Christmas carols, so Microsoft had no choice but to sack them.

I believe this is for the better good of Microsoft branding... These authorized reseller store Steen doing good for Microsoft, at least in Malaysia. They don't carry accessories, and their after sales service are bad. When I dealt with Microsoft support, I was very impressed. But dealing t with the authorized reseller, no good, only bad experience..

I'm living in Sao Paulo, Brazil. Here Microsoft Store is open,

Almost all of those store were actually originally Nokia stores, but changed the name after MS acquisition.
Windows Central Newsletter
Thank you for signing up to Windows Central. You will receive a verification email shortly.
There was a problem. Please refresh the page and try again.