GTX 1060 shows up in Hong Kong, may turn out to be NVIDIA's answer to the Radeon RX 480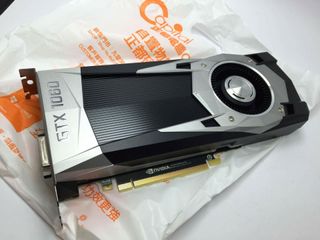 It looks like NVIDIA is getting ready to launch an affordable VR-ready video card based on the 16nm Pascal platform. The card showed up in a Hong Kong market, and made its way to Reddit subsequently thereafter. From the image, it looks like the PCB will be smaller than what we've seen on the GTX 1080 and 1070, with earlier rumors suggesting that the GTX 1060 may be the first to feature the GP106 silicon (the 1080/1070 are on GP104).
Zauba listings from last month show that the card will retain a 256-bit memory bus, similar to that of the GTX 1080 and 1070. Other than that, we don't have any further information, but a GTX 1060 should be priced lower than the 1070, which retails for $449 (opens in new tab). If NVIDIA is able to offer it anywhere near the $200 mark AMD has set out for the RX 480 and manage to deliver on VR, it will make things that much more interesting.
Sell it for 180$ and amd is done for;)

Why on earth you want AMD to be done for ? You realize that the current pricing is due to AMD being where they are ? Then why do you look with such joy to a possible monopoly ?

It's sad how clueless the avg person is. That guys vote counts the same as yours, can you believe it?

One, that's not going to happen, not even close. Two, I don't think you realize how incredibly shortsighted that comment is, which Florin already kindly explained to you.

Nvidia may price it for around say, $ 270-300.

And if you're in India then add a similar amount for tax. Fml

Yeah there will be around 30-40% mark-up when it comes to India

Yeah, I was to buy a 1080. Alot of pricing difference,however. But the 1070 is priced reasonably of ₹41000 MSI,₹41500 asus and zotac ₹38000-39000 amp edition.
Nvidia is not gonna price beyond ₹19000 I guess when its launched in Indian market. You can get a gtx 970 for an extra money of ₹4000-5000.

Im not impressed,tell me when laptops with these inside which be cheaper

It's not a laptop card. So none.

I meant there will be 1060M right?also 1070M and 1080M

They wont be any reasonable with price. Laptops with 970M costs around ₹80-90000. Pascal Mobility wont be any less.

...Or just buy an older card on eBay in order to force nVidia's pricing to fall.

Once this arrives in Australia I'm sure the pricing will be very reasonable as always by Nvidia....$800+ BOOM!!

Sad but true, this seems likely going to happen anyways.

the pricing in India is horrible, even a gtx 960 level card is nearly $300 even after so long, i'm looking for any help to import an RX 480 for the US, even with customs and shipping I would save about $150 - $200

I wish it was a 1060ti so I can upgrade my 660ti. But let's see how it performs and how is the price.

Hey! 660ti is what I have too! :-) Mine is an Asus branded card with 3GB VRAM and a baked in 20% overclock.

Tax in India, too damn high. Have to pay price + 30 to 40% ..

I currently have a 660ti. My target was the 1070, but if this thing is awesome enough for cheap enough........ ......so I can't wait to find out more! :-)

Sounds like 90s war between Pentium and amd cpu :)

Yeah, healthy competition driving the industry forward and giving customers much better value. Can't ask for more.

Speaking of AMD, where are the articles about AMD's latest graphics processors? I sense a lot of NVidia bias around here, and it's a real shame.

Is there a UK release date for the Rx480 yet

I believe it's supposed to launch globally tomorrow.

Cool I rang my local store to check and they said it should be on their site and in stock tomorrow "if everything goes to plan" Said he couldn't discuss details like price due to NDA. I'm very interested to see the non-VR performance in real world tests vs GTX 970 as I've heard so many rumours of it being as good a 970, others saying as good as 980 (id say on par with / few fps more than a 970 is what I'm expecting - still cheap compared to a gtx 970 and lower power consumption!)

Early synthetic benchmarks had this card performing between a GTX 980 and a R9 390X.
http://videocardz.com/61005/new-amd-radeon-rx-480-3dmark-benchmarks

Nice! for £200 (my guess at rough price) I might just have to buy one, that's half the price of a 1070 and still over £140 cheaper than a GTX 980. I'll be trying to put an order in tomorrow I think, even just out of curiosity to see how this performs. I have a feeling demand will outstrip supply initially though.

Why on earth would you wish AMD to suffer? AMD APU/GPUs are the basis for the current consoles and the future Scorpio console. If you are a Microsoft fan you want AMD to do well just for the Xbox alone. Look at what is happening to the Surface 3 line now that Intel is not updating mobile chips. Can you imagine what would happen to Xbox if AMD goes under? Posted via the Windows Central App for Android

Looks photoshopped although 1060 looks defintely coming. Posted via the Windows Central App for Android
Windows Central Newsletter
Get the best of Windows Central in in your inbox, every day!
Thank you for signing up to Windows Central. You will receive a verification email shortly.
There was a problem. Please refresh the page and try again.