NVIDIA turbocharges the RTX 2060, 2070, and 2080 with the RTX Super series
The GeForce RTX 20 Super series delivers a sizable uptick in performance from the standard RTX 20 series cards.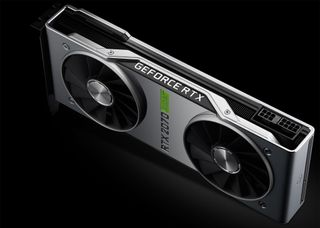 What you need to know
NVIDIA is rolling out a mid-cycle refresh to the RTX 20 series, introducing the RTX Super series.
The RTX 2060, 2070, and 2080 are getting updates, with the new cards offering up to a 25% uptick in performance.
NVIDIA is also bundlingControl and Wolfenstein: Youngblood for free with all purchases of the cards.
Less than a year from the launch of the RTX 20 series, NVIDIA is introducing updates with more cores and higher clocks. The RTX 20 Super series consists of the RTX 2060 Super, the RTX 2070 Super, and the RTX 2080 Super, with the GPUs set to be available from later this month.
NVIDIA says the new cards are a result of a year's worth of "architectural and process optimizations," with the brand touting a 25% increase in performance from the standard RTX 20 series.
The RTX 2060 Super comes with a TU106 GPU and has 2176 CUDA cores, and now boasts 8GB of GDDR6 memory — versus 6GB on the standard RTX 2060 — over a 256-bit interface. The TDP has increased from 160W on the standard card to 175W, and the card features a single 8-pin power connector. NVIDIA says the card is 15% faster on average over the RTX 2060, and faster than the GTX 1080.
The RTX 2070 Super, meanwhile, features a TU104 GPU with 2560 CUDA cores, and has the same 8GB of GDDR6 memory. The TDP is now at 215W — 30W over the RTX 2070 — and the card is claimed to be 16% faster than the standard variant and faster than the GTX 1080 Ti.
Finally, the RTX 2080 Super features a 15Gbps memory bandwidth, outmatching the RTX 2080 Ti and Titan RTX. It is based on the TU104 GPU and comes with 3072 CUDA cores, along with 8GB of GDDR6 memory.
The RTX 2060 Super will set you back $399, with the RTX 2070 Super set to be available for $499. Both cards will go on sale starting July 9, and the RTX 2080 Super will be up for grabs starting July 23 for $699. That's for the Founders Edition cards, and you'll also be able to pick up custom options from AIB partners including ASUS, Colorful, EVGA, Gainward, Galaxy, Gigabyte, Innovision 3D, MSI, Palit, PNY, and Zotac. For more options, check out our best graphics card picks.
NVIDIA is also bundling Control and Wolfenstein: Youngblood for free with every purchase. What are your thoughts on the new cards?
RTX Goodness
(opens in new tab)
Better value GPU for gaming

The GTX 1070 was a great mid-range GPU and the RTX 2060 is the spiritual successor with a few additional features, including ray tracing and NVIDIA DLSS. You'll be able to play PC games at 1440p without issues.
Portable (and affordable) power accessories we love
Each and every one of these charging gadgets will keep your favorite gear and gadgets going for longer, and none of them costs more than $30.
VisionTek 8,000 mAh micro-USB power bank (opens in new tab) ($13 at Dell)
This compact dual-output powerbank can speedily recharge any and all your devices, thanks to a two-amp "fast charge feature," using its micro-USB out port. Its simple design includes an LED indicator, and it costs about as much as a single ticket to the movies.
Panasonic eneloop AA batteries (opens in new tab) (From $13 at Dell)
Panasonic's rechargeable batteries are among the best available, and just a couple of them will keep your favorite remote, mice or other peripherals powered up when you need them. They're also eco. And the company's affordable charger (opens in new tab) fits and charges both AA and AAA batteries at the same time.
Belkin Qi Wireless Charging Pad (opens in new tab) ($30 at Dell)
This unobtrusive Qi wireless charging pad looks good (and kind of like a UFO …) and easily charges all your Qi-compatible device up to 5W. Its LED indicator lights up when you're charging. And it costs just $30.
So the price it should have always had. Nvida got greedy and wanted to charge more money for same performance instead of what they have always done which is charge the same (with some inflation adjustments) for about 20-30% more performance in relation to the older generation. People who rewarded nvida with RTX purchases got burned, as we said they would, and this is the real 2xxx series launch.

100% agreed here. It doesn't always pay to be an early adopter, no matter how 'bleeding edge' you want to be

I am still happy with my RTX 2070 Founders Edition. The super is only 16% more powerful and doesn't add any additional memory. The price on the super is nice though.

The 2070 Super looks reasonably priced
Windows Central Newsletter
Thank you for signing up to Windows Central. You will receive a verification email shortly.
There was a problem. Please refresh the page and try again.