NVIDIA in talks with Microsoft to power Windows 8 tablets with Tegra quad-core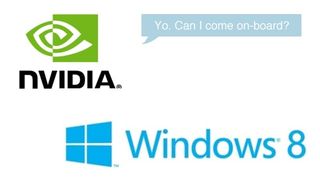 NVIDIA has released a press statement detailing the company's interest in working with Microsoft to use their Tegra 3 quad-core chips in Windows 8 PCs. The move is somewhat expected with Windows 8 being able to run on ARM architecture. It was only last year that we reported on the rumour of NVIDIA bringing the Tegra 3 to Windows Phone by 2013, and Windows 8 demos were shown with NVIDIA chips.
The two companies have been working on a program to distribute test devices to software developers and manufacturers. Speaking of Windows 8, have you got your paws on the Windows 8 consumer preview (opens in new tab) yet? It's available as a free download. View the NVIDIA press statement below.
Microsoft to Seed Windows 8 Developers, Device Makers with Test PCs Powered by NVIDIA's Tegra 3 Mobile Processor
BARCELONA, Spain—Feb. 29, 2012—NVIDIA confirmed today that it is working with Microsoft on a program to distribute Windows 8 test PCs to software developers and device manufacturers powered by the Tegra®3 quad-core mobile processor with 4-Plus-1™ architecture.
This seeding program enables these parties to create a rich ecosystem of apps and devices for Windows 8 on ARM-based processors.
"NVIDIA has a long record of supporting software developers working on the cutting edge of innovation," said Tony Tamasi, senior vice president of content and technology at NVIDIA. "We're furthering this tradition by helping to realize the extraordinary potential of Windows on ARM processors, like Tegra 3."
"Microsoft is excited to partner with NVIDIA to bring developers leading edge Windows on ARM test PCs to support the creation of compelling Metro style app and device experiences for Windows 8," said Aidan Marcuss, Senior Director of Business Planning, Microsoft.
Windows Central Newsletter
Get the best of Windows Central in your inbox, every day!
Rich Edmonds was formerly a Senior Editor of PC hardware at Windows Central, covering everything related to PC components and NAS. He's been involved in technology for more than a decade and knows a thing or two about the magic inside a PC chassis. You can follow him on Twitter at @RichEdmonds.
wish a tegra 3 on windows phone 8

OK! Im Okay with the idea of a quad core on WP as long as it's the 4plus1 chip. 1. It can only help WP sell to a wider range of enthusiast. 2. the 4-1 chip uses only one core for everyday task, then takes advantage of it's other resources only when needed for games or video. 3. Why not? As long as the WP experience remains one of quality it wouldnt hurt to have "superphones" as well as 256mb phones. For those who don't think it's neccesary they would be able to stick with dual or even sigle core proccesors.

Even in the computer world with DirectX and everything else not many games are using more than 2 cores in a CPU. Games are more taxing to the GPU.

Yeah I know, but for shear compettitive reasons I would have at least Two phones with this tech.

The point is that on mobile phones, an extra chip for gpu is not efficient. The extra cores on the cpu would be used to render the graphics for phones. It's not necessarily for multitasking.

Installed Win 8 on my Asus EP121. It's pretty awesome.

Now that's Awsome! Can you send me some pics?? rj@rojoscleanauto.com

http://www.decryptedtech.com/index.php?option=com_k2&view=item&id=566:we-try-windows-8-on-the-asus-eee-slate-ep-121-again&Itemid=168

Check this out.

Would the win 8 beta load on an Asus Transformer Prime?

Doesn't a Transformer Prime run an NVIDIA tegra 3? I'm pretty sure that's ARM and the consumer preview runs only on x86 architecture. I doubt we are going to see a ARM consumer preview.

keep the price down to compete with apl.

Have the developer preview already on my Acer W500 Iconia Tab. Love it but it does take some getting used to. Need more and better apps and sounds like they have more in this one. I am about ready in a minute to install this preview to see how much better it is :-)

With all these new high end processors, they'll need a battery that'll last longer than 2 hours. :). Carbon nanotubes cannot get here fast enough.

Installed Windows 8 Consumer Preview on my Samsung series 7 slate and I must say, Microsoft is Back b**ches. This OS blows away anything out there. Can't wait for Windows Phone 8 with a Nvidia tegra 3 or Qualcomm S4 chip on an awesome Nokia phone. Never been this excited about tech.

I must ask. How do you like your Slate? I'm debating this as my next machine and with Windows 8 on it may redefine sexy.

The Samsung s7s is just amazing especially with Windows 8 on it. With Windows 7 it was just OK. The display is amazing, Battery life is good (I get about 5 to 6hrs from it with Windows 8 dev prev, it may be a little better with Consumer prev). It has a USB port, microSD port, mini HDMI, I also got the dock so that gave me additional (full HDMI port and USB port). And it just feels good overall. I can't get the accelerometer to work though (with Windows 8) but some people were able to get it to work (i'll have to look into this). For now this is the best Win 8 tablet you can get until the real thing ships this fall.

With tegra 3 on wp8, hopefully it'll let us have the tv out feature using mini hdmi or dlna

I think we can have that with dual core on WP8, not that I'm opposed to quad core, but arent there phones doing this on single core??

Heard few years ago that samsung has wp7that are capable of dlna. Don't know what happened to it.

Although WP7 is sufficiently powered by single core processors, it still can be benefit from multi-core processors. First of all, it saves many cycles for context switching when multiple tasks running simultaneously are distributed to multiple processor cores. Secondly, with an advanced power management design, more powerful processors can get tasks done and turn themselves off sooner, which increases the average time in low power mode and saves some battery energy.

I do like the Qualcom Snapdragon S4 approach to muli-core. The nVidia Tegra when running all 4 cores runs at the same speed and voltage while the S4 can run each core at different speeds\voltage depending on demand.

Good only because it removes the WP doesn't have duel core comments

Also all the other benefits. :P

but it wont remove the WP doesn't have quad core comments.

I'll pass. Tegra3 will soon be far out of date. In the fall when Win8 on Arm ships the ARM spec to have will be the Cortex A15 which we've already seen wipes the floor with quad core A5's while giving better battery life.

That's the problem with technology right, during the development time of a product other tech comes out that's better. Not much you can do about it, if you don't like it, don't buy it.

Can you feel the POWERRRRRR?!

Ok I know Microsoft is making windows phone 8 but with the windows 8 tablets, will it be windows 8 mobile or home edition