How to access and manage your pins in the New Xbox One Experience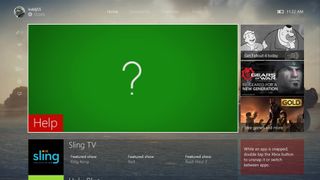 As I'm sure many of you have heard, today is New Xbox One Experience (NXOE) day. The new Windows 10 update for Xbox One brings new features as well as changes to a few things. One of the most controversial changes are how and where your pins are displayed. So here's the rundown on how to pin your favorite games and apps as well as manage them.
How to create a pin
Creating a pin allows you to access your favorite game or app without having to travel deep within the Xbox One's UI.
1. Go to 'My games & apps.'
From the Home screen/tab scroll down to the bottom of the page or just simply press RT (right trigger) then select the 'My games & apps' tile.
2. Navigate to your apps
When you open 'My games & apps', you will notice that on the left-hand side you will notice three options; Games, Apps, and Queue. For the purposes of this demonstration, we're going to navigate to the apps and select one to pin.
3. Pin it!
Once you're hovering over the app that you'd like to pin, press the Menu button. A pop-up menu will appear and will give you a couple of options. Choose Pin to Home and this will do the job.
4. Access the pin
Press the Xbox button to take you back to the Home screen/tab. Now press RT (right trigger) to go directly to your pins. You should now see a tile of the app/game that you pinned. Hooray!
Congrats! You have successfully pinned your first app/game.
Protip: Whenever you want to get to your pins on the home screen, instead of scrolling down just press RT (right trigger)
How to manage your pins
1. Go to your pins
While on the Home screen/tab press RT (right trigger) to jump directly to your pins. From here you can choose which pins you want to manage.
Manage that Pin!
Choose the pin that you want to manage by hovering over it. Once it's highlighted press start and a pop-up menu should appear. From here you can choose whether to move a pin to the front of the list or get rid of the pin altogether.
These options allow you to customize your pins the way you want to. Unfortunately, we can't move them round as we please, but for the time being Move to front will suffice.
If you think this guide is helpful, we have many more posts like this in our Xbox help, tips, and tricks page.
Get the Windows Central Newsletter
All the latest news, reviews, and guides for Windows and Xbox diehards.