O2 announces UK 4G LTE launch date, looking to catch up to EE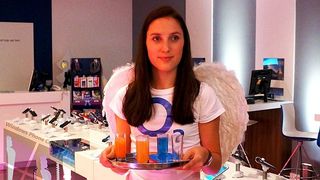 UK mobile operator O2 has announced that the company will be launching its 4G mobile network on August 29th. The operator will snap up second place in the LTE race here in the UK, following EE's incredible lead to get established over its competitors. Initially available in London, Leeds and Bradford, O2 will be planning to extend the service to cover a further 10 cities by 2014.
This is the news many consumers have been waiting for. EE will now be challenged by O2 and competing networks as the likes of Vodafone and Three also hop on-board and launch their respective network upgrades. How much will you be looking to fork out for 4G on O2? The basic 4G tariff will be starting at £26 a month - though it's not yet known what the plan will include.
O2's Ronan Dunne has said the company aims to match EE's launch speeds, but acknowledges that the network will be slower initially in areas where EE has installed "double speed" 4G equipment. Upgrading early will enable those who reside in supporting cities will be able to take advantage of the increased data speeds, as well as O2's 3G network elsewhere while the company gets started with the upgrades.
This is good news for Microsoft and Nokia too as O2 has become a major partner in the UK, carrying multiple Windows Phones. Unfortunately, O2 has sided with EE by charging more for higher allowances and will not be offering an "unlimited" option. Dunne did tease that customers who purchase a tariff directly through O2 will get a year's worth of free music content, though it's not clear what that would include.
As noted above, the locations that will be covered by the end of the year include Birmingham, Newcastle, Glasgow, Liverpool, Nottingham, Leicester, Coventry, Sheffield, Manchester and Edinburgh. O2 aims to reach 98% of the population by the end of 2015 - a full two years earlier than the deadline set by regulator Ofcom.
O2 has also started offering free Internet access on the London Underground. Both Vodafone and Three have stated they plan to unleash 4G by the end of the year.
Source: BBC; thanks, Luke, for the heads up!
Windows Central Newsletter
Get the best of Windows Central in in your inbox, every day!
Rich Edmonds was formerly a Senior Editor of PC hardware at Windows Central, covering everything related to PC components and NAS. He's been involved in technology for more than a decade and knows a thing or two about the magic inside a PC chassis. You can follow him on Twitter at @RichEdmonds.
Are they releasing Lumia 625 on their network?
That will sell well because it is one of the cheapest LTE device.

Look at the list of UK O2 4G supported phones, where's Lumia?
http://www.o2.co.uk/4g/4g-phones
Oh, there it is. Right down the bottom. Even below Blackberry (fail) devices.
I though Telephonica were working WITH Nokia to increase the visibility of the Lumia range in their markets. Is this how they help Nokia, by placing them at the bottom of their 4G supported phones list, like an also-ran?
Wankers!

O2 and EE are both charging through the teeth for 4G. But Three have said that when they launch later this year they aren't going to charge any extra, and will continue to offer 'all you can eat' truly unlimited data.

All you can eat data is exactly why I'm not with 3.... I'm quite happy for all those people consuming way more than is reasonable and clogging the hell out of networks to all be on one network while the rest of us enjoy less congested networks with fair and reasonable allowances...

well - volume based price plans is the biggest rip of in internet history. but hey - why paying for a service when you can pay for a limited service.. right?

Ah but you see I have been with Three for a long time now and I rarely have any downtime,slowdown or any major issues. So far Three has been a very reliable, robust network with excellent coverage. I rarely have ever had to call customer services and when I have they been helpful. Unlike O2 which has a lot of downtime and capacity issues my experience is Three does not.

Three is on the EE network with Orange and T mobile.

I have more issues on EE than I ever did with Three. While spotty coverage at times, I don't believe I ever had one issue with Three that wasn't due to being in a signal deadzone (I had signal at my house but I passed regularly through deadspots on my travels) in the year and a half I was with them. Their customer service is horrific though. I told you it's more expensive to get it unlocked than it is to leave three and pay a double service (one Three one TMo) and even did the math with the actual numbers to prove that to be the case, she still tried to say it was cheaper to stay with Three. Turns out I got the cheaper deal on T-Mo.

No tethering on the PAYG plans from Three though unless you buy a bolt-on. Another ripoff that most providers seem to like; charging a second time for data that we're already paying for. Luckily, there are exceptions to the rule. I'm currently with T-Mobile on a sim-only plan with 1.5GB data including tethering for the same price as Three's plan.

No official statement from Three has said they will offer unlimited data it is just a big assumption at the moment. They have however said it will not cost more and that's because they have no choice they are going to have the smallest 4G coverage available.

Not to mention that Threes current high speed 3G, is regularly faster than EEs 4G speeds

Haha, I think Three have the best deals going at the moment and by far the best internet!! But why is that the network 'built for the internet' is so slow at getting 4G out there?? I'm glad 4G will be a free upgrade, I'm out in the sticks.....

Part of the reason they've been slow is due to the agreement when they bought space from EE that they would hold off on a launch. Part of it is due to the fact that their HSDPA+ network is practically as fast as EEs 4GLTE network on average, and in my experience regularly faster. And the last part is, they said they are going to wait and see what everyone else does before launching their service, which to me says they are going to come in and undercut everyone again.

Three only use EE's 2G network as a backup, they have their own very robust 3G network. For 4G they have bought some of EEs bandwidth (as well as bidding from the auction), but will use their own technology to provide the service.

There is an agreement that Three cannot start offering 4g until a year after EE's launch so expect Three's service in November.

Hmm i wonder if they would allow an early upgrade if i wanted to switch to a new 2 year 4g contract? Might wait until the 1020 comes along in September and give it a try

These phone companies are forgetting Wales. No 4G available yet if ever and well 3G is a no go in my flat or the surrounding area. Sometimes getting signal coverage at all is a problem even on 2G. Instead of snapping super expensive 4G in England and Scotland these companies and the govt should focus on a way to bring 2&3G up to scratch throughout Wales!

Well, I'm in Wales and I'm getting 60mbps down and 4mbps up in both Rhyl and Mostyn on the north coast... And EE haven't even announced its in my area....
So, 4G is coming to Wales

I live in Rhos so signal here is worse than anything.

I'd drink anything that girl offers me...

and that must be simply because it is a girl, right?

Something about this girl's eyes...and the fact that she has angel wings and is offering drinks. Can't say no to that!

She gave us a few cocktails that's for sure... actually, thinking about it, must be weird to see yourslf being used on publication such as ours... awesome! :-)

Yep yep, I'm paying a bomb for 4G on EE... And it was terrible to begin with. Got better, so I expect O2 to have the same probs...

Why the girl in the picture got to do with this article?

I'm wondering what colour the drink in the empty glass was..

I still have the cool cocktail recipe cards somewhere, will dig 'em out

Take a look at which mobile operator we're covering in the article, then look at her shirt. Just sayin' ;-)

o2 are already quite far ahead of EE anyway. They stock more windows phones by the look of it. EE, orange and t mobile haven't even stocked the 925.

And they might not at all, might be skipping it and go straight to the L1020.

You don't pay for tethering with EE

I feel sorry for the iphone5 users, O2 is using the 800mhz range, a range not supported by the iphone 5. If O2 want those customers on their new 4G they might have to offer a handset as well.
Windows Central Newsletter
Thank you for signing up to Windows Central. You will receive a verification email shortly.
There was a problem. Please refresh the page and try again.