Oculus Rift exclusives are being unofficially ported to the HTC Vive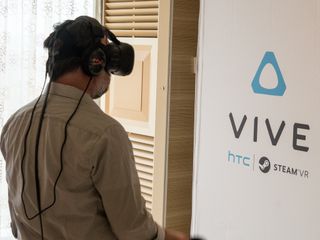 Like other platforms, the Oculus Rift and HTC Vive have shared titles and some exclusive games to boot. Unfortunately, that means you'll miss out on certain listings depending on which you opt for. Luckily, it's now possible to play a select few Oculus Rift exclusives on the Vive.
As covered by The Verge, a proof of concept program on GitHub called LibreVR allows both Lucky's Tale and Oculus Dreamdeck to be unofficially loaded on the Vive. Obviously, you'll need to own the titles you wish to port to the Vive platform, and while it hasn't been tested on titles other than the two aforementioned, it is noted that this program should work for future ports.
It's good news for those with the Vive who wish to enjoy the same exclusive content available to friends wielding the Oculus.
Rich Edmonds is a word conjurer at Windows Central, covering everything related to Windows, gaming, and hardware. He's been involved in technology for more than a decade and knows a thing or two about the magic inside a device chassis. You can follow him over on Twitter at @RichEdmonds.
Even if you have to own them I think this is illegal. Exclusives are there for a reason, to attract people to a specific platform and entice you to buy specific hardware. Imagine if I could buy Halo 5 and just play it on the PS4? Or Uncharted 4 and play it on an XB1? Someone's not going to be happy.

I was thinking the same thing. Isn't this piracy?

Its not piracy if you bought the damn game, but laws where you are at might be different; BUT remember just because the Terms & Conditions don't allow something does not mean the law does the same. 80% of whats in the T&C would not stand up in court in countries where they value consumer protection and don't allow unfair contract terms to stand.

"80% of whats in the T&C would not stand up in court in countries where they value consumer protection and don't allow unfair contract terms to stand" Truth, which is exactly why Kinect fans should be suing Microsoft over forced removal of gesture navigation from the Xbox One. Forcibly taking away features that people made purchasing decisions on is anti-consumerism.

Yes, this is equivalent to buying music from iTunes and converting it to another format to play on your Zune. Or ripping the HD-DVDs you bought and writing them to Blu-ray. Sure, you're not distributing or reselling, but it's still not legal, regardless of whether we think that use case should be legal. Unless and until the law changes, it's still illegal. I don't feel like Windows Central should be posting links to tools like this. Fine, mention its existence, but please don't provide links, even if another blog with less journalistic integrity did so first. Posted from Windows Central for Windows 10

Which is kind of ironic considering the stance windows central had on Astoria and porting android apps to windows mobile. You could even get banned for linking to it and they straight up said they weren't going to link stuff or tell ppl where to get the tools. Sent from pure chaos(windows 10 mobile) and lovin it

For Astoria, the developer would still have had to publish the so to the store.

If I remember correctly all you had to do was run some program and you can install the app. People were using many android apps on their phones despite them not being in the store

Yes, and that "some program" was an illegal copy and mashup of tools stolen from Microsoft's Astoria program under NDA and published to less-reputed sites for people to download. That's not what Astoria was about.

Circumventing copy protection is the illegal part. It is legal to make backup copy's of movies and music you own for your own personal use (as long as you delete them when you no longer have the movie). The case here is a little different. I've seen people saying it's like buying an iphone app and pirating the same app on android, or an xbox game and pirating the ps4 version. That is completely different as well. This is buying software for a PC, and using it on a PC. The only difference is the hardware you plug into the computer. There is no "lost sales" for that license of software. Everyone who was involved with it will still be paid their fair share. I don't think we really can consider Oculus or Vive a "platform." They are just peripherals for the acutal platform, PC. The article seems a little inaccurate in that titles are not "loaded on" the vive. The vive and rift are basically monitors. They don't have an onboard computer like the hololens. They reqire a pc to do all the work for them. The project that the article is about does not promote piracy, as it is stated that you must still purchase the title in order to use it.

Yes, for movies you own. Do you own the movie? Unless you produced it, probably not. When you but a copy, you are buying a license with specific terms, not the movie itself.

Like I said, circumventing copy protection is the illegal part. That's why cd's are considered fair use (don't tell me you've never ripped a cd to put on an mp3 player or phone). That said, I didn't realize the Oculus SDK strictly prohibited their software to be displayed on anything but the Oculus (Thank you Facebook) as @MaulerX pointed out. I'm very interested in doing some reading about that. It is anti-consumer behavior from companies like Oculus, the MPAA and the RIAA like this that gives me no desire to see new movies or play games anymore. I look forward to companies like GOG and HumbleBundle bringing more DRM free content to the masses.

The Oculus SDK strictly states that games made for it (and this article is talking exclusives which is worse) must only run on the hardware it was intended for (Oculus Rift). Sure, it might not be "piracy" per se but willfully circumventing whatever security measures they have for it to play on another platform (yes, they are independent platforms believe it or not) is the illegal part.

Yet they posted links to esd decryption

Personally I don't see the issue if game is purchased, the dev has been payed. Posted from an Oric-1

Because you brought it for use on that platform. There's a reason why if I buy a game on iOS and use it there and then turn around and use an apk to use it on android, it's still wrong. I didn't pay to own via the android store. Sent from pure chaos(windows 10 mobile) and lovin it

Eh? This is much more like buying an app on android, and then downloading said app on a blackberry.

It's all "good" (not saying legal) until someone sues over it. Plain and simple, the law need to be changed, to allow you too use content that you purchased wherever and on whatever you want. The legal atmosphere in software, including patents, is terrible.

I personally dont see an issue with the law in this case. If i go to my local grocery store and buy a software, just because i brought it at Store A doesnt give me a right to just walk into Store B and grab it and walk out because i already paid for it once. There are exclusives for these platforms for a reason and people trying to circumvent the exclusives are doing more harm than these laws simply becuase they are trying to be opportunistic.

I assume you are from the US because there whatever BS is in the contract ussually stands in most jurisdictions; but in EU when it comes to software and digital goods the situation is different and lot more in favour of consumer rights.

Your analogy doesn't work for this situation. The point is, to buy a piece of software, and be able to make it work on whatever device you want. You're not getting another copy of the software from another vendor. If you don't think the legal situation for software, especially patents, is terrible, you haven't created software.

Regardless if it is screwed up or not this is still piracy. You shouldn't be doing this must because you feel you should be able to use it on whatever device you see fit. If it wasn't intended for that purpose then I don't agree with making it work for platforms it wasn't designed for. Sent from pure chaos(windows 10 mobile) and lovin it

Nope. Not piracy.

Piracy, act of illegally reproducing or disseminating copyrighted material, such as computer programs, books, music, and films.

And Vive titles will soon be unofficially ported to Oculus?

Almost all Vive exclusive titles require a motion controller....so porting them to Oculus is moot.

I smell a hint of piracy. Maybe this shouldn't be promoted.

This exclusivity in software titles is BS; this is done by companies that have zero confidence in their hardware, so they have to strongarm people to buy their inferior product to enjoy the software titles they want. Glad to see someone made a workaround for VR, now if only it was that simple to do it for consoles.

That's completely BS. MS, Sony and Nintendo might as well throw in the towel and just have one system where they all make games for. What you are asking for is the killing of competition and akin to a monopoly. Exclusives are part of that competition and keeps companies in check making then try to outdo themselves. We benefit from that. Not what you're asking for.

These are just people who want everything for themselves and don't care how they get it Sent from pure chaos(windows 10 mobile) and lovin it

Killing the competition? How many companies you can buyout is considered competition? No, you sell a console by buildiung superior hardware, easy to use SDK's, impressing developers and consumers. What is actually going on with exclusives right now is infact BAD competition.

This article needs to be updated. Oculus responded to ArsTechnica with this: Update, 4/14 3:05 p.m. EDT: Oculus has since reached out to Ars Technica with a response to our report: "This is a hack, and we don't condone it. Users should expect that hacked games won't work indefinitely, as regular software updates to games, apps, and our platform are likely to break hacked software."
http://arstechnica.com/gaming/2016/04/homebrew-patch-makes-many-oculus-v...
Windows Central Newsletter
Get the best of Windows Central in in your inbox, every day!
Thank you for signing up to Windows Central. You will receive a verification email shortly.
There was a problem. Please refresh the page and try again.