Office 365 hits 1 million subscribers; Microsoft celebrates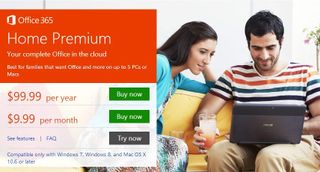 Today Microsoft announced that the recently released edition of Office, 365, is the bestselling version of their productivity software to date. When the service went live, the company reported licenses being sold at a rate of more than one per second. In a mere 100 days, Office 365 Home Premium has hit more than 1 million subscribers.
John Case, Corporate VP of marketing for Microsoft Office, stated that:
Microsoft is ramping up their focus on being productive in the cloud and on the go. The company is beginning to recognize that many users own multiple devices and that Google Docs has been an appealing service that can deliver.
Office 365 is a subscription based version of Office that allows users to pay a yearly (or monthly) service fee for a multitude of features including having the latest up to date Office applications, 27 GB of SkyDrive cloud storage, and 60 Skype world minutes per month.
Up front, the new 365 service sounds a tad more expensive with its lowest subscription option being $99 a year (Home Premium), but we have to remember that it includes five licenses for all Office applications including Word, Excel, PowerPoint, OneNote, Publisher, Outlook, and Access. Once we figure out that the equivalent set of programs would force us to buy Office Professional at an MSRP of $399, we begin to rethink it. By the way - $399 is for just one license, not five like Office 365 offers.
Let's total that up; three years of Office 365 Home Premium with five licenses, 27 GB of SkyDrive storage, and 60 Skype world minutes per month comes out to a total of $297. In contrast: three years of Office Pro with one license, 27 GB of SkyDrive Storage, and 60 Skype world minutes per month comes out to a total of over $460.
Maybe Office 365 is worth checking out – what do you guys think?
Source: Microsoft Office Blog (opens in new tab)
Windows Central Newsletter
Get the best of Windows Central in your inbox, every day!
I have Office 365 University and absolutely love it!!!

You got me, ha. Fixed, thanks! :)

Yeah, I was like "what?!?"

I love office 365. Use it for school, and students do get discount. 75 for a year. I got mine for free for a year and a semester promotion from Microsoft. Im covered for 3 semesters. Im also using it for other writings. Since its connected to mu office for windows phone, I can take my writing anywhere.

Home Use Program. Organizations who are large volume licensers can offer it to their employees for use on personal (not work) equipment. For example, my employer has a campus agreement and we elected for the option that allows our employees to buy licenses for Office 2013 for $9.95.

This is cheap. What about theultimatesteal? Wasn't it extremely cheap for students??

First, I love the name 365. Microsoft is going to have 500 million plus users online, just using Office. Sixty million using Xbox One, Surface RT and Pro selling millions. WP8 with Nokia selling 200 million phones a year. Im done.

I believe you get 20GB of extra SkyDrive space, not 27GB total. Minor quip, but its an important note for those that are grandfathered with 25GB already. You'll be getting 45GB total.

But you get 7gb for free just having SkyDrive, which I think is included in having your 365 account as I recall, so plus 20 = 27gb total for free. My math could be off though.

Please tell me that woman doesn't have her lemonade just sitting on the sofa like that!
More on topic, it's good news for MS but also kinda surprising so many have taken to it. I guess more people have multiple desktops/laptops in the home than I imagined. The other interesting part to that is popping by the Dell site to start a laptop build and add it to the cart. You can choose O365 Premium for $99 as opposed to Pro for $300, but it doesn't make it clear (at least on that page) that the $99 is for a year. So I wonder if some have opted for $99 O365 but didn't see the fine print about that being an annual fee...unless it truly is a one-time fee? I actually don't see any fine print about the $99/year all the way to the checkout. Interesting.

She does. It's leaning against her thigh, so not a problem. Until the cat jumps up from behind the sofa and startles her...

Have it and love it. I do the £7.99 per month though, rather than the yearly cost up front.

It's an awesome service and the software is good enough to warrant the monthly rate. I'm also happy to be able to cancel my sub for the summer while I'm away from college and wont need it.

I just bought office 2013 software no need for subscription.

Its been only a good deal because MS made he alternative much more expensive. They eliminated the affordable "Family Packs" most people used to purchase for home use, and made the price per license prohibitive for a multi-person household. Suddenly a yearly subscription is the only affordable alternative :( Better not lose your job ir your kids may not be able to do their homework! Thanks to Microsoft.

$ 100 for one year for 5 licenses I think is the price very very affordable, especially for families with multiple devices! Or if you need to have Office for a limited time you can subscribe to the monthly subscription

There is a free online version that the kids can use. It has missing features but is more than enough for most kids to do their homework.

I think it's crazy how you can use office webapps for free! Wish that and skydrive existed in my college years

I just activated my .edu email account. Am seriously considering the 365 now.

The HUP site had office 2013 for $9.95. Many universities are eligible. Since you have an edu email, you should check it out to see if you are eligible.

I don't know. With Office 2007, I was able to install it on 3 computers, and it was only $50 with my laptop purchase in 2008. That, and 27 GB of SkyDrive is unnecessary for Office documents--who can maange to create enoguh files to use that space? If you're not big on storing music and video on SkyDrive, you won't touch the free 7 GB, let alone 27 GB, most likely. 5 licenses is great and all, but again, my Office 2007 disc allowed for 3 device installs.

2007 was GREAT!... In 2008.... The new office is far faster and more robust than 2007. 9.95 a month isn't very much, plus you get 5 licenses so its like $2 a month per machine. A steal in my opinion.

Office HandS 2007 and 2010 allowed for 3 computers (Windows Desktop or Laptop). It comes with Word, Excel, Powe Point, and OneNote. Home and Business 2007 or 2010, allowed for 2 computers (one Windows Desktop and one Windows Laptop). It had everything that Home and Student, plus Outlook. Office 2007 and 2010 Pro had the same licensing as Home and Business, but added Access and Publisher. With Office 365 Home Premium, you get everything in Office 2013 Pro, you can install it on Winodws Desktops, Laptops, Windows Tablets, and Apple Macs Desktops and Laptops. Note: For MACS it will be the 2011 edition, and only will have Word, Excel, and PowerPoint. MS did bring prices down on the traditional versions, like HS, HB and Pro, but now these only have 1 PC licenses instead of two or more, like Office 2007 and 2010 did. Example Office 2007 and 2010 Pro, was $499.99, for most retailers, had the licensing agreement mentioned above. The traditional Office 2013 Pro cost $399.99, but good for only one PC license. These pricing are based retail pricing.
People may be surprisehow many house holds have PC and Macs. In the past you would have to buy say Office 2010 for PCs, and purchase a seperate Office 2011 for Macs. So depending on the house hold or business makeup, A sbuscription based setup, makes alot of sense.

O365 is a win for me. Got the first year effectively free as part of the extras + extended warranty deal I bought with my Surface. Enough licenses for everyone in the family, including the dog!

I imagine how your dog now contacts other dogs in the neighborhood in heat on Lync in stead of yellig. Win for all.

This weekend I helped my mother in law with her new computer, she talked about a friend who was supposed to help her get a pirated copy of an older version of office, I showed her this, and half an hour later she was set up with a legal version of office, fully supported, and with a clear conscience... Wonderful offer.

I love mine. Its a great service especially the Office Web Apps when I am not at my personal PC.

Just subbed today...might be cheaper than getting it for four machines.

I look for bargains and this is not it. Got 2 computers. One with office home for $99 and one with all the office 365 programs for $9.99 (a work promo). Still not economical enough for me to jump yet.

I just with Vizio came with Office.


It was the cheapest office I have ever bought... Used a 50 euro coupon they gave me for late shipping of surface tablet lol...

As much as I like office, I can not justify paying when googledocs is free, with 25gb drive and no Skype minutes.

Google Docs is web only. A very poor relation to a full Desktop product you can use offline and the quality that Office has. Its less than the price of 1 Starbucks Coffee per week to subscribe. Put the Latte down, get MS Office. Sounds like a good trade. Drink a glass of tap water. Simple :)

Too bad they often change the proof reader, now my faroese proof reader does not work anymore.. and they say it will take about 1 year for it to work again!

Currently a 365 subscriber. Have multiple computers at home and this is great value from Microsoft

If I didn't have most of these programs included on my Surface RT for free, I'd be all over it.

Rocks the house! Have a license to and can use a copy on my OS X device also!!!

For me, the subscription model makes zero financial sense. It would increase my overall cost of ownership by a factor of five. See http://gcoupe.wordpress.com/2012/09/18/its-an-incredible-deal/
Unfortunately, given the crowing by Microsoft over the number of subscribers it has persuaded to sign up, I suspect it won't be long before Microsoft stops making it possible to buy Office licenses. If that happens, I'll probably look for alternatives.

Yup, subscription only is the future of most software I'm afraid. Adobe are already subscription only. Rapid updates are what consumers are demanding. In an Apple world, you get software for less as you paid double for the hardware. For Google you get many services free, at the cost of your privacy and advertising. Microsoft is good old vanilla just pay for it. They all have merits.
As a solo user (with no one else at home) it makes less sense like your link illustrates. A family of four, the maths would stack up. I'm surprised MS doesn't have an option for single use.
In terms of alternatives, MS Web Office on Skydrive is free, just like Google Docs.

Smart people use Microsoft Office 365, others eat ads with Google apps!

We use the cooperate version at work, web apps don't work (Aus) which is a pain if I just want to view something. If your working with something other than office docs (like CAD files) off a 365 sharepoint it's a giant pain in the ass thought they have just released skydrive pro (which I was ok'd to toy with tomorrow) so before that you needed office premium + to get the sharepoint software.

The cloud offering is good and the new ui roll out is way better, the old outlook web client sucked balls. They need to finish ironing out the kinks.