Office 365 hits 1 million subscribers; Microsoft celebrates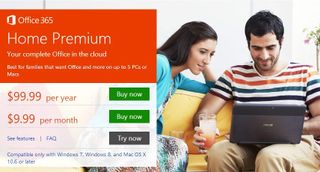 Today Microsoft announced that the recently released edition of Office, 365, is the bestselling version of their productivity software to date. When the service went live, the company reported licenses being sold at a rate of more than one per second. In a mere 100 days, Office 365 Home Premium has hit more than 1 million subscribers.
John Case, Corporate VP of marketing for Microsoft Office, stated that:
Microsoft is ramping up their focus on being productive in the cloud and on the go. The company is beginning to recognize that many users own multiple devices and that Google Docs has been an appealing service that can deliver.
Office 365 is a subscription based version of Office that allows users to pay a yearly (or monthly) service fee for a multitude of features including having the latest up to date Office applications, 27 GB of SkyDrive cloud storage, and 60 Skype world minutes per month.
Up front, the new 365 service sounds a tad more expensive with its lowest subscription option being $99 a year (Home Premium), but we have to remember that it includes five licenses for all Office applications including Word, Excel, PowerPoint, OneNote, Publisher, Outlook, and Access. Once we figure out that the equivalent set of programs would force us to buy Office Professional at an MSRP of $399, we begin to rethink it. By the way - $399 is for just one license, not five like Office 365 offers.
Let's total that up; three years of Office 365 Home Premium with five licenses, 27 GB of SkyDrive storage, and 60 Skype world minutes per month comes out to a total of $297. In contrast: three years of Office Pro with one license, 27 GB of SkyDrive Storage, and 60 Skype world minutes per month comes out to a total of over $460.
Maybe Office 365 is worth checking out – what do you guys think?
Source: Microsoft Office Blog
Get the Windows Central Newsletter
All the latest news, reviews, and guides for Windows and Xbox diehards.