Office and Windows Insider members can check out new features in Office Mobile apps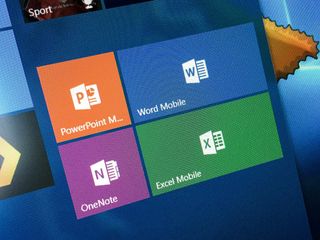 Members of Microsoft's Windows and Office Insider program can download new updates to the suite of Office Mobile apps for Windows 10 on PC and Mobile. They include a new text highlighter for OneNote, exporting Word files to PDF format and more.
The Microsoft support forum (opens in new tab) has the list of what's new for Insiders to check out in the Office Mobile apps:
Open more file types in Excel Mobile - Open files that contain ActiveX controls or files containing text and web queries on your Windows 10 tablet or phone.
Export to PDF with Word Mobile - Save your document in a widely sharable format that preserves layout, formatting, fonts and images.
New text highlighter in OneNote for Windows tablet - Grab the new highlighter and select text that's important to draw attention to.
New clear formatting option in OneNote - Now you can remove all that is bold, italicized, underlined, purple or in 18 points. Lucida Sans formatting is just one click away.
Embed more content with OneNote - Paste a link to an Office 365 Video or Microsoft Form, now interact with it directly on the page.
Share photos or files from other apps in OneNote - Use the Share button in any app to send photos or files to your OneNote.
Add alternative text to pictures in OneNote - Make your pictures accessible to screen readers by adding alternative text.
Try out new designs in OneNote on Windows tablet - We've made some changes to help you get around your notes. Check them out by turning on "Settings > Enable Experimental Features" and let us know what you think!
Download Word from Windows Store (opens in new tab)
Download Excel from Windows Store (opens in new tab)
Download PowerPoint from Windows Store (opens in new tab)
Download OneNote from Windows Store (opens in new tab)
Windows Central Newsletter
Get the best of Windows Central in in your inbox, every day!
For power users of Excel, Word, etc.: how far do you think these apps are, from the desktop ones? My just-above-basic assessment is that perhaps by the next release of office they will be able to make Word, Powerpoint and Excel UWA-only. (Not that I think they will).

If Microsoft was truly dedicated to UWP, they would have made all their apps in that format. It is telling that they actually have very few UWP apps. Posted via the Windows Central App for Android

A bunch of businesses still use the win32 apps so expect them to stay around. Not to mention they can do more than the rewrites.

The old programs do not disappear if they start making UWP versions. It could jump start these companies into upgrading to Windows 10 and UWP while getting consumers used to using UWP. Posted via the Windows Central App for Android

Macros are heavily used and yet not available in the UWP version. Without that, many will find the UWP version inadequate. Nice to see ActiveX implementation though. Curious how extensive it is.

It isn't telling at all, UWP has only been available for an year to developers while Office 2016 has 20+ years worth of Win32 code, there's simply no way they can port it wholly to UWP in that measy timeframe. Furthermore, the majority of businesses still use Windows 7, which does not support UWP; had they released Office 2016 only as UWP apps they'd have alienated a huge slice of Office's market share, all of which wouldn't be able to upgrade to the latest version.
Best case scenario, expect the next version of Microsoft Office (2019?) to feature both Win32 and UWP SKUs, and the one after that (2022?) to be UWP only, as Windows 7 will long be out of support by then.

Which is what I was talking of, really. They might be able to bring some sort of parity among these three apps. Posted via the Windows Central App for Android

I hope they go further than that, actually. Two different versions of Office apps - mobile and desktop - is confusing as hell, so I hope they eventually merge the two together, the interface adapting to the current status of tablet mode.

Really it should have started with Windows 8 and the beginning of the app store. If they wanted to switch to that model, they should have had their most popular programs ready to go at launch so users would be quickly introduced and become familiar with the product and it's benefits. They have had at least 5 years to get this done and I feel it might be their biggest failure. They really haven't treated the app store as a first class citizen and so no one else really is. Posted via the Windows Central App for Android

Pretty sure they were more worried about salvaging the Windows brand between 2012 and 2015 than actually giving the Store the push it needed. Sad, but true.

In short: The UWP versions are currently almost not-usable for serious work.

This is true. I've been disappointed too, mainly in Excel...

Well it depends on the app, not because of just being UWP. The Office desktop just happens to be have so much flexibility and powerful that its UWP counterpart hasn't caught-up yet, both in terms of features, flexibility and limitation of UWP itself. Certain type of apps may be fine being UWP only, the problem is that majority is not into Windows 10, large chunk is below that. So developers can't just make UWP only apps. For the current production apps also have less reason to switch of UWP for several factors. If UWP matures enough to be on-par with desktop apps flexibility, reliability and performance, then maybe that's the start of witnessing some production apps switching to UWP, but it will be slow since the codebase has to be ported there. Thankfully Centennial is already here for the preparation for that when it happens.

They're better than Android/iOS versions though. Plus they aren't meant for serious work, they're for quick edits on the go. In that... it excels. ... ... thanks, i'll be here all week.

I still waiting Sway on mobile...

I think it's high time for the OneNote team to support one degree rotation handle for OneNote mobile, just like in office mobile. The limit of rotation in 90 degree angles is becoming jarring and annoying. Its been over 12 months and such a basic edit feature and consistency in image editing across the microsoft mobile app productivity suite still needs work.

Quick question. If they manage to make office a UWA, won't the size of the suite be too much for phones?

The rumoured surface phone has like 256 Gigs onboard memory,

Yes! Web queries! Seriously, that's the biggest request I've made from them. With it I'll be able to open my flight book on my phone. Great news that it's coming.

Probably a dumb question, but is the ultimate goal of the office UWP apps feature parity and an eventual eclipse of the desktop apps, or are more feature-rich desktop apps always going to be part of the plan?
Windows Central Newsletter
Thank you for signing up to Windows Central. You will receive a verification email shortly.
There was a problem. Please refresh the page and try again.