Office Lens app grabs 'experimental' business card mode in latest update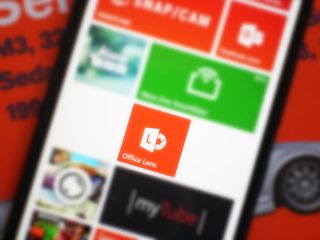 If you are a professional or student, rumor has it that Office Lens is one of those must-have apps in your repertoire of tools. The image-processing app takes your photos and effortlessly converts them to OneNote, Power Point, or Word for sharing and saving.
Today, version 1.3.3601.0 is live in the Store and with it, a new feature that turns Office Lens into an OCR business card app.
Office Lens (What's New)
Images are processed faster, especially on budget devices.
Business card mode: Introducing an experimental feature that lets you capture Business cards and extract their contact information into OneNote. Contact information is also saved as a VCF file that you can open from OneNote on your PC or phone and add to your contact list. This feature works best with US English-based Business cards right now.
The first bullet point, images are processed faster, appears to be a carryover from last month's update. Unless Microsoft made it even quicker, which we suppose is possible. The second though is certainly much more interesting.
Windows Phone has a few dedicated apps that do nothing but scan business cards and converts them for use in your contacts. Even Samsung created an app to do just that. This experimental feature for Office Lens is similar, although it works more closely with OneNote, which is ideal for document sharing with your team. Likewise, the VCF file saving is also a great universal way to export and share the information as well.
The experimental nature of the optical character recognition (OCR) is US English based for now, so although it may work with other languages, US English is the ideal. Regardless, download the latest version of Office Lens and shout out in comments about the most recent option!
Thanks, Fahmi B., for the tip!
Daniel Rubino is the Editor-in-chief of Windows Central, head reviewer, podcast co-host, and analyst. He has been here covering Microsoft since 2007 when this site was called WMExperts (and later Windows Phone Central). His interests include Windows, Microsoft Surface, laptops, next-gen computing, and for some reason, watches. Before all this tech stuff, he worked on a Ph.D. in linguistics and ran the projectors at movie theaters, which has done absolutely nothing for his career.
Yeah. Cool.
And Daniel, it's not a rumour. Its true. We students love that app. I study architecture, and I use the app almost daily.
My entire class asks for my phone to scan pictures of sketches and stuffs to put them for presentations.

Windows makes me feel proud. ;) B)

Same here. I am an Electrical Engineering student and my whole class is a fan on Office Lens. :)

Of course office lens is amazing, you can also try another app called CamScanner. I use both, depending on the needs.

Camscanner is better for text scanning, but Office Lens has a way better OCR and is perfect for withe boards pictures. I love both apps

camscanner all the way. all my friends ask me to scan sime notes required. and it works brilliantly

Yes. Same with me too. :) like I said,I use them according to my needs. ;)

"Random use of quotaiton marks"

I ran into a little problem a week ago when I scanned a receipt from office max and it failed to convert to OneNote or Words!

Satya's mantra - empowering all for productivity... These apps are vital to that vision...If they insert UK English also in the next update...it will handle almost all business cards with ease I guess

Finally one of the app in my phone got update today... Lover the change log

One of my favorite apps! The Update is not available in Spain yet...

Hahahaha so now WP get features as "experimental"?? What is next? Beta experimental apps??

The editing hurts my eyes!

Windows Phone is Experimental. Lol joking. How about letter recognition tool with copy paste option :P ?

Exactly!! I can't forget Nokia saying when they launched Lumia 900: "the smartphone beta testing is over"... And less than 3 months later this Lumia became obsolete. Hahahahaha The smartphone beta/experimental test is not over!! For WP of course...

The OCR techology that they are working with is really cool. The API for this literally has one method! I watched a Channel9 video on this yesterday. I love that MS shares this code with developers too!

I wish they would add notifications to SkyDrive for windows phone like they did android.

There should be a feature to be able to link the scanned card to that person in your contacts.

Why would I want to save someone's contact info to OneNote? Wouldn't it be better to give me the option to save it to OneNote or my Contacts? I like the feature, but it seems like an obvious oversight.

For me, this is the better new contact management. I have a lot of contacts, so putting someone new that I wont remember just gets them lost. Putting all the contacts that I meet at an event in a separate place allows me to see them all and follow up. Then I can move them to contacts...after I've made contact. The article said that a vcf file is included. Just tap that and it should open in Contacts and boom - saved in Contacts.

Good point, but it would be nice to have the option to save directly to contacts as well. A screen similar to starting GPS navigation from Here Maps could work. If you have more than one navigation app installed, a screen will appear asking which one you want to use.

You can save them to your contacts from OneNote

Glad they added this. Will be handy!

The sweet word 'update' makes me happy

Once I had reset my phone. The first app I downloaded was office lens. The guys or my classmates are jealous of my Lumia and with this app

Not sure how this works... If I select Business Card mode and take a photo... nothing happens other than I have a photo which I can save. Am I missing something?

Oh... I see, it does put the text in the Note including a downloadable contact. Actually quite neat.

Happy to see them working for Windows Phone.

I'm not a jerk.. But cam scanner is far better than this,...

Yea yea office is useless on my 730 anyways... It cant even edit my OneDrive word.docs, says content format not supported. Like wtf?!

It's interesting to see the Business Card Mode. I've been using WorldCard Mobile since the WM6.5 days and it's one of those underated apps that never gets mentioned (probably due to the price 9.00 dollars last time I purchased). If this feature is important to you I would strongly recommend it. WorldCard Mobile is available on WP8.xx incase you are interested.

Well for those who haven't tried: you have to select the business card mode, and save to onenote. the VCF is in the note, you can't save it directly to your phone, which is a bit silly.

I'd like to see it add the info to my contacts list and on to my outlook contracts rather than Word or PowerPoint. OneNote will do for now.

Great app . I use it all the time

I am happy with CamScanner..No thanks ;)

Handyscan works best for me. last time I tried camscanner it forced you to connect through their servers.

Ah the days...
http://nokiaworld.org/2806-multiscanner-on-the-nokia-e72-card-reader-tex...

Nice! I have a bunch of business cards to try it out.

New business card feature works a treat - into contacts with no pain.
Windows Central Newsletter
Thank you for signing up to Windows Central. You will receive a verification email shortly.
There was a problem. Please refresh the page and try again.