Office Mix Preview Allows You to Get Interactive With PowerPoint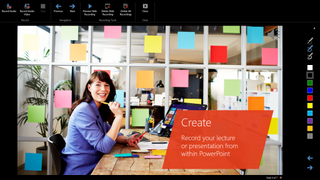 Microsoft has announced a preview of a new PowerPoint feature called Office Mix. This adds a whole wealth of interactivity to slideshows, including embedded video and audio, live writing on slides, quizzes, and more. Office Mix will be web-enabled, so attendees can catch presentations easily no matter where they are. Office Mix has a particular angle on education and keeping students engaged. As such, educators can check quiz results easily and confidentially.
Office Mix is currently in limited testing, but you can find more information on it here (opens in new tab) and sign up for a key. Just keep in mind that you need Office Service Pack 1 installed in order to try it out. Any educators interested in Office Mix? Maybe students that would like to see some more interesting classes? It sounds like a lot of these features could be useful in the business sphere too…
Source: Microsoft (opens in new tab)
Get the Windows Central Newsletter
All the latest news, reviews, and guides for Windows and Xbox diehards.
I really love Microsoft office tools. They are always innovating.

But still i can't make a new .ppt file using my office on a windows phone(can only edit old ppt files)

Just save a blank template file on your phone to use as your new ppt everytime? Save as a new file name and you are on your way.

That's actually a really good idea! Thanks.

That's a brilliant idea !

Yeah actually i have been doing that, but it wuld be better if we could do it by default.

I am a tester, looking forward to it

Use windows phone to answer quizzes, or just any app so you can do it real time. Maybe collect data in a lecture. That sounds like an idea. Oo. I'm going to sign up. I think I need a software company too.

This should be much better than Prezi

Office MIX + Surface MINI = May 20th pitch, no?

Just got it! It's awesome

I work for the 8th largest school district in the USA, and we are a full MSFT shop. I will be praying this along to my supervisors... I'd like to really see better access to the win8 store for district machines. Meaning not necessarily needing a MSFT account. This it's s big for us right now.

Our school is not very big and we're in Australia but I wish to echo your sentiments! As the IT Manager this stuff excites me... yeah it doesn't take much! Ha!

Just downloaded, really awesome!!! This would've been so useful for many, MANY school projects, this year and prior. Gotta try and see if I can recruit my history teacher to use this, this has so much potential! Love it!

Got my invite email today.

This is just in time for a project I'm working on delivering online interactive training to the fire service. Looking forward to it.

Anyone tried it Yet. Downloading.....