Preview of full Office apps headed to Microsoft Store for Education, Windows Store in June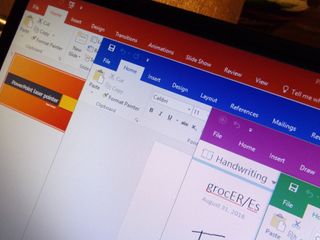 As was rumored ahead of the Windows 10 S reveal, Microsoft is working to bring the full versions of its Office apps to the Windows Store for Education users to use. A noted in a new post on the office blog (opens in new tab), a preview of the full-featured Office apps will kick off on the Microsoft Store for Education starting in June.
From Microsoft:
The apps themselves are set to go live in the Store later this year, and the preview period is meant to make sure everything is running smoothly ahead of launch. A report from ZDNet notes that the apps will also be coming to the Windows Store generally, with a similar preview period for general users in June.
This is an important step, particularly as Microsoft targets the store-bound Windows 10 S as a safe and secure alternative for the education market. Getting the full, more robust versions of the Office apps, converted with the Desktop App Bridge, in the hands of students and teachers is a priority.
Dan Thorp-Lancaster is the former Editor-in-Chief of Windows Central. He began working with Windows Central, Android Central, and iMore as a news writer in 2014 and is obsessed with tech of all sorts. You can follow Dan on Twitter @DthorpL and Instagram @heyitsdtl.
Would this eventually mean these full Office Suite come to Mobile, so that I cash finally ink in OneNote on my phone

Only if your Phone runs full Windows 10!

Doesn't it already, I mean I got the Windows 10 Update for ARM Devices 😛😛

Not really, still it is mobile version and not capable of running win32 apps..

I was just joking there. But I originally posted it with regards to it being UWP, but it may be a Centennial port

Exactly it is Centennial ported apps

There could still be a possibility right?

I don't think they will release for existing mobile hardware as they will lag the processing power to smoothly run without much power consumption. Let's hope.

True, cause I'd really love to ink using OneNote especially when I use continuum on my device. There's to hoping 😊

I think they can do it in UWP apps in continuum.. Have you tried with any touch enabled monitor?

I have tried using it with my Surface and touch input did work with continuum. Don't have a dedicated touch monitor to try it out though Edit: Did you mean OneNote with a touch monitor?

I'm with you bub, constantly wish I could just draw on my phone, let's go, Panos! 😅

Actually you can draw on UWP on Windows Phone, just not in OneNote. Look in Word, Excel, Powerpoint. They all have Draw capabilities. It is criminal that OneNote doesn't support it. Has been criminal ever since Pocket PCs, which had OneNote AND styluses (stylusii?)

Yep it's quite sad that OneNote doesn't allow us to draw. I hooked up one of the inking tablets, you'd plug into a pc a few years back and it worked great with continuum on my phone. Just wished I could use it ok OneNote

Khalid once there is a phone running Windows 10 on ARM then yes.

I was thinking more in the UWP sense 😉

But I still don't get it. As office 365 subscriber can I get all the office apps just as they are and fully featured from the store? Or this is just Word, Excel and PowerPoint and a lil bit stripped down? Is this going to replace how we currently install office 365 apps with the get office app on Windows 10?

This is porting the desktop programs we all download with the Office 365 into the Windows Store. The Get Office app just points you to download the desktop versions, and I would assume that won't change any time soon.

I'm pretty sure the current Office apps in the Store are the UWP ones and Microsoft will soon put the full, non-UWP ones in the Store for Education. I doubt it'll replace Get Office since that app is for consumers who probably won't use Windows 10 S.

But I thought whether Windows 10 full or Windows 10 S, they gonna put office in the store for all.

The current installer is terrible. Yitbfirces you to install all or none. No need for Access and Publisher. Tough luck. That will ill improve with store versions, as will updates (no more redundant Office updater service). Can also be useful for security.

May also decrease piracy in the future, as well. People tend to forget that. Theyre re basically making an App Store similar to Apple, and this is the road they should have gone down since Windows 8.

Ah, yes, the infamous "Coming Soon". <sigh>

For god sake, how many more versions of office are to be released

I'm amazed they didn't use centennial on these straight away, then start moving code base to be native uwp by now. So that by the time get arm based win10 devices could run them natively.
If their not providing native uwp apps or converting them, why would anyone else.
This isn't even about mobile, it's about native store apps

It's hard to do that for Office because Office has a lot of legacy components, its own licensing system (and Store apps must handle licensing through Store), and an App-V implementation that's like Centennial so it would be redundant. They've figured all of this out clearly.

Isn't this the marking the end for UWP? The Office Mobile apps are already hidden in the Store.

This was strange to me too. When I first tried the Mobile versions (they weren't dubbed Mobile to begin with) they felt (and still do) WAY more responsive, than the full versions. If there were equation editor and hotkey support in Word Mobile, I'd never use the full version. So yes, I was hoping the Mobie versions would gain features fast enough to eventually catch up with the desktop versions. Since they did not, it doesn't seem to be a priority anymore. It does raise some valid concerns regarding the future of UWP is even MS cannot embrace it for a project of such size. (Office is HUGE, but so is MS)

Just noticed that. That is concerning. They are not hidden in the mobile store (from Windows Phone), just full Win 10. It is ostensibly the same app, as it notes it is available to Mobile, PC, Holographic, Hub. I use the Mobile apps on my 8" devices, ASUS Note 8, Dell Venue, and they are ideal at that size. I also use the on my Surface 3, as I use it like an iPAD and don't need the full feature of Office 2016, and appreciate the touch friendliness. Office desktop isn't any more touch friendly now than it was on XP Tablet Edition, whether it is wrapped in centennial or not. I expect, unless it is labelled Mobile, it is going to count against your 5 PC installs in O365 as well.

Why is everyone harping on about mobile? This has nothing to do with mobile! This are the full 32-bit desktop applications packaged for store download. Microsoft are proving to all others that if something like Office can be put in the store, so can their applications (note: applications not apps). Either way, the way the store works is there will be one listing for each product and depending on your OS you will get the right version. So on mobile you will still get the UWP version you get today. If on full Windows you will get the centennial 32-bit desktop version. Hopefully they'll add 64-bit at some point too.
Windows Central Newsletter
Thank you for signing up to Windows Central. You will receive a verification email shortly.
There was a problem. Please refresh the page and try again.