Office Work Assistant with Cortana integration revealed in newer batch of images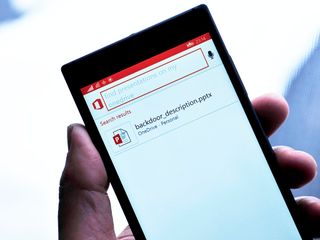 Office Work Assistant is part of Microsoft's plan to overhaul the mobile Office experience for Windows Phone users. One aspect of that refresh coming with Windows 10 is Work Assistant, a Cortana powered metadata search engine to help users find documents, spreadsheets and PowerPoint presentations on their phone, OneDrive, OneDrive for Business, and SharePoint using "natural phrases and language".
The Verge reported existence of the app on Friday, and Earlier this morning, WindowsBlogItalia posted a handful of images from the app, which is currently in internal beta testing at Microsoft. Now, Windows Central has even more images from the app in action, revealing a little more about the layout and capabilities.
On the forefront, Work Assistant seem to be very straightforward. Users can add multiple accounts to the service, and then either type in or verbally search for their Office documents. The search engine notices file names, location (where it is stored), file type, and when the file was last accessed.
Commands for the service include Find, Open, view, edit, load, Share, send, email (with a person or with your previous, current, or next meeting). Examples given of complete commands include:
'Send my planning deck to Kat Larsson'
'Share my formula bar spec with my current meeting'
'Open the strategy document from last week'
As consumers, academics, and businesses move more and more to the cloud, being able to find information is going to be important. Office Work Assistant appears to be a simple but powerful solution for users, who can then ask their phones where that document is based on various metadata points.
No word on an exact release for Office Work Assistant, but seeing as the Office apps for Windows 10 can be updated through the Store at any time, Windows Phone users get it right quick when it is ready.
Big thanks to Jesse Leskinen for the images!
Daniel Rubino is the Executive Editor of Windows Central, head reviewer, podcast co-host, and analyst. He has been covering Microsoft here since 2007, back when this site was called WMExperts (and later Windows Phone Central). His interests include Windows, Microsoft Surface, laptops, next-gen computing, and arguing with people on the internet.
Welcome back Daniel, I hope you had a great vacation. I see you are back and ready to realese your views on Monday at 9am PST :) right on cue... ready...steady...and go...

Ohhh yeah,hell yeah he's back he's here,optimus is here! Atlast there's hope..

Can't wait to get these on my build :-)

Read. It's good for health.

Dear god, more silly images... Open the flood gate and be done.

That looks really cool! Helpful.

Is the smile button, by any chance, the feedback button? Oh, and welcome back, Daniel!

Yes, that's the feedback button

How do you know...? Gasp! You're an insider!

Shh! don't let them know! ;-).

This will be ok, I guess. Hoping they actually make Office on WP functional this time. I hate to sound like a broken record (any of you kids knowvwhatvrecordsvwere?), but I swear WM had far more useful Office in 2009 than WP has today.

well, if your not gonna bother keeping up with the current news, then why are you hear sharing your negative ass comments?

I am current, shithead. I'm saying the current state of Office on WP sucks ball sack and is inferior to their own product of 6 years ago. It is pathetic as are you.

No your not fucktard, if you were you'd know that Microsoft showed off a full version of Office at the windows 10 event.

Has it shipped yet, genius?

It has, I'm using it on my W10 desktop. It's a universal app.

Um its a beta.. Not shipped lol

whats it matter? your complaining about it not existing, well here it is, it may be beta, but it exists, so you argument is broken.

Office on W10 looks promising, fingers crossed ;) My old WinMo device has several featuresets I wish Microsoft would implement in their new OSes. For instance, contacts backup in csv format. Nice to have in the event I cannot connect to OneDrive, etc.

Daniel is Back ..
SOOO ...
Big things are coming soon .. already a big thing arrived ;) #Welcome ;))

I have that same feeling. Now Dan's back, expect tech preview soon... No pressure on you Dan ;)

hahahhah :D yeah ! 'am counting hours :D

Finally.. the President of windows central is here ;) welcome back.. :)

Release this now! I'm salivating.

That's...kinda what she said...

MS need to Improve Bing together with Cortana.. I still can't replace Google with Bing :-/

I use bing search mainly but there are few times I had to make a go for google to dig in something. But there are things which makes bing more to like than other ones for example the way it gives overview of info on the search result page wikipedia, suggestions, relevant sources for official access etc.

Actually i'm okay with Bing.. But most of my searches are under 'News' category.. And in that section, Bing is total waste.. They need to improve alot

Hate when Bing doesn't find something VERY simple, and Google gives you 100+ pages. Plus most of the time if I misspell the word or two it again doesn't find anything. Google gives you Did you mean...[something]

I use Bing most of the time...but still get jealous of Google's auto fill :/

Not sure where you guys are, but works fine for me in the US.

same here bing most of the time
basic information always good in bing. but sometimes i have to google to find. only sometimes.

Well,..That "sometimes" do matter..!

name 1 thing, Bing can't do over google. My search is 99% accurate with Bing vs. Google of 75%. It NEVER fails. Everytime I search google I get crap and TONS of unwanted Ads. Even those ppl that swear to google, try Bing Vs. Google challenge, Bing won every single time. You welcome try Bing it on, for yourself sidexside with google, and see the end result. It ask you 5 questions/search. Pick the side you think is the best answer, and see for yourself. Also, don't forgery, Bing gives you rewards points, yo redeem for lots of cool stuff. I had 14,000 point, but now have 6800, after getting lots of FREE and cool stuff. Bing rewards ROCKS. Best search engine on the planet.

Welcome New Apps...
But still a common man needs 3 things from Windows Phone...
1. Fast Bluetooth file sharing App (eg. Xender in Android)
2. Option to send mp3s via Whatsapp...
3. A free media player Like MX player in Android ( i know MX player is in still Beta)

Xender is not a bluetooth file sharing App :-o ...

Go whine to the devs of those apps then?

I thought we already /could/ send files via Bluetooth natively? Correct me if I'm wrong.

Yes but it would be better if we have app to transfer large file in just a few seconds, isn't it?

We already have one... Easy Transfer ... Wi-fi direct type..

Xender is easier and convenient, I guess!

Easy Transfer does the job ... Atleast get convinced with that.. Welcome to WP world..patience bro :D

I'm not being desperate, instead I'm just considering the major things yet to be developed to convince an android user to try WP World, a lot of my friends are ready to buy a WP but they are waiting for these features only.

And you're off topic here. So... bye!

I dont need free .. I pay for my apps.

Different people Different Choice! I appreciate your choice.

Now that Daniel Rubino is back....w10 preview for phones will be released!!!
Am sure of it!!!

This is shaping up and more similar to Delve, awesome.

It'll be released on Wednesday

I need MS Sway app for Lumia ;)

All things are great BUT When its coming? :D

Tomorrow , at the exact same day ....... In 2046

How do you get those photos you put on as a title picture and its not leaked yet ?

they just put the leaked pics on the phone brung them up, then snapped a picture of the phone.

seems officer :D Microsoft dont make me angry by not adding lumia 520 capable windows 10 first release :@

Keep calm and enjoy the leaks for now ;)

On se hyvä tyyppi tuo Jesse.

Welcome back Dan.
But how is this going to work?
Do you know if all the Cortanas are "separate" ones (for the system and each app (Browser, Office)) or are they all interconnected and draw information from a shared pool (as if they were one across system and all apps)?
Do the specific commands mentioned in the article only work in Office or from anywhere where Cortana is available (for example in Spartan browser or from the search button (or later on with "Hey, Cortana" trigger phrase))?

This utilizes the same Cortana integration any other app can use. I.E: "Windows Central: Show me the news."

Just installed WindowsCentral App on a GS3 running CyanogeMod, but the app stalls at OK when logging in!? Ready for w10! Dan popped up...

Get a real phone? Lumia 930 maybe? ;)

@rockstarzzz:
Or maybe a Nokia 3330...

Why can't they integrate this into the office apps? That would make more sense to me. Thoughts?

This looks and sounds awesome, but I'm a bit confused. Is this a separate app, or is this integrated into one central Office app? If it's a separate app, I don't see the point of anyone using it since you can do all of that functionality (Find, Open, view, edit, load, Share, send) already that's baked into OS. There's already universal search, Cortana can also do all that, and the share functionality is already built into the OS and into the individual Word/Excel/PowerPoint/OneNote apps.

From all pictures in last 2 days l liked , new alarm UI & some new options , new settings menu, call history and phone now smarter, new file manager , and finally new awsone office.
In next few months still waiting Spartan browser, fly out tiles and more

May I know why I cannot see the photo in my excel file from windows phone? I attached the photos to excel in PC. Thanks.

GOD..... Microsoft dudes.... Give us something mann.... No updates, nothing new, just the same ols pathetic phone........ :( crap....

Cortana support is great... But how about offline office ??

Nice functionality. But it is an odd move that micorosoft is offering this. Why is it not part of Cortana is the first question that pops to mind. Even in office mobile I hardly use the office environment to open documents. I mostly do it by directly opening documents from mail. I can imagine it is the work flow of many people as well. Next when I look at how I work with office, instincively I usually use windows search to find files and documents and media. I also do it sometimes via office search but the work flow is usually either via email attachment or a general indexed search machine. What I see happening is that microsoft is fragmenting the indexing and search experience. I don't understand this, because it is the most intuitive way to search. As an academic that would be my prefered method, quick access through a single powerful search, not multiple searches. That's more time consuming an inefficient. Second odd thing is that now that microsoft is adding speech assistant to office search what are they going to do about support for global language support. Even Cortana is still an unfinished alpha version in that department. More than half the globe cant use it. And searching documents is not going to work for non enghlish speaking countries. Everyone titles their doucments in their own language. So microsoft will have the monstrous task of needing to invest in more people to support the arduous task of adding spreech recognition for all languages. I don't see this happening within the next 5 years, as Cortana is already showing now. So I almost get the impression that they could better invest time and effort in just making office for winodws 10 apps, more touch friendly, stable and reliable and skip the assistant for now. It's not hot if it doesnt support speech for all global languages. English speaking countries will profit, but if this a to become a standard feature, a great percentage of the globe will only yet agaiin get a half baked product. And so far windows phone does better outside North-America still, so I don't understand microsofts move on this.

Have they removed the onedrive folder from office hub?it seems only office files,and onnote files from onderive can be searched from office hub not the other files and folders on onedrive.The current ondrive folder in the office hub is really useful to see not just office files but all the folders and files in the onderive.They shouldn't remove this option.

I don't like the microphone icon

>non-production errors.txt
Hello fellow interop user!

i missed you dan! i thought you left WC like sam did. no one answerd... i lost track of the article where i askd about it. lol. i hope office for WP has more features this time. i use it most of the time but it really isnt that good.
Windows Central Newsletter
Get the best of Windows Central in in your inbox, every day!
Thank you for signing up to Windows Central. You will receive a verification email shortly.
There was a problem. Please refresh the page and try again.