Official Box app gets updated with new features on Windows 8 and Windows Phone 8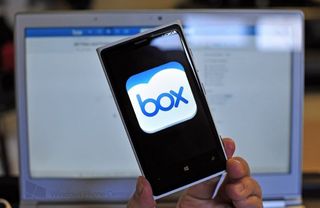 Cloud storage provider Box (opens in new tab) has updated their official apps for both Windows 8 and Windows Phone 8 with new features geared toward security for both businesses and individuals. The new version adds not only versatility for end users, but the kind of security measures that IT administrators love to see in cloud-based apps.
The most significant addition is the ability for a folder's owner to add, change and remove permissions for any collaborator right from the app itself. This allows for easy access management on the go.
Another security-related addition is the ability for two-step verification users to login to their Box app using the verification codes they receive via text message. This is a feature that brings Box up to the standards of one of their primary competitors, Microsoft's own SkyDrive, and surpasses those of DropBox, who doesn't even make an official app for Windows Phone.
The new feature that most IT administrators will love the most is policy enforcement. Now such policies as required password, custom lock timeout and local download restriction can be handed down by a company to their employees' devices.
With more and more employees using smartphones for a mix of business and personal functions, it is becoming increasing difficult for companies to manage the policies and content on those devices. Add to it the fact that the cloud makes it easy to access almost any data they may want or need to, and the task if securing that data becomes even more daunting. Box seems to understand these challenges and has risen up to the challenge. Will these latest updates thwart any and every security risk? Of course not. But this app takes a major step toward securing both personal and business data.
You can download Box's official Windows Phone 8 app for free here (opens in new tab) and the Windows 8 app here (opens in new tab).
Via: BetaNews
UPDATE: Folks are reporting that this update is also available for Windows Phone 7.8. Good to see that 7.8 is getting the much improved security as well!
I also got this for WP7.8

Two new writers today, hmm...interesting lol. Great read! :)

I am actually not new. Seth Brodeur, here. Just waiting for my account name to get changed back from my original forum name to my writer name. Hope you still like the article. :)

Oh...my apologies, Seth. Absolutely love the article!

No apologies needed. I am glad you like it!

I can also confirm, I've got that update for my lumia 900 on 7.8

Does anyone know why it needs so many permissions? Calendar? Contacts?

Can't wait until they integrate office "save to" box as an option from WP. The box client is great for read-only...but it will be much more useful when we can save office docs too.

Since the article mentioned Windows 8 app too, I'd like to say that its previous version was not very stable while uploading multiple files from my PC or tablet and I ended up using website interface. Hopefully, they improve it going forward if the current update is not better. Will give it another shot as I have many more files to upload.

Are any of the cloud storage services HIPAA compliant? I know the 25 GB/user storage included with Office 365 can be HIPAA certified. But what about Box, SkyDrive, iCloud, etc?

Leo LaPorte mentions ShareFile pretty much every episode of 'Windows Weekly' (as they're a sponsor) - noting their HIPAA compliance.

ShareFile - Click the radio microphone and enter WINDOWS

dnlbntl - thanks for the heads-up on ShareFile.

My box app doesn`t connect to internet.. there is internet available in my mobile. but when trying to login, it says an error occired while logging in. pleae verify your internet connection or try again later.

Please help.

thanks
Windows Central Newsletter
Get the best of Windows Central in in your inbox, every day!
Thank you for signing up to Windows Central. You will receive a verification email shortly.
There was a problem. Please refresh the page and try again.